Plenty on the line as defending champ Bryant leads CGA Match Play winner Prater by one going into final round of CGA Amateur
By Gary Baines – 8/1/2020
The stakes will be high — potentially well beyond simply winning a state championship — in Sunday's final round of the CGA Amateur, especially for the top two players on the 54-hole leaderboard at CommonGround Golf Course in Aurora.
On one hand, you have leader Davis Bryant of Green Valley Ranch Golf Club, who could become the first player since Kane Webber in 2002 and '03 to win two straight CGA Amateur titles.
"It would be pretty cool" to repeat, Bryant said on Saturday. "But I haven't really gotten wrapped up in 'I want to repeat, I need to repeat, I need to win it' or something. I just try to keep that out of my head as best I can and just execute shots. With my game and where it's at right now, I feel like I have a good chance tomorrow. We'll try to get her done."
On the other hand, you have second-place Colin Prater of Cherokee Ridge Golf Course, who's attempting to become the first golfer since Steve Ziegler in 2009 to sweep the CGA Match Play and Amateur titles in the same calendar year. And, to take it a step further, also as low amateur in the 2020 CoBank Colorado Open, Prater is trying to pull off the trifecta of accomplishments in a single year for the first time since Gary Longfellow outright won the Colorado Open, the CGA Match Play and the CGA Amateur in 1974. And on top of everything for Prater, a mid-amateur (25 or older) hasn't captured the CGA Amateur title since Jonathan Marsico in 2008.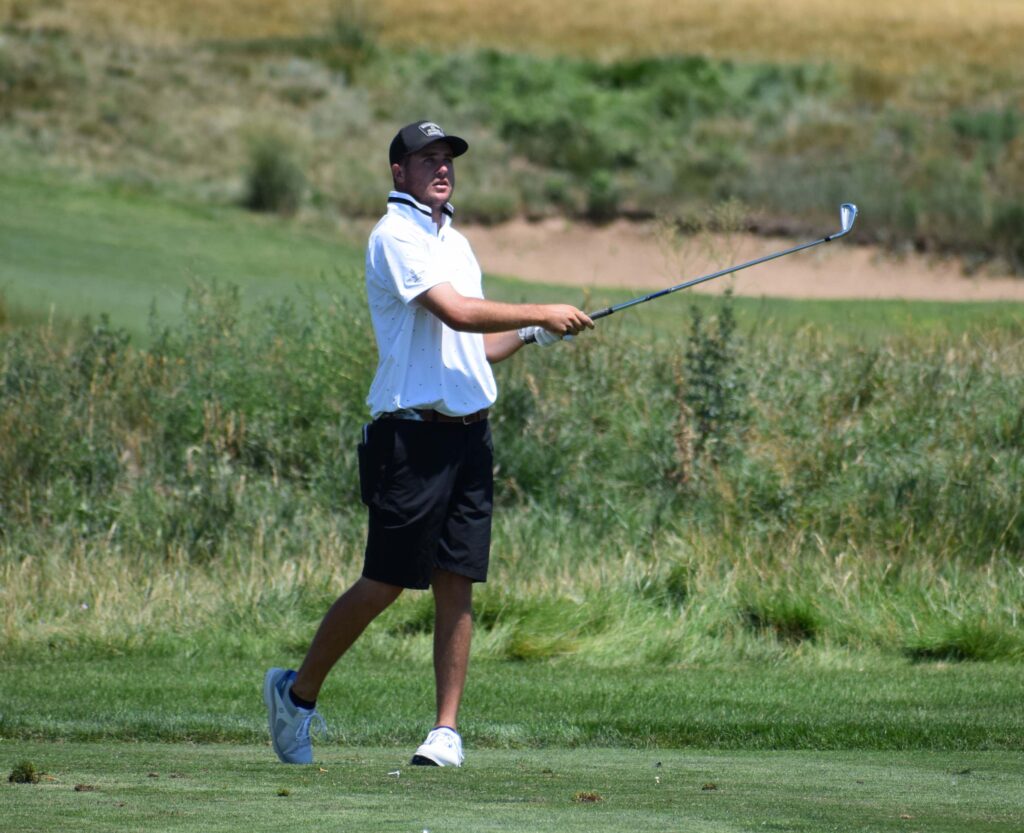 "You can't think about that right now," said Prater, a 25-year-old teacher at Doherty High School in Colorado Springs. "The only thing I can control is my preparation to hit my 3-wood on 1 tomorrow morning in the last group at 8:57 (a.m.). I don't think I need anything else to drive me — I just want to win — but it would be super awesome (to pull off a 2020 sweep). To be amongst the greatest in terms of amateur golf here in the state and accomplish something that hasn't been accomplished very often would be really cool."
Meanwhile, the next-closest pursuer, Cal McCoy of Bear Creek Golf Club, is attempting to capture his first CGA major title after knocking on the door a couple of times. In the three CGA majors in which he's competed in 2019 and '20, the University of Denver golfer has been runner-up in last year's CGA Match Play, a quarterfinalist in the 2020 Match Play, and now sits in third place with one round left in the CGA Amateur.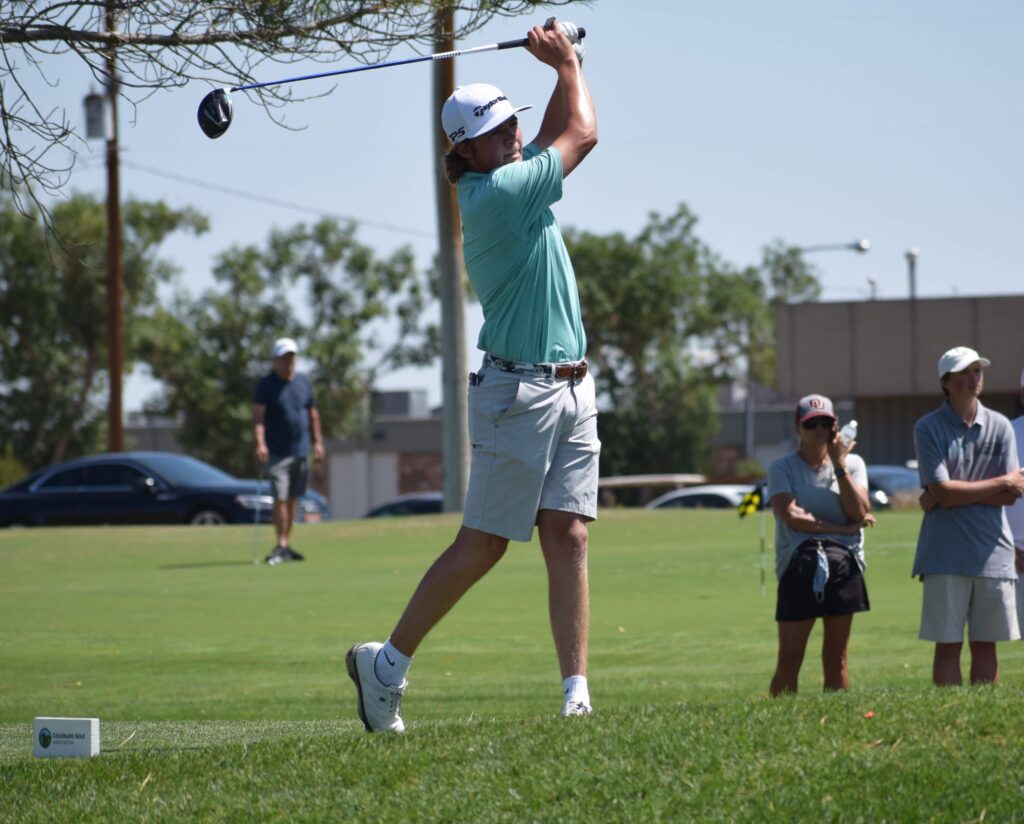 Bryant, a Colorado State University junior-to-be, extended his remarkable streak in the CGA Amateur. He's played seven rounds in the event over the last two years and has been no worse than the co-leader after all of those seven rounds.
"That is cool," the 20-year-old said. "I loved Lakewood (Country Club) last year. And I've been fortunate enough to play (CommonGround) 12 or 15 times, so I feel comfortable on the golf course." In fact, Bryant won the 5A state high school individual title at CommonGround.
The 2020 U.S. Amateur qualifier shot a 2-under-par 68 on Saturday to check in at 10-under 200 after three rounds.
Prater, who won the CGA Amateur in 2016, recorded the low round of the day by two strokes — a 5-under 65 — to vault into second place at 201. Both he and Bryant birdied the 18th hole from 3 feet on Saturday.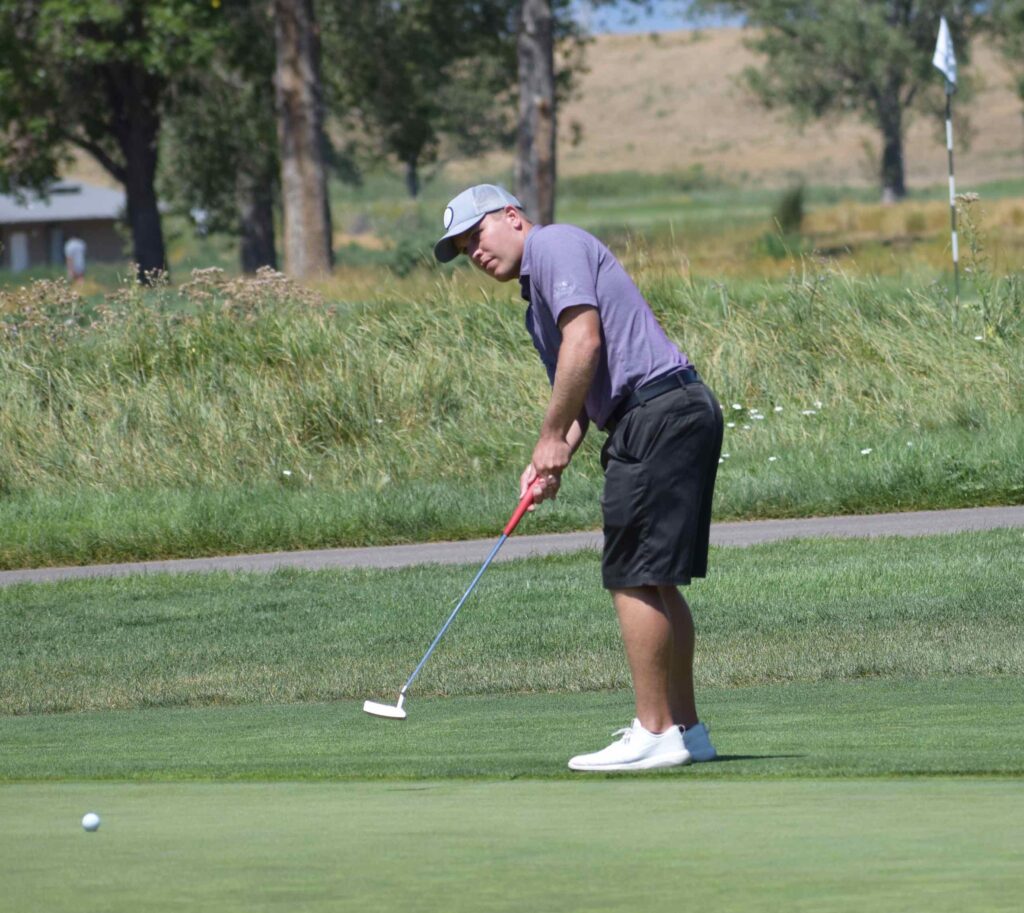 McCoy, who finished second in the 2019 Canadian Men's Amateur, stands at 203 after a third-round 68 in which he played his final seven holes in 3 under par. Collin Engelhardt of The Club at Pradera is fourth at 204 after posting a 70 on Saturday. And three other players — two-time CGA Mid-Amateur champ Chris Thayer, DU golfer Connor Jones of The Ranch Country Club and Gavin Hagstrom of Fort Collins Country Club — will go into the final round five out of the lead.
Bryant overcame two penalty shots on Saturday. On the par-4 11th hole, after pushing his drive way right, his second shot hit the back side of a mound and bounded over the green into the water. But he made lemonade out of lemons by chipping in for par from 30 feet.
"You get away with those and that's good," said Bryant, who has made just three bogeys in three rounds this week.
Bryant, a former Junior Golf Alliance of Colorado Boys Player of the Year, said he'll try to avoid knowing how the leaderboard stands on Sunday — at least for much of the day.
"I always get off to really good starts in first rounds and I want to keep that mentality and not (know how the leaderboard is shaping up)," he said. "I like to play the golf course, play my own game and let the cards fall how they fall. I can't control what (the other players) are going to do. I can only control what I do on the course. That's the mentality for tomorrow."
Bryant found out just last Sunday that he landed an exempt spot into this year's U.S. Amateur, which starts Aug. 10 in Bandon, Ore., after originally being on the alternate list. It will be Bryant's first U.S. Amateur and he'll join CSU teammates AJ Ott of Fort Collins and Parathakorn Suyasri of Thailand in the field — along with University of Colorado golfer Daniel O'Loughlin.
"It was great news," Bryant said of getting into the field. "I would have liked to actually qualify through a qualifier (this year there were no qualifying tournaments due to Covid-19 safety concerns), but I'm playing and I'm not going to complain about it. I'm really looking forward to it. Both my parents are going to go. My mom (Julie) hasn't seen me play in a USGA event so I'm looking forward to her being there. And my dad (Matt) is going to be caddying. We'll have a great time. It'll be a great experience. Hopefully I'll make match play and anything can happen from there."
It will be Bryant's third USGA championship as he competed in the 2015 and '17 U.S. Junior Amateurs.
Prater, who played in his second U.S. Amateur last year, said he is relishing the opportunity to vie for another CGA major title on Sunday. (The final pairing will feature Bryant, Prater and McCoy.
"It's great being in contention," Prater said. "I love competition. I'm just super stoked for tomorrow."
In Saturday's best-of-the-day 65 (following a 66 on Friday), Prater made six birdies, with four of them coming from 7 feet or less.
"I played great," he said. "The last couple of days I've given away five or six shots — not getting the ball up and down or three-putting or missing a green with the wedge. But today was super consistent. I think (the course) played the toughest it has yet this week, so my round was solid."
For all the scores from the CGA Amateur, CLICK HERE.
For Sunday's tee times, CLICK HERE.
Correction: An incorrect name was listed in Friday's story for the player who made a hole-in-one in the second round. Sean Thomas of Meridian Golf Club aced the 192-yard 12th hole with a 7-iron on Friday. It was his second career hole-in-one, both having come in CGA-related competitions. Through Saturday's third round, Thomas sits in eighth place at 3-under-par 207.