New Coloradan David Nelson continues stellar stretch with win in CGA Super-Senior Amateur; Dave Roylance claims 70+ title
By Gary Baines – 8/12/2020
David Nelson just moved to Colorado in April after spending most of his life in Reno, Nev., and he's wasted no time in making his presence known on the golf scene in the Centennial State.
Just since the beginning of July, the new member at Columbine Country Club has won the senior division of the Charlie Coe Invitational at Castle Pines Golf Club (with Chip Lutz), along with the Denver Senior Men's Amateur and the Aurora Senior Amateur. And on Wednesday, he captured his first CGA championship title by prevailing at the CGA Super-Senior Amateur Championship.
"It's always nice to get a 'W' under your belt," Nelson said Wednesday following his one-stroke victory at Gypsum Creek Golf Course in Gypsum. "It's really exciting. I'm looking forward to playing a lot of golf up here in Colorado. It's nice to get my first championship up here."
Nelson is certainly no stranger to success in tournament golf. He's qualified for 33 USGA championships, spanning from 1973 to 2019, including earning medalist honors at a U.S. Senior Amateur qualifier in Colorado Springs in 2017. He competed in the 1982 U.S. Open that Tom Watson won at Pebble Beach. In addition, Nelson was long a force in Nevada amateur golf, winning the State Match Play four times and many other state and regional tournaments.
This week, in just his second CGA championship, Nelson prevailed with rounds of 70-75 for a 1-over-par total of 145. He played his final six holes in 5 over par in windy conditions, but had built a large enough cushion that he still claimed the title.
Robin Bradbury of Omni Interlocken Resort, the 2016 CGA Senior Player of the Year and a 2019 U.S. Senior Open qualifier, posted the low round of the day, an even-par 72, to finish one behind Nelson. Bradbury was 2 under for the day through 15 holes, but bogeyed Nos. 16 and 18.
Randy Miller of Boulder Country Club placed third at 147 after a closing 73.
Nelson, who took a two-stroke lead into the final round, carded three birdies, four bogeys and a double bogey on Wednesday. But when he needed a par on 18 to avoid a playoff with Bradbury, Nelson delivered, hitting a solid tee shot, then a wedge to 7 feet for an easy two-putt.
Having retired at the end of March from his company, which provided hole-in-one insurance for golf tournaments, Nelson finds himself with more time to work on his game than he's ever had as an adult. And it seems to be paying dividends.
"I've never really had the opportunity to play and practice every day if I wanted to. Now that I'm retired I've been given that opportunity, so I'm really taking advantage of it," he said. "It's really been fantastic. My game is getting so much more consistent.
"Sean Forey (a former champion who tied for fifth on Wednesday) and I were joking the other day saying, 'There's golf and then there's tournament golf.' And I like to think I play my best in tournament golf."
Nelson, who moved with his wife to the Denver area to be close to their daughter and four grandsons, barely made it under the wire, age-wise, to compete in the Super-Senior Amateur. The tournament is limited to players 64 and older, and Nelson turned 64 in May.
"All of these tournaments are brand new for me," he said. "I'm looking forward to playing in a lot more tournaments here in Colorado."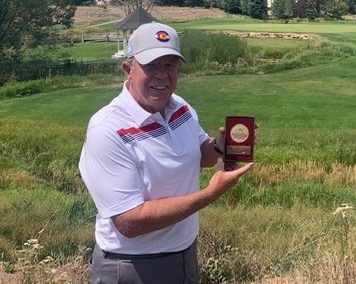 Meanwhile, in the 70-and-over masters competition at Gypsum Creek, another David — actually, in this case, Dave — claimed the title. Specifically, Dave Roylance of CommonGround Golf Course and Lone Tree Golf Club, a longtime local rules official, scored a four-stroke victory over former PGA professional Don Alley of Walking Stick Golf Course, who won this division in 2016 and '17.
On a day in which none of the masters players shot in the 70s, Roylance closed with an 80 for a two-day winning total of 11-over-par 155 total.
Roylance was happy to hold on and claim the top spot given that there were some distracting factors. Specifically, the Grizzly Creek Fire east of Glenwood Springs was just a few miles away, and there was plenty of smoke overhead and more than a few embers found their way to the golf course early this week.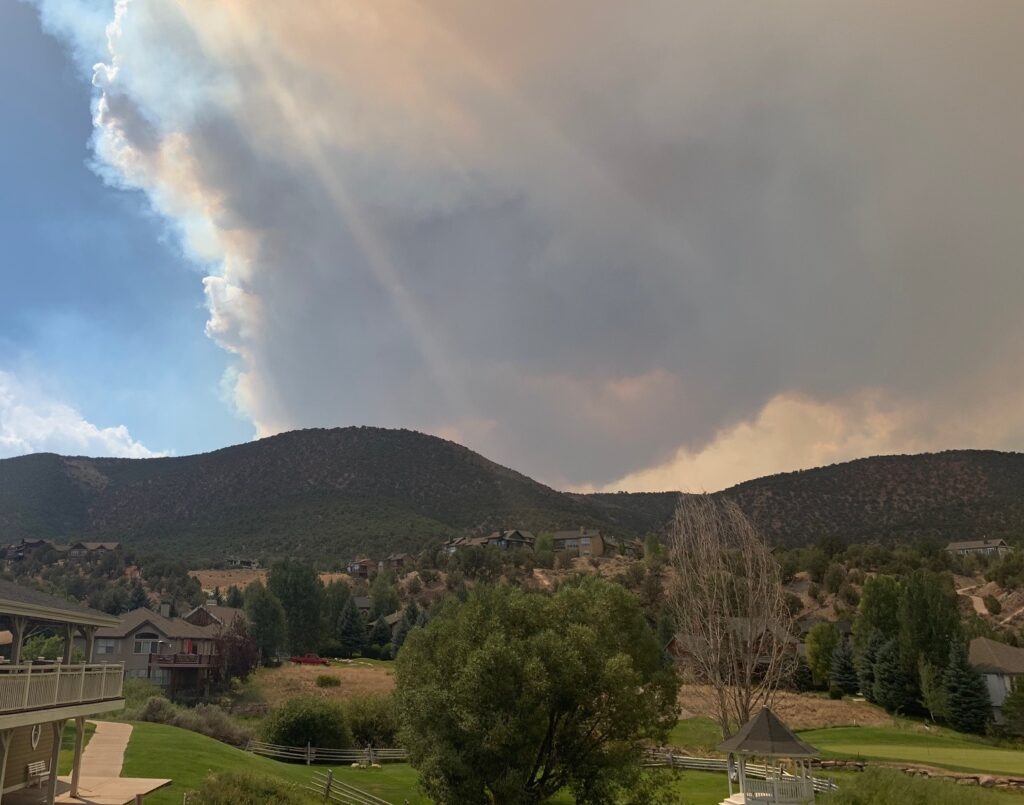 "It was a little struggle with the fire and everything going on," Roylance said. "It's flaring up again right now. The cinders and the smoke and everything made it interesting. We've got the large helicopters with water flying over the tops of our heads to get there (to the fire). The wind keeps kicking it up. Every once in a while you'll get an ember in your eye or something."
Roylance, a 72-year-old from Highlands Ranch, held a comfortable lead for much of Wednesday, but played his final six holes in 5 over par and subsequently saw things tighten up down the stretch.
Alley birdied the 16th and 17th holes to get within three strokes.
From there, "It was nose to the grindstone and I got it done," said Roylance, who locked down the victory with a two-putt par from 50 feet in which his first putt traveled from the upper to the lower tier of the green. Meanwhile, Alley closed with a bogey to finish at 80 and account for the final margin.
"I had some bad holes — old guys do — but then I finished strong," Roylance said. "I hit some good shots coming in and that helped me a little bit. It gave me a little confidence, particularly on 18 when it was getting close. I hit a good second shot and got down with a difficult two-putt."
Roylance — a former University of Colorado golfer who was a freshman teammate of Hale Irwin the year the latter won the NCAA individual title — notched his first CGA title. The former All-Navy golfer has won 10 club championships at four courses over his lifetime.
For scores from Gypsum Creek, click on the following: 64-AND-OLDER, 70-AND-OLDER.