University of Wyoming teammates Sargent, Knadler join forces to claim CGA Women's Brassie title just ahead of their final season of college golf
By Gary Baines – 08/22/2019
Erin Sargent and Kaylee Knadler have been teammates for three years now on the University of Wyoming women's golf squad.
But they've never really teamed up with one another at a golf tournament — as in, being paired up and competing against other twosomes.
This week, they rectified that situation, and emerged with an overall championship in the process. With the college golf season right around the corner, the two Wyoming Cowgirls — Sargent from Longmont and Indian Peaks Golf Course, and Knadler, who has recently settled in Fort Collins — posted a six-stroke victory on Thursday in the 69th CGA Women's Brassie Championship at Pelican Lakes Golf Club in Windsor.
"It was a blast," Sargent said of winning the title with her teammate. "We never get to play with each other competitively. It was fun to do that. It's a totally different dynamic that we had a lot of fun with."
Added Knadler: "We don't get to do stuff like this very often. It's fun to just go out and play some golf (together in a tournament)."
For both Sargent and Knadler, it was CGA championship victory No. 1 of their careers. But Sargent certainly has knocked on the door plenty in recent seasons, finishing runner-up in the last three CGA Women's Stroke Plays and placing second to Mary Weinstein in the CGA Women's Match Play earlier this summer.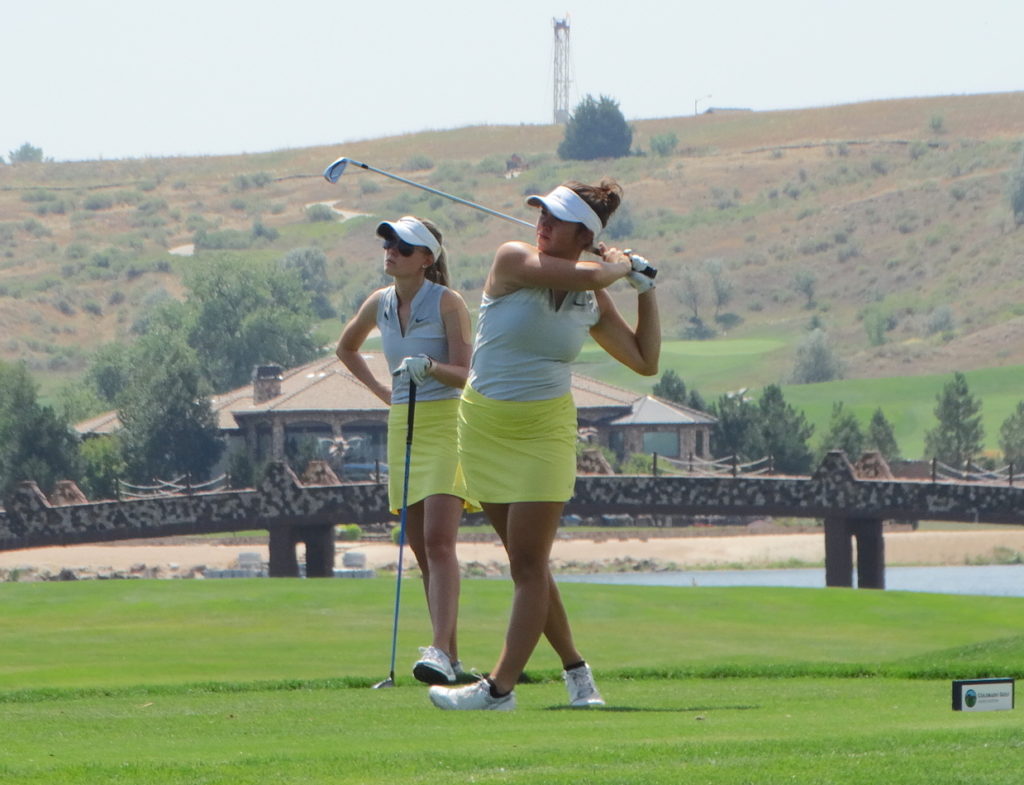 But out of state, Sargent won the Wyoming State Golf Association's Women's Amateur two years ago and the Women's Match Play this year. Sargent placed second and Knadler third in the 2019 WSGA Women's Amateur.
Sargent, who recently competed in the U.S. Women's Amateur, and Knadler were tied for the lead through 10 holes of Thursday's final round with Jennifer Cassell of City Park Golf Course and Haejeong Son of Heritage Eagle Bend Golf Club. But Sargent and Knadler played their final eight holes in 3 under par best ball to win going away.
During the stretch run, Sargent birdied the 11th, 15th and 16th holes, while Knadler sank an 8-foot birdie on No. 13.
"It was wonderful to play with such strong, consistent hitters," Cassell said. "They were fun to watch."
Sargent and Knadler finished with a 1-under-par 71 on Thursday, giving them a two-day total of 4-under 140 in the four-ball stroke-play event.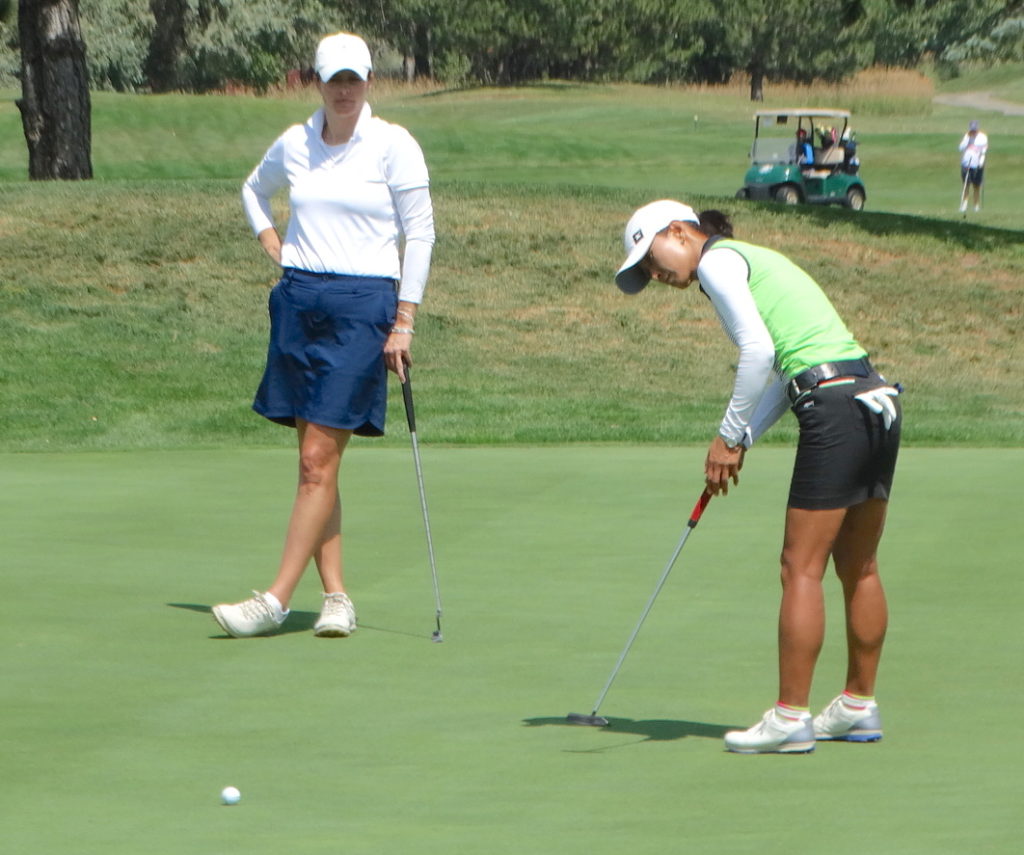 Cassell, a lobbyist at the State Capitol who includes among her clients the Colorado Golf Coalition, and Son placed second at 146 after a second-round 77.
Taking third in the championship flight was Lisa Buhlinger of The Club at Flying Horse and Vickie Brown of CGA Club, who checked in at 154 after a pair of 77s.
After not making a birdie between them in the first 10 holes on Thursday — "the front nine was rough for us for sure," Sargent said — Sargent and Knadler chalked up four between them in the next six holes. Included was one on 15 by Sargent, where her eagle putt from the back fringe hit the flagstick, but wouldn't drop.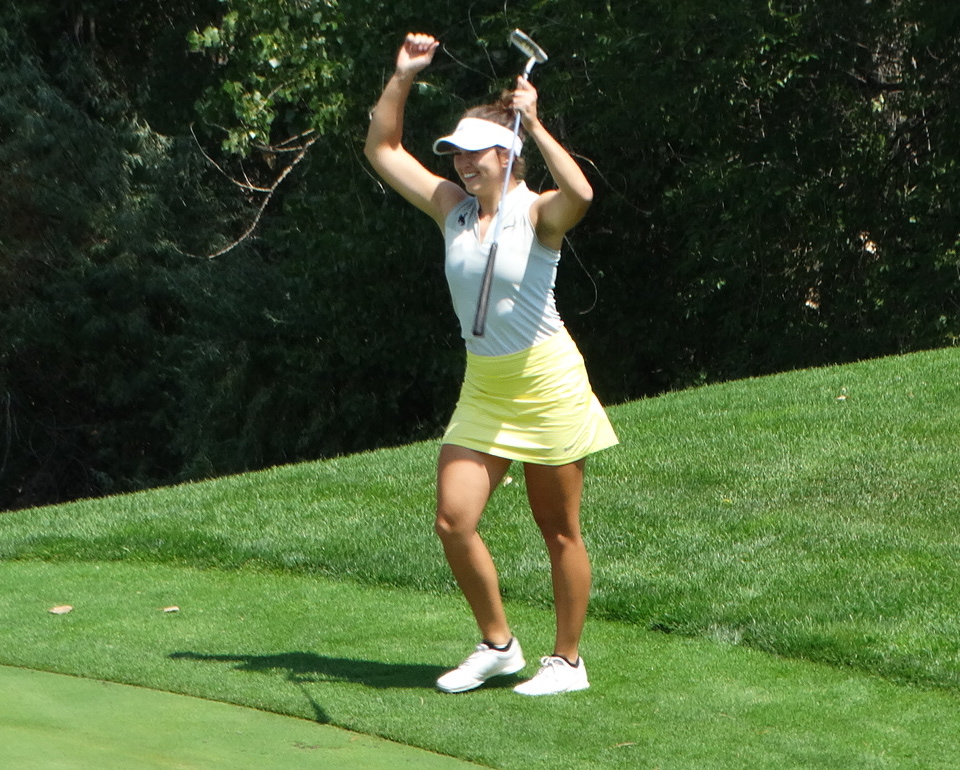 "That was fun and exciting," Knadler said. "That would have been cool (to make eagle). We both made some clutch putts on the back nine and kind of got it rolling a little better."
It would have been a big upset for a couple of mid-amateurs to beat Division I college players like Sargent and Knadler, and the dream remained very much alive when Son made birdie on No. 10 to pull back into a tie for the lead.
"I thought we had a chance," Son said. "Actually, I thought we could do it because (Jennifer) played really good yesterday."
But the birdies by the eventual champions and a best-ball bogey by Cassell and Son on 14 and a double bogey by them on 18 made a close competition into a six-stroke win for Sargent and Knadler.
"Erin got hot and went on a birdie streak on the back," Cassell said. "Today we're a little more disappointed than yesterday (in our games). As the day went on, we knew we weren't hot anymore. We were missing putts and knew we just couldn't do it."
Both Sargent and Knadler will be playing their final season of college golf starting next month, so having a good time and winning the title together in the Brassie seemed an ideal way to start to gear up.
"There's always competition involved for sure," Knadler said of their approach to the Brassie. "But it was mostly fun for us to come out and play together." 

CGA Women's Brassie Championship
At Par-72 Pelican Lakes GC in Windsor
GROSS AND NET WINNERS
Championship Flight
Gross — Erin Sargent, Indian Peaks GC/Kaylee Knadler, Fort Collins 69-71–140
Net — (tie) Jennifer Cassell, City Park GC/Haejeong Son, Heritage Eagle Bend GC 61-68–129; Vickie Brown, CGA Club/Lisa Buhlinger, Club at Flying Horse 66-63–129.
First Flight
Gross — Debra Bolke, Saddle Rock GC/Cathy Neistat, Saddle Rock GC 74-76–150
Net — (tie) Anne Cadden, Ranch CC/Candi Carpenito, Red Rocks CC 64-66–130; Cathy Garrick, Anchorage/Laura Wetzel, Coal Creek GC 68-62–130
Second Flight
Gross — Dot Lindsey, Riverdale GC/Berta Thimmig, Riverdale GC 76-83–159
Net — Juliet Miner, Bear Dance GC/Andrea Youngers, Highland Meadows GC 67-64–131
Third Flight
Gross — Karen Gallagher, Pelican Lakes GC/Lynn Emmert, Pelican Lakes GC 81-79–160
Net — (tie) Karen Storie, Murphy Creek GC/Roni Crain, Mariana Butte GC 65-62–127; Linda Schippers, Heritage Eagle Bend GC/Barbara Fagan, Heritage Eagle Bend GC 64-63–127.
Fourth Flight
Gross — (tie) Diane Storlie, Riverdale GC/Sharon Thiel, Riverdale GC 89-89–178; Corky Walters, Southridge/Irene Stein, Collindale GC 92-86–178
Net — Laura Laux, Foothills GC/JoAnn Smith, Foothills GC 65-67–132
Fifth Flight
Gross — Susie Goldberg, Overland Park GC/Marcia Hall, Overland Park GC 85-88–173
Net — Kim Ellison, Eagle Trace GC/Tina Reeves, Eagle Trace GC 61-63–124
For all the scores — both stroke and net — for the various flights, CLICK HERE.