Colorado native Jennifer Kupcho makes last 'Dinah' her first LPGA victory and first major title
By Gary Baines – 4/3/2022
Appropriately, it's springtime, when Jennifer Kupcho has posted the biggest victories of her career.
The Colorado native won the inaugural Augusta National Women's Amateur in early April 2019. She claimed the 2018 individual NCAA title in May. And she triumphed at the 2020 CoBank Colorado Women's Open in early June.
So perhaps it should come as no surprise that Kupcho's first LPGA victory and first major title — both considered more a matter of "when" and not "if" — has come in the spring. Specifically, it happened on Sunday at a historic tournament: the final LPGA major at Mission Hills Country Club in Rancho Mirage, Calif., the traditional home of what was known as "The Dinah Shore." The event moves to Houston next year.
Almost three years into her LPGA career — and with plenty of near misses during that time — Kupcho closed the deal on Sunday to win the Chevon Championship by two strokes.
"I'm still shaking," the Jefferson Academy graduate told Golf Channel immediately after the victory.
And that shaking was before she made the final leap into Poppie's Pond — a tradition for the tournament winner at the LPGA's first major of the year. But it is nice and warm in the desert, so there's that.
(Not to draw comparisons by any means, but one Annika Sorenstam also made her first LPGA victory a major — and like Kupcho did so at age 24 — at the 1995 U.S. Women's Open at The Broadmoor in Colorado Springs.)
Sunday's win came after Kupcho had finished in every other place in the top 10 in her LPGA career — except first. The 2020 CoBank Colorado Women's Open champ owned three second places in LPGA events, one third, one fourth, one fifth, one sixth, one seventh, one eighth, one ninth and one 10th.
But now Kupcho has that precious first win after those 11 previous LPGA top-10s.
"I think it's surreal," the former Wake Forest golfer from Westminster said. "To be a major winner is really special. And to be the last person (to win) here at Mission Hills (and) to jump into Poppie's Pond, it's all really special.
The victory came with a champagne shower on the 18th green and a long-awaited excited embrace from her husband of less than two months, Jay Monahan. It also came with a nice $750,000 check — and the Dinah Shore trophy.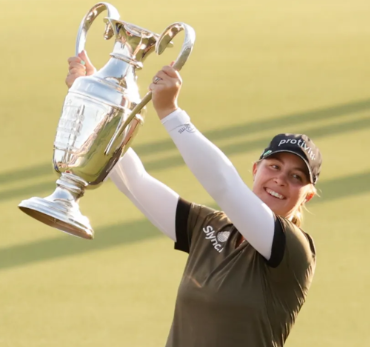 "He picked me up," Kupcho said of Monahan. "I don't think he's ever picked make up. That was pretty cool. I could definitely tell he was emotional when I did finally look at him. … So quickly after our wedding to be able to celebrate with my husband is really special."
After taking a six-stroke lead into the final round, Kupcho never saw anyone get closer than two shots on Sunday. It wasn't ho-hum by any means, but seemed to always answer any significant surges by opponents.
The victory is believed to be the first on the LPGA Tour by a Colorado native since Colorado Springs product Lauren Howe prevailed at the 1983 Mayflower Classic.
"The first win is hard to come by and sure is special," said Golf Channel analyst — and past winner at Rancho Mirage — Judy Rankin.
"What a brilliant future (Kupcho) figures to have … I feel she's got that competitive fight. (She's) got that grit."
The fans chanted Kupcho's name as she approached the 18th green, which was no small matter to her.
"It's special," she said. "Honestly one of the biggest things I've fought over the last year and a half is everyone is out here cheering for Nelly (Korda) or Lexi (Thompson) or someone else I'm playing with. I don't ever hear, 'Go Jennifer.' That was really special today to have that. To have my caddie and his friends and all my friends out here supporting me is really special."
Where putting has held Kupcho back somewhat as an LPGA player, this week she hit the mark on the greens. She made nine birdies each on both Thursday and Saturday, and converted several long ones on Sunday as well. Specifically, she drained birdies of 25, 30 and 20 feet on Nos. 4, 5 and 11, respectively.
Kupcho has credited some putting assistance from husband Jay Monahan, who has helped her keep her through stroke from getting a little too much inside the line.
For the week, Kupcho carded a remarkable 25 birdies en route to a 14-under-par total (66-70-64-74).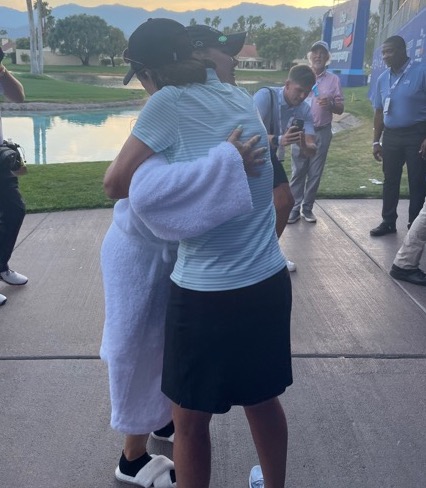 Kupcho's putter did gave up bogeys on 13 and 14 — a three putt and missed 7 footer — to see her lead briefly dwindle to two. But a missed 5 footer by her closest pursuer — Jessica Korda, who was battling back issues down the stretch — and a 3-foot birdie by Kupcho on 15 returned the advantage to four.
At that point, even two straight bogeys to finish didn't matter. Kupcho was an LPGA winner and a major champion.
"I think I've matured a lot since I've been out here" on the LPGA Tour, Kupcho said. "I think my putting has gotten a lot better. I've been able to calm myself down a lot better. I still have my spurts of anger, but I think that's how I get it out quickly and move on. My whole mental game has really gotten stronger.
"Once I started putting myself in contention and not succeeding, I worked with my swing coach (Ed Oldham), who's also good with the mental game."
Korda placed second at 12 under par after closing with a 69.
For all the scores from the Chevon Championship, CLICK HERE.
Kupcho wasn't the only Colorado product to post a strong finish on Sunday. Also in contention were Colorado Golf Hall of Famer Brandt Jobe (fifth at the PGA Tour Champions' Rapiscan Systems Classic in Biloxi, Miss.: Scores) and Colorado native Mark Hubbard (ninth at the Korn Ferry Tour's Club Car Championship in Savannah, Ga.: Scores)