High school teacher Colin Prater caps off big year with 2nd straight win in CGA Mid-Amateur, this one with largest victory margin in the event since 2012
By Gary Baines – 10/1/2023
Last year, Colin Prater of Cherokee Ridge Golf Course became just the second golfer in history to have won the CGA Amateur, CGA Match Play and the CGA Mid-Amateur over his career, joining Colorado Golf Hall of Famer Kent Moore.
Now, Prater apparently is continuing his quest for multiple titles in the three CGA championships.
The biology teacher and coach from Cheyenne Mountain High School in Colorado Springs schooled the field in this weekend's 37th CGA Mid-Am at Haymaker Golf Course in Steamboat Springs. In doing so, he made it back-to-back titles in the championship limited to amateurs 25 and older.
Prater, 28, became the fifth player to win the Mid-Am two or more straight years, following in the footsteps of Jon Lindstrom (2015-16), Keith Humerickhouse (2010 through '13), Rick DeWitt (1999 through 2002) and Rick Garber (1992-93).
Prater said this year's victory was extra meaningful because his wife, Madi, and 11-month-old daughter, Blake, were with him in Steamboat — as were his parents.
"I feel like it's way more special to have them here with me," Prater said. "Last year, my wife was 39 weeks pregnant and could have the baby at any moment, so she wasn't there. I still really enjoyed winning, but to be able to share the moment with them (this time) is so much better."
This year's U.S. Amateur at Cherry Hills Country Club, where Prater's family and high school golfers were also there to support him as he advanced to the match-play round of 64 "was the coolest experience I've ever had in my entire life. It was definitely kind of the same vibes today just with having the whole family there. Anytime I can have my wife, my daughter and my parents there, it's so neat."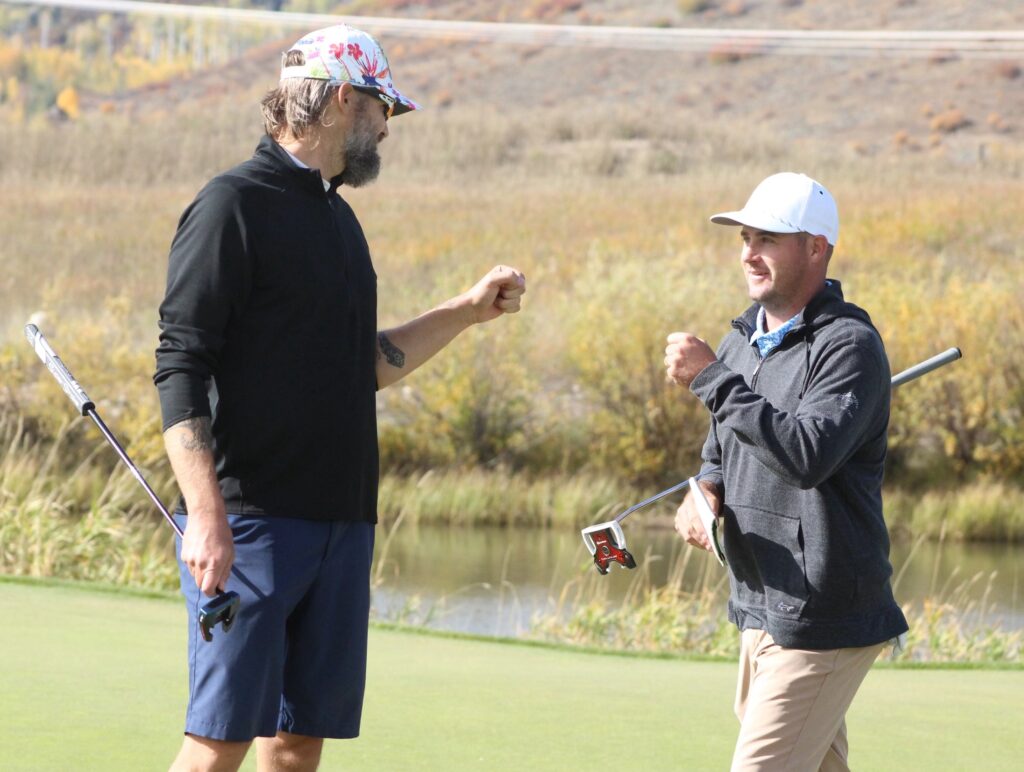 Prater (right) gets a fist bump from playing partner Bryan Rusin on Sunday.



After coming into Sunday's final round with a one-stroke lead and with five players within three strokes of him, the former University of Colorado Colorado Springs golfer cruised to a seven-stroke victory on Sunday.
It's the largest winning margin in the CGA Mid-Amateur since Humerickhouse prevailed by a dozen shots in 2012.
Prater — winner of both the CGA Match Play and the CGA Amateur in 2020, along with the 2016 CGA Am — never surrendered the lead on Sunday. In fact, he played his final 36 holes in 10 under par, with 11 birdies and just one bogey. During one stretch on the weekend, Prater went 21 straight holes without a bogey. After opening with a 73 on Friday, he finished at 9 under par for three rounds. And that's despite not having ever seen the course before playing 14 holes of a practice round on Thursday.
"Obviously (repeating as champion) was the goal coming in," he said. "It worked out well. I struggled on Friday and kind of put myself behind the 8 ball going into the final two days. But I knew I had the game and I knew I could do it. But there are so many good players; no one is going to hand it to you.
"It played to my favor (Saturday) when it got really really windy. That made the golf course really tough and par became a really good score. The harder the golf course plays, the better it is for me. I feel like it suits my game really well. I play tough golf courses really well. So the fact that it was very breezy yesterday and pretty breezy today played into my favor.
"It was nice to come up here Thursday, having never seen the golf course, and walk away with the same trophy on Sunday afternoon."
It's the fifth CGA championship for Prater. Besides his two Mid-Amateur titles, he's won the CGA Amateur twice and the Match Play once. In addition, this year he teamed with friend Jimmy Makloski to shoot 60 and win the qualifying for the 2024 U.S. Amateur Four-Ball, and he claimed the title at the Colorado Springs City Championship for the eighth time in 10 years. He also tied for second in the CGA Amateur.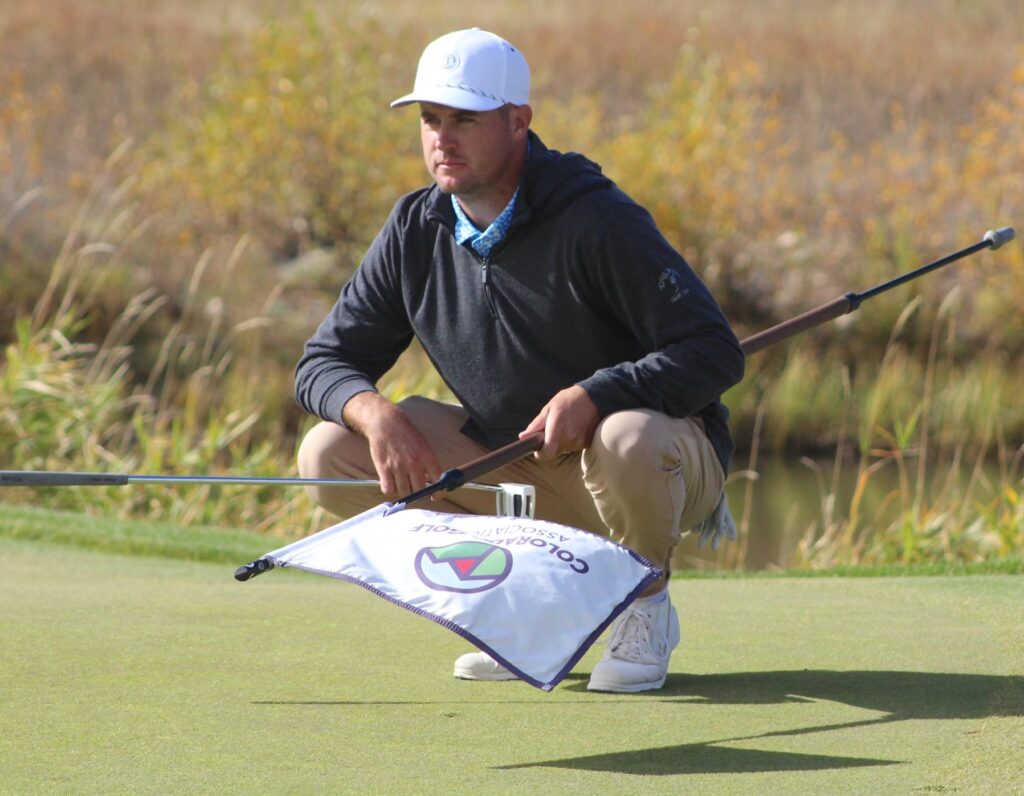 Prater went 67-67 over the last 36 holes, making just one bogey in those two days.



But especially during the school year, the fact that Prater can add a state title with all he has going on is no small feat. Besides teaching freshman biology, he's an assistant coach for the 4A defending state team champion Cheyenne Mountain High School boys golf team. (On Sunday evening Prater was driving from Steamboat to Montrose for the 4A state tournament that begins on Monday.) He's also attending to his family — his wife and soon-to-be 1-year-old daughter.
Asked how much he plays or practices this time of year, Prater said, "Very little. I try to limit it to the nine holes a week I play with the high school boys. I used to play more but now that I have an 11-month-old, I kind of try to leave practice right when we're done to get home and give her her bottle and put her to bed. Priorities just kind of change. And the golf game and practicing kind of get put on the back burner. There's nothing wrong with that; it's just a fact.
"… I don't ever have a two-hour dedicated practice session."
Finishing runners-up to Prater on Sunday were a pair of players: another golfer who competed in this year's U.S. Amateur at Cherry Hills, Blake Trimble of Columbine Country Club, a former University of San Diego golfer; and Anthony Syrko of CommonGround Golf Course, who trailed Prater by a shot after 36 holes. Trimble closed with a 69 that included an eagle, and Syrko recorded a 73.
Three golfers shared fourth place at 1 under par overall, including Michael Harrington of Garden of the Gods Club, the 2009 Mid-Am champ and 2014 CGA Player of the Year, who shot a 72 on Sunday. Joining him eight strokes back of Prater were Ben Dubois of Bear Creek Golf Club (71 Sunday) and Nick Ellis of Metro Denver e-Club (also 71).
Meanwhile, Prater recorded the two lowest rounds of the 2023 Mid-Am — the final CGA men's championship of the year — a pair of 67s on the weekend. On Sunday, highlights of his round included sinking a 30-foot birdie putt on No. 5 after hitting into the water on 4 and making bogey; driving the 308-yard eighth hole and two-putting for birdie; parring the tough 10th hole and draining a 15-foot birdie on 12.
"I controlled my golf ball really well," Prater said. "I was able to make some putts, I hit some balls close, I made the golf really simple, really easy. Lots of fairways, lots of greens. Very much a stress-free (final) 36 holes."
It was quite a contrast to his Thursday practice round, where he was learning the course and didn't fare so well.
"I lost 4-5 golf balls in the practice round," he said. "You know my game; I just kind of hit driver everywhere. There's definitely holes here where that's probably not the best play.
"This is definitely a golf course where the more you play it, the more you know where you can and can't hit it and what's the correct side to miss on. It was really fun and a great test."
Among the other notables competing this week, 2023 CGA Match Play champion Nick Nosewicz finished 31st, 2021 Match Play winner Cole Nygren seventh and 2019 Match Play titleist Josh McLaughlin 39th. As for former CGA Mid-Amateur champions besides Prater and Harrington, Humerickhouse placed 29th, Matt Zions 27th, Chris Thayer 21st and Ryan Axlund 11th.
For all the results from the CGA Mid-Amateur, CLICK HERE.


About the Writer: Gary Baines has covered golf in Colorado continuously since 1983. He was a sports writer at the Daily Camera newspaper in Boulder, then the sports editor there, and has written regularly for ColoradoGolf.org since 2009. He was inducted into the Colorado Golf Hall of Fame in 2022. He owns and operates ColoradoGolfJournal.com