PGA Life Member Jim Eyberg has soared with eagles on every hole at Ptarmigan CC
By Gary Baines – 03/14/2019
It was a golf feat that beat astronomical odds, but when he accomplished it, Jim Eyberg didn't know exactly how to feel.
It took about three decades for the Fort Collins resident to do what he did, but most golfers couldn't do it if you gave them a hundred lifetimes of golf.
In fact, Ptarmigan Country Club men's club president Gary Thiret, who estimates he's played in the same group as Eyberg 20-30 times, asked in an email, "Has this ever been done to your knowledge?"
It may have, but the accomplishment stretches the law of probability.
Eyberg, the original PGA head professional when the Jack Nicklaus-desigend course opened in late 1980s, estimates he's played Ptarmigan 2,000 or 2,220 times over the last 30 years. And even at that, what he's done is jaw-dropping.
Over the course of his lifetime, Eyberg has eagled every hole at Ptarmigan. And if that weren't enough, he's done all but four holes at least twice.
Think about that for a moment.
Making eagles on every par-5, while a notable accomplishment, certainly has been done at plenty of courses by plenty of golfers, even when playing at an average of 7,000 yards, as Eyberg said is his norm.
But then a golfer has to make holes-in-one on all the par-3s — four of them in the case of Ptarmigan. And if you manage that, then there's that small matter of holing out second shots on all 10 par-4s.
"Getting an ace on every par-3 is hard enough," Thiret noted.
Greg With, who serves on the CGA board of directors and is a respected rules official in Colorado and beyond, has been a member at Ptamigan since the early 1990s and estimates he's played 50 or more rounds with Eyberg.
"It's incredible," With said of Eyberg's feat. "Eagling par-5s for a really good player is no big deal. But every other eagle is a big deal. To put things into perspective, I've eagled 1, 2, 4, 14 and 18 and I have probably played close to 2,000 rounds of golf there. Obviously he's a much better golfer than I am with my 10 handicap compared to him being a scratch player. But that's just phenomenal.
"How many holes-in-one have you had in your life? How many eagles have you had in your life? For mooks like us, those are big deals. And here he's done it on every hole on the golf course. That's uncanny. It's just hard to believe."
Eyberg, a 66-year-old who retired from Ptarmigan in 2009 after a 23-year run but has maintained a pro-emeritus membership ever since, completed his all-eagle feat on Aug. 24 of last year.
The final hole he conquered was the uphill par-4 ninth hole.
"You get toward the end, and I kind of announced to anyone who would listen that I needed 17 and 18 and 9 and 11," Eyberg said this week. "As I knocked them off, of course they get a little more tough to get.
"Then I had the last hole to go and that took me about 2 1/2 years (after the others had been completed). It's a fairly innocuous hole, but it is uphill so you almost have to add an extra club to get there. The pin was on the front — the toughest part of the green (because) it's got a false front."
After Eyberg's pitching wedge from 120 yards found the bottom of the hole on No. 9, "The three guys I was playing with were more excited than I was," he reported. "Of course, I got them to sign the card. The day before, I had shot my age for the first time (66). Then the next day I got the 2 on 9. It was a nice couple of days."
So after running the table, eagles-wise, over the course of 30 years at Ptarmigan, what was Eyberg's reaction?
"I didn't hoot and holler and everything," he said. "We all shook hands. Obviously, we had some side bets, so there was a little bit of excitement there. To be quite honest with you, every time I got to the ninth hole, I said, 'At least I have something to play for now in golf. I haven't gotten this one.' Once I got it, I said, 'Now what do I do?'
"So I guess my next goal is to get them all twice — and I've got three of the par-3s to do and 9 again. So I've got to readjust my goals. I don't know if I'll live long enough to do that."
To commemorate Eyberg's lifelong accomplishment at Ptarmigan, a plaque (above) will be placed in the spot in the ninth fairway from which he completed his eagle-a-thon. A ribbon-cutting ceremony is planned for next month. It's a fitting tribute for a guy who worked at the club for nearly a quarter-century and has lived on the first hole since 1992.
Eyberg's five holes-in-one at Ptarmigan have included four from more than 200 yards — in the 204-215 range, specifically — to go along with one from 160 yards.
But he's had hole-outs from even further elsewhere on the course. One year in the early 1990s when Ptarmigan hosted a U.S. Open qualifier, Eyberg hit the mark for eagle on the seventh hole from about 230 yards with a 2-iron. And he's scored an eagle on No. 8 with a 5-wood from similar range.
One of the most memorable of his eagles came long ago on the par-4 10th, the No. 1 handicap hole for men. There, Eyberg holed out for eagle with a 7-iron from about 180 yards.
"I did get a little excited about that because I was playing with the then-owner (Jim Dobbins, who has since passed away). He basically saved Ptarmigan from (financial) ruin (in the formative years of the club). He stepped up to the plate. It was special for me because he was 'the man'."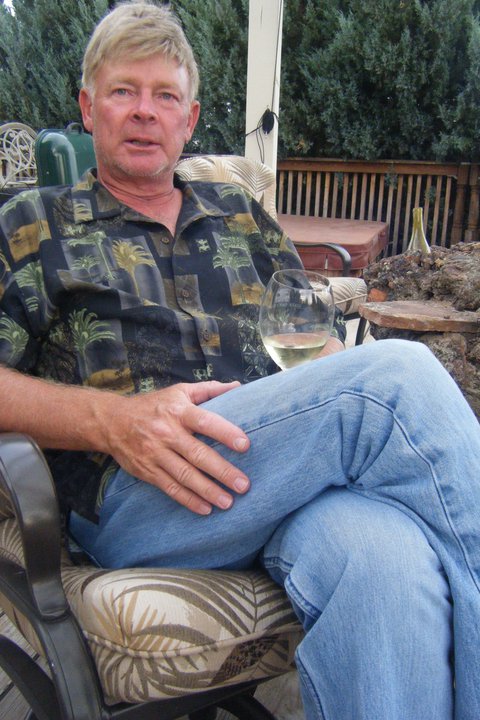 Eyberg (above), a PGA of America Life Member after spending about 37 years with the organization, said he's never heard of another person making an eagle on every hole of a course, but admits he hasn't done much research in that regard. But he noted that a former member at Ptarmigan (Ray Starck) has aced all the par-3s there, and Eyberg spoke with man who said he did likewise at a course in Washington.
"Jim did quite a bit of research around the country how common it was, and he found out it was incredibly uncommon," With said of acing all the par-3s on a given course. "What was neat about that was that Jim thought it was so unusual that he spent so much time trying to figure out unusual it was. He's the one that made that a really big deal for Ray. I like that. Jim made sure that accomplishment was special for Ray. Now Jim has done the same thing (and beyond).
"I think the odds of having two members have holes-in-one on every par-3 at a particular course is just exponentially impossible.
"But what a good guy (Eyberg is). He's sort of the club's ambassador in many ways. And he's a lot of fun to play to play with."
Eyberg, who still regularly shoots around par or better, is understandably proud of his eagle feat at Ptarmigan.
"If you're going to have a bucket list, I guess this is a pretty good one," he said. "When you write this, maybe somebody will read it and say, 'I know four guys who have done it' or something. I don't know that anybody else has done it. I hope you find out somebody else has done it because I'd like to actually know that.
"There are two things at work (regarding accomplishing such a thing): You have to be able to get out and play once in a while; and secondly, you kind of have to be at the same club for quite a while. If you're moving around every 10 years, you're probably not going to do it unless you're really, really good and really, really lucky."
While Eyberg's accomplishment is certainly a claim to golf fame, he jokingly notes that he has another.
The Greeley native played in the Colorado Open once — in 1977 at Hiwan. He remembers shooting four straight 73s, which was good for roughly a 20th-place finish. For that, he earned the hefty sum of $80, a total which puts him 820th on the tournament's all-time money list. Thanks to a heads-up from With, Eyberg noted that one Sam Snead — yes, that Sam Snead — is three spots behind him, with $62.50.
"So my claim to fame is I beat Sam Snead," Eyberg said with a chuckle. "Anytime anybody at the club wants to listen to that story, I can pull out the book."