Davis Bryant, longtime fixture at Green Valley Ranch, shoots 68 in opening round of his first CoBank Colorado Open; 2018 runner-up Saunders leads after 63
By Gary Baines – 07/25/2019
Davis Bryant remembers his first foray caddying at what is now known as the CoBank Colorado Open.
It was was 2008, Bryant was 8 years old — and a small 8-year-old at that — and the Aurora resident was looping for his dad, Matt, who worked at Green Valley Ranch Golf Club and is now the PGA general manager at the longtime host course of the Colorado Open.
"All I remember is being about 3 feet tall and pushing the push cart up the hill like this (struggling)," Bryant recalled on Thursday.
Bryant would end up caddying for dad Matt at seven straight Colorado Opens. But the younger Bryant has been a fixture at GVR and at the tournament for reasons beyond that.
As noted, dad Matt is the PGA G.M. at Green Valley Ranch and has worked at the club since 2006. Mom Julie is the director of operations for the Colorado Open Golf Foundation and has had a job at GVR also since 2006.
And Davis, along with younger sister Emma, would be on hand for the Colorado Open in one capacity or another.
"Usually I'd go out and either caddie, volunteer, lug water around or do something else to help out," he said.
On Thursday, Davis Bryant was back at GVR, but this time it was much, much different.
Now after a decorated junior golf career and as a regular on the Colorado State University golf team, Bryant marked a milestone by playing his first round in the Colorado Open.
And a good first round it was. The 19-year-old fired a 4-under-par 68 and shares 15th place after the opening round of the $250,000 tournament.
"It feels weird," the 2017 Junior Golf Alliance of Colorado Boys Player of the Year said. "Now I'm on the other side of things. When you're on the other side of things, I see how much work goes into (conducting the tournament), how many volunteer it takes, how many people are needed to make it run as smoothly as it does. That side is great. But I prefer to be on this side — playing and thanking all the volunteers."
It's possible that despite Bryant's young age, no one in this week's field has more experience playing GVR than he does. Even if his estimate of 2,000 to 3,000 rounds on the course is overblown, you get the idea. He knows about every inch of the layout.
Bryant rarely plays the Colorado Open tees, but from the black tees he's shot 66 on two or three occasions. But his five-birdie, one-bogey day on Thursday was pretty darned good, all things considered.
"I feel comfortable on the golf course. I've obviously played it a million times," he said. "I think that helped with the nerves — hitting so many of the drives and the tee shots millions of times (before makes it) feel very comfortable. 
"It was a little nerve-wracking on the first tee. I haven't been that nervous probably since my first college event (last fall). But once I hit the first tee shot in the fairway, I had the mindset of having fun and seeing what happens. It feels great to get that round under my belt for sure.
"I would have taken (68) last night trying to fall asleep. It was a little more difficult than usual trying to fall asleep."
Adding to the symmetry of the moment is that dad Matt is caddying for Davis 11 years after Davis first caddied for Matt at the Colorado Open. (The two are pictured at top.)
"Dad did a good job on the bag," Davis said with a smile. "He stayed out of my hair when I didn't want him saying anything, but he stepped in when he needed to. It was great."
So how did competing in the Colorado Open differ from playing a casual round at GVR?
"The greens play a lot different, where they put the pins and how fast they are," said Bryant, who represented Colorado four times in the boys Junior America's Cup. "It's actually easier to make putts with how smooth they are and how good they are. As long as you start the ball on line, you're going to make a lot of birdies out here. 
"With the pressure and the way the course is set up and the pin locations, it's very similar to what you face at the high junior level. It's just taken up a little bit further as far as the difficulty and having to be spot on.
"But just by me knowing the course, that makes me feel a whole lot more comfortable."
  
Saunders Picks Up Where He Left Off, Leads After Round 1: The last tournament round Sam Saunders had played at the Colorado Open, he shot a course-record and personal-best 12-under-par 60 at Green Valley Ranch on the final day of the 2018 tournament, forcing a playoff with Dru Love, which Love won.
On Thursday, Saunders didn't miss a beat in resuming his stellar play in the Colorado Open. The Albuquerque resident fired a bogey-free 9-under-par 63 on Thursday, giving him the first-round lead by one stroke.
"I played really well today," the 27-year-old said. "I actually felt like I could have had a few more (birdies). I hit a bunch of shots pretty close. Overall it was really a good day.
"I really just like the golf course. It sets up good for me. There are a couple of driveable holes and they're perfect distance for my driver. A lot of the holes just set up really well for me. I love this place."
Saunders played his first three holes of the tournament in 4 under par, following up a birdie on 10 with a 40-foot birdie on 11 and a 25-foot eagle on 12. He finished the day with an eagle and seven birdies.
It was quite a start for a player who won last month in Durango at the Navajo Trail Open.
"The whole back nine, I could have really lit that one up," Saunders said. "But I'll take (63).
"Inside of 15 feet, I probably missed four or five times," he said. "The greens are so nice and so good, you feel like you should make everything honestly. They roll perfectly, so if you hit a decent putt you're going to have a good chance of making them."
Bryan Martin of Thousand Oaks, Calif., who had to qualify to get into the field this week, and Patrick Fishburn of Ogden, Utah trail Saunders by a stroke after 64s. Like Saunders, Martin got off to a memorable start on Thursday, holing out a 144-yard second shot for eagle on his first hole, then backing it up with a birdie.
"That's obviously a great start, but I played solid all day," said the winner of the 2017 Long Beach Open. 
"I just came from Waterloo Open (in Iowa). It was a good prep for this week definitely. You get into a groove of having to go low out there. The way this course is playing right now, obviously teeing off first (on Thursday) and with the greens being so good and no wind, you've got to take advantage of it. Fortunately I was able to do that today."
Fishburn, who started the tournament with a bogey, made six straight birdies in mid-round and nine for the day.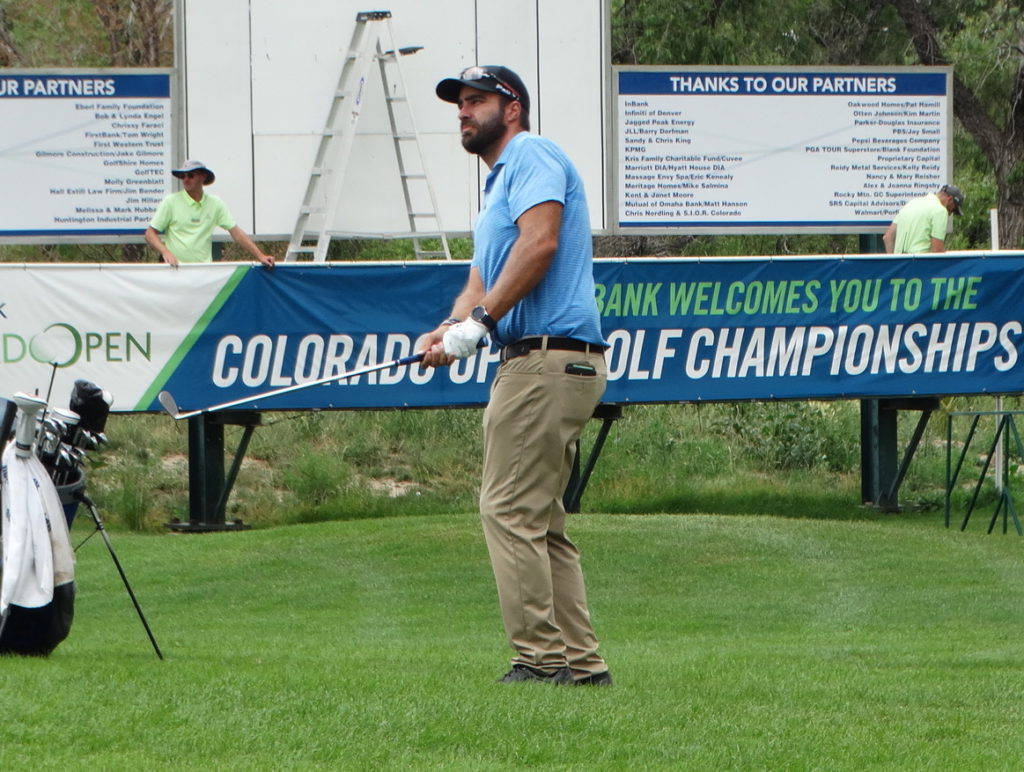 Local Contingent: Several players with strong Colorado connections are in the top 10 after round 1. 
That includes former University of Colorado golfer Spencer Painton of Aurora (5-under-par 67), University of Wyoming player Tyler Severin of Johnstown (67) and former Fort Collins resident and ex-Air Force Academy golfer Tom Whitney (67).
Whitney, the leading money winner at midseason on PGA Tour Latinoamerica, made six birdies on Thursday. His main focus is on trying to secure the top spot on the final Latin money list — which would give him a full exemption next year on the Korn Ferry Tour — so a good finish this week would just be gravy.
"I'm not even here chasing a check. I'm just having fun," he said. "It's an enjoyable week for me. The views are great, the weather is perfect. If I cash a really, really, really big check, that's just a bonus."
Severin is the low amateur after round 1, leading Bryant by one shot.
The most accomplished golfer in the field, Coloradan Gary Hallberg, winner of three PGA Tour events, bogeyed his last two holes on Thursday for a 1-under-par 71.
Meanwhile, among those who struggled on day 1 was two-time Colorado Open winner Derek Tolan of Highlands Ranch, who opened with a 78 after taking a triple bogey on No. 15.
 
Notable: Joshua Goldstein of Las Vegas didn't make any birdies in Thursday's round of 2-over-par 74, but he did one better on the 17th hole. There, he drained a shot from 203 yards with a 6-iron for a hole-in-one. … Play was delayed for 45 minutes on Thursday afternoon by lightning. … The field will be cut to the low 60 players and ties after Friday's second round.

For all the scores from the CoBank Colorado Open, CLICK HERE.