DU women make it 16 conference titles in last 17 years tourney has been held; 2019 Summit League individual champ Weinstein finishes runner-up this time
By Gary Baines – 4/26/2021
It's been an April to remember for the University of Denver women's golf team.
Earlier this month, the Pioneers claimed their first team title in almost two years when they prevailed at the Dick McGuire Invitational in Albuquerque. Then on Monday in Newton, Kan., DU made it two team victories in two tournaments this month by winning the Summit League Championship.
The Pioneers, ranked No. 39 in the country by both Golfweek and Golfstat, continued their dominance in conference championships, claiming their 16th league title in the last 17 times the tournaments have been contested. (Last year's Summit meet was canceled due to Covid-19 safety concerns.) DU has now won six times in the Summit League, once in the WAC and nine times in the Sunbelt.
This one, like the other victories, brings with it an automatic berth into the NCAA Division I Regionals. (April 28 Update: DU will travel to Stanford for Regionals May 10-12.)
On Monday — in a tournament plagued by very high winds — Denver prevailed by 18 strokes over South Dakota State to earn the championship. DU finished at 57 over par for three rounds after being 1 over on the first day.
The Pioneers put four players in the top six individually in the 40-player field. Highlands Ranch resident Mary Weinstein, a three-time CGA Women's Player of the Year, finished second on Monday after winning the Summit individual crown in 2019. DU teammates placed third (Anna Zanusso), fourth (Alyson Bean) and sixth (Katarina Drocarova).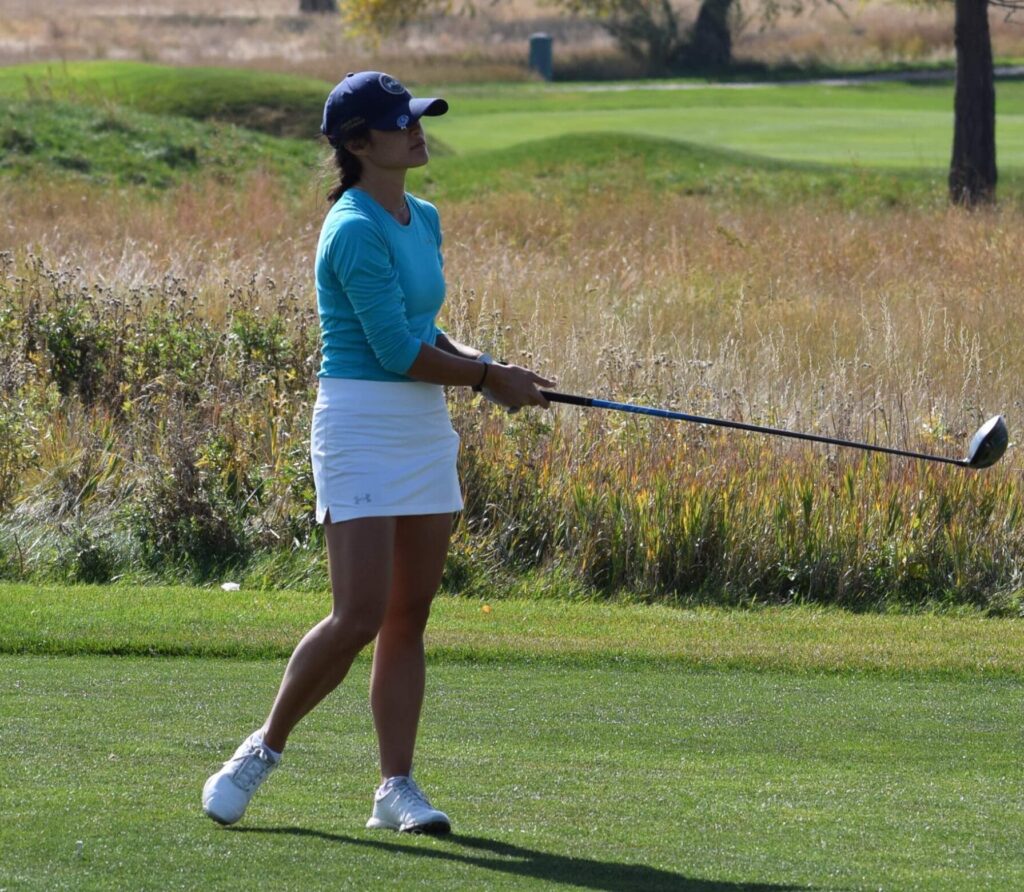 Weinstein, will will conclude her college career next month, carded a 3-over-par 75 on Monday to post a 10-over 226 total, which left her two strokes back of champion Teresa Toscano of South Dakota State, who won her fifth individual title of the spring. Those two players were tied heading into the 18th hole on Monday, but Toscano closed with a birdie and Weinstein with a bogey.
Zanusso checked in at 229, Bean at 232 and Drocarova at 236.
The players "did great, especially Mary shooting 75 today," DU coach Lindsay Kuhle said. "Par felt like it was 77-80 today with the winds. … I'm proud of all five of my players. It was a total team effort. They played with a lot of confidence today, which I'm really proud of."
For all the scores from the Summit League tournanent, CLICK HERE.
Meanwhile, in another women's conference championship, the University of Colorado finished seventh on Sunday in the Pac-12 tournament in Stanford, Calif. CU checked in at 35 over par, 38 strokes behind champion Southern California. Sophomore Ellie Gower was the Buffs' top individual, tying for 13th place at 6-over-par 219. Rachel Heck of host Stanford claimed the individual title at 206.
For all the scores from the Pac-12 meet, CLICK HERE.