Participants revel in first in-person CGA Women's Golf Summit since 2020; site for event was Denver Botanic Gardens, which has formed a promising partnership with the CGA
By Gary Baines – 3/4/2023
The last time the CGA Women's Golf Summit was held in person, all hell was about to break loose — pardon the language.
It was March 7, 2020 and about 215 people showed up at CU South Denver. Four days later, the World Health Organization pronounced Covid-19 a pandemic. Two days after that, the president of the U.S. declared a national emergency.
The following two years, the annual Women's Golf Summit was limited to a virtual affair due to Covid-19 safety concerns. But on Saturday, the event returned in person for the first time in three years, largely back to the full vigor of its pre-Covid days.
"I'm so excited to be back in-person," said Erin Gangloff, the CGA's chief marketing officer and a key organizer of the Women's Summit.
About 215 people participated in the event at the Denver Botanic Gardens — 145 in-person and others virtually.
Sara Montgomery, a vice president on the CGA board of directors who is in line to become president in 2025 barring the unforeseen, sees a lot of value in the Women's Summit — particularly in person.
"The game of women's golf, it can be intimidating depending on where you are as a golfer," said Montgomery, a former University of Denver player. "There's this notion if I'm not really good at this or I don't know how to do it, maybe I shouldn't. And we want the opposite. We want the game of golf to be, 'If you want to learn, come along. This is a welcoming group. There's no need to be intimidated. We'll teach you how to mark your ball or not step in somebody's line — whatever those things might be.'
"From that perspective, there might (be the possibility of) finding someone here who's a good companion. 'You know I'm a little intimidated. Can you take me out on the course? You seem to know a lot about that. Can you help me with that?' Because what we find sometimes is there's a gap between the desire to play and feeling comfortable on the golf course. We don't want that. It shouldn't be that way. It should be welcoming. At whatever level you are, let's come in and see how you can be part of (the game), as opposed to 'If you don't know how to do that, we don't really want you.'"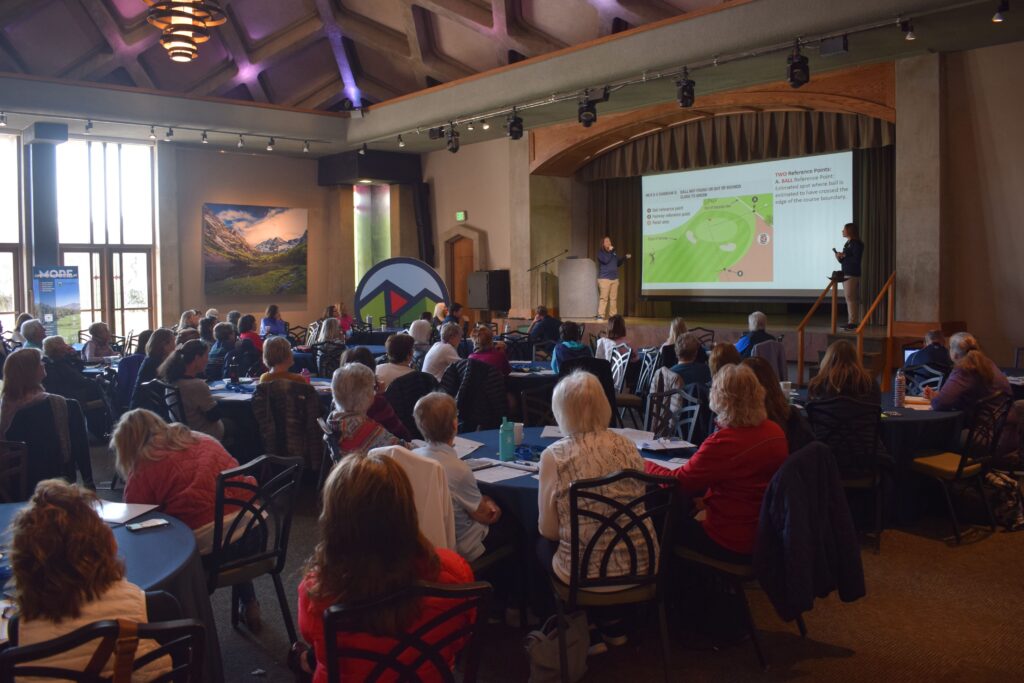 Montgomery uses a personal experience as an example.
"I play in my own little women's golf league — the 9-hole Sunrise League at Wellshire," she noted. "There's women of all ages and all levels and skill sets, and we've gotten to the point with our league that's we've got a very welcoming M.O. There might be somebody who's like, 'I've never played in a league.' Well that's OK. Let's make sure you know what to do so you feel comfortable playing out here. As opposed to, 'That's not for me. I wouldn't be good at that.' You are actually going to improve by being out here with all these women. Maybe they'll teach you some things — the rules or etiquette. That's really what we're going for.
"So getting women together in this environment helps move that priority along."
In addition to being an opportunity to socialize and discuss best practices among women's clubs from across the state, the Summit included sessions regarding the Rules of Golf, tournament management, health and fitness, and ways to warm up to increase the odds of success. Then things wrapped up with a keynote Q&A with CGA executive director Ed Mate featuring Happy Haynes, the executive director of Denver Parks and Rec, and Denver Golf director of golf shop operations Susie Helmerich.
"Nothing can replace in-person," Mate said regarding the Summit. "I'm glad people were online, but it just feels really good (to do it this way)."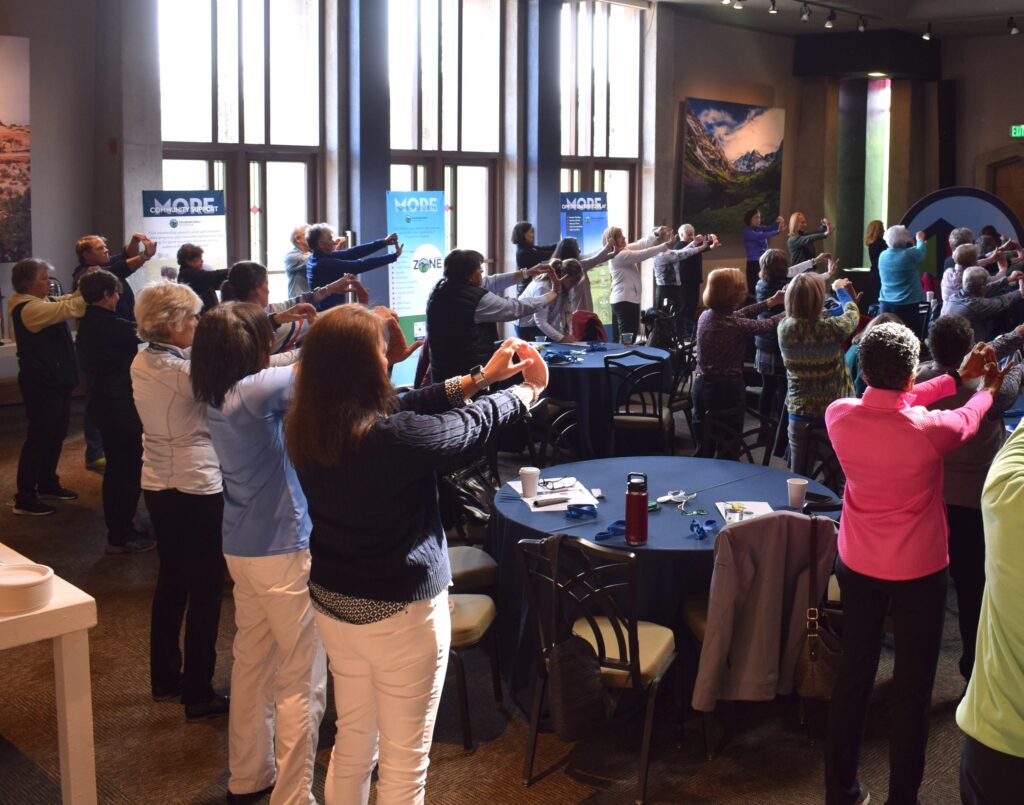 Gary Albrecht, the CGA's new president of the board, noted in addressing those attending the Women's Summit that 2023 marks the five-year anniversary since the CGA and the Colorado Women's Golf Association became a single organization to more efficiently serve the golfers of the state.
Since that joining of forces, the CWGA's Annual Meeting has evolved into the CGA Women's Golf Summit.
"I think it's been a very successful collaboration and integration," Albrecht said. "… And we want to continue to grow on that success."
Albrecht pointed out that of the members of the volunteer CGA board of directors, nearly half — 14 — are females. A similar ratio exists on the Executive Committee.
"We work very hard to be as diverse and inclusive as we can," he said.
In another notable milestone that Albrecht mentioned, the 14 Colorado caddies selected for the full-tuition and housing Evans Scholarship this year included a record 11 females. The CGA, which has long partnered with the Illinois-based Western Golf Association in supporting the Evans Scholarship in Colorado, considers the scholarship one of its flagship programs.
Montgomery, who joined the CGA board three years ago, compares serving in a leadership role with the association to the years she spent as a DU golfer (2000-04).
"It was great to be part of something that was going someplace," she said of DU. "It was an exciting time to be there. I feel the same way about the CGA. And it's such an exciting time for the game of golf. There's so many opportunities. I feel like a lot of things we're lacking in society right now — honor, integrity, taking ownership, doing the right thing when nobody is looking — those are all really important things, and all of those things are part of the game of golf. That's just a beautiful thing. So if you can give that gift to somebody at any age, hopefully it trickles out into other areas of their life."
In fact, Montgomery's support of the Women's Summit trickled down to her 8-year-old daughter.
"She was like, 'Can I go to the Women's Golf Summit,'" Sara noted. "(I said), 'Not yet. When you get a little bit older.'"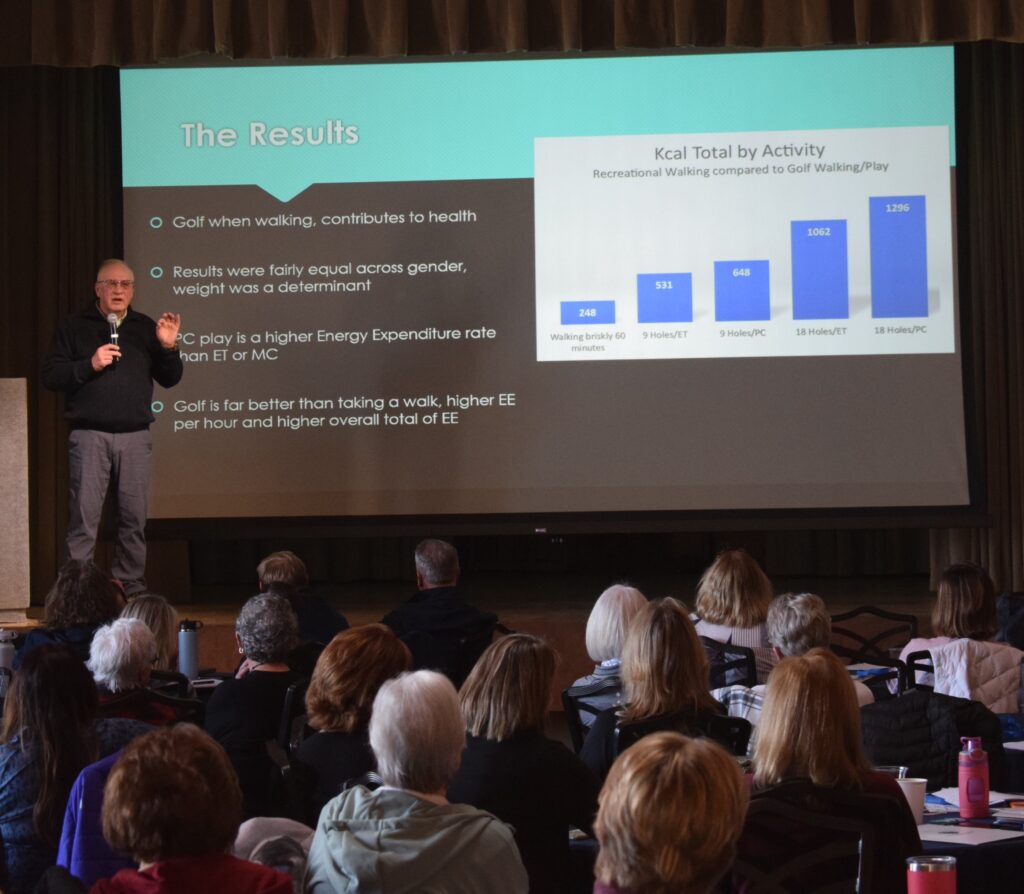 Dr. Neil Wolkodoff summarizes a study he oversaw regarding the health and wellness benefits of playing golf — and how different ways of navigating the game — via walking, riding in a cart, etc. — might affect scoring.


CGA Partnership With Denver Botanic Gardens at CommonGround: A casual observer might wonder why Saturday's CGA Women's Golf Summit was held at the Denver Botanic Gardens instead of a facility more directly associated with golf. As it turns out, the Botanic Gardens is becoming linked in a way to golf, thanks to a new partnership with the CGA that is playing out at CommonGround Golf Course in Aurora, which is owned and operated by the association.
In a partnership agreement which took shape starting in 2021, the Botanic Gardens has done a floristic survey regarding the types and distribution of plants in the non-playing areas of CommonGround — between holes and on the periphery. DBG staffers and volunteers found 160 different plant species in those areas — some desirable and some undesirable. And since then, they'ved worked with the superintendent and his staff at CommonGround to seed certain spots with a mix that will produce desirable native grass and other species.
"We think it would be a great model for the nation partnering with an organization that connects people to plants and is at the forefront of water conservation and better grasses," said past CGA president and Colorado Golf Hall of Famer Kent Moore, who is among the CGA leaders playing key roles in the project.
"We're very, very excited about it. And I think (the Botanic Gardens) is very excited about it."
The possibility of such a partnership came from former CGA president Joe McCleary, who now serves as chief business officer for the association. McCleary, a former superintendent at Saddle Rock Golf Course and once a president of the Rocky Mountain Golf Course Superintendents Association, is a longtime friend of Denver Botanic Gardens staffer Mike Kintgen, and the two gathered plant information at Saddle Rock for many years after a flora and fauna study had been been conducted at the site prior to construction of the course. The two have done similar information gathering at Ballyneal in northeast Colorado. And when McCleary joined the leadership of the CGA, he invited Kintgen out for a visit to CommonGround, and eventually the ideas blossomed to the point that other key players from the CGA and the Botanic Gardens became involved.
"I found it to be rewarding (to do such exploratory work) because it changed people's perception of the golf course," McCleary said on Saturday. "It had lots of interesting plant material.
"There's just an opportunity to look at these properties in a different way."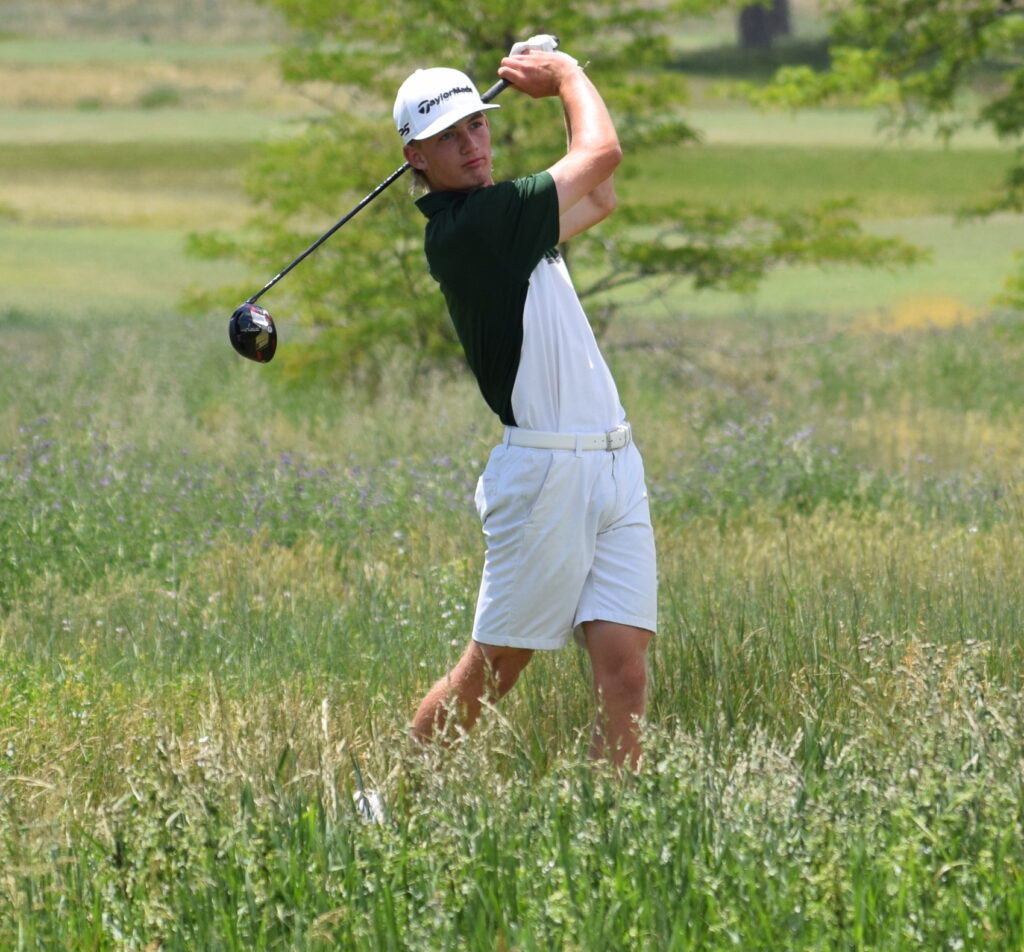 The work being done by and with the Denver Botanic Gardens at CommonGround could very well evolve as time goes on. The possibilities might include various ways to preserve open space on the 330-acre property — as opposed to having a portion of the site developed — creating some gardens around the course, and doing more partnership work at other courses that might be interested. The project might also conceivably provide educational opportunities for groups down the road.
"We started with the foundational work," McCleary said. "We're starting to identify other projects that can be done on the golf course. Really it's an evolving relationship. We're starting small and we'll have some other projects in the future.
"(The partnership) is just an outstanding opportunity. I'm not aware of any other botanic garden in the country that has a relationship with a golf association and a golf course."
McCleary sees the partnership and the work that might be done as particularly important given the big swath of open space that's involved on the site of the former Lowry Air Force Base.
"The goal is to enhance the habitat for pollinators — whether that be insects, birds, small mammals, whatever, in those non-playing areas at CommonGround, just to go ahead and improve it," he said. "And the exciting thing at CommonGround is that when you look at the whole thing including the wetlands area to the west of hole 5, it's over 330 acres. From what I have looked at on Google Earth, that's the largest contiguous open space area in the Denver metro between I-25, I-225 and I-70. That's significant.
"It's located right in the center of the city, so that makes it an important corridor for wildlife. We think it's a huge educational opportunity to enhance the environment and also to engage the community at CommonGround in partnership with the Botanic Gardens.
"I would describe it as an outstanding relationship that's evolving. It's just a great opportunity."
Indeed, Mate hopes for even bigger things out of the partnership, but whatever happens, he believes it's a symbiotic relationship with the DBG.
"Even if we don't do anything bigger than what we're doing right now with the Botanic Gardens, just understanding that we have so much in common (is very worthwhile)," he said. "When I started with the CGA 20-some years ago, if you'd said we're doing a partnership with the Botanic Gardens, I'd have said, 'Why?' And now it's just so timely and exciting."
McCleary likes the way the partnership with the DBG meshes with other community work long done at CommonGround, where such endeavors are a high priority of the CGA.
"The environmental stuff is important, but we're (also) doing all the community programming, Golf in Schools and the (Solich Caddie & Leadership Academy) program," he said. "The best way I can sum it up is we've got a sphere. We've got all these community programs and now we've got this foundational kind of relationship that's developing with the Gardens as it relates to the environment. We think there's a bright future for what's going to happen as this relationship evolves."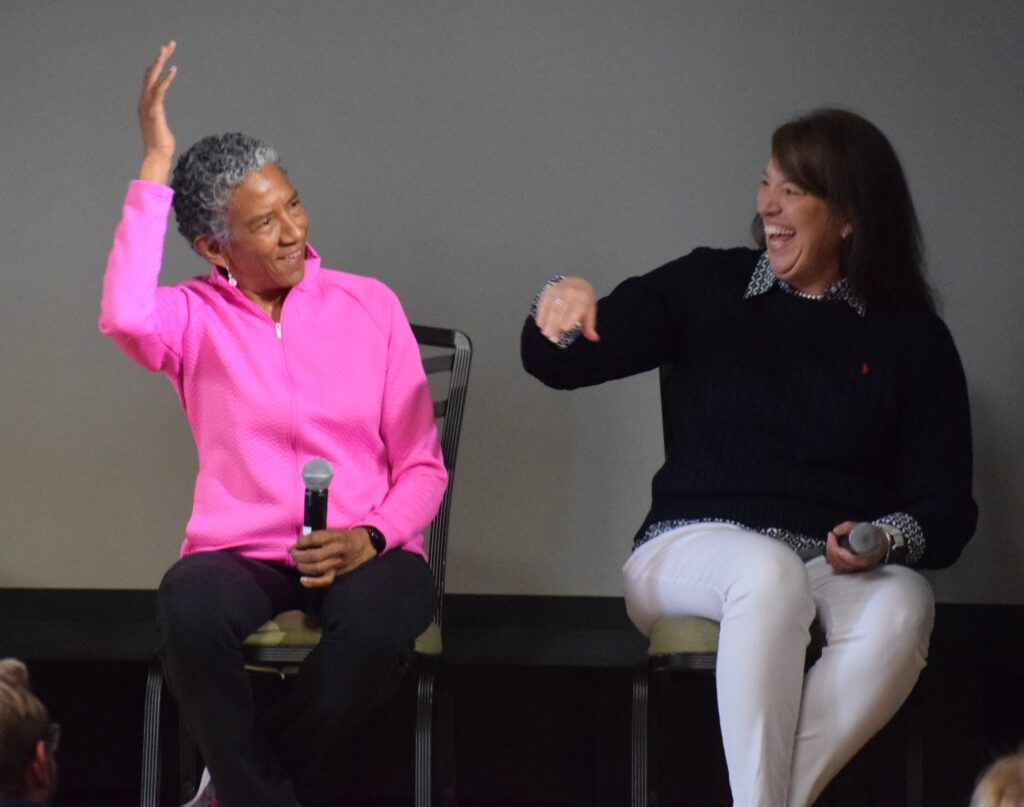 Happy Haynes (left) and Susie Helmerich from the City of Denver share a laugh during Saturday's Q&A.


Notable: Haynes, who wrapped up the Women's Summit festivities in a Q&A with Mate and Helmerich, coincidentally celebrated her 70th birthday on Saturday.
Though she has long loved golf — and now has a job in which the game plays a significant part — Haynes recalled on Saturday that she wasn't a big fan of the sport early in her life.
"A Confession: I grew up near City Park and walked to school every day across the golf course," she said. "My first introduction to golf was stealing golf balls after (players) hit them, then running madly to get away from the angry golfers.
"… Another confession: I thought it was a stupid game" as a young person.
But later, after experiencing the never-ending challenge of golf, "I became hooked," Haynes added.
Now, she's a fan in more than one respect.
She recognizes "golf courses as a natural resource. We count on them in our department for the environmental benefits they bring to our city. That's something I hadn't anticipated. I used to tell people when I drive back and forth from work every day, I'd come home in the middle of the summer and it would be hotter than blazes downtown in the concrete jungle, and as soon as I hit City Park, the temperature on my car went down 5-6 degrees. What that told us was the power in battling climate change, cooling our city, the air quality that courses offer. Now with the renewed interest in bringing natural environments, golf courses are helping people truly connect to nature." …
Among the topics presented on Saturday, Dr. Neil Wolkodoff discussed the results of a CGA-sponsored study, conducted last year, that examined the health and wellness benefits of playing golf — and how different ways of navigating the game — via walking, riding in a cart, etc. — might affect scoring. As Wolkodoff noted on Saturday, "Golf in a good walk enhanced." To read in more detail about the study, CLICK HERE. …
The CGA will conduct numerous Women's Practice Clinics and Women's Playing Clinics in 2023. For the schedule, CLICK HERE. …
Ashley Harrell, the CGA's chief operating officer, noted that with two USGA championships being contested in Colorado this summer — the U.S. Girls' Junior in July at Eisenhower and the U.S. Amateur in August at Cherry Hills, there is considerable need for volunteers at both events. For more information, CLICK HERE. …
The CGA's Season Kickoff Silent Auction — which benefits such programs as the Solich Caddie & Leadership Academy, Youth on Course, Golf in Schools and more — continues through March 15. As of Saturday, it had raised more than $42,000. For more information or to bid, CLICK HERE.

About the Author: Gary Baines owns and operates ColoradoGolfJournal.com