Long conversation with Wright on 50th anniversary of his historic U.S. Publinks victory at Wellshire left an impression
By Gary Baines – 2/23/2021
It's a small fraternity. A total of just 33 individuals — or teams, in the case of the Curtis Cup — have ever been crowned champions at USGA championships held in Colorado.
The group includes the very famous and the obscure. On the extremely prominent side, featured are World Golf Hall of Famers Jack Nicklaus (1959 U.S. Amateur and 1993 U.S. Senior Open), Arnold Palmer (1960 U.S. Open), Annika Sorenstam (1995 U.S. Women's Open), Phil Mickelson (1990 U.S. Amateur), Ralph Guldahl (1938 U.S. Open) and Juli Inkster (1982 U.S. Women's Amateur).
And there are those who gained a measure of fame primarily because of their feats in Colorado. Among those was Bill Wright, who in 1959 at Wellshire Golf Course in Denver became the first Black player to win a USGA championship by claiming the title in the U.S. Amateur Public Links.
That fact hit the news again recently as Wright passed away on Friday in Los Angeles at age 84. Wright suffered a stroke four years ago and was bedridden for the remainder of his life, his wife, Ceta, told the Seattle Times.
I had the pleasure of chatting with Wright over the phone for 75 minutes in 2009 for a 50th-anniversary story on his victory at Wellshire that was published on ColoradoGolf.org.
Speaking personally, it's rare that a phone interview lasts more than an hour. But occasionally the subject is so interesting that one does — and in many of those cases, the time flies by. Such was the case for me when I called Wright at the beginning of July in 2009.
While Wright becoming the first Black USGA champion was a big deal to others when he won in 1959, it was hardly foremost in his mind at the time.
At Wellshire, Wright was handed a phone and was told a reporter from Seattle, where Wright lived, wanted to interview him. The Seattle Times journalist subsequently asked how about his groundbreaking accomplishment.
Wright promptly threw down the phone.
"That shocked me," he said in 2009. "My dad (Bob Wright) had taught me how to play, and our goal wasn't to be the first anything. The goal was to make sure that I not get embarrassed.
"So I was thinking that I had won the tournament. I wasn't thinking about (being the first Black champion) at the time. That was not my goal. But I'm glad it was accomplished and it's nothing but a good feeling. But I didn't think of myself as anybody (special)."
Wright quickly calmed down after the phone incident, and talked with the Seattle reporter when he called back. But only in time did he come to better appreciate what he did 62 years ago.
Here's more from the 2009 story that came out of my long conversation with Wright, who was subsequently inducted into the Pacific Northwest Golf Association Hall of Fame:
At the 34th U.S. Publinks, the then-23-year-old Wright used a red-hot putter to defeat opponent after opponent at Wellshire. In a tournament that originally had 2,435 entrants, Wright overcame Frank Campbell of Jacksonville, Fla., in the championship match 3 and 2 on July 18, 1959.
"That started my golf career," Wright said. "I won a lot of amateur tournaments in the Northwest later on. But (the 1959 Publinks) gave me credibility."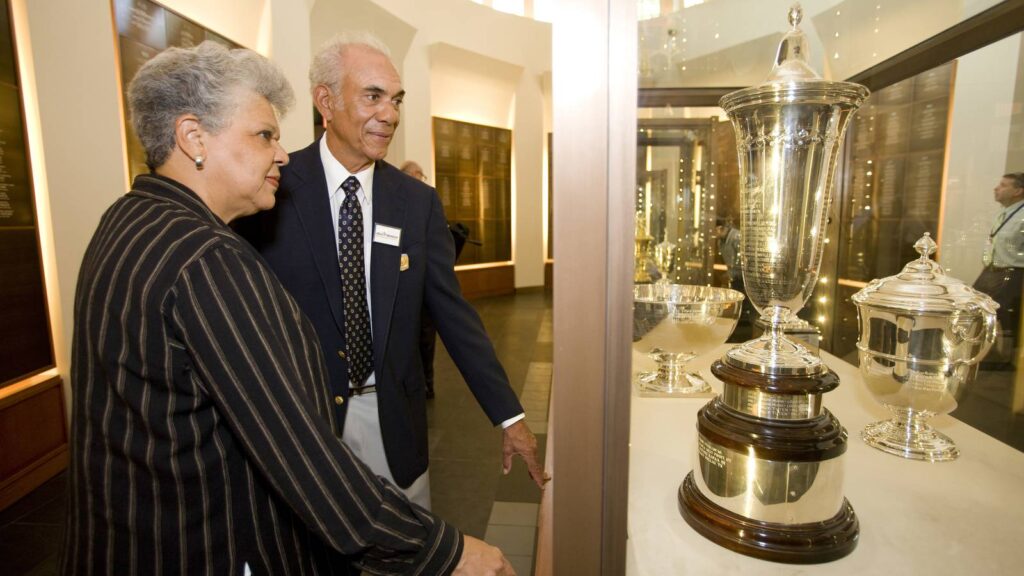 Of course, the America of 1959 was far different than it is in 2021, so Wright overcame more than the typical obstacles to win his national Publinks championship. Sixty-two years ago, for instance, golfers from some areas of the country were required to get permission from their schools before competing against Black opponents.
Meanwhile, Wright's mother, Madeline, worked to change practices at Seattle-area public courses that wouldn't allow Black golfers to join men's clubs and thus establish official handicaps. Because Wright had to have such a handicap to compete in USGA events, those restrictions on Black golfers had to change before he — or any other Black player in the area — could play in a championship such as the U.S. Publinks.
Even after that barrier fell, Wright was hardly embraced by the Seattle golf community at the time. In fact, it was quite the opposite.
"Most people in Seattle were not happy for me to even play (in the U.S. Publinks)," said Wright, who also won the 1960 NAIA individual title while at Western Washington University. "That changed a little after (he claimed the national championship)."
But it took a while. Wright noted that at the U.S. Amateur, it was traditional for players from the area to travel together and play practice rounds together. But later that summer of 1959, when the U.S. Amateur was held at The Broadmoor Golf Club in Colorado Springs, the Northwest contingent of qualifiers wanted nothing to do with Wright.
"They didn't want to sit next to me on the plane and they wouldn't play with me," Wright recalled.
But then a very notable figure in golf intervened. Charles "Chick" Evans, who won two U.S. Amateurs and a U.S. Open from 1916-20 and later established the Evans Scholarship for caddies, was still competing in 1959 and he approached Wright on the putting green at The Broadmoor.
Wright didn't have a locker at The Broadmoor, and Evans asked him to go get one. Evans also requested that Wright sit next to him at the head table at a tournament banquet. And finally, Evans asked Wright to play a practice round with Chick, Jack Nicklaus and Deane Beman. Of course, Nicklaus would go on to win the first of his two U.S. Amateurs that week, and Beman would claim two U.S. Amateurs titles himself and become the commissioner of the PGA Tour.
Evans "understood what was going on without me having to ask," Wright said. "It was a good experience for me. Playing with Deane, Nicklaus and Chick, they're golf celebrities. That was very nice for me."
Wright likewise had a good experience with the crowds at Wellshire during the 1959 U.S. Publinks. A gallery estimated at 2,000 followed Wright's 36-hole final, and a large number of fans were also on hand for Wright's 1-up win over 1957 national Publinks champion Don Essig in a 36-hole semifinal match.
"More people were at that tournament than any before," Wright said. "People came out to the tournament all pulling for me. A (USGA) Golf Journal article said what a gentleman I was. People were pulling so hard for me that it bothered one of my opponents (Essig, who hit a poor chip shot as some people in the gallery were carrying on a conversation). I said to (the fans) I'd rather beat this person myself, so please don't distract my opponent. It would be nice not to holler and talk when he hits shots.
"But everyone (at Wellshire) was gracious, smiling and lovable" toward Wright.
Essig in later years told the USGA website that Wright "has always been a perfect gentleman."
But Wright's Spaulding Autograph putter was ruthless that week. For instance, Wright reportedly one-putted 23 times in his 36-hole victory over Essig.
"He may have been the only guy, when I was that age, who out-putted me in 36 holes of golf," Essig said. "He had a really great day of putting that day."
Wright recalled one distinctive fact about his run through the bracket at the 1959 U.S. Publinks. He said in every match he played that week, he birdied the first, fourth, fifth, sixth, seventh, eighth and ninth holes.
"That's almost astounding," he said. "People say they've never seen anything like that — making birdie on those same holes every match I played. It's something I've never done again. (Opponents) were almost out of the tournament at that point (after nine holes)."
Wright only carried 12 clubs in his bag that week, but no one could match that Spaulding Autograph putter.
Wright almost didn't advance to the match-play portion of the U.S. Publinks in the first place, though. He said he shot 149 for 36 holes in qualifying, and thought 148 would be needed to make match play. "That was probably the last time I was in tears," he said. "I thought, 'What am I going to tell dad?' I was flabbergasted."
But, as it turned out, the competitors at 150 played off for the final match-play positions in the 64-man bracket, and Wright survived his high seeding through all rounds of match play.
The tournament at Wellshire was Wright's career highlight as a competitor, but it's not the only Publinks to generate a notable moment in his life. The national tournament was held in Detroit in 1961, and Wright went deep into match play again. He remembered finally playing a semifinal match that if he had won, he would have missed his wedding in Chicago.
"I tried to throw the match, but I didn't know how to lay down," he said. "When I hit a bad shot (the opponent) hit a bad shot. Plus, there were some people watching that would know if I hit a bad shot on purpose. Finally I thought, 'I'll top two shots.' So I lost the match. I got in a plane and got married."
Wright, an accomplished basketball player as well as golfer as a young man, went on to become a golf professional, and he played some on the PGA Tour, but he didn't have enough money to compete on a regular basis. Later in life, after operating car dealerships in California — where he moved from Seattle in 1961 — Wright qualified for five U.S. Senior Opens. And, well into his 70s, he continued to give lessons at The Lakes at El Segundo (Calif.), near Los Angeles International Airport.
"I'm truly retired, but I teach as much as I want," Wright said then. "Everybody knows me now with all the magazine and newspaper stories."
Many of Wright's lessons — especially in the case of Black youngsters who demonstrate true interest in the game — were given for free no matter how wealthy the young person's parents might be.
"My wife jumps on me about that, saying they can afford it," Wright said. "But I want the kids to be good and enjoy the game, so I don't charge a dime."
And that was priceless, especially coming from a guy like Bill Wright.