Life is ever-evolving for Texan-turned-Aspen 'mountain man' Justin Leonard
By Gary Baines – 1/22/2021
Justin Leonard was a Texan through and through for the first several decades of his life, having been born in Dallas, going to college at the University of Texas and living in the Lone Star State for many years as a young adult.
But undoubtedly the PGA Tour veteran revealed something about himself five years ago when he chose his Twitter handle — @jlmountainman — one that seems a far cry from his considerable Texas roots.
"I think it was maybe 2016, and I'm playing a tournament and we're leaving the golf course," Leonard explained in a phone conversation with ColoradoGolf.org this week. "Amanda (his wife) was saying, 'You should really join Twitter.' She thinks I've got a lot of interesting things to say. I said, 'I'm going to get on and kind of check it out.' I just put 'jlmountainman' and three minutes later I've got a Tweet I think from (fellow PGA Tour player) Chesson Hadley and he said, 'I can't wait to hear jlmountainman's first Tweet. I go, 'Well OK, here we go.'
"I don't take it too seriously. But yeah, I like to hike, like to mountain bike and road bike in the warmer months. I ski and skin quite a bit this time of year. I'm not the greatest at anything, but I can get around on those things."
All of which at least partly explains why Leonard no longer resides in Texas, has long since settled in Aspen, and goes by jlmountainman on Twitter.
Indeed, much has changed in Leonard's life over the last six or seven years. Besides the aforementioned move from Texas flatlander to living in a posh ski town at about 8,000 feet altitude, he's gone from full-time PGA Tour player to not having teed it up in a Tour event in almost four years (fittingly since the 2017 Valero Texas Open), and from competitor to TV analyst. And, might we say, a golf analyst on TV who has grown by leaps and bounds in recent years.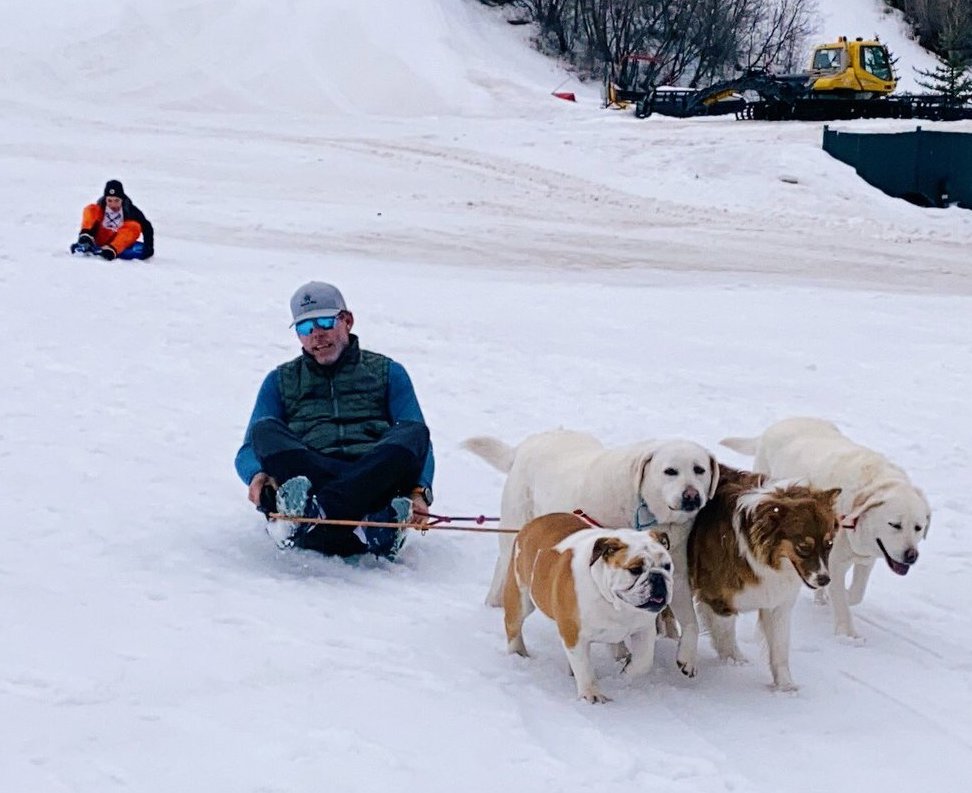 "Until 2016, the only swing that I was concerned about was my own," the 48-year-old said. "Now I'm breaking down 200 different golf swings."
Leonard has a golf resume that sits high on the mountain when it comes to even the elite level of the game.
As an amateur, he claimed arguably the two most notable titles there are — the U.S. Amateur (1992) and the NCAA individual championship (1994). As a pro — after skipping Q-school — he won a dozen times on the PGA Tour, including the British Open (1997) and the Players Championship (1998) — and lost in playoffs in two other major championships. He's earned a whopping $33.9 million in prize money, which ranks 28th in the history of the PGA Tour. Leonard played on three U.S. Ryder Cup teams and was part of one of the more memorable Cup moments in the last quarter-century as he drained a 45-foot birdie putt on the 17th hole of his singles match against Jose Maria Olazabal to cap off a huge comeback for the Americans on the final day of the 1999 event, which they won 14.5-13.5. Leonard was inducted into the Texas Golf Hall of Fame in 2012.
The former Longhorn standout and his family moved to Aspen in 2015. His last relatively schedule season on the PGA Tour was 2015-16, which roughly coincided with the time when his TV opportunities started to blossom. He's one of three prominent Golf Channel regulars who have strong ties to Colorado, along with Cherry Hills Village resident David Duval and Colorado State University product Steve Sands.
Leonard and Duval share numerous similarities. Both are transplanted Coloradans, they're close to the same age (Leonard is 48 and Duval 49), they're both Golf Channel analysts, they won close to the same number of PGA Tour titles (Leonard 12 and Duval 13), and the biggest victories of their careers came in the same events: the British Open and the Players Championship.
Leonard lives not far from Aspen Golf Club and is a member at Maroon Creek Club. He's also a co-founder of GolfForever, a subscription online golf exercise and fitness program.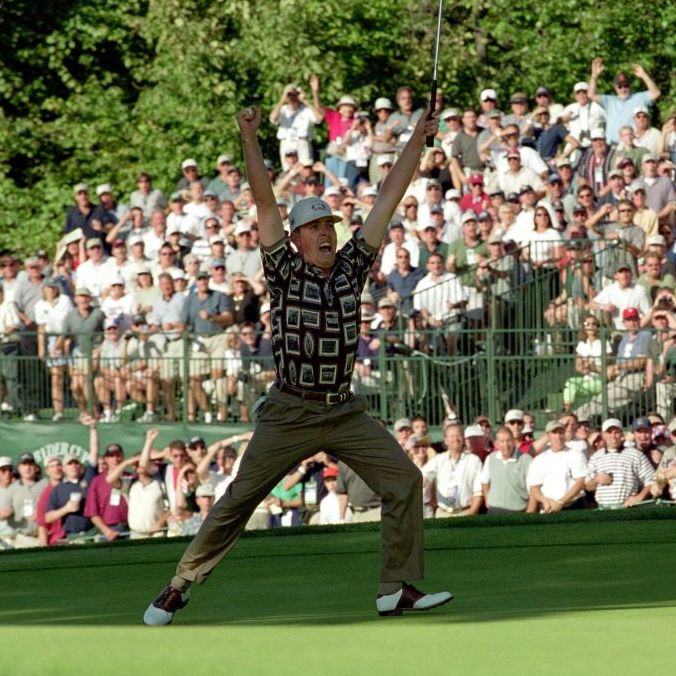 Here's a Q and A — edited for length and clarity — ColoradoGolf.org conducted this week with Leonard, who recently returned from working back-to-back Golf Channel telecasts in Hawaii: the Sentry Tournament of Champions and the Sony Open in Hawaii.

Q: How many tournaments are you working on TV this year?
Leonard: "I've got 14 events where I'm doing part of the telecast. Then the Players, the U.S. Open, the (British) Open and the Ryder Cup where I'm doing a bit of both — part of the telecast and the 'Live From' (show). And two — the Masters and the PGA — where I'm only doing Live From."

Q: Which do you like more — helping call the tournament action or doing the "Live From" shows?
Leonard: "I enjoy both honestly. They're very different. I enjoy trying to help people understand what's going through a player's mind, through their thought process, some of the emotions they're likely feeling. You get that doing live telecasts. They both require a lot of research, but the Live Froms are much more research-driven. In the live telecast, you've got a matter of seconds where you try to make a point or try to point something out that might not be obvious to the viewer. In the Live From, you have loads of time to get around and make your point. In fact, usually you're making your points through your research."

Q: It seems like you've become a lot more comfortable doing TV over the years. Is that true?
Leonard: Yes, absolutely. And that just happens over time and also kind of getting to know some of the personalities and the people that I work with. I work with a lot of different people. Especially some of the events I've been doing the last two or three years, very few weeks are they the same cast. There's a little more continuity this season on the events I'm working. Kind of understanding when I'm working with certain people what their tendencies are, what their timing is on things, it takes a while for all that to develop. Kind of understanding that has made me more comfortable.
"Also, getting comfortable with how I wanted to present my thoughts on a player, a certain situation, those kind of things. That takes a little time to figure out, 'OK, how do I want to present this in a way that it's natural for me and yet it brings our audience a little something?' Because the last thing I want to do is take away from what's going on on your screen; the goal is to enhance it. I think at first I tried to talk a little too much, and I've gotten more comfortable still letting the picture speak for itself but trying to point things out that aren't obvious."

Q: Is it a fine line as a longtime Tour player to be candid for the viewer but not go over the line with criticism of a player?
Leonard: "I think I was more measured when I first started — maybe a little too protective of some of those relationships (he built as a PGA Tour player). I think I've gotten to the point to be more critical when I need to be — when it's warranted. But it's never in a mean-spirited sort of way. Kind of my barometer is, 'OK, yeah if a player is watching it that night, he might be too happy with something I said. But if they wait a couple of days and look back on it, they might go, 'You know what? He was right. That was a dumb play, or I should have done this or I should have done that — those kind of things.
"I spend a lot of time on the driving range, on the putting green — early in the week and before rounds — to gain information and also to be there if somebody does have an issue with something. I think when I first started, I was a little too concerned with players. And I realized, 'That's not our audience. Our audience isn't the players, the caddies and their families. Our audience is the people at home that love the game of golf, that play, and they like watching the best in the world. That's who I'm speaking to, not the group of 144 players that given week."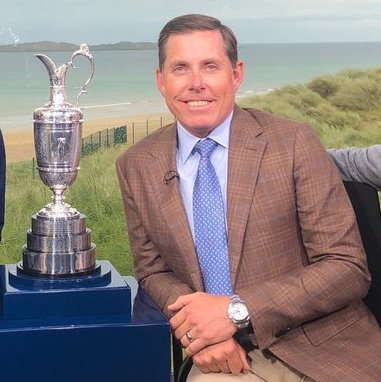 Q: What do you think of some of the other golf analysts on TV — past and present?
Leonard: "I like Johnny (Miller) for the things that he did — very candid, almost too much at times. I like Paul Azinger. He seems to walk the line pretty well. Gary Koch has been a great source of guidance and information to me. He's such a professional in what he does and the way he does it and the work that he puts in. For me it's been great to spend time with all three of those guys.
"And it helps spending time with our hosts or play-by-play (announcers). Mike Tirico has been such a great friend. He sees so many sports, he works with so many different people. To be able to talk to him and ask him questions … Dan Hicks the same way. Terry Gannon, Steve Sands. Those guys, they've got that chair for a reason, so I pick their brains a lot. Rich Lerner is another one, doing the Live From. I ask a lot of questions, and I'm fortunate to be around and work around people that don't mind answering."

Q: How would you grade yourself as a TV analyst at this point?
Leonard: "I've improved a great deal. I think a lot of it is finding a level of comfort, understanding how I want to present information, being a little more critical when it's justified or needed. I think I've got a ways to go. There's times when I could be even a little more emphatic — whether it's praise or criticism. I think that's something I'll continue to work on. Also, I'll try to find the little nuances that aren't always (apparent) when you're watching on TV in regular speed."

Q: How close are you with two other Golf Channel guys with strong Colorado connections — Steve Sands and David Duval?
Leonard: "I know both men very well. I was with Steve just this last week (in Hawaii) and he's been a great resource for me. He's part of the reason I got into this. He was emceeing a charity event that I was playing in Oklahoma City five or six years ago. I kind of picked his brain a little bit. We grabbed a drink at a table in a corner and started talking about television and those kind of things. He gave me some great insight into it.
"David, we're kind of there to support each other. He does things a little differently than I do. I was really disappointed that we didn't get to sit on the desk together on the prime-time Live From this last year (aside from) a few days at The Players (in March). After that because of social distancing and all of our safety protocols, they couldn't have four of us at the desk. I'm hoping for a whole bunch of reasons that things return to normal quickly, including because I think it's going to be a great dynamic having Rich (Lerner) as quarterback and then Brandel (Chamblee), David and myself. I've gotten to work with (Duval) a couple of times, but we haven't really developed that rhythm where we can kind of feed off each other and those kind of things. I'm looking forward to when that happens. … David and I are friends. We keep in touch even when we're not working and those kind of things."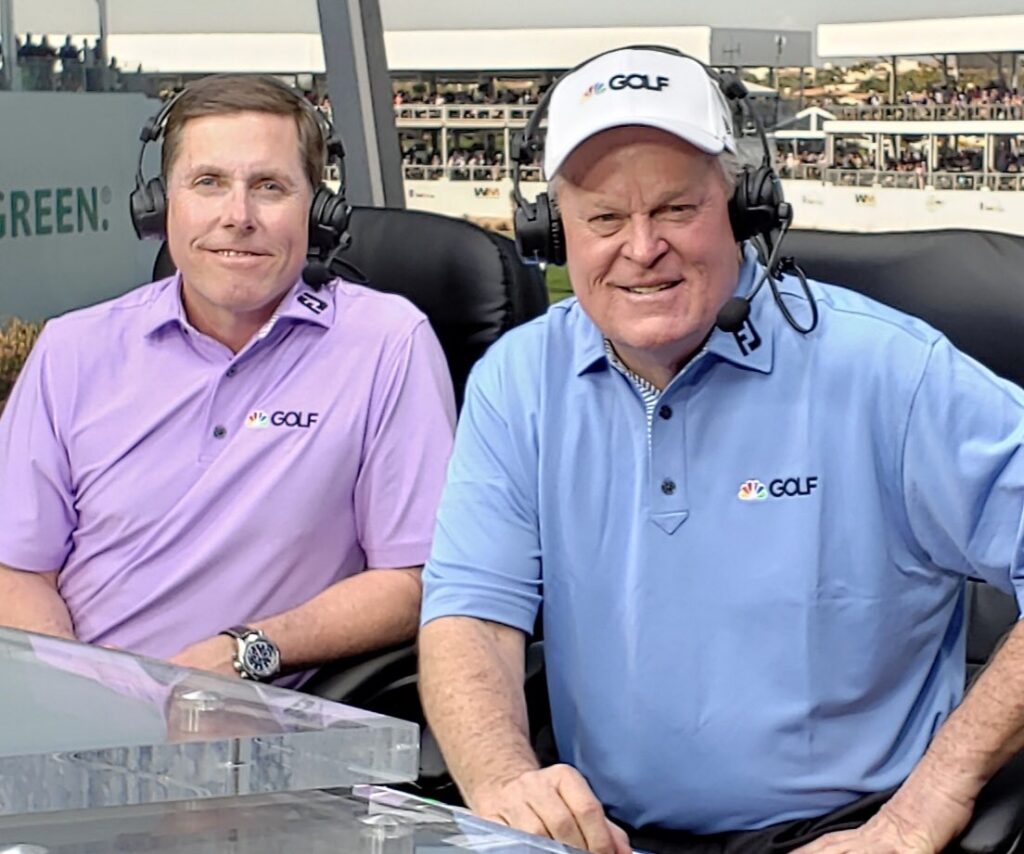 Q: What do you like about Colorado so much that it compelled you to move here?
Leonard: "We used to have a place in Telluride for a number of years and loved spending time there when Amanda and I got married, which was almost 19 years ago, and then when we had kids (they now have four: Reese, Avery, Luke and Skylar). Once the kids started in school, we couldn't really justify the house there so we sold it but still came up to Colorado here and there. We decided to rent a place here in Aspen for the month of July a couple of different summers and just loved it. And we always missed it when we had to leave in those two summers."

Q: Tell me how moving to Colorado came about?
Leonard: "Amanda and I both felt the need to kind of simplify — find a way to slow life down. We started to think about moving, selling our house (in Texas) which we'd just built about three years earlier, and just kind of get off the grid a little bit. Florida, where my wife's family is from and she grew up there, was a possibility. Or somewhere around Texas but maybe not in Dallas proper.
"Then in the fall of 2014 I came home one day from practicing at the golf course — because I was still playing (on the PGA Tour) — and I said, 'Let's live wherever we want to live. Let's not worry about weather or travel or anything. Where do we want to raise our kids? The golf stuff, I'll just kind of figure it out.' That's when Colorado became a real possibility. The more we kind of thought about it and looked around and prayed about it, all signs pointed to Colorado. So here we are."

Q: Were any of the seeds planted when you played The International at Castle Pines years ago?
Leonard: "I did play The International just about every year because I loved the weather, the golf course was fun, the format was great. The seeds, they could have been planted there, but there's a big difference between Castle Rock and living in the mountains. But the climate and everything … Flying from Dallas in July or August up here and going from 95 to 75, it's a pretty nice change."

Q: Is your Aspen house your only residence?
Leonard: "This is it. We're here."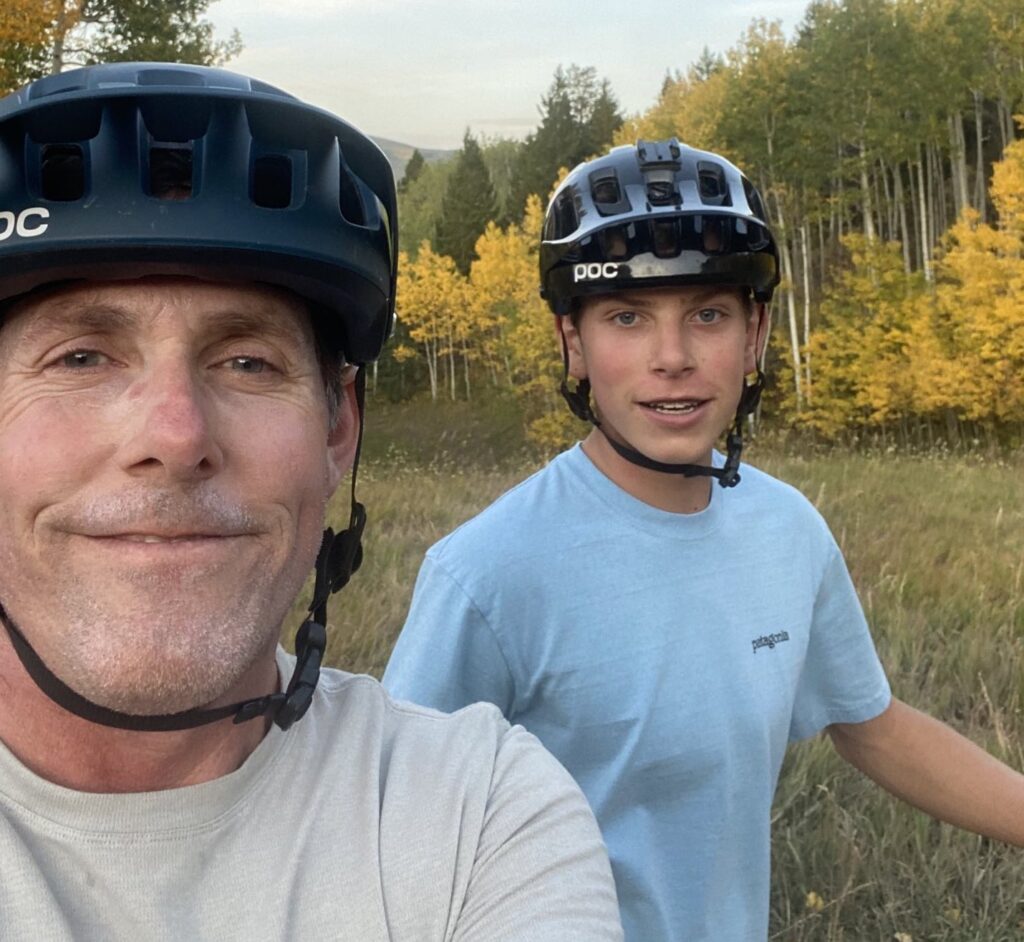 Q: Some people might look at it as an odd move from Dallas to Aspen. Did any of your Texas buddies give you any (ribbing) about it?
Leonard: "Oh yeah. I've heard a couple of my buddies, when they were together, say 'He's not going to last long up there' when we first moved up here. I still get the questions. I don't know after living in such a small town like this — and just the freedom that our children have here, how safe everything is — if I could go back and live in a big city again. It would be a pretty dramatic shift, just as it was moving up here. But we moved up here for the right reasons, and I think we've achieved a lot of things we wanted to by just being able to slow life down, we're able to be outdoors more all times of the year and provide a little slower, safer atmosphere for our kids."

Q: What was the impetus behind starting GolfForever (the online golf exercise and fitness program company) a couple of years back?
Leonard: (Dr.) Jeremy James, Bill Fabrocini — they're locals here — they wanted to try to take some of their expertise and be able to help people who can't afford to come to Aspen or they don't have the time to. We kind of realized that it was unique to be able to take really high-level training that people can do on their own, in their home or in the gym — and it's very golf-specific. Last year as gyms and everything were shut down and more people were working at home, it's really started to take off. It's been fun to be part of it. I love what we do and how we do it and how we're able to reach a much broader audience. It's not necessarily for the Tour player — though they could do it — it's really for people who are just hungry to try to get better and don't quite understand how to, and how the golf swing relates to the biomechanics of the body. "

Q: How much time do you personally devote to that?
Leonard: "It varies. I do a lot with the videos and the content. We usually shoot two to three times a year. Fortunately, some of it's here (in Aspen), but we have shot in Arizona a couple of times. We try to do it here because those guys are busy and because of my travel schedule and everything. We'll usually sit down once or twice a year and kind of go over things and vision and goals changes and those sort of things. It's certainly not a full-time job for me the way it is for Jeremy James, but it's fun to be a part of it. I've gotten a lot of nice comments here and there from people who have tried it and they're seeing results, so that's a good thing."

Q: You will turn 50 the middle of next year. Will you play some on PGA Tour Champions?
Leonard: I will probably play some. I don't know to what degree yet. My contract with Golf Channel and NBC is up (after) this year. Hopefully we'll get that worked out. Ideally I'd love to keep doing television and play a few times a year, but we'll see where things go. I'm prepared to play to some extent. I'm just not sure how much."

Q: How much do you typically play golf now?
Leonard: "I played a lot more this (past) summer because A) I wasn't working, at least the first part of the summer, and B) both my boys, 10 and 14, started to play a little bit more and it was something we could do. So I played quite a bit more. Also, I turned 48 in June and started to realize that, 'OK, if I am going to go play I need to kind of start getting back into it a touch. So it's been fun.
"The weeks I'm working I don't play. It's too busy. Having said that, I'm working the Phoenix Open in a couple of weeks and I'm going to go out there a day early and play golf with a couple of buddies. But that's not very typical. Knowing that I am starting to play a little more and get back into it, the clubs might come with me a little bit here and there."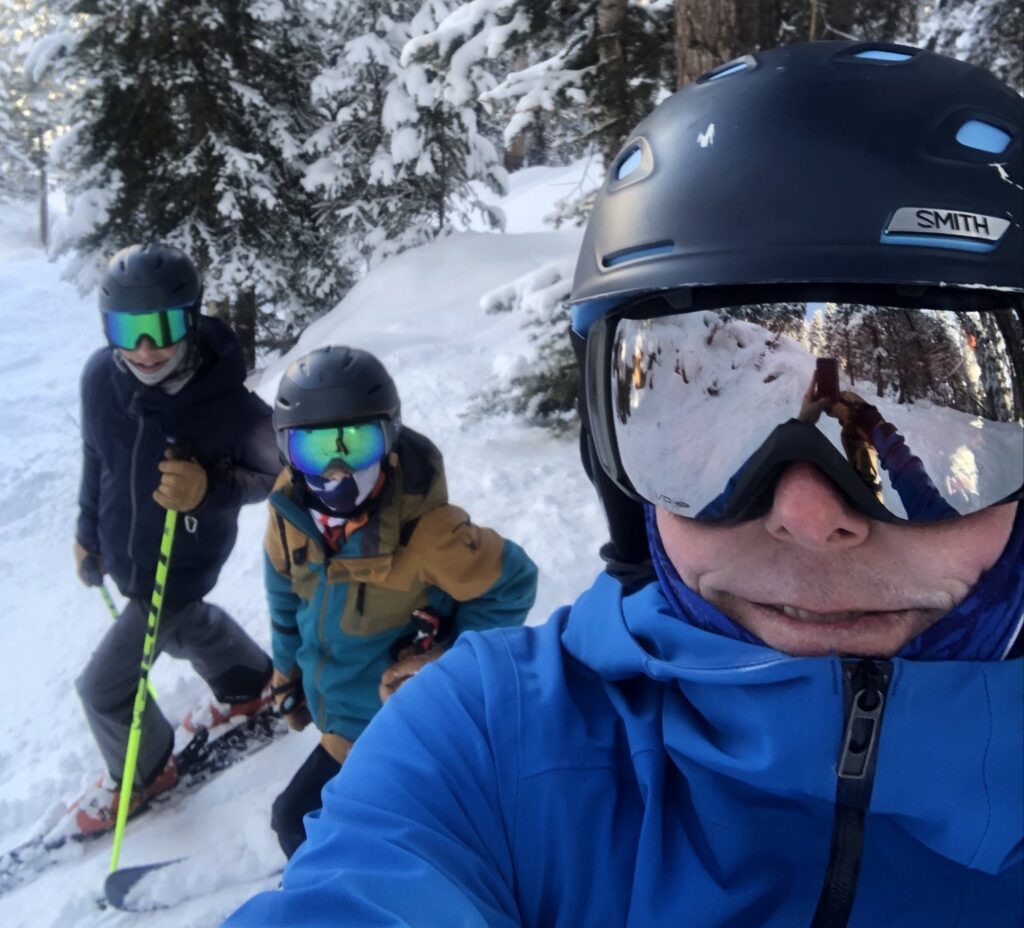 Q: So take a wild guess on how many times you played in 2020?
Leonard: 18 holes, I probably played about 25 rounds. In 2019 I think I counted up six or eight 18-hole rounds. Then there's a lot of hit balls for 20 minutes and play six holes, nine holes, 11 holes, with my boys. I probably did that another 30 days."

Q: How much do you miss competing?
Leonard: "I haven't really missed competing, I think, because for me a lot of it was always about the work and finding ways to get better and better and those kind of things. And I'm able to do that with the work that I do on television. I enjoy the process of trying to figure out how are guys who can carry it 320 (yards) going to play certain holes vs. guys who carry it 285. And understanding certain things that make people tick as far as players and player-caddie relationships, understanding the architect of golf courses and how holes are intended to play and why things were done there. So I'm able to kind of scratch that itch. So I haven't really missed playing. But getting a little closer to 50, I'm excited to play a little bit and see where I stand as far as the PGA Tour Champions crowd."

Q: Do you have any sense if you might enjoy success out there?
Leonard: "I know those guys are really good and they've never stopped working. They still put in the time — whether it's on the golf course or at the gym. I know for a lot of the guys, health can be kind of an issue and a barrier to playing well because of the wear and tear your body takes from all that practice. I know that my body feels great. I'm in better shape now than I was 10 years ago — maybe not golf-specific, but just from an overall health standpoint. Everything feels really good.
"I don't have a real sense for my first week or two out there, but I think if I do the right things to get ready and I don't put too much pressure on myself to perform quickly, I think I can have some success. A lot of it depends on how many events I'm doing for television and those kind of things, so I'm not really trying to draw up any expectations or anything right now. I'm just looking forward to playing more golf. Part of it is, a lot of it is with my two boys and I love spending time with them. And they want me to go play, which is fun because it gives me a little extra motivation."

Q: And how much do you ski these days?
Leonard: "I'm right around 50 days, and at least half of that is skinning (skiing up a hill or on a level surface, utilizing special bindings and pieces of material on the bottom of skis that allow them to move uphill without sliding back down). My 14-year-old and I are doing the Power of Two (endurance race in Aspen), which we also did last year. I'm starting to get ready for that."
That's why they call Leonard jlmountainman.