17-year-old pro has Noh problem building 5-shot lead at CoBank Colorado Women's Open; 2013 champ Huffer in second
By Gary Baines – 05/30/2019
Yealimi Noh isn't acting her age, but if she keeps it up, she'll become the youngest winner of the CoBank Colorado Women's Open.
The 17-year-old from Concord, Calif., who turned pro in January, appeared on the verge of running away with the CWO title on Thursday as she posted a 6-under-par 30 total — the best women's competitive score ever on the back nine at Green Valley Ranch Golf Club. And if that weren't enough, she added two more birdies early on her final nine holes and was 8 under for the day through 12.
Fortunately for her fellow competitors, a triple bogey on her 16th hole — the par-4 seventh at GVR — gave them some hope as she "only" leads by five now going into Friday's final round.
Noh — who last summer won the U.S. Girls' Junior, the national Girls Junior PGA Championship and the Canadian Women's Amateur — posted a 5-under-par 67 on Thursday for a 9-under 135 total.
"I was just trying to make as many birdies as I could," Noh said. "Mainly my putting was really good today. Almost every time I hit the green, I'd either made it (or came close). I still missed a few out there, but short ones to long ones I made a lot."
As in a couple of 30-footers and "a lot" of 15-footers.
The only player closer than seven shots to Noh is 2013 Colorado Women's Open champion Becca Huffer of Monument, who's an LPGA Tour rookie this year.
Huffer trails by five after a bogey-free 4-under-par 68 on Thursday.
Asked if a five-stroke deficit is too big to overcome on the final day, Huffer said, "You never know with golf. I feel like I'm playing well, so hopefully I can shoot kind of like today and see what happens."
Only four other players are under par for 36 holes: Caroline Powers of Bowling Green, Ohio (142), 2018 runner-up Katrina Prendergast, the former Colorado State University golfer who is making her pro debut (143), University of Colorado player Kirsty Hodgkins (143) and Tracy Stanford of Austin, Texas (143).
After a 68 on Wednesday, Noh finished with eight birdies — including four in a row — and a triple bogey on Thursday. On the triple, she played a risky second shot and hit a tree, with her ball going into deep grass, from which it took her two to extricate herself. Then she went into a bunker and finally two-putted.
"I was just glad to get that hole over with," she said. "I was definitely upset after that hole because I was playing really well. It just made me realize how much golf is unpredictable and you have to stay focused on every hole. That hole I definitely could have gotten par by going to the left (of the tree). For some reason, I went to the right and made a big mistake there.
"But overall it was a good day."
Since turning pro in January, Noh has enjoyed some success, winning once on The Cactus Tour in early May and last week in a Women's All Pro Tour event in Oklahoma. A victory at GVR — and a $50,000 payday — would be a nice addition to her resume and to her pocketbook.
"It would mean a lot to me," she said. "This event I got in after the deadline. I barely got into the event and I was happy to find something to fill in my empty schedule."
Her success so far as a pro has helped Noh feel validated about her decision to skip college golf and turn pro at age 17.
"I'm very happy with my decision to turn pro, even if it was early," she said. "It would mean a lot to win (again) and confirm that I made the right decision."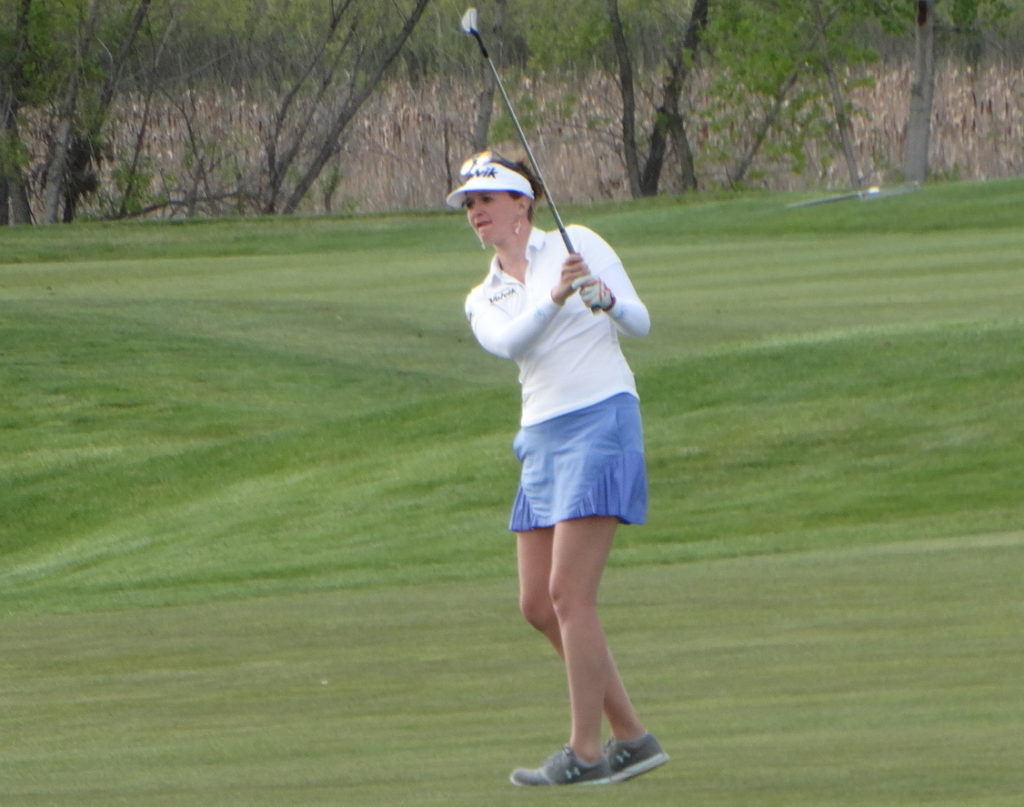 Meanwhile, Huffer can take some heart in knowing that when she won the Colorado Women's Open in 2013, she trailed by five entering the final round before prevailing in a playoff.
After the lifelong Coloradan struggled with her ball-striking on Wednesday, she hit it much better on Thursday, making four birdies and no bogeys. She kept the day bogey-free with a 12-foot par save on No. 17.
"It was a lot better today," the 28-year-old said. "I worked on some stuff and actually hit some solid shots. That was good.
"It was nice to get back in the red (figures). I'll try to do some more tomorrow."
Notable: Noh and Huffer will tee off for Friday's final round at 9:15 a.m. … The 41 championship competitors who were at 8 over par or better after two rounds made the 36-hole cut. … Hodgkins holds a three-stroke lead in the low-amateur competition, with University of Denver-bound Caroline Jordaan of Denver, the girls 3A state high school champion, in second place following a second-round 74. … The team representing title sponsor CoBank — pro Paula Reto of South Africa and amateur Tyler Etcheberry of Wesley Chapel, Fla —  continues to lead the pro-am competition. With a 17-under-par 127 total, they're ahead by two going into the final round.
For the scores from the Colorado Women's Open, CLICK HERE.