Despite turtle issues, Coloradan Jeff Nelson grabs outright boys lead at AJGA Hale Irwin Colorado Junior; Jessica Mason of Westminster in third place in girls tourney
By Gary Baines – 6/16/2021
Blame it on Tommy the turtle — or whatever his name is.
Jeff Nelson II of Commerce City has been pretty much rock solid during the first two rounds of the AJGA Hale Irwin Colorado Junior at Walnut Creek Golf Preserve in Westminster. That is, except for the par-3 seventh hole on Wednesday, where a large turtle on the green threw him for a bit of a loop and he ended up posting a double bogey.
Nelson, a recent graduate of Prairie View High School, and his group saw the turtle when they were on the sixth green. He said it was about 20 feet from the pin at that point, and the threesome ahead of them finished the seventh hole.
Nelson estimates his threesome waited about 20 minutes on the tee as people tried urging the reluctant turtle off the green, eventually succeeding with a bunker rake.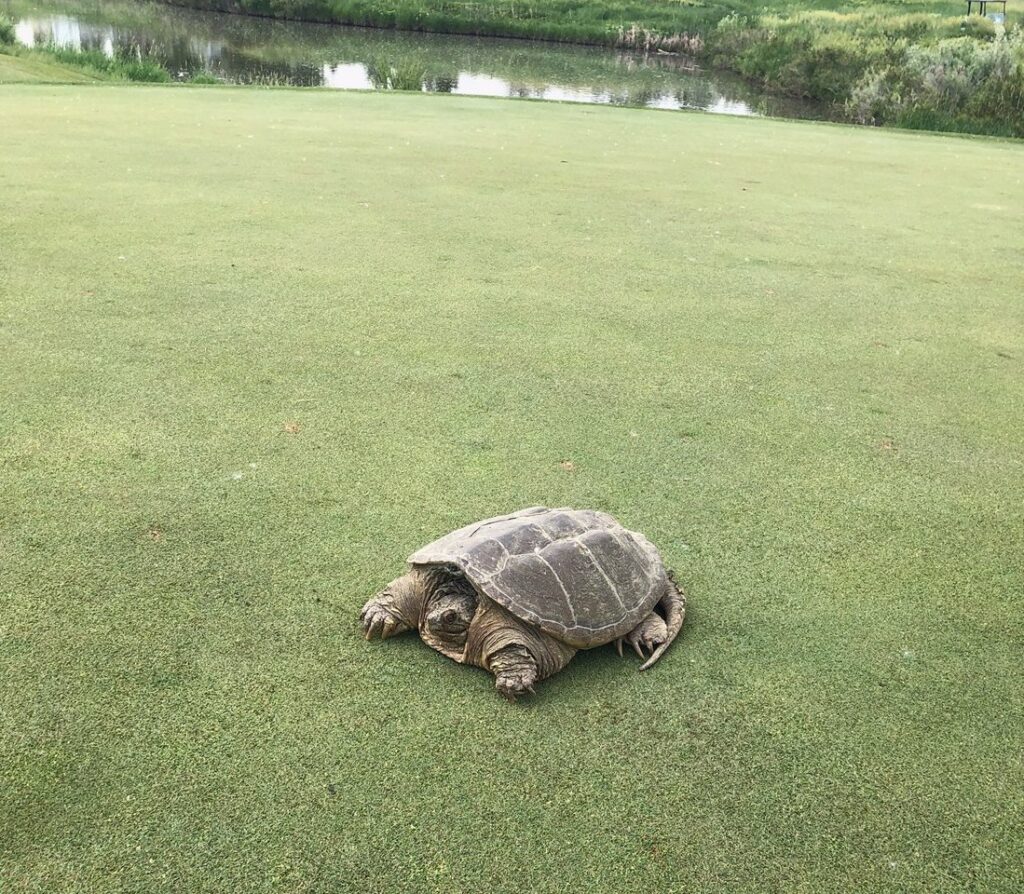 "I'm going to blame it on the turtle that was on the green because we had to wait like 20 minutes," he said. "(Then) I hooked it into the crap, hit it on the edge (of the green), then three-putted.
"The kids had putted out in front of us. They were pushing (the turtle) with a rake and trying to pick it up. They were kind of waiting there for the turtle to move and nothing happened. They finally pushed it off with a rake. It took like 20 minutes.
"I did get a little impatient. A guy was off the green but he was still messing with the turtle. I told Tyler (Tyson in his group) I'd just go. He took his tee up and I went up and hit. I just pulled it. It probably would have been better if I waited, but it is what it is."
The good news for Nelson is that, despite Turtlegate, he ended up shooting a second straight 2-under-par 70 and grabbed a one-stroke lead in the boys tournament heading into Thursday's final round.
Through two days, his scorecards have included eight birdies (including one from 6 feet on his final hole on Wednesday), two bogeys and the turtle-made-me-do-it double bogey.
All in all, it's never a bad thing when you're leading a strong field of 54 golfers, with the opportunity to record your biggest golf accomplishment to date.
"I feel pretty good because I've been playing good lately in the (Junior Golf Alliance of Colorado) stuff," said the 18-year-old, who will play his college golf at Colorado State University-Pueblo. "I think I can finally pull off the win. I've been in the lead a couple of times. I'm just going to play the same game and finish strong.
"It's been a while since I've won anything big. But the last two (JGAC Tour events — at Broadlands this month and Pelican Lakes last month) I came in second place. I had really good opportunities to win — and choked, pretty much. So hopefully I'll stay strong and not think too much about it. I like the course. It's pretty relaxing, not too scary."
On Wednesday, Nelson rebounded from his double bogey with a birdie on No. 8, and ended up playing his last 11 holes in 3 under par.
Last year, while Nelson didn't win a JGAC event, he did post two top-five finishes in majors, placing fourth in the Colorado Junior Amateur and fifth in the Colorado Junior Match Play to go along with fourth place in the 5A state high school meet.
"I finally started growing and hitting the ball farther. I think that's all it is to shooting better," he said. "I'm proud of myself for keeping the same game and just hitting it farther."
At the Hale Irwin, Nelson is one of just three boys to finish under par after 36 holes. On Thursday, he'll attempt to become just the third Colorado boy to win the AJGA Hale Irwin Colorado Junior, joining Dillon Stewart (2018) and Jack Hughes (2019).
"That would be awesome," he said. "I don't play a lot of AJGAs because they're harder to get in to. To win one would be huge. The last winner was Jack Hughes. I know him. We're buddies. That would be cool to pull it off like him."
Cade McLaughlin of Princeton, N.J., holds second place at 141 — one back of Nelson — after posting a tournament-best 4-under 68 on Wednesday. He made an eagle, four birdies and two bogeys in round 2.
Owen Cornmesser of Fort Collins, the co-leader after Tuesday, sits in third place at 1-under 143. Cornmesser carded just six pars on Wednesday while shooting a 74 as he made five birdies and seven bogeys.
Hunter Swanson of Denver, the 2020 JGAC Boys Player of the Year, is in fourth place at even-par 144 after matching rounds of 72. He played his final seven holes in 3 under on Wednesday.
Will Kates of Centennial, who shared the day 1 lead with Cornmesser, was a solid even-par for his front nine on Wednesday, but carded a 6-over-par 42 on the back nine following a triple-bogey 8 on the 13th hole. He shares ninth place at 147.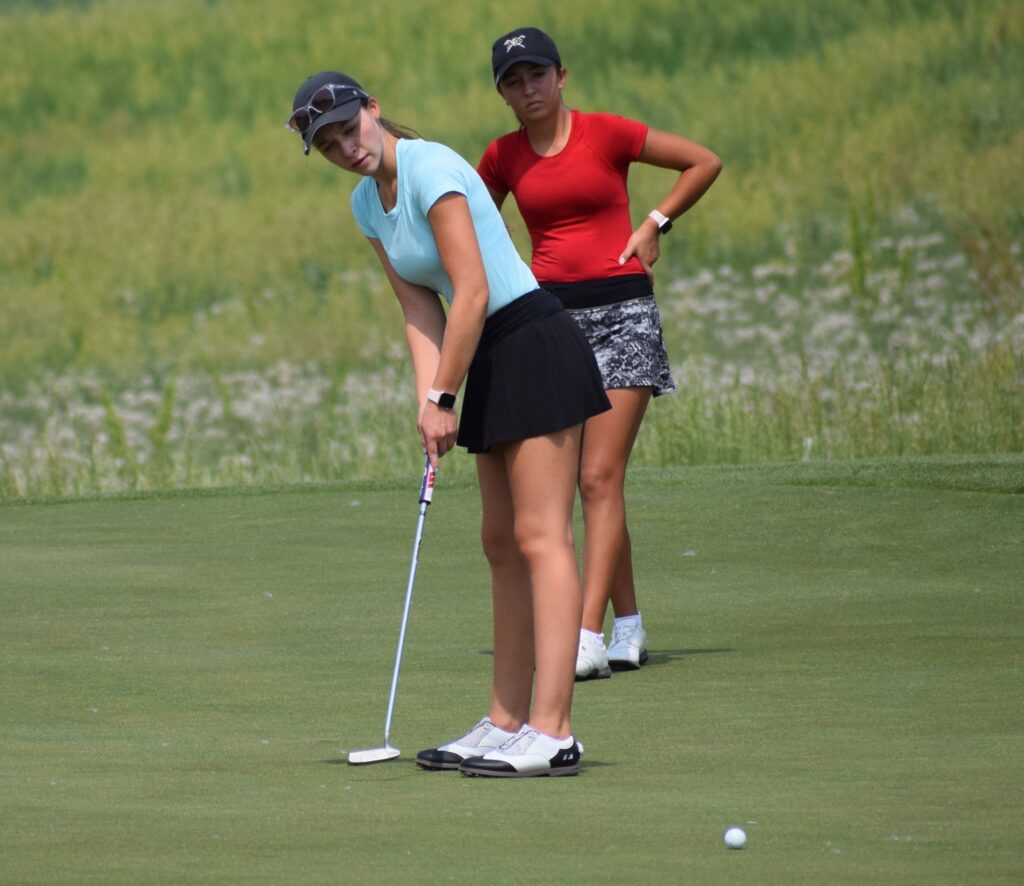 Jessica Mason Takes Flight With Eagle in Girls Tournament: Two golfers from British Columbia who have played on the Canadian national junior squad hold down the top two spots in the girls competition, but thanks in part to a hole out for eagle, Jessica Mason of Westminster sits in third place.
Mason, a Holy Family senior-to-be who placed fifth in the 4A state high school meet the last time it was held (2019), drained a 94-yard shot with a 58-degree wedge for an eagle on the formidable par-4 16th hole on Wednesday. That helped the 17-year-old shoot a 1-under-par 71, leaving her at even-par 144 overall.
"The eagle was the big highlight," she said. "I was like, 'That's good, I guess.' I was surprised. You don't really get that on that hole. I try to par that hole."
Asked if she's holed out like that many times previously, Mason said, "Not really in a tournament. That's my first one in a tournament. I've holed out chips, but not long ones like that."
Lauren Kim, a 15-year-old who has represented Canada on the country's junior national squad and owns an AJGA win from 2019, opened up a three-stroke lead over compatriot Michelle Liu on Wednesday. Kim shot a girls tournament-best 4-under-par 68 in round 2, closing with three consecutive birdies. For the day, she carded six birdies and two bogeys and now stands at 5-under 139.
Liu, a 14-year-old also on the Canadian junior national team, trails Kim by three after shooting a 70 on Wednesday. Liu won the B.C. Women's Amateur Championship in 2020.
Mason sits five strokes out of the lead and three ahead of the fourth-place girls competitor. So is overcoming a five-stroke deficit on Thursday doable?
"I don't really think about it like that," Mason said. "I just want to go out and play tomorrow the best I can and see what happens.
"I sometimes get really nervous for these tournaments. I just wanted to go out and relax and play like I usually do when I'm not in a tournament. That's what I've been doing, so I'm happy about that."
Mason plays out of The Ranch Country Club and now works there with impending Colorado Golf Hall of Fame instructor Ed Oldham, who likewise works with Jennifer Kupcho, the 25th-ranked women's golfer in the world.
"Ed is a great coach and he's at my (home) course. I really like him," Mason said.
The lead group of girls will tee off for Thursday's final round at 8:10 a.m., while the top boys will go off at 11:10 a.m.
For scores from the AJGA Hale Irwin Colorado Junior, click on the following: BOYS, GIRLS