Fort Collins' Owen Cornmesser prevails in 5-hole playoff to become 4th Coloradan — and 2nd Fossil Ridge HS grad — to win title in AJGA Hale Irwin Colorado Junior; Westminster's Jessica Mason places 3rd among girls
By Gary Baines – 6/17/2021
It was as if the golf gods were evening things out.
Early in the afternoon on Thursday, the girls competition at the AJGA Hale Irwin Colorado Junior produced a winning margin of a whopping 12 strokes at Walnut Creek Golf Preserve in Westminster.
About four hours later, things couldn't have been more different for the boys. Not only was there a playoff — and a three-way playoff at that — but sudden death came none too suddenly. Five extra holes were needed to settle matters.
And, as it turned out, that marathon playoff resulted in a streak being kept intact in the Hale Irwin Colorado Junior. For the fourth consecutive time the event has been held, a Coloradan has claimed the prestigious title, which is no small matter because a big chunk of the field comes out of state.
And — from the department of "what are the odds?" — two of those four Colorado champions (and two of the three boys) are products of the same high school, Fossil Ridge H.S.
The newest local champ is Owen Cornmesser of Fort Collins, a Fossil Ridge grad who will play his college golf at the Colorado School of Mines starting in the fall. Cornmesser joins his former teammate, Dillon Stewart, as Irwin champs from FRHS.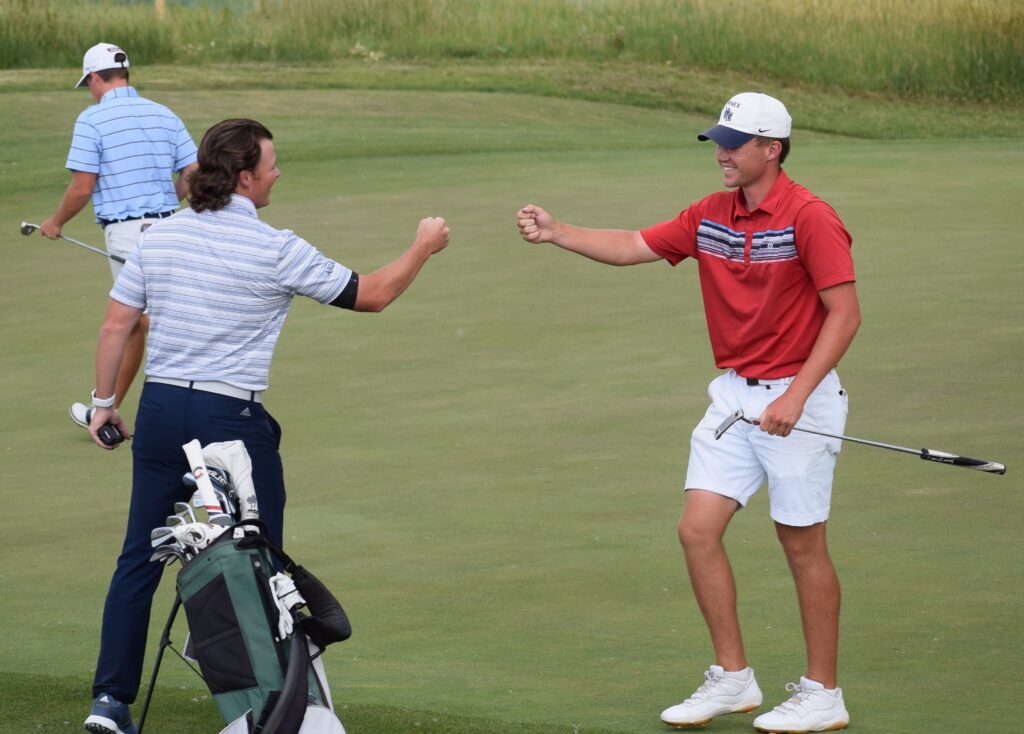 Cornmesser went birdie, birdie, par, birdie, par in sudden death, with that last par — a two-putt from 14 feet on the par-3 17th hole — giving him the victory. Cade McLaughlin of Princeton, N.J., missed the green long on 17, then saw his par attempt roll just right of the hole, making bogey.
So Cornmesser follows in the footsteps of Hailey Schalk (2017), Stewart (2018) and Jack Hughes (2019) in Coloradans claiming the Hale Irwin Colorado Junior trophy. (The tournament wasn't held last year due to Covid-19 safety concerns.)
In the playoff, Cornmesser overcame not only McLaughlin from New Jersey, but Ty Holbrook from Granbury, Texas, who exited after making par on the first extra hole.
"It's in your home state and you're in the playoff with kids from other states," Cornmesser noted. "And everyone else I know from playing in tournaments in Colorado are all watching me (in sudden death). I've got my own little Colorado fan club following me around. I didn't let that pressure get to me. I kind of let it motivate me to do better."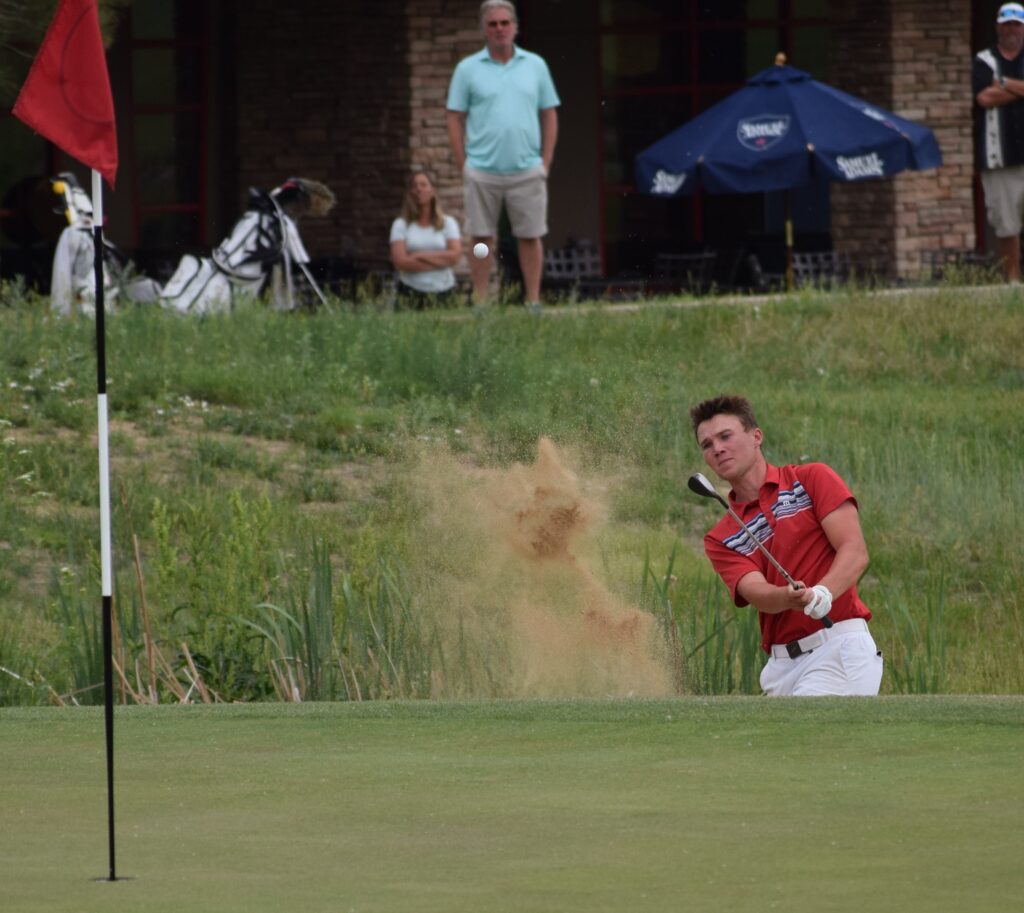 This marks the first time in the six-year history of the AJGA Hale Irwin Colorado Junior that a title — either boys or girls — has been decided in a playoff.
In this case, by prevailing on Thursday, Cornmesser deserves some additional award for being most improved in the tournament. Two years ago in the Hale Irwin Colorado Junior, he finished 57th out of 60 boys. He went 79-88-78 that year, ending up at 29 over par.
"I'm so proud of myself after two years ago here finishing (fourth)-to-last," the 18-year-old said. "It's almost embarrassing whenever you do that. But I didn't stop practicing, didn't stop working. I used it as motivation and I just worked harder after I performed like that two years ago. To do that and not give up on those five (playoff) holes today, I'm so happy and proud of myself."
Cornmesser closed with a 1-under-par 71 on Thursday, giving him a 2-under 214 total along with McLaughlin (73 in the final round) and Holbrook (69). Despite going into the final hole of regulation with a one-stroke lead, Cornmesser nearly lost his chance for the title when he drove into the deep native on the left side of the par-5 18th, hit his second shot about 30 yards into a fairway bunker and missed a 10-foot par putt. But McLaughlin kept Cornmesser's hopes alive when he missed a 4-foot birdie attempt to conclude regulation that would have given him the victory.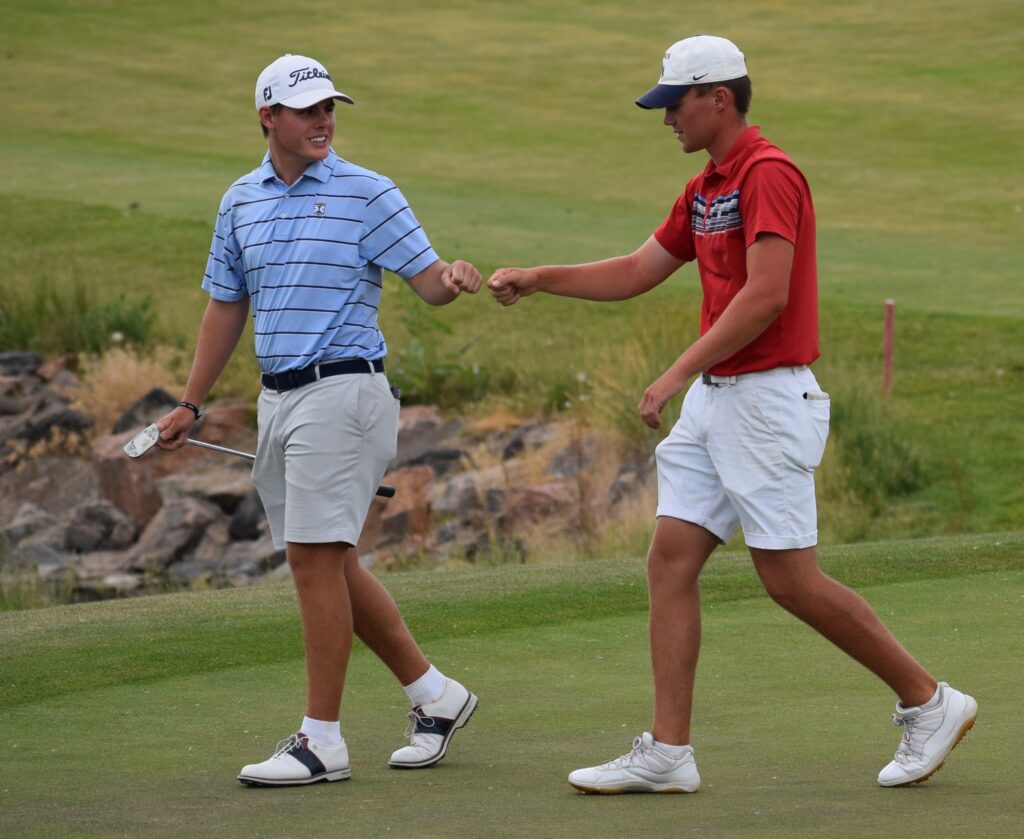 "I had that putt on 18 to win it, and it just didn't break what I thought it would," said McLaughlin, who like Cornmesser was seeking his first AJGA victory. "But Owen deserved this completely. He played so fantastic all day, coming from three back to start the day."
Jeff Nelson II of Commerce City, who led by one going into the final round, finished in fourth place, two shots out of the playoff, after posting a 76 on Thursday. After making a birdie on the 14th hole, he was still very much in it, but a double bogey on the 15th proved costly.
In the playoff, both Cornesser and McLaughlin birdied the 18th hole twice to start sudden death. The first time, Cornesser hit a nifty wedge shot to 6 inches for a tap-in birdie. The second time around, he got up and down from a greenside bunker for another bird.
The playoff then went to the par-3 17th, where both players made pars, with McLaughlin sinking a 5-foot putt.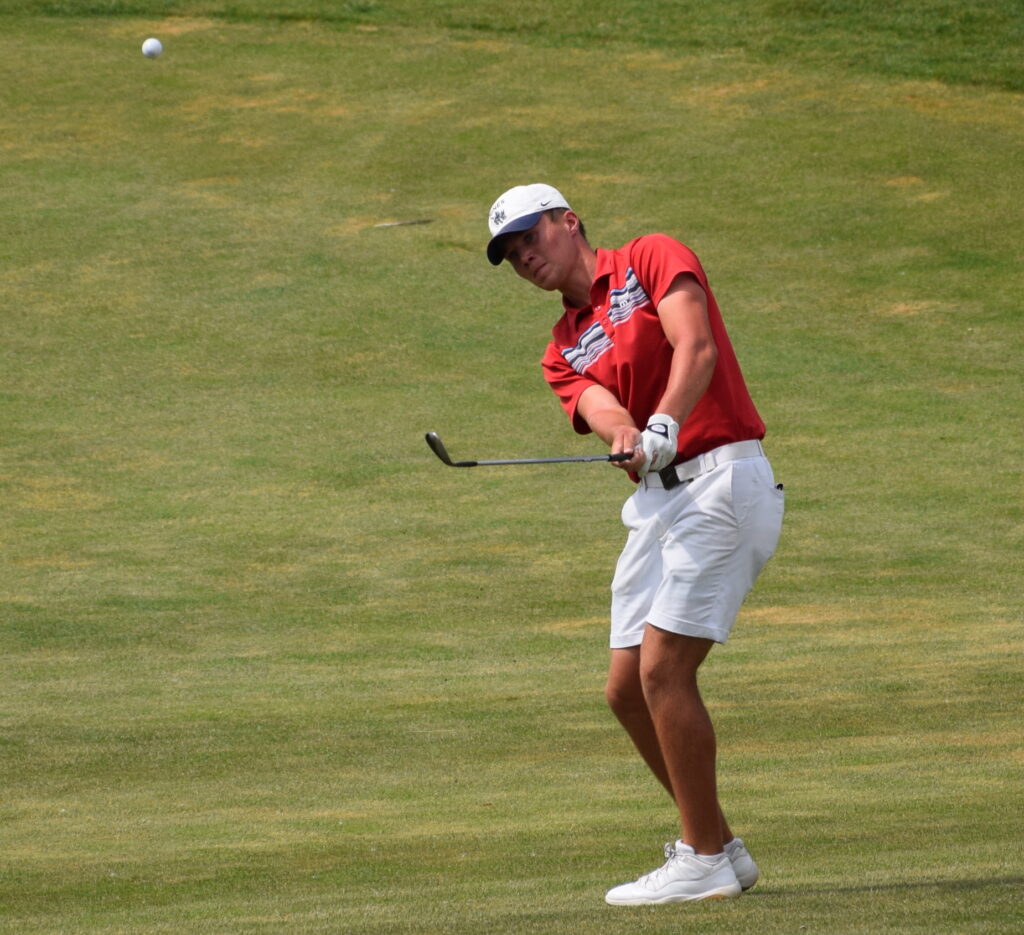 Back to the 18th for the fourth playoff hole, Cornmesser once again got up and down from a greenside bunker — this time a different one — for another short birdie. But once again, McLaughlin matched him.
But on the 17th for the fifth hole of sudden death, Cornesser hit his tee shot to 14 feet, while McLaughlin knocked it over the green, as he had in regulation. McLaughlin's pitch ended up 15 feet short, and after Cormesser just missed his birdie try, the New Jersey golfer failed to convert his par and the tournament was over — at last.
"It stings a little bit, but what can you do?" McLaughlin said. "Owen deserved it. He stuffed it (both times in the playoff) on 17. He was destined to win on that one for sure."
And so Cornmesser is left with the biggest victory of his young career.
"I haven't had a lot of wins," said Cornmesser, who is coached by PGA instructor Stan Fenn. "It was really good to pull it out here."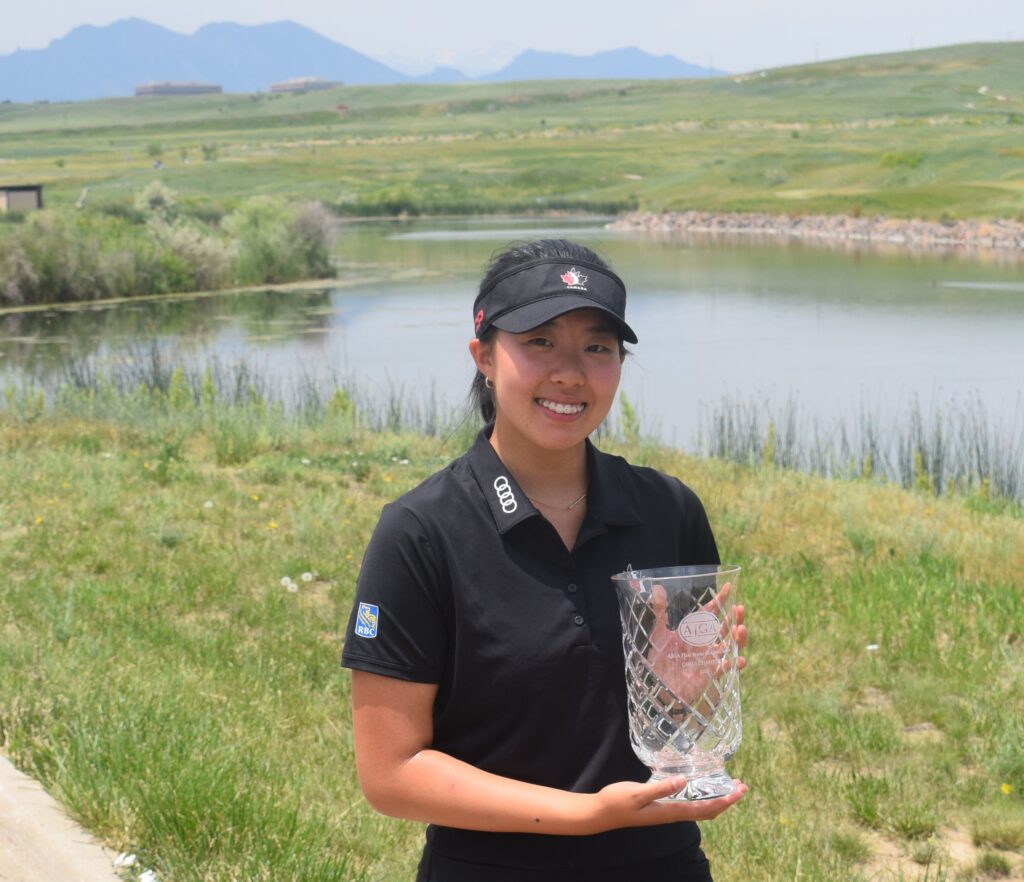 Meanwhile, the girls tournament proved to be the opposite end of the competitive spectrum as Canadian Lauren Kim cruised to a 12-stroke victory, the record margin for this event regardless of gender.
And Kim, a member of the Canadian junior national team, posted a 9-under-par 207 total, five strokes better than the previous best shot by a girls Hale Irwin Colorado Junior champion at Walnut Creek. The previous mark was held by 2017 champion Hailey Schalk of Erie.
"I think it's very impressive," Kim said of her accomplishments at Walnut Creek. "I'm very proud of myself."
Kim, a 15-year-old resident of Surrey in British Columbia, went 71-68-68. For the week, she chalked up 20 birdies, nine bogeys and a double bogey. It was Kim's second AJGA victory, but her first AJGA event in about 18 months.
"I can't really explain the feeling," said Kim, who was 13 years old when she qualified for the 2019 U.S. Women's Amateur. "I'm kind of numb right now. It feels good to know that all that hard work over the winter has paid off. It's been constant hours of practice — even through (Covid-19) quarantine. It just feels great.
"But ever since I came down here (to Colorado about a week ago) I've just been shooting under par. At this course, it's been under par every single round. So I kind of knew what the result was going to be — either a top three or a top two (finish). But I really was not expecting to (win by 12 strokes)."
And Colorado competitors should get used to seeing Kim, who before the month is over will try to qualify in the state for the U.S. Girls' Junior and the U.S. Women's Am.
Finishing a distant second among the girls on Thursday was a Canadian junior national teammate of Kim's, Michelle Liu, from Vancouver. Liu checked in at 219 after closing with a 77.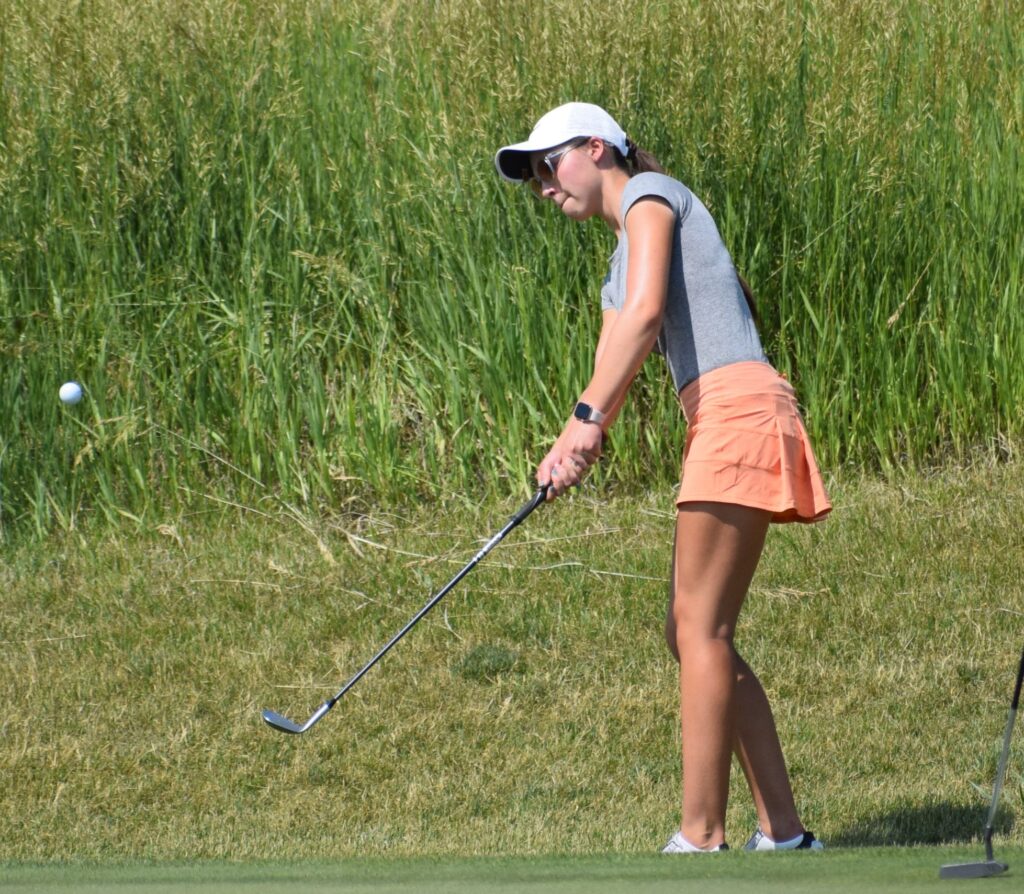 Jessica Mason from Westminster posted her best AJGA finish ever by tying for third place at 222 on Thursday with Skylee Shin of Doral, Fla. Mason shot 78 in round 3, while Shin had a 75.
Mason's third-place showing gives her exempt status on the AJGA, meaning she's eligible to compete in most of the association's events.
"I think it was kind of a breakthrough week," said Mason, a Holy Family student who will compete at the 4A girls state high school tournament on Monday and Tuesday. "I haven't really had a solid three days before, so I think it's good for me. I should be exempt for AJGA tournaments now, which is nice."
Another Colorado resident, Kaylee Chen of Parker, also posted a top-five finish, placing fifth at 224 after a 75 on Thursday. But the quintuple-bogey 10 Chen posted on the 13th hole on Tuesday kept her from an even-better showing.

Notable: Many of the coaches for the Colorado-based college programs were among those recruiting at the Hale Irwin Colorado Junior. Like in other sports, in-person recruiting in Division I college golf has been forbidden since mid-March 2020 due to Covid-19 safety concerns. But regular recruiting activities resumed on June 1.
For scores from the AJGA Hale Irwin Colorado Junior, click on the following: BOYS, GIRLS