Logan Hale falls short in bid to end U.S. Girls' Junior match-play drought for Coloradans; defending champ Yana Wilson earns medalist honors, while 2022 ANWA winner Anna Davis next best after 2 days of stroke play
By Gary Baines – 7/18/2023
Logan Hale was hoping to go where no Colorado resident has gone since 2014.
And, after Monday's opening round at the Air Force Academy's Eisenhower Golf Club, the 17-year-old Erie resident was on pace to contend for one of the 64 match-play spots at the U.S. Girls' Junior.
Alas, Hale, like other Coloradans who have earned berths in the U.S. Girls' Junior in recent years, couldn't get over the hump. So Jennifer Kupcho, who advanced to the round of 64 in the 2014 U.S. Girls', remains the last resident of the Centennial State to make the match-play bracket in the event.
Hale, the lone Colorado resident in the field for this national championship set in the Centennial State, struggled following a 76 on Monday, making three double bogeys and a triple bogey on Tuesday en route to a 13-over-par 85. That left her in 128th place out of 156 players in her first time competing in the U.S. Girls' Junior.
"This was a cool experience, being in this field and being surrounded by so many good players," she said. "It's such a cool feeling, and I was just happy making it here. I obviously wanted to play a lot better, but it's a tricky course and I would say if you don't have your 'A' game, or at least your 'B' game, it's a really tricky course to put up a good number or even a solid number."
Hale, the 2023 4A girls state high school individual champion, had played the first 10 holes of the championship in 1 under par. But on Tuesday, for the second straight day, the future University of Denver golfer struggled on the back nine. In round 2, after three straight pars to start the day, she played her last six holes of the back nine in 8 over par. In round 1, she had had a five-hole stretch on the back side where she went 5 over par.
"Right from the start, my swing was just a little bit off," Hale said. "I don't know what it was because I didn't have any different swing thoughts than yesterday, but that's just how it can be sometimes.
"… I wouldn't say I was super frustrated, I just got a little bit razzled."
What particularly seemed to turn the momentum on Tuesday was three-putting for double bogey from about 6 feet on the 13th hole (her fourth of the day). Then she followed that up by hitting a tree 60 yards off the tee on No. 14 and needed to pitch out en route to another double.
"Every time you play it's a learning experience, and there's definitely a learning curve," Hale said. "So there were a few shots I had that were pretty good, but overall I'm just going to try and stay calm and collected and move forward."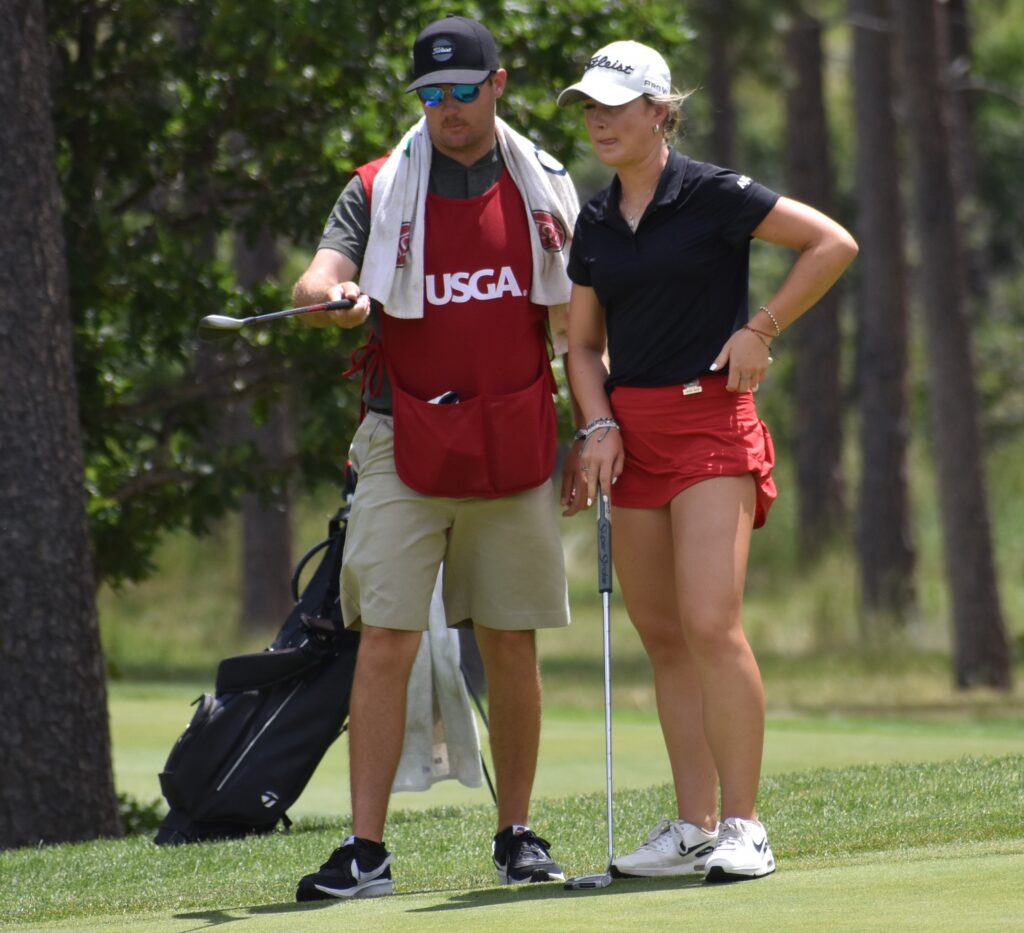 Former CGA Player of the Year Colin Prater (left) caddied for Hale this week.



Hale certainly had some help on the bag this week as Colin Prater of Colorado Springs, the 2020 CGA Player of the Year, caddied for her. Since 2016, Prater has won two CGA Amateurs, one CGA Match Play and last year's Mid-Amateur.
Prater, a friend of Hale's dad from when the family was a member at the Country Club of Colorado, also caddied for Logan at the U.S. Girls' Junior qualifier at CCC as well as a couple of other times over the last year or so — at Logan's request.
"He's been on the bag when I need him for a year or year and a half," Hale said. "It's been really fun getting to have him on the bag. He keeps it light out there. He knows what he's talking about, especially on this course and the course I qualified on. It's also nice to have someone who's a really good player on the bag — someone who knows what they're doing and how to go low. It's really cool having him out there. He's helped a lot for sure."
Next up for Hale, she'll be part of a team representing Colorado at the Girls Junior Americas Cup July 25-27 in British Columbia.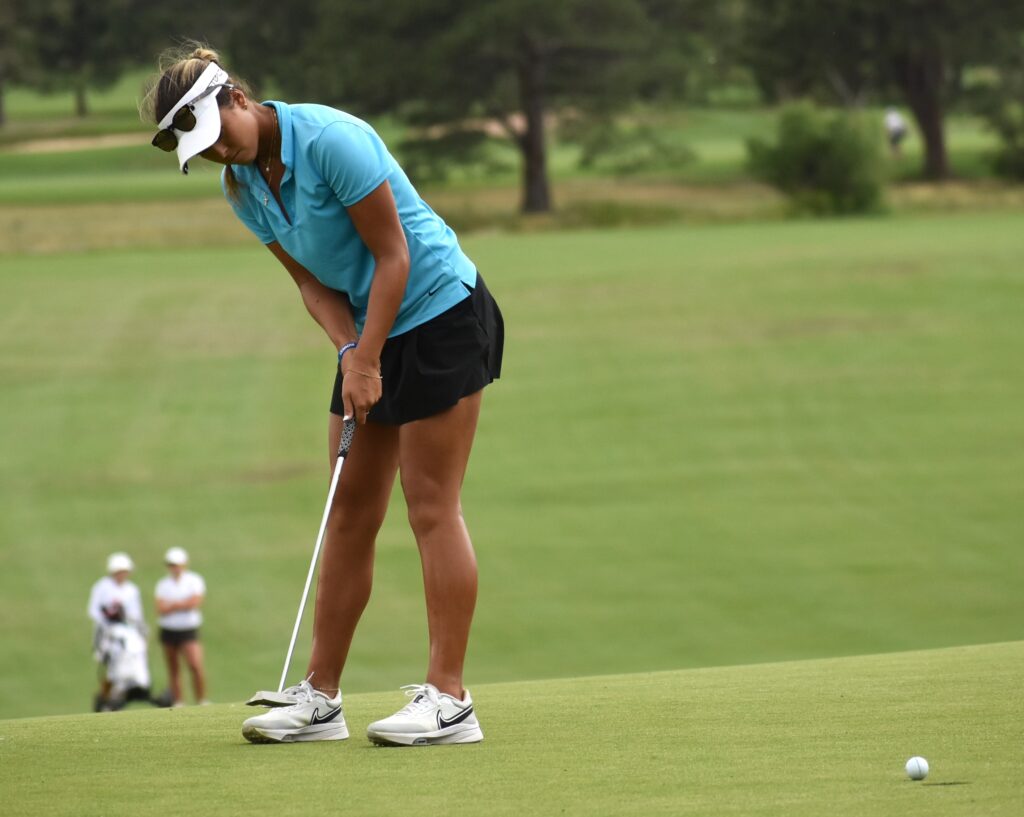 Yana Wilson coaxes in a putt on the ninth green on Tuesday.


Defending Champ Sets the Standard: Yana Wilson of Henderson, Nev., hasn't missed a beat in the U.S. Girls' Junior the last two go-arounds — at least so far.
Not only did she win last year's national title, but she finished just a stroke behind the co-medalists in the stroke-play portion of the event. Then she won all six of her matches.
Now 16, Wilson earned stroke-play medalist honors on Tuesday at the Girls' Junior at the Air Force Academy's Eisenhower Golf Club.
"It definitely means a lot to me, but I tried to convince myself that it doesn't really mean anything to me because we're not even half way through the championship, and I still have a lot of golf to play hopefully," she said. "So I'm just going to try and keep my head steady as it has been the whole championship and just keep grinding."
Wilson, who will play her college golf at the University of Oregon, went 70-68 for a 6-under-par 138 total for two days. So now, she and 63 other players will advance to match play, with the round of 64 set for Wednesday. Eventually, just two will be in the hunt come Saturday's 36-hole final.
"I feel like I'm more comfortable in match play, for sure," Wilson said. "It's just a different mindset; you're not playing against the whole field, you're just playing against your other opponent. But I'm going to try to treat it like stroke play, as I did last year. Last year my thought process was just to shoot 5-under every round, and you know, if you lose to your competitor shooting 5-under, that's OK."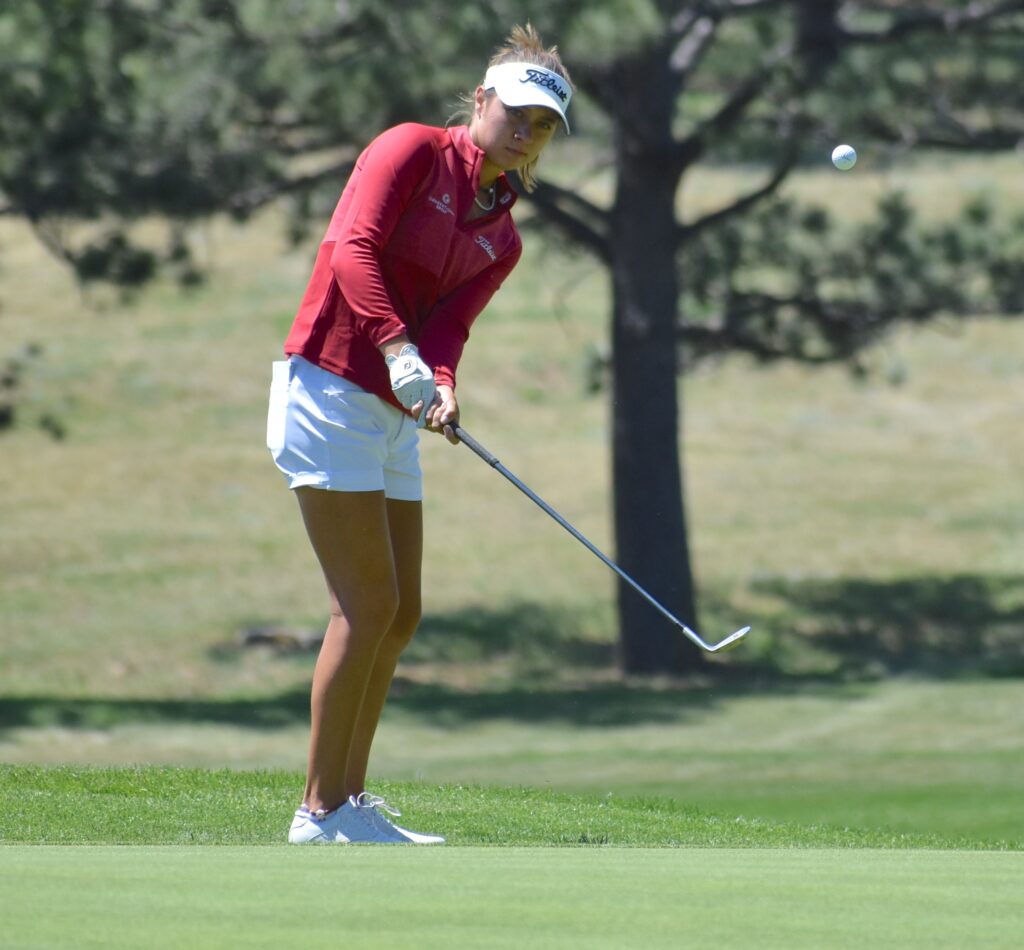 Anna Davis finished second in stroke play on Tuesday.


Earning the No. 2 seed in match play by finishing the stroke-play runner-up on Tuesday was 2022 Augusta National Women's Amateur champion Anna Davis of Spring Valley, Calif., the No. 4 player in the women's world amateur golf rankings.
Davis carded scores of 68-71 to check in one stroke behind Wilson.
"I haven't played many match play events," the left-hander noted. "But I think you kind of have to have a different mindset where not every single hole matters. So, you know, you make a bogey and it's alright; you go to the next hole. So I think it's a little bit of a different mindset that you have to adapt to, but we'll see how it goes."
Davis was only 16 years old last year when she won the ANWA. You might wonder how she fared in the 2022 U.S. Girls' Junior.
The answer is, she didn't. Which is to say she didn't compete in the event that typically features the best female junior golfers in the world.
As it turned out, Davis had bigger fish to fry. During the week of the 2022 U.S. Girls' Junior, she teed it up at one of the LPGA's major championships, the Amundi Evian Championship in France. There, competing against the world's top female players, she made the cut and finished in 65th place.
"I played pretty good. It was a fun week," she said.
That's one of eight LPGA events Davis has played since winning at Augusta National in 2022. And she's made the cut in five of those LPGA events.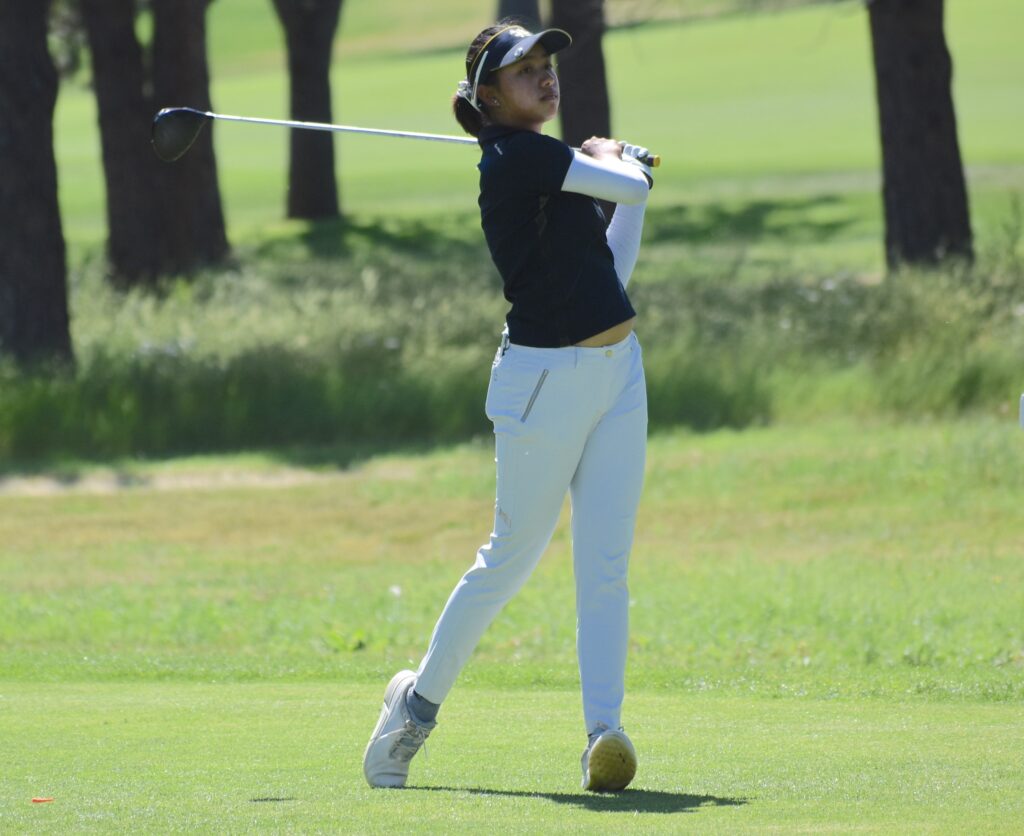 Tarapath Panya, who qualified for the championship in Colorado, ended up fourth in the stroke-play portion of the event.


Thais With Local Ties Move On: Tarapath Panya and Pimpisa Rubrong arrived in the U.S. — Colorado specifically — from their homeland of Thailand almost six weeks ago. They were joined by a handful of other Thai golfers for a few weeks, and now it's just Panya and Rubrong here.
Starting with the CGA Women's Match Play and concluding with the U.S. Girls' Junior, they were playing a handful of tournaments in America. And they've certainly had some highlights along the way.
Rubrong won the CGA Women's Match Play, beating Panya in the semifinals. Both qualified at the Country Club of Colorado for the U.S. Girls' Junior. And at this week's national championship, Panya (69-73) finished fourthout of 156 players in the stroke-play portion of the event and Rubrong (74-73) was 24th.
While the two hope for a good showing this week, they're eager to get back home.
Panya, who's in the U.S. for the first time, said she's enjoyed her time in the U.S., "but I miss my parents. It's been about 40 days now (since she was home in Thailand.)"
Panya finished 11th in the oldest girls division of the prestigious IMG Junior World Championships in San Diego last week.

CSU, CU Recruits Bow Out: At least three golfers in the U.S. Girls' Junior have made verbal commitments to play their college golf at a Colorado-based program. One was Hale, who is headed to DU.
The others are Hawaiian Kara Kaneshiro, who signed last fall to join the Colorado State women's golf team starting next season, and Sydney Givens of Austin, Texas, who has given a verbal commitment to become a University of Colorado Buff in 2024.
But while all made the field for the U.S. Girls' Junior, none advanced to match play on Tuesday. Hale, as noted above, finished at 17 over par (76-85). Givens went 76-79 (11 over) and Kaneshiro 75-77 (8 over, falling one stroke shy of advancing).

Notable: We're only two days into the U.S. Girls' Junior, and already a record has been set for holes-in-one for that championship in a single year. Sophie Stevens of Highland Mich., did the honors on the 132-year seventh hole on Tuesday, using a 9-iron. On Monday, making aces were Veronica Exposito of The Woodlands, Texas (third hole), Emerie Schartz of Wichita, Kan. (seventh hole) and Angela Zhang of Bellevue, Wash. (seventh hole). The four holes-in-one matches the record for a single USGA championship of any sort as that many were recorded in a single day at the 1989 U.S. Open, including one by Colorado Golf Hall of Famer Mark Wiebe. … Beating long odds, no playoff was necessary to set the 64-player match-play field. Every golfer who finished 7 over par or better for 36 holes advance to Wednesday. It's the first time since 2007 no playoff was necessary at the U.S. Girls' Junior. … Admission to the Girls' Junior is free and spectators are encouraged to attend.

For all the scores from the U.S. Girls' Junior, CLICK HERE.
For Wednesday's pairings and tee times at Eisenhower, CLICK HERE.

About the Writer: Gary Baines has covered golf in Colorado continuously since 1983. He was a sports writer at the Daily Camera newspaper in Boulder, then the sports editor there, and has written regularly for ColoradoGolf.org since 2009. He was inducted into the Colorado Golf Hall of Fame in 2022. He owns and operates ColoradoGolfJournal.com