Coloradan Logan Hale savors hitting first tee shot for U.S. Girls' Junior at Eisenhower GC; she's in the hunt to advance to match play; 2022 Augusta National Women's Am champ Anna Davis one of first-round co-leaders
By Gary Baines – 7/17/2023
Logan Hale didn't have the best score on Monday. Others may have hit better shots. But the 17-year-old from Erie certainly will always have indelible memories from Monday's opening round of the U.S. Girls' Junior.
You see, Hale is the only Colorado resident competing in this national championship that's being held in the Centennial State. And, as such, she had the honor of striking the first official shot of the event at Eisenhower Golf Club's Blue Course at the Air Force Academy.
"It was super cool," she said of the unique experience. "Out of the whole field, just because I was from Colorado they chose me. I was definitely really nervous leading up to it. Then on the first tee box, I just kind of cleared my mind. And I ended up hitting a really good shot — one of my best drives of the day. It was way down there. It was a really nice feeling — and I could finally take a deep breath.
"I don't know exactly how far it was, but I'm guessing a good 280-290 (yards). For how nervous I was, it was definitely a good feeling to hit a good one there."
Hale, the 4A girls state high school individual champion this year, parred that first hole and went on to make a couple of 10-foot birdies — on Nos. 5 and 10 — to stand on the leaderboard at 1 under par through 10 holes.
"I was kind of in a pretty good rhythm," she said. "My putting was pretty good today. I didn't have any three-putts, which is a nice accomplishments on those (slick) greens."
But a rough five-hole stretch, from Nos. 11 through 15, where Hale went 5 over par, led to her posting a 4-over-par 76 on Monday. That left her tied for 60th position and very much in the mix to possibly advance to match play, as the top 64 after Tuesday's second round of stroke play will move on.
Hale trails stroke-play co-leaders Anna Davis of Spring Valley, Calif. — the 2022 Augusta National Women's Amateur champion — and Kiara Romero of San Jose, Calif., by eight strokes.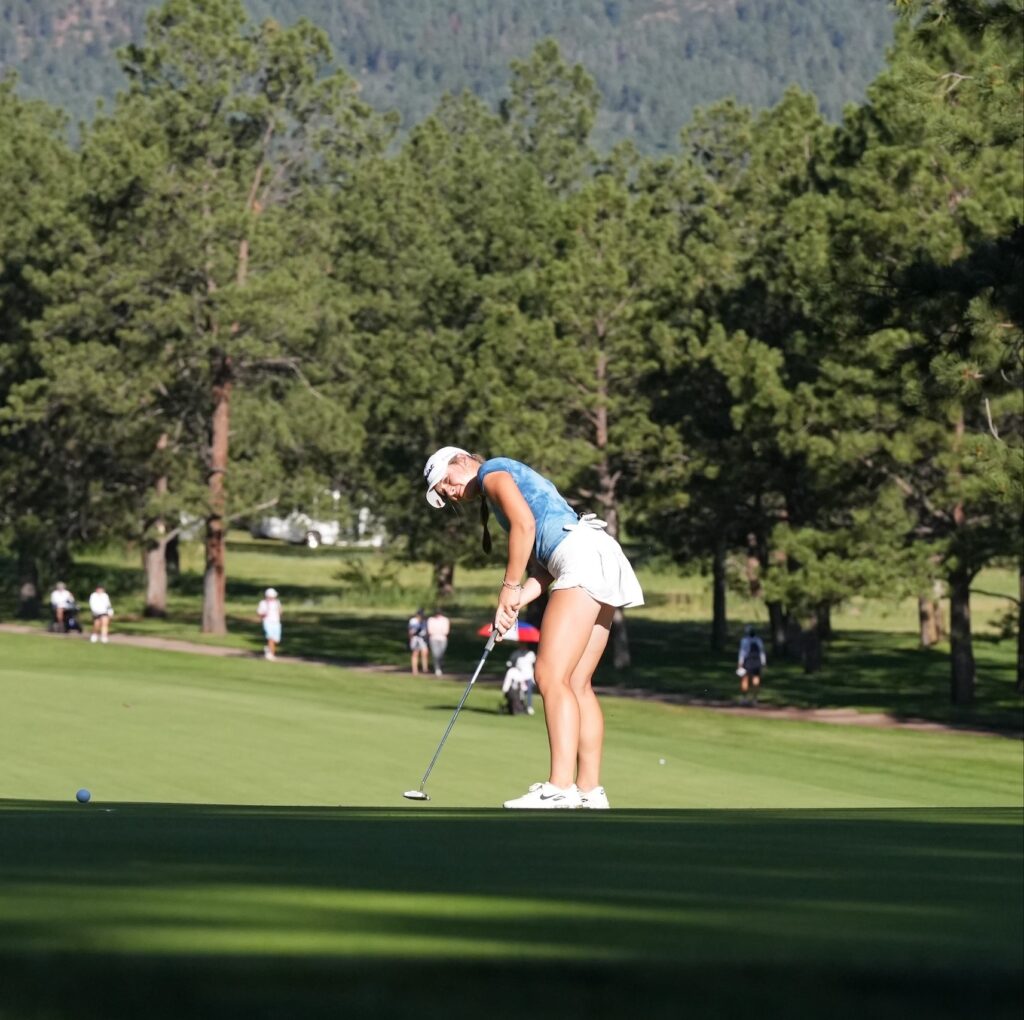 Hale had a good following of family and friends on Day 1 at Eisenhower.



"I was pretty close to putting up a good score today," said Hale, who spent part of her childhood as a resident of Colorado Springs. "A few bogeys slipped in there on some of the harder holes where I wasn't making committed swings. I was trying to get too cute with it at times.
"It wasn't a great back nine, but considering the course conditions, it's not a bad score at all. It's a tricky course, playing at championship level, super long distances, really tricky greens, super hard pin locations. All in all, it could have been worse, so I'm not mad at it, but it was definitely not my best.
"I definitely think it's a reasonable goal going into tomorrow (to make match play). Hopefully I can put up a good score."
Hale estimated she had 10-15 family members and friends following her on Monday, when she teed off at 7 a.m.
"My sister, my mom, and four or five of my friends from Erie woke up early and drove down, which was super cool of them," Hale said. "I'm super grateful to have that support system.
"It's such a cool feeling to have the volunteers who are there — local Coloradans — where before I even say my name, they say, 'Oh, my gosh, we're rooting for you. That's neat have that support system at home in such a big event. This is my first time competing in this event, there's a deep field of girls and there's a lot of really, really good players. So having that many people rooting for me — as not one of the top 10 players in the field — is really awesome."
Hale will tee off for round 2 at 12:15 p.m. — off the 10th hole — on Tuesday.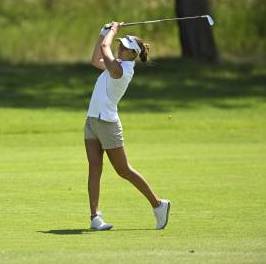 Anna Davis made eight birdies en route to a 68 on Monday. (Kathryn Riley/USGA)

As for the field in general on Monday, 15 out of 156 players broke par, including defending champion Yana Wilson of Henderson, Nev. and fellow 2022 finalist Gianna Clemente of Estero, Fla. (both 70). And four golfers shot in the 60s.
One of those was Tarapath Panya of Thailand, a semifinalist in the 2023 CGA Women's Match Play who went on to qualify for the U.S. Girls' Junior at the Country Club of Colorado in Colorado Springs. Panya carded five birdies and two bogeys on Monday.
But Davis being at the top of the scoreboard surprised no one, given that she's the No. 4-ranked women's amateur in the world and claimed the prestigious ANWA title as a 16-year-old last year.
And the other player who shot 68 on Monday was certainly no stranger as Davis and Romero were partners in this year's U.S. Women's Amateur Four-Ball, advancing to the round of 16. And last week, they teamed up in four-ball and alternate shot formats at the AJGA's Ryder Cup-like Wyndham Cup in Santa Rosa, Calif.
Not surprisingly, the two played their practice rounds together at Eisenhower Golf Club.
On Monday, while Romero went bogey-free with four birdies, the left-handed Davis had a more unique round, carding eight birdies and four bogeys.
"We were both hitting it really well in our practice round yesterday," Davis said. "So it's nice to see her up there."
Davis will play her college golf at Auburn and Romero at Oregon.
"I think it just helps me mentally, knowing that I've played against the best," Davis saids. "Knowing I've beaten a lot of the best, I have a good shot against these girls, who are elite golfers. It helps you mentally, just knowing that you've been in bigger situations, you've been in pressure situations and you can handle situations like these."
Davis was impressed by the difficulty of the Eisenhower layout.
"There isn't really a need to go super low on this golf course. It's kind of a beast," she said.
Notable: Three players made holes-in-one on day 1: Veronica Exposito of The Woodlands, Texas (5-hybrid on 162-yard third hole), and Emerie Schartz of Wichita, Kan., and Angela Zhang (both 7-irons on 143-yard seventh hole). It was Schwartz's second tournament ace in a month. The three holes-in-one match the most for a single U.S. Girls' Junior (previously in 2004). … The stroke average for the field on Monday was 76.87. … More than 120 college coaches are at the U.S. Girls' Junior looking for potential recruits, including USC's Tiffany Joh, who won the U.S. Women's Amateur Public Links in Pueblo in 2006. … According to the USGA, "two distinguished veterans took part in a special honorary-starter ceremony on the first tee 15 minutes prior to the start of Round 1. Sgt. Peter C. Lemon, who served in the U.S. Army during the Vietnam War and earned the Medal of Honor, the military's highest award for valor, hit the first drive. Lemon is the only Canadian-born United States citizen to be presented the medal for service in the Vietnam War. He was followed by Lt. Colonel Greg Dillon,who also served in the U.S. Army during the Vietnam War, earning the Silver Star for gallantry in action involving close contact with an armed hostile force."
For all the scores from the U.S. Girls' Junior, CLICK HERE.
For Tuesday's tee times at Eisenhower, CLICK HERE.

About the Writer: Gary Baines has covered golf in Colorado continuously since 1983. He was a sports writer at the Daily Camera newspaper in Boulder, then the sports editor there, and has written regularly for ColoradoGolf.org since 2009. He was inducted into the Colorado Golf Hall of Fame in 2022. He owns and operates ColoradoGolfJournal.com