Former Colorado School of Mines golfer Jim Knous aims to return to tour golf in June after a year on the mend; PGA Tour player plans to make TPC Colorado Championship one of his 'rehab' starts
By Gary Baines – 4/16/2020
The last time Jim Knous hit a golf ball in competitive mode — as in, at a PGA Tour-affiliated event — it was June of last year. If all things go as planned — which is a big "if" in these times of the novel coronavirus — the Coloradan's next tournament could come this June.
Not surprisingly, given that, the former Colorado School of Mines golfer is champing at the bit to get back at it.
"I am very eager to play," Knous said in a phone conversation earlier this month. "And, you know, the anticipation has been building for a long time."
The Littleton resident has been sidelined from competition by a right wrist injury which led to surgery on Aug. 13. And, of course, the tour shutdowns due to the coronavirus pandemic probably extended the layoff a bit, albeit not much. 
But Knous' gameplan hasn't changed much. With five regular-season Korn Ferry Tour "rehab" starts — along with spots in the three Korn Ferry Finals events — he plans to gear up on the KF circuit from June through August, then hopes to return to the PGA Tour for the start of the 2020-21 wraparound season, which will begin on Sept. 10. Then, with a minor medical extension, he has six PGA Tour starts to earn 152.463 FedExCup points in order to keep his Tour card. To put that into perspective, at a typical PGA Tour event, the winner receives 500 points, the fifth-place finisher 110, 10th place 75, 25th place 35.5, etc.
Knous needs to average about 25 points for his six PGA Tour starts, which is the equivalent of finishing 32nd or so at each event.
"It's definitely a tall task," Knous said. "A couple top 10s would do it. Obviously that's easier said than done. But a top-three finish would probably do it. I'm just looking for consistent play and maybe one or two weeks I get hot.
"I'm really confident that the next time through (the PGA Tour schedule), I would play better just having seen a lot of these courses (for the first time as a rookie in 2018-19). I think that is a huge part of it."
With the new resumption of play announced on Thursday by the PGA Tour, Korn Ferry action is scheduled to start — without fans on hand — June 11-14 at TPC Sawgrass in Ponte Vedra Beach, Fla. The TPC Colorado Championship at Heron Lakes in Berthoud remains set for July 9-12, and Knous plans to tee it up there.
If Knous returns at TPC Sawgrass, his competitive layoff will have lasted 10 days short of a year.
"I feel terrible for everyone affected by the pandemic, and hopefully everybody's staying safe and we can get back golfing soon," Knous said. "I know everybody wants to and you know people want to watch golf on TV, and that's understandable. And I'm ready to get out there and start playing some golf. So hopefully we can do that soon."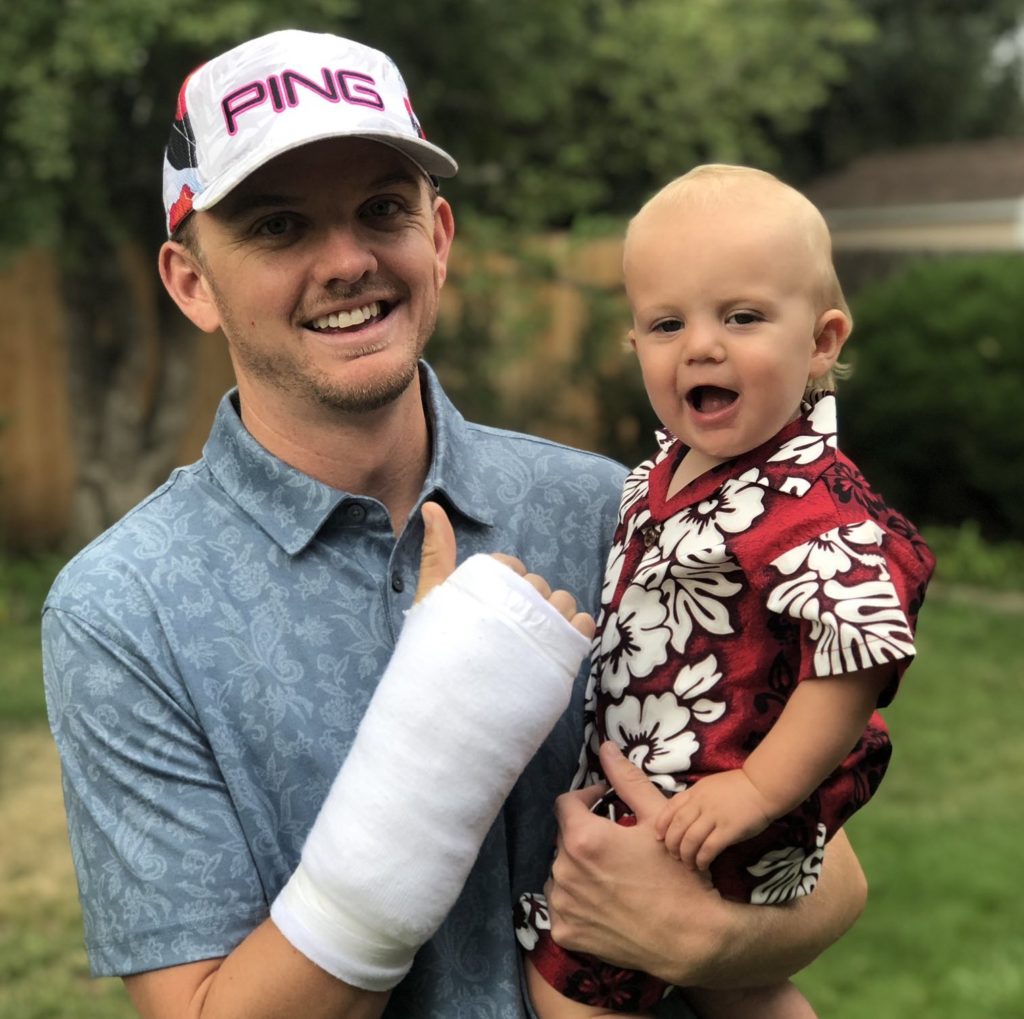 Knous, runner-up in the 2010 CGA Amateur that was won by another current PGA Tour player (Wyndham Clark), played 18 events on the 2018-19 Tour schedule, making 10 cuts. In his rookie-season debut, he tied for 10th place in the Safeway Open. The Basalt native also placed 13th twice, both coming last spring.
Although Knous likely had a partial tear in his wrist beforehand, things became much worse at the RBC Canadian Open in early June of 2019. He made a swing out of some very thick rough — "a real painful swing" — but finished the tournament anyway, placing 56th. After a week off, he played the Travelers Championship in Connecticut, which he says "was probably a bad idea," and missed the cut.
"After that I said, 'OK, I probably need to get it looked at. And so I saw a few doctors until settling on the doctor I had surgery with, Dr. (Steven) Shin," a hand consultant for multiple sports teams in the Los Angeles area.
 Knous had torn his TFCC.
After going through some rehabilitation, Knous started hitting a few balls in late December. He and his wife, Heidi, and son Brady spent most of January, February in March in Scottsdale, Ariz., with Jim's dad and stepmom. He started getting his game in shape at Dobson Ranch Golf Course and at TPC Scottsdale, home of the PGA Tour's Waste Management Phoenix Open.
In February, Knous played his first post-surgery 18-hole round since the surgery, and gradually he built up to where he played six consecutive days late last month. That's typically what is needed for a player on tour, including a practice round, a pro-am round, and four days of tournament golf.
"There was no pain, just a little bit of tightness at the end of the day," Knous said last week. "The swing doesn't feel obstructed in any way. So I'm feeling really good. I was really positive about about how the game is feeling.
"I've been diligent with my physical therapy, getting the wrist as strong as I can. And I would say I'm probably 95 percent back. … I'm super happy where I'm out right now." 
The scores Knous shot last month in Arizona were encouraging, as well. Playing the tips at TPC Scottsdale — similar tee boxes that would be used for the Phoenix Open — he said he'd typically shoot even par to 3 under for nine holes. One day when he played all 18 he fired a 66.
"The scores felt like they were there, which is really good, and I've been working with a couple short-game coaches to try to address the weakest parts of my game. And I feel like that's coming around as well. So it's been a good time for me to work on that too. And on the course I see it paying off, which is good. I mean, tournament plays is always a little different, but just playing a practice round is encouraging.
"I would say I'm not quite to the level that I want to be and that's where I hope the next two months (will help). Long irons, I figure, is probably going to take the longest to come back just because you need not only swing speed, but it's such a precise part of the game. And that's where my strength has always been in my golf game; I have always prided myself on being a good ball striker and long-iron player. I've said to myself, 'That's probably not quite back to what I want it to be. So I've got stuff to work on."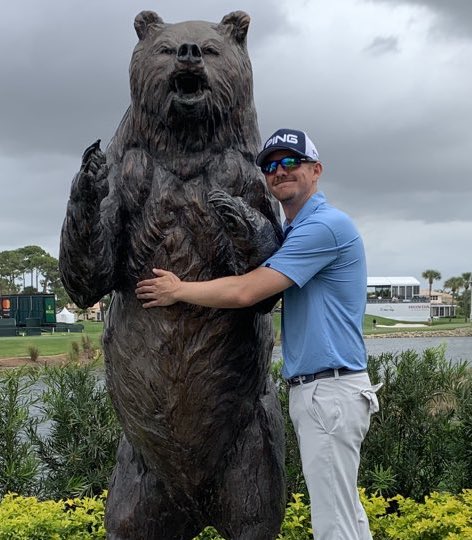 Since returning from Scottsdale, Knous has been getting some work in in Colorado — when the weather permits. He's a member at Bear Creek Golf Club and also can practice at the Colorado School of Mines golf team's indoor facility on campus. (Knous remains close with the team and head coach Tyler Kimble, with whom he chats regularly. Knous, the NCAA Division II individual runner-up as a senior in 2012 and a graduate with a civil engineering degree, still gives tips and does practice clinics for the Oredigger squad on occasion. And just last fall, he was inducted into the Mines Athletic Hall of Fame during homecoming weekend. Suffice it to say that Knous is, as the hashtag goes, one #HelluvaEngineer.)
Knous, a five-time tournament winner while at Mines (including three in a row as a senior), also had an impressive amateur and pro career in Colorado outside of college. When he finished second in the 2010 CGA Amateur, he set a course record with a 10-under-par 60 in the final round at Boulder Country Club, but lost in a playoff to Clark. 
Knous also set a competitive course record with a 63 at Heritage Eagle Bend in qualifying for the 2011 U.S. Amateur, and fired a final-round 62 at Green Valley Ranch Golf Club to finish fourth in the 2016 CoBank Colorado Open. He also posted a 63 at the Rocky Mountain Open in Grand Junction in 2014.
For four consecutive years — 2013 through '16 — Knous advanced to U.S. Open Sectionals after going through Local Qualifying at the course now known as Walnut Creek Golf Preserve in Westminster.
Among Knous' wins before becoming a regular on the Korn Ferry Tour in 2017 were the 2012 Navajo Trail Open in Durango in his pro debut, and the San Juan Open in Farmington, N.M., in both 2015 and '16.
In 50 Korn Ferry Tour starts, Knous has recorded four top-10 finishes. That includes fourth-place showings in both the Utah Championship and the WinCo Foods Portland Open in 2018. He earned his 2018-19 PGA Tour card by landing the 25th — and final — spot available through the Korn Ferry Tour Finals two years ago.
While Knous has missed competing during his injury layoff, there's certainly been a bright side as it's given him plenty of time to spend with Heidi and Brady, who will turn 2 years old soon.
"It's been a really good time period for me and my family to be home for a little while and really spend a lot of time together. That's been great," said Knous, who turned 30 in January. "My son is almost 2, so that's been a blessing to spend a lot of time with him."