TPC Colorado rated No. 3 among nation's new private courses by Golf Digest and earns recognition for design excellence; Ballyneal one of top 60 courses in the world, according to Golf Magazine
By Gary Baines – 12/04/2019
When TPC Colorado opened in Berthoud, it marked the first new 18-hole course to make its debut in Colorado since CGA-owned CommonGround Golf Course in 2009.
But not only is TPC Colorado novel in that regard, it's also received some outstanding reviews to boot.
Just this week, the course has received two significant accolades. 
Golf Digest just published its Best New Courses in the country list, and TPC Colorado was ranked No. 3 in the best new private course category.
In addition, the American Society of Golf Course Architects announced its Design Excellence Recognition Program honorees, and, again, TPC Colorado made the grade, this time for for its "work with ASGCA members in addressing unique design challenges." It was one of five courses recognized, in addition to a short game area.
TPC Colorado (pictured above), which opened in phases starting in late 2017, hosted the Colorado PGA Professional Championship last year, and the Korn Ferry Tour's inaugural TPC Colorado Championship at Heron Lakes in July. Denver native Mark Hubbard, who played in the 2019 TPC Colorado Championship and has since earned a promotion to the PGA Tour, was impressed by the new facility.
"I really like the course," he said after completing play there. "It's only going to get better as it ages. Right now I think it's still a little young, but it's really good. I wouldn't be surprised if in five or six years the PGA (Tour) takes this tournament over."
In Golf Digest's New Course ratings, the only facilities that finished ahead of TPC Colorado in the best new private course category were Ohoopee Match Club in Cobbtown, Ga., and The Summit Club in Las Vegas.
Here's what Golf Digest had to say about TPC Colorado in its story:
"No. 3 TPC Colorado, designed by Art Schaupeter of St. Louis — he'd done nearby Highland Meadows Golf Course for the same client 15 years earlier — touches the edge of two massive reservoirs and has fine views of the Rocky Mountain front range beyond. Its par-3s are outstanding. The second is not just a Biarritz green (with front and back sections separated by a trench) but is diagonal on a peninsula in a pond. The long eighth is another peninsula green, this time on a natural point poking into Lonetree Reservoir. The 16th plays downhill to a wide horseshoe-shape putting surface above the lake, its left portion inspired by the 12th at St. Andrews, the right portion by the 16th at Augusta National. A sprawling tournament venue of nearly 8,000 yards at a mile above sea level, TPC Colorado was the host of a Korn Ferry Tour event in 2019 and will be again in 2020."
TPC Colorado can stretch to 7,991 yards and features a 773-yard par-5, No. 13.
For Golf Digest Best New Courses list, CLICK HERE.
As for the ASGCA, this was its take on TPC Colorado and its design challenges:
"How do you provide a fun, engaging golf experience for recreational players 51 weeks of the year, and a challenging PGA Tour-caliber track one week of the year? Accommodating spectators, hospitality tents, parking and the rest of the infrastructure needed for the event were part of the considerations.
 "Solutions included:
— Provide seven tees setting course length from 4,157 to 7,991 yards.
— 55 acres of fairway to create a lot of fairway width space to play for recreational players.
— Larger, undulating greens gives recreational players a better chance at hitting the green while creating strategic hole locations for tour players.
— Unique bunkering scheme combines stacked sod wall bunkers with traditional shaped bunkers for more strategic variety and interest.
— The combination of wider fairways, larger greens and a diversity of greenside influences to create more angles of approach, strategic variety and interest for all players."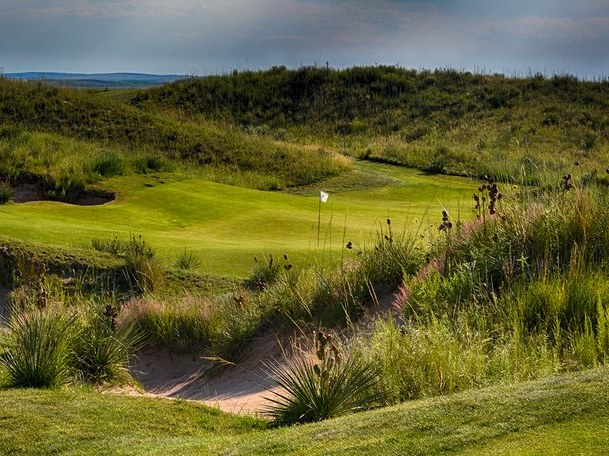 Ballyneal Makes Big Jump in Golf Magazine Rankings: Another Colorado course that recently drew accolades from a national publication was Ballyneal, the Tom Doak-designed private club in Holyoke in northeast Colorado.
Golf Magazine's Top 100 Courses in the World, published on Nov. 20, placed Ballyneal at No. 57, a jump 29 spots from Golf.com's previous rankings in this category. Among U.S. courses on the list, Ballyneal ranks 30th. Pine Valley in New Jersey is No. 1 overall, according to Golf.com.
Here's what Golf.com had to say about Ballyneal:
"Founding a private club in a remote destination is not without peril and it is reasonable to expect a club to take a bit to get its feet underneath it. Now in its second decade, and courtesy of a new greenkeeper, Ballyneal enjoys its best playing conditions since opening. That manifests itself the closer one gets to the hole. With the greens now Stimping in the 10 to 10.5 range, balls are releasing across the rumpled ground and players are delighting in finding creative ways to use banks and punchbowl features to work their shots close. Fescue fairways help the ground-game options flourish."
For Golf.com's entire list of the Top 100 Courses in the World, CLICK HERE.