Youth on Course continues to thrive in Colorado and beyond; 28 courses in Centennial State utilize initiative
By Gary Baines – 11/04/2019
When it comes to helping grow and sustain the game of golf, the Youth on Course initiative certainly deserves high marks.
YOC, where members pay no more than $5 per round at participating facilities, is putting up impressive numbers. It's now in 34 states — including Colorado — and Canada, with 1,250 facilities actively participating. There are 70,000 members, and they've played 195,000 rounds through YOC in 2019. Overall since the launching of the program in 2006, almost 950,000 rounds have been played via Youth on Course.
The template is clearly a winner as the kids get to play golf for a minimal fee, courses receive a subsidy for each round played and help build a customer base for the future, and the game in general is made more sustainable as a foundation is being built for coming generations of players.
While Youth on Course is just finishing up its second year in Colorado — where it's overseen by the Junior Golf Alliance of Colorado and its founding partners, the CGA and the Colorado PGA — it's growing at quite a clip, albeit in its nascent stages.
This year in the Centennial State, 1,616 rounds were played with Youth on Course — 950-plus more than in 2018. Twenty-eight Colorado courses — 13 more than last year — were signed up in 2019. And $9,015 in subsidies were delivered to those facilities — $5,200 more than in 2019. (By the way, the national Youth on Course foundation has paid those subsidies in 2018 and '19, but the JGAC will be taking that over starting in 2020.
Those numbers were reported on Thursday at the annual Colorado Public Golf Operators Meeting at Legacy Ridge Golf Course, where Youth on Course was one of the topics of conversation.
"It's too good a program not to (support)," said Dan O'Shaughnessy, the PGA head professional at Aurora-based Meadow Hills Golf Course, which has produced more Youth on Course rounds than any other facility in Colorado in both 2018 (about 230) and this year (308).
The City of Denver courses joined the Youth on Course fold in 2019, contributing significantly to Year 2 growth. There were 348 YOC rounds played at those facilities this year, according to Scott Rethlake, director of golf for Denver.
"It's a great program," Rethlake said. "Our normal junior fee is $13 or $14, so it's a really good way to get kids in there. We're actually going to market it a little bit more this year through our First Tee program and some other things. One of my goals is to have 1,000 rounds in a year. We want to really start pushing it."
While most courses charge the YOC members $5 per round, some are even cheaper. The City of Denver courses, for instance, run $1 per nine holes and $2 for 18. Many of the participating courses have day-of-the-week and time restrictions for YOC play.
In Colorado, JGAC membership is required to join Youth on Course. And CGA executive director Ed Mate attributes much of JGAC's membership growth in 2019 — roughly 40 percent compared to last year — to the attractiveness of Youth on Course.
"A big percentage of our new members are Introductory Members and they joined primarily, I think, because of Youth on Course," Mate said. "No doubt about it. That's where the growth was. It was, 'Hey, look at this Youth on Course.' That's a good thing."
Youth on Course came out of the Northern California Golf Association and has grown largely organically. Perhaps a major golf organization will throw its weight behind YOC in the future, but for now it's making steady progress.
"It's hard to grow something from a regional/state association level, but they've been amazingly successful," Mate said of Youth on Course. "It's here to stay, there's no doubt."
It certainly doesn't hurt that Colorado facilities are building onto the YOC template to add to the success of the program. For example:
— Meadow Hills Golf Course, the most successful Colorado Youth on Course facility, bolsters its number of YOC rounds by having junior golfers using it for a 14-18 junior league it runs.
"It gets the kids on the course, continuing to play in a fun environment," O'Shaughnessy said. "We try to come up with any way that we can (to continue to make it grow). … It's not enough just to give the kid the card, we've got to give them the motivation or the means to use it as well. That's what I think our league does that others could copy. People can develop these leagues and it's less cost to the parent and the family using Youth on Course."
To keep YOC growing, O'Shaughnessy already has an idea for next year.
"We hope to go up from where we're at," he said. "With this Doubles Golf (a trademarked rebranding of the two-player scramble format that will debut next year) that's going to be interesting if we can incorporate that in. It may lower the cost of the Doubles Golf. We just want to keep ideas going."
— Meanwhile, Rethlake has another possibility that could show up at City of Denver courses.
"I think the next step is hopefully we can find a sponsor that can buy clubs for the kids as well — whether it's two or three clubs and a putter so they can take it with them and have their own set of clubs, or whether it's working out a way to have some clubs at the course that they can loan out for the round," Rethlake said. "I'd prefer being able to give (YOC members that need them) a few clubs."
Mate hopes the growth of Youth on Course continues at a nice clip for the foreseeable future.
"I think a good goal for us next year would be 10 percent growth, maybe 15 percent," he said. "I would expect to see us get to the mid-30s (course-wise) next year."
There are Youth on Course facilities throughout the state — from Fort Collins to Pueblo and Grand Junction to Aurora. For a complete list of YOC courses in Colorado, CLICK HERE.
Other courses in Colorado, not connected with Youth on Course, also give junior golfers a break on green fees. For instance, the courses run by the South Suburban Parks & Recreation District have "Kids Golf Free Weekends", with time restrictions, throughout the year.
— City Park Golf Course Update: The newly-redesigned City Park Golf Course in Denver originally was scheduled to reopen sometime this year, but spring weather-related issues altered those plans. So when will City Park open?
"We're not really setting a date anymore because it's very weather-dependent," Rethlake said last week. "We'll keep monitoring the turf conditions. We're committed to not opening it until the turf is ready. That's the right thing long-term."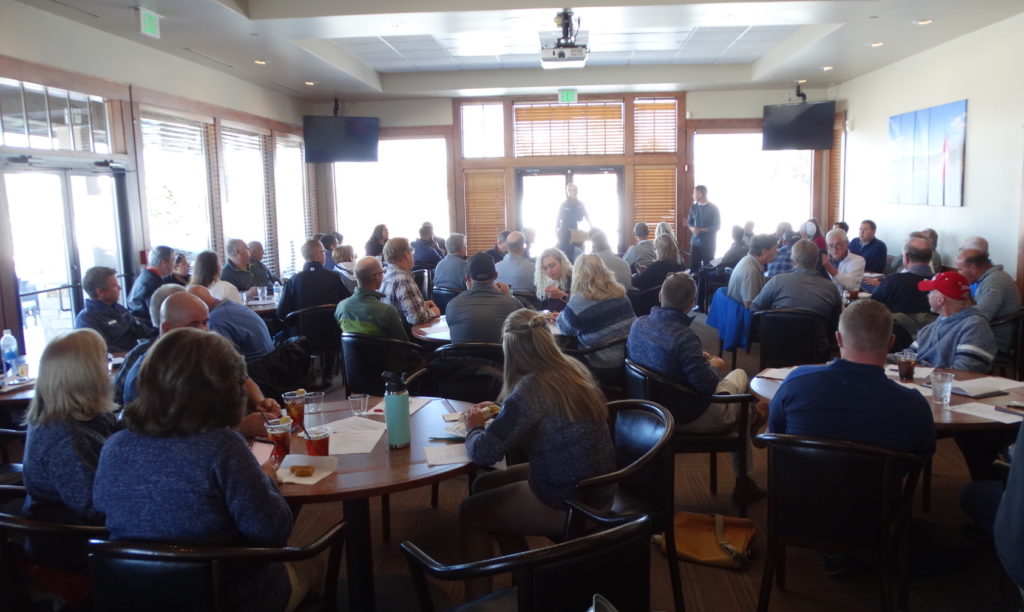 — Colorado Public Golf Operators Notes: More than 60 people from a variety of facilities attended Thursday's annual Colorado Public Golf Operators Meeting at Legacy Ridge. At the collaborative event, ideas are shared in the hopes of club representatives learning about practices that will help their operations. … Among the items discussed were updates on various new initiatives, including a planned Colorado golf Environmental & Economic Impact Study; the World Handicap System that takes effect in 2020; the Rocky Mountain Golf Course Superintendents' new Best Management Practices Handbook; and Doubles Golf. … It was announced that net proceeds from the 2020 CGA Women's Annual Meeting & Silent Auction (March 7) and the CGA's 2020 Dream Golf Raffle will benefit the Junior Golf Alliance of Colorado, the Solich Caddie & Leadership Academy and Youth on Course.