Franklin edges Eaton again to win second straight CGA Women's Senior Stroke Play; Ranch CC member has now captured 3 straight titles in CGA women's senior 'majors'
By Gary Baines – 08/06/2019
With all due credit to the 1960s pop group Herman's Hermit's, when it came to this week's CGA Women's Senior Stroke Play, it was, "second verse, same as the first."
And that was good for Kristine Franklin of The Ranch Country Club, but not so much for Colorado Golf Hall of Famer Kim Eaton.
In truth, the second Women's Senior Stroke Play in which both Franklin and Eaton have competed wasn't exactly the same as the first, but it was darn close.
The outcome was certainly the same, with Franklin winning both in 2018 and '19 and becoming the seventh different player to claim back-to-back titles in this event. Pulling off the feat previously were Katie Fiorella (1984-85), Shirley Anderson (1990-91), Carol Flenniken (1994-95), Lynn Larson (1996-98 and 2000-01), Patty Crigler (2002-04) and Eaton (2009-10 and 2012-13).
And while the margin of victory wasn't the same, the championship went down to the wire both years, with the same finish by Exacta betting standards, with Franklin winning and Eaton placing second in both 2018 and '19. A year after prevailing in a playoff, Franklin won by one stroke in regulation on Tuesday at the Country Club of Colorado in Colorado Springs.
Also, Franklin's winning 36-hole total was the same each year — 148.
The result is that not only did Franklin sweep the major CGA women's senior championships in 2019 but the 53-year-old has now won the last three CGA women's senior majors, with this year's Women's Senior Match Play being sandwiched between her two Women's Senior Stroke Play victories.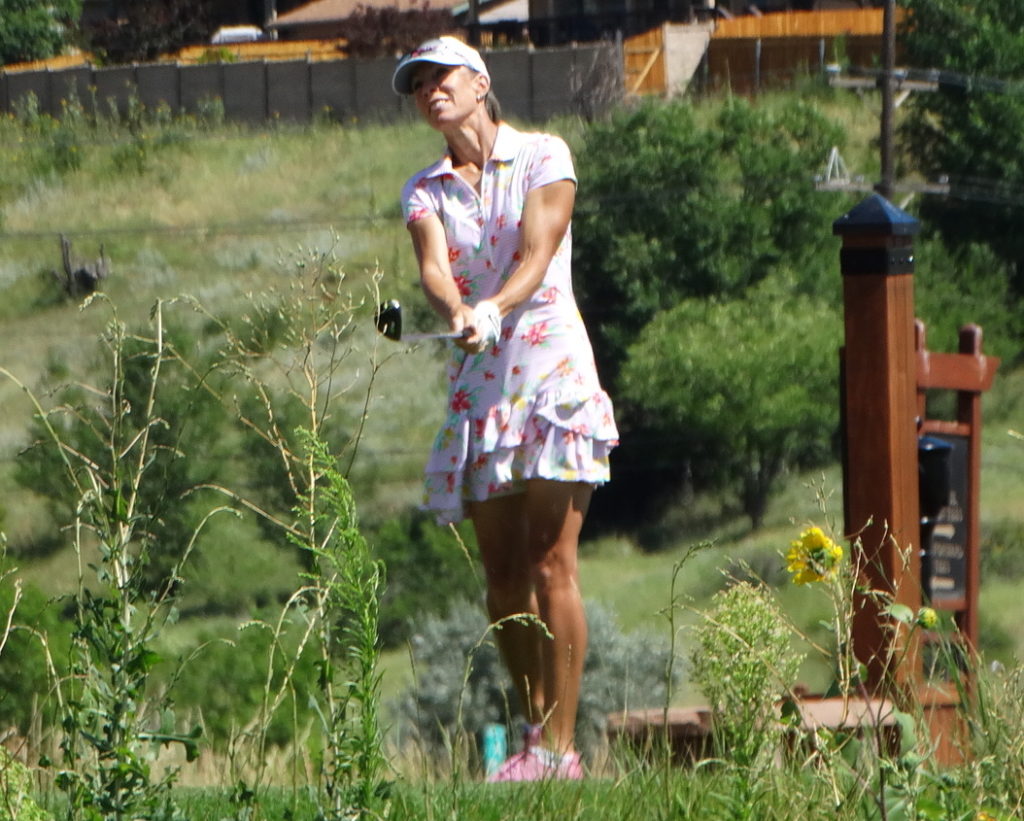 "It makes me happy because I always just think about my dad," George Hoos, a longtime fixture in the Colorado golf community who passed away in September, said Franklin, a former touring professional who gave up competitive golf for about 18 years years until returning to tournament action in 2017. 
In Tuesday's final round, Franklin put on quite a display on the greens to rally from two behind to overtake Eaton, a five-time winner of this event.
Remarkably, Franklin one-putted each of the first 12 holes at the Country Club of Colorado on Tuesday, with the one on No. 12 coming from 25 feet.
"I had 12 one-putts in a row. I now am a good putter, but I'm not that type of putter," said Franklin, who finished with 25 putts for the day. "It's hard because you feel bad (making every putt. Your playing partners) are like, 'Nice, nice, nice, nice.' So I was trying to get in the cart and not say anything. And the putts weren't like lipping in; they just went straight in.
 "I'm like, 'Just don't think.' It's like a pitcher when they're pitching a no-hitter: just go get in the cart (and don't think about it). It was fun."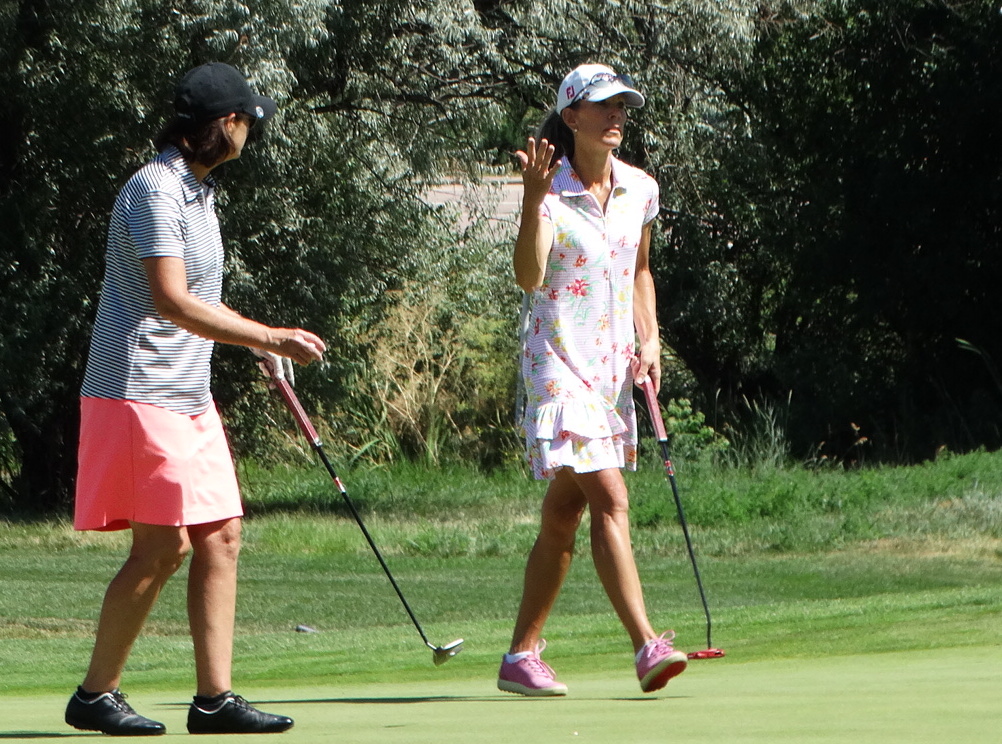 Franklin credited a putting tip from her son Walker, who finished fifth earlier this summer in the prestigious IMG Academy Junior World Championships, with getting her on the right track. He told his mom to not play the ball outside the hole on most of her 4-5-foot putts; rather, start the ball at the edge of the cup at most.
Ironically, the one-putt streak ended with a long three-putt on No. 13, where Franklin made double bogey and saw her lead slip to two.
Eaton, a four-time quarterfinalist in the U.S. Senior Women's Amateur, led by two going into the final round, but shot an uncharacteristic 5-over-par 41 on the front nine Tuesday to fall three behind Franklin. And though Eaton closed with nine consecutive pars, the damage had been done.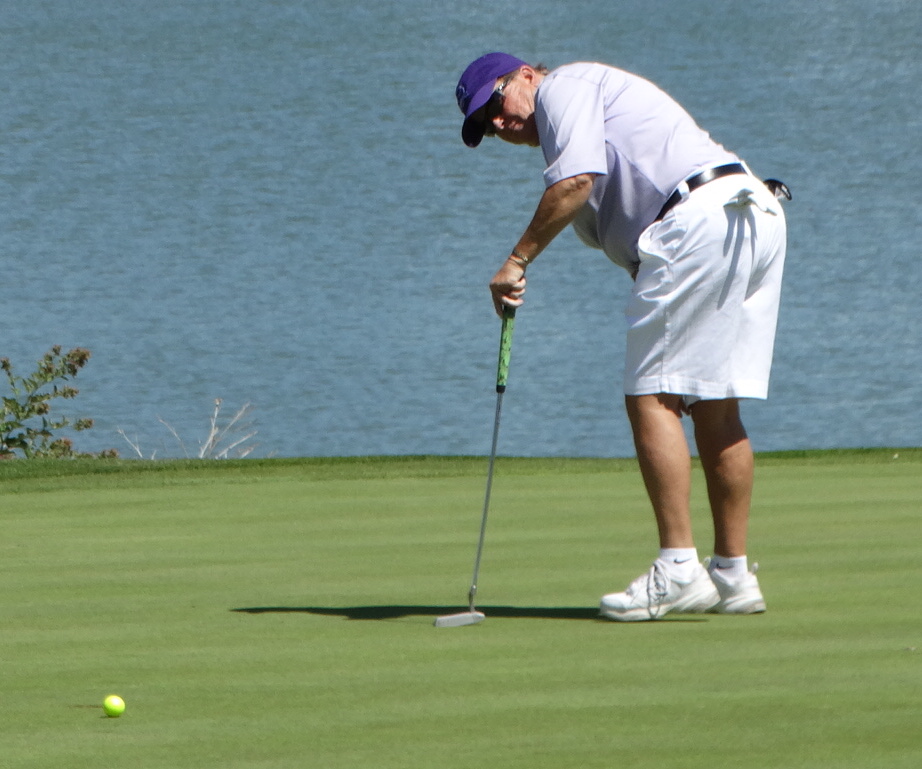 "I couldn't make a putt if my life depended on it today, said Eaton, who turned 60 earlier this month. "And I played terrible on the front. Forty-one is just awful. I'm not really sure what happened, but that's where (Franklin) got a big lead. Then I had plenty of chances on the back nine to make some birdies and I couldn't make a putt."
Franklin birdied 10 to go ahead by four, but the double bogey on 13 and a bogey on 17 from in front of the green dropped the lead to one going into 18.
Franklin knew things were getting close, but when Eaton — her cartmate — said "Hey, deja vu" she knew that — just like last year — she was one ahead with one hole remaining in regulation. Ironically, in 2018 under those circumstances, Franklin saw her tee shot on No. 18 finish in a strip divot and she ended up making a final-hole bogey to fall into a playoff. 
On Tuesday, Franklin's tee shot on the final hole of regulation found a divot, this one filled with sand. "I thought, 'If it's deja vu, then here we go,'" she said. "But that turned out to be probably my best shot."
An 8-iron from 132 yards out of that sand divot finished 20 feet from the pin, and when Eaton missed her 30-foot birdie attempt and Franklin successfully two-putted for par, the title was hers for the second straight year.
After a day that included three birdies, three bogeys and a double bogey, Franklin shot a 2-over-par 73, giving her a two-day total of 6-over 148. After an even-par 35 on the back nine, Eaton closed with a 76 and ended up one behind.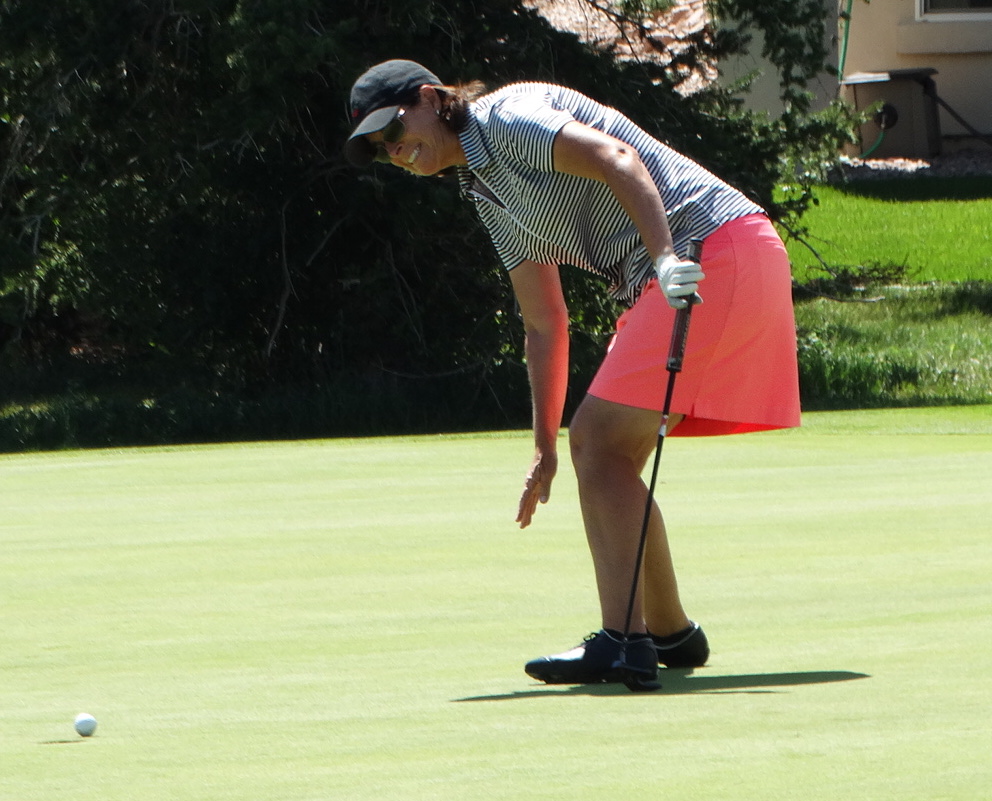 Two other members of their same foursome finished not far off the pace. Colorado Golf Hall of Famer Janet Moore from Cherry Hills Country Club, a college teammate of Franklin's at the University of Arizona, placed third at 150, two back of the champion. And Marilyn Hardy of Dos Rios Golf Club, who couldn't coax in a birdie for the entire 36 holes, finished fourth at 151.
As was the case last year in this event, and at the CGA Women's Senior Match Play this summer, Eaton was denied the 26th CGA/CWGA victory of her career, which would give her sole possession of the record she currently shares with Flenniken.
"I would love to get the record," said Eaton, now a resident of Mesa, Ariz. "It's not out of sight, but I'm getting older and (the competition) is younger."
Next year will be the next opportunity for Eaton to hit No. 26, but though there are several two-person team events that are possibilites, the Hall of Famer said she won't go that route to set the record outright.
"I'm not going to do it with a partner event," she said. "If I'm going to do it, it's going to be an individual event — this (event) or the state match play."
Moore is also in the conversation regarding who will end up with the most CGA/CWGA championships for a career. At 55, Moore owns 21 such victories.
Interestingly, the last such win for both Eaton and Moore came when they competed together to capture the title in the 2018 CGA Women's Brassie.
In all, this week's CGA Women's Senior Stroke Play featured competition in five flights. The gross and net winners are listed below.

CGA Women's Senior Stroke Play
At Par-71 CC of Colorado in Colorado Springs
FLIGHT WINNERS
Championship Gross — Kristine Franklin, Ranch CC 75-73–148
Championship Net — Kathy Malpass, Hiwan GC 70-77–147
First Gross — Chung Choi, CC of Colorado 79-80–159
First Net — Chung Choi, CC of Colorado 68-69–137
Second Gross — Margaret Stanley-Gonzales, Antler Creek GC 90-78–168
Second Net — Dot Lindsey, Riverdale GC 66-74–140
Third Gross — (tie) Deb Sturm, Columbine CC 90-97–187; and Peggy Puckett, Wellshire GC 90-97–187
Third Net — Sharon Thiel, Riverdale GC 73-71–144
Fourth Gross– Marcia Hall, Overland Park GC 104-101–205
Fourth Net — Candi Coppola, South Suburban GC 69-74–143
For complete results from the Country Club of Colorado, CLICK HERE.