Despite not winning, Adam Matteson sets CU men's all-time 54-hole scoring record, relative to par, at Mark Simpson Invite; UNC's Jack Castiglia posts second straight top-10
By Gary Baines – 9/28/2021
University of Colorado men's coach Roy Edwards said it happens more often than you might think in college golf.

A program selects its five players to represent the team at a given tournament. But in the case where additional players from that school compete only as individuals, it's obviously possible that one of those golfers will end up placing higher than any of the five team selections.

It happened on Tuesday, in fact, when fourth-year sophomore Adam Matteson, playing only as an individual, was CU's top finisher overall in the Mark Simpson Colorado Invitational that the Buffs host at Colorado National Golf Club in Erie.

"It doesn't surprise me at all" that Matteson was CU's top scorer, said Edwards, noting that a decade ago Beau Schoolcraft won the Simpson Invite while competing only as an individual.

But what is certainly surprising is that Matteson, in finishing at 13-under-par 203, set CU's 54-hole scoring record, relative to par. (It should be noted, however, that Coloradan David Oraee matched that 13-under total in the 2014 Simpson Invite, which was shortened to two rounds; he went 64-67 that year.)

Oh, and by the way, Matteson did not win the tournament on Tuesday. He placed third, two strokes behind Harrison Kingsley of San Diego (who closed with a 66, making four straight birdies mid-round and setting a tournament scoring record) and a shot back of Max Charles of Boise State.

This week marks Matteson's best individual finish collegiately as his previous top placing was eighth at the 2019 CU-Les Fowler Invitational. And this one comes in a 99-player tournament.

"I'm pretty excited. I just played really well," said the 20-year-old San Diego native, who competed in this year's U.S. Amateur. 

"I've been struggling up to this point a little bit this season. But I kept doing what I thought was the right thing. It just came together for this tournament, which is nice. But I knew it was close even when I was playing other tournaments and not showing results. I knew I was right there."

At Colorado National, Matteson went 68-66-69, making 17 birdies and four bogeys over the 54 holes. One of the birdies came on his final hole — No. 10 — where he sank a 3-footer to set CU's 54-hole scoring record relative to par.

"It's a longer course and I don't hit it very far — or as far as the longer hitters do," Matteson said. "But everything was working and I was putting it really well. That really helped out my score. "

Edwards said the showing will earn Matteson a spot representing the Buffs in their next tournament, in South Bend, Ind., Oct. 4-5.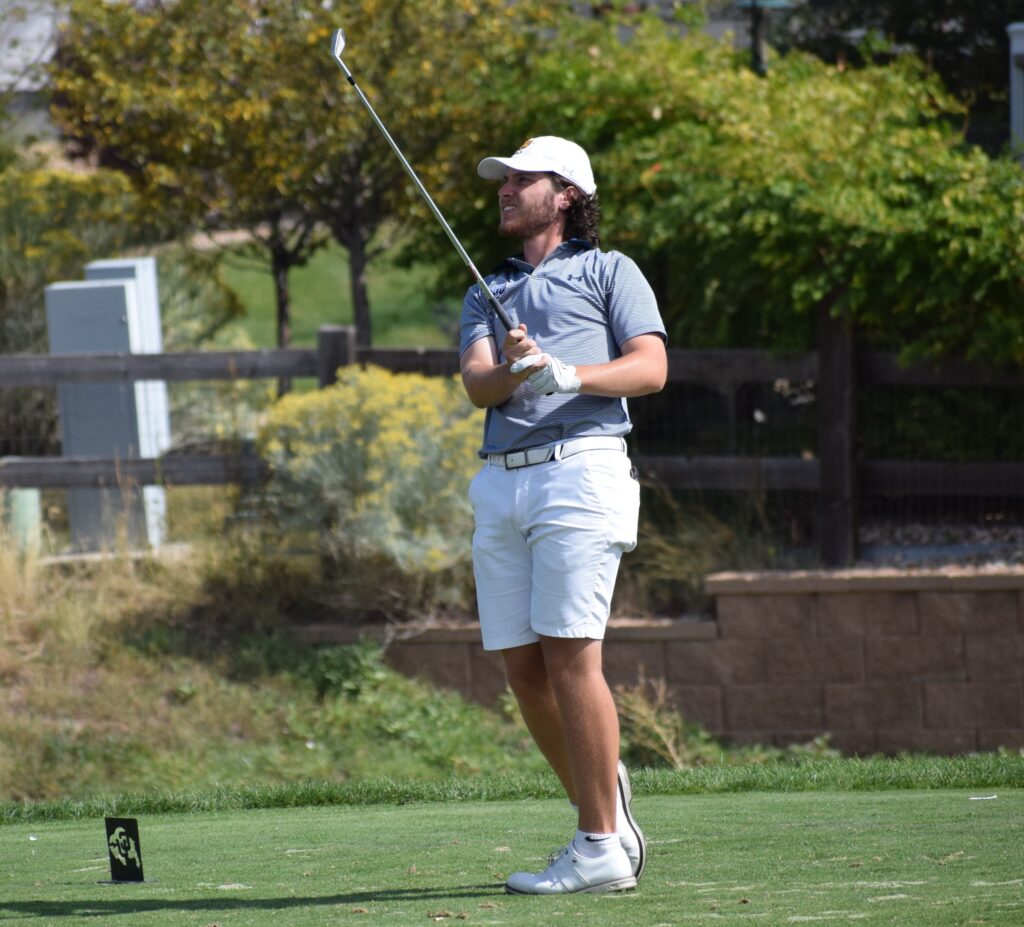 Also notching a top-10 individual showing on Tuesday was Lakewood resident and University of Northern Colorado golfer Jack Castiglia, who won the Ram Masters Invitational title a week ago at Fort Collins Country Club. He tied for seventh on Tuesday, going 67-67-72 for a 10-under 206 total.

In three tournaments this season so far, Castiglia has placed 14th, first and seventh.

"It felt good," he said. "I kept the momentum going from last week. I hit a lot of good shots, especially yesterday. I kind of stalled out today and couldn't really get the putter going. But all in all, it was a good week. It's been a good fall so far."

Castiglia tends to thrive in Colorado-based college tournaments. Two years ago — the last time Division I fall golf was held in Colorado before this season — Castiglia tied for first in regulation at both the Gene Miranda Falcon Invitational at Eisenhower Golf Club at the Air Force Academy (before losing in a playoff) and the Ron Moore Invitational in Highlands Ranch. He also shared eighth at the Ram Masters that year. 

"I've played most courses that we play — and played them a lot," he said. "I know them a lot better. I'm from Colorado. I haven't really played a lot of golf outside Colorado; I didn't play a lot of outside tournaments as a junior. I get down to sea level and struggle a little bit. So I feel a lot more comfortable here, being close to home."

It should be noted that UNC has one more Colorado-based tournament remaining in the fall — the University of Denver's Paintbrush Invitational at Colorado Golf Club Oct. 4-5.

Meanwhile, Tuesday marked the end of a streak of seven years in which CU won or tied for the team title in the Simpson Invite, though in 2017 it lost in a subsequent playoff to Utah. This time, Boise State captured the team championship by 10, with a tournament-record 46-under-par total. CU tied for fifth place in the 17-team field at 29 under. The University of Denver was 10th (17 under) and Air Force was 17th (49 over par).

For all the scores from the 11th annual Mark Simpson Colorado Invitational, named for the longtime former coach of the CU men's golf team, CLICK HERE.