Now retired after 4 decades of coaching golf in college and high school, Colorado Golf Hall of Famer Mark Crabtree coming 'home' to Centennial State
By Gary Baines – 10/15/2020
When Mark Crabtree last lived in Colorado, it was so long ago it seems like a different millennium.
In fact … it was.
At that point — 1999 — in Crabtree's rearview mirror were being an Evans Scholar at the University of Colorado and a CU golfer who was neck and neck with future U.S. Open winner Steve Jones as to who was the Buffs' No. 1 player in 1977-78.
Also behind him were four CGA Match Play titles — with the first and last separated by 19 years. Likewise, him building the Colorado State University men's golf program from a club sport to qualifying for the NCAA national finals within a decade. The Rams finished 24th in the nation in 1999, which remains the program's best showing at nationals.
Yet to come for Crabtree in 1999 was induction into the Colorado Golf Hall of Fame, a two-year stint as president of the Golf Coaches Association of American, and a very successful 21-year coaching run at the University of Louisville.
Fast forward to 2020 and, after 41 years as a golf coach at the college and high school levels, things are coming full circle for Crabtree. In the same year he retired as a college golf coach, the 64-year-old and his wife Janie are returning to Colorado, where he was a prominent fixture in the golf community for about a quarter-century. In fact, they're moving this week into a house on the ninth hole at Highland Meadows Golf Course in Windsor.
"My wife and I are very excited to be back in that area and back amongst people we know," Crabtree said in a phone interview this week. "We're all a little older, but we couldn't be more thrilled. It's a combination of family in the area and the fact that we consider that area home. It's really a great place to live, so we're excited to be coming back."
It will be quite a change after Crabtree has spent the last 31 years as a college golf head coach — a decade at CSU and 1999 to this year guiding Louisville. And, by the way, he served as an assistant and head coach of the boys golf team at Fort Collins High School — and taught there — for another decade before taking the reins at CSU. With Crabtree as coach in 1986, Fort Collins won a state high school team title.
"I think about it now," Crabtree said regarding the longevity of his golf coaching career. "Golly. Forty-one years. C'mon."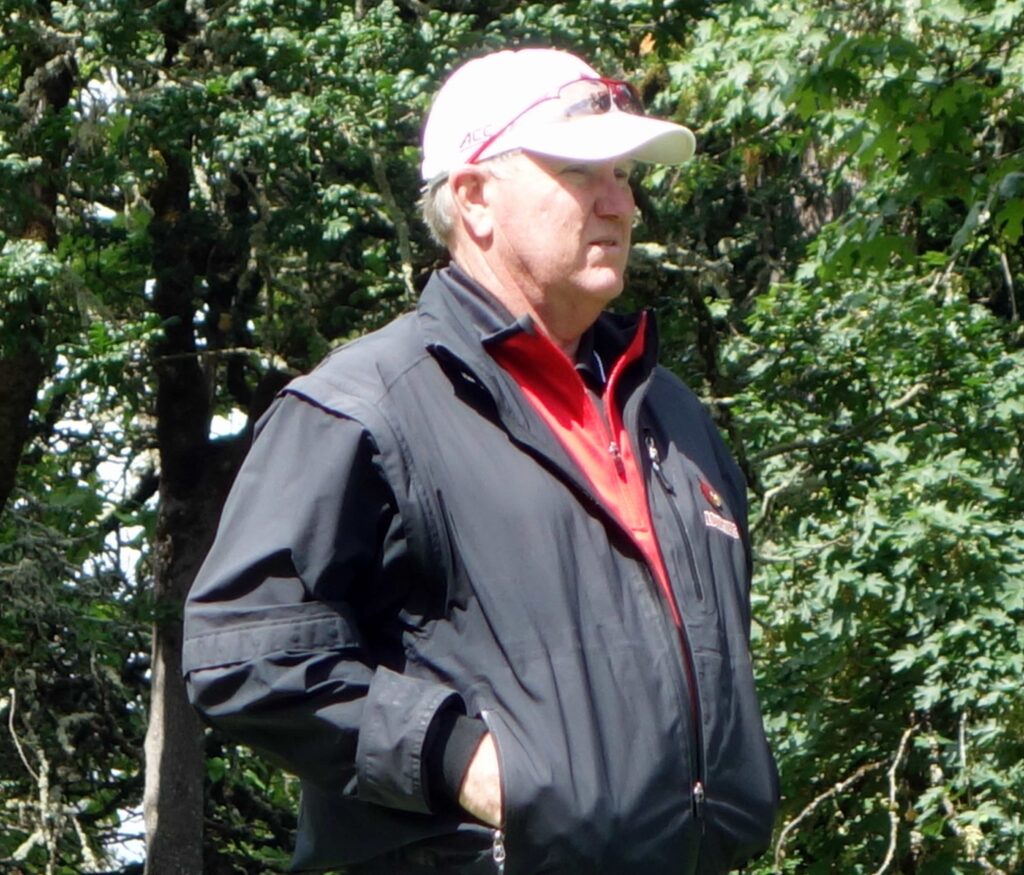 The way Crabtree went out was a mixed bag. He announced last December that he was retiring at the end of the 2019-20 season. Little did he know that, along with every other college golf program in the country, Louisville's season would come to an end in March after Covid-19 broke out in the U.S. The 2020 NCAA championships were canceled.
The problem was, Louisville had one of its most promising men's golf teams ever as it had won three team titles last season and was ranked in the top 15 in the nation according to the college coaches' poll, Golfweek and Golfstat.
"This was a team that was probably one of the best all time that I had, and it was capable of accomplishing some wonderful things in terms of the national championship," Crabtree said. "It was interesting the fact that it got stopped when we really thought we were going to make a great run at the national championship.
"We had five players who were under par for the year on last (season's) team. We were No. 1 in the country in scoring last year before Covid hit. Those were the reasons that we thought we could compete for a national championship. We had a deep team. … We always would have wondered 'What if?' What would it have been like if Covid hadn't hit and we could have kept marching down the road in March, April, May and jumped in the national championship? We'll only wonder what would have happened."
Although the season — and Crabtree's coaching career — ended a bit prematurely, it was fitting in another way as he was named one of five finalists for the Golf Coaches Association of America's national coach of the year honors. (Pepperdine's Michael Beard ended up winning the award. Crabtree was named the Midwest Region Coach of the Year.)
"It was a tremendous honor," Crabtree said. "It really caught me off guard. I thought, 'They must have made a mistake.' I was touched a little bit to have that happen — especially in my last year. You develop young men and you're fortunate enough to get some good kids and you get nominated because of all the aspects of the program — the young men, the community who support it . You don't work for those things — that doesn't motivate you — but when you do receive an honor like that, you're very humbled."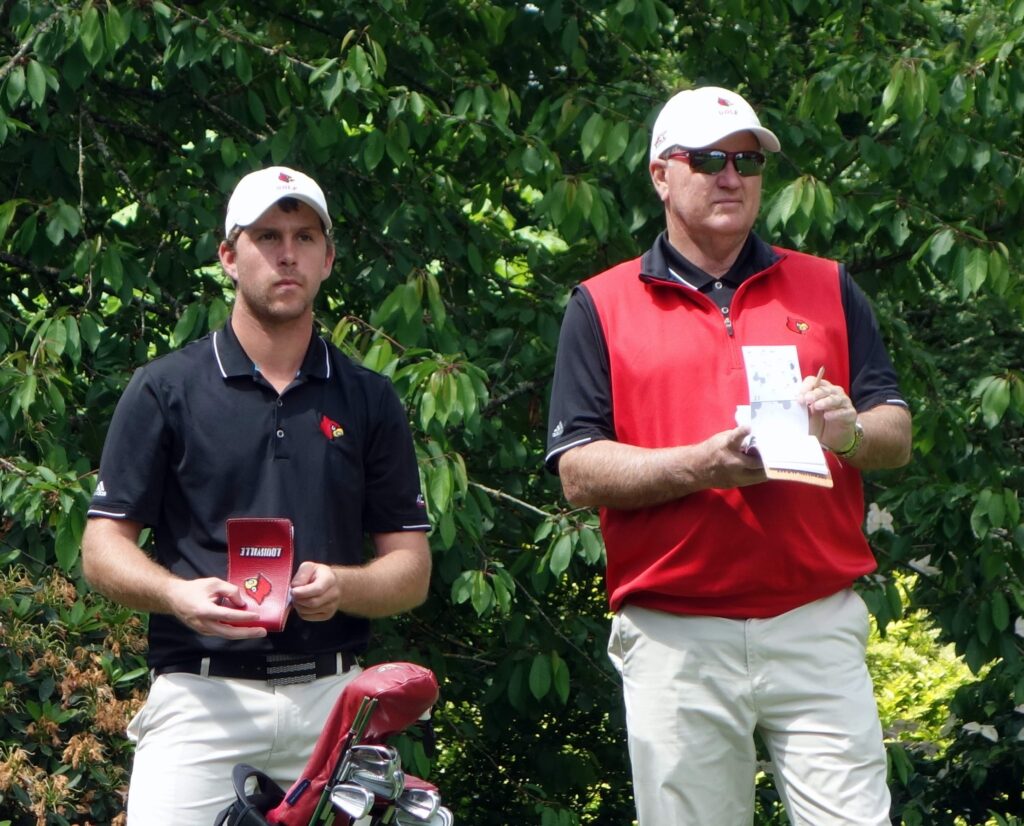 Just at Louisville, Crabtree's teams won 30 titles, including three in the Big East Conference tournament. (Crabtree was twice named the Big East Coach of the Year.) Four times, the Cardinals qualified for the NCAA national championships, placing as high as 10th in 2008.
And at CSU, as previously noted, Crabtree took over what had been a club program and within 10 years took the Rams to the NCAA national tourney for the first time. Along the way, one of the most notable accomplishments was winning the 1997 Stanford Invitational, beating the No. 1 team in the nation in the process — a Georgia Tech squad that included Matt Kuchar and Bryce Molder. Crabtree said he was subsequently told that it was the first time that a CSU squad — in any sport — had beaten the No. 1 team in the nation.
At CSU, where Crabtree was GCAA Regional Coach of the Year in 1998, he credits players such Jeff Fujimoto. Cam Osler, Tom Richardson, Scott Mendelsohn and Australian Nigel Spence for helping the Rams make big strides after essentially starting from scratch. Under Crabtree, CSU won nine team titles.
"Cam, Tommy and Scott were Colorado kids who took a chance on the program when were were just starting up," Crabtree said.
At Louisville, Crabtree's players included PGA Tour winner Adam Hadwin, Derek Fathauer and Robin Sciot-Siegrist. And current player Matthias Schmid of Germany has won the last two European Amateurs and "is a star-to-be," according to Crabtree.
Another college golf-related highlight for Crabtree was serving as president of the Golf Coaches Association of America from 2008 to '10.
"I was led to get into the association by my good friend Mark Simpson (the former CU coach who coached Crabtree in this final season as a Buff after Les Fowler was at the helm the previous three years). Mark had served as president and when I was up at Colorado State, he encouraged me to get involved with leadership of the association. So I have to give all the credit to Mark Simpson for encouraging me to be part of it. I led the Palmer Cup team as president of the association at Royal Portrush (in 2010), so I had some unbelievable experiences as part of that."
So after 31 years of coaching college golf, what is Crabtree proudest of?
"I'm very impressed and proud of the character of the young men that put on the uniform," he said. "The wins, the rankings, the conference championships, the accomplishments are nice, but nothing compares to bringing a young man in for four years and seeing him grow and mature, learn and try to get ready to reach his vision. To me, there's nothing more satisfying than helping a young man reach his goals."
Crabtree would have had a strong team at Louisville again this season — including honorable-mention All-Americans Schmid and John Murphy, along with current freshman Walker Franklin from Colorado — so why did he retire when he did?
"What happened more than anything else is you just look at things a little bit differently," he said. "I look at my wife, I look at my kids, I look at my parents — it was a combination of all of the above — and it was 'Let's turn the corner on this coaching thing. It's been wonderful for me, a blessing, a great ride, wonderful people, but let's go look and see what the next step in the journey looks like.' And I just kind of decided this was the time to do it."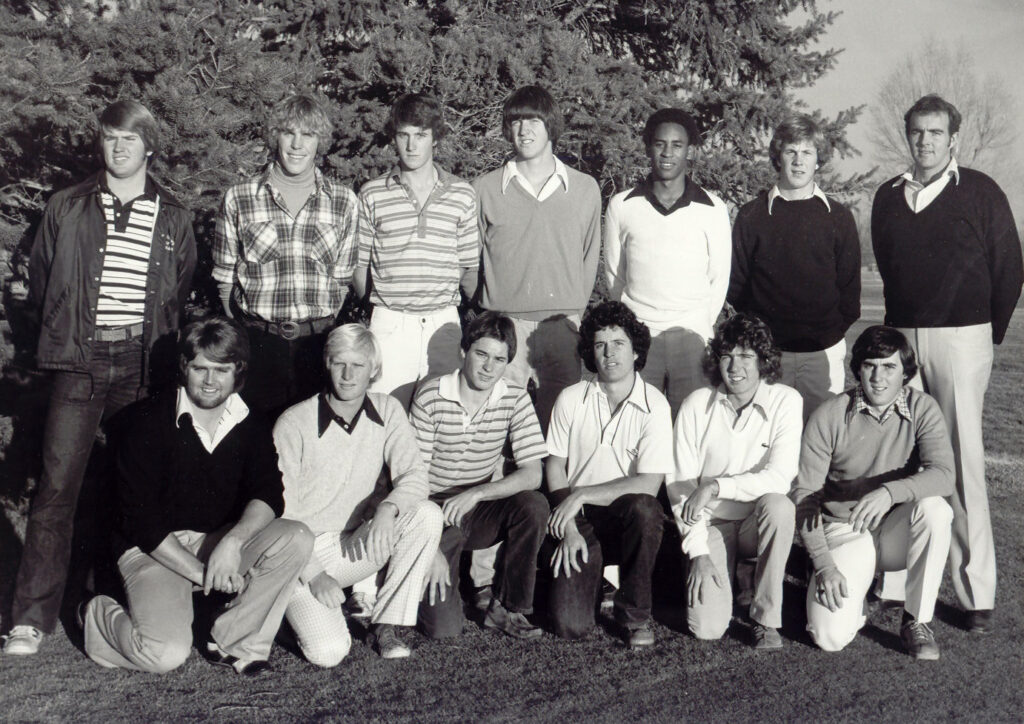 While Crabtree and wife Janie will be becoming Coloradans again, their kids will remain in Kentucky as they're both students at Louisville. Joshua is a junior and Lauren a freshman.
Crabtree played "zero" serious competitive golf while coaching at Louisville, but that will change with his return to Colorado. Starting in 2021, he said he plans to compete in CGA individual championships, and in some team events with University of Northern Colorado men's golf head coach Roger Prenzlow.
"I haven't had a lot of chance (to play tournament golf) because I've been consumed by this coaching the last 21 years, but that competitiveness is still there," he said. "I'm planning to practice more and play more and try to get competitively ready.
"I would say (my game is) in fair shape. It's not competitive because competitive is when the light comes on. I'm going to have to restart that up. But that's my desire. But guys like Kent Moore and Bill Fowler — and I'm sure there's a bunch of others — they're awfully good players (in Colorado). I'm going back to an area where there's some really good players."
For much of the last quarter of the 20th century, Crabtree was certainly a force with which to be reckoned in Colorado amateur golf. He won the CGA Match Play, one of the two most prestigious amateur championships the association conducts annually, in 1975 and '76 as a CU golfer, then again in 1992 and '94. In between was a stint as a mini-tour professional and as an assistant pro in Iowa. After that, "I decided to come back to Colorado and I got my teaching certificate so I could teach and coach. Little did I know I would be coaching the rest of my life," he said.
To this day, Crabtree's most vivid memory from his CGA championship days came in 1975 when he played Tom Woodard in the 36-hole final of the Match Play. Not only were the two CU teammates at the time — and now fellow Colorado Golf Hall of Famers — but they were impending roommates in the CU Evans Scholars house for caddies.
Playing in his hometown course at Collindale, Crabtree won the match 1 up after sinking an 8-foot birdie putt on the final hole after Woodard had drained a 15-footer.
"Roommates went down to the last putt to see who won the state amateur," Crabtree noted. "But all of (the titles) were real special. The last one was pretty special with how much older I was (38 at the time), but I remember that first one. Something about that particular event (the CGA Match Play) really motivated me. But the other thing is, I never did win the (CGA) medal play, though I think I was in the top 5 10 years in a row. So I guess it's the thrill of victory and the agony of defeat in CGA tournaments for me."
Crabtree also won the 1990 CGA Public Links Championship and advanced to the round of 16 at the 1990 U.S. Amateur.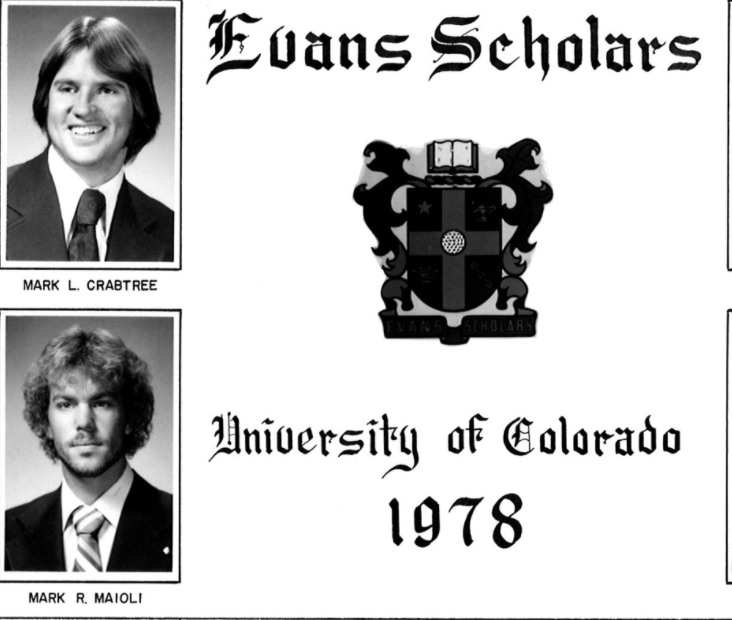 Crabtree and Woodard were a couple of the several dozen Evans Scholars who lived each year at the E.S. house at 1029 Broadway in Boulder. The full-tuition and housing scholarships they received are awarded to high-achieving caddies with significant financial need.
"I didn't realize the honor it was to be an Evans Scholar," said Crabtree, a graduate of Rocky Mountain High School in Fort Collins. "When you're young and you get that … But now I look back on that as quite an honor. There's a lot of things there that couldn't be printed (about what went on in the house back then), but to carry the honor of having been an Evans Scholar at the University of Colorado is something I cherish now more than I ever did before."
Meanwhile, Crabtree was one of CU's top golfers at the same time.
"I had the wonderful company of Mark Simpson as the coach and Mr. Steve Jones as an incoming freshman," Crabtree said. "So Crabtree is a senior, Simpson is the coach and Jones is a freshman. How about that combination? There's some things we couldn't print about that.
"But the highlight was being recruited to come down there. Being a Fort Collins kids and having the opportunity to come to Boulder, Colorado and go to college and play four years of college golf. It was a wonderful time and an honor to be part of it then. When I grew up, Colorado State really wasn't a factor (as a men's golf program), so if you wanted to play college golf in the state, obviously CU had a history of it. I had an opportunity to go to a place that was nearby, had an outstanding golf program, so I looked at it as a really nice deal."
And now the state that brings back all those memories for Crabtree will be home again.