Refresher on Wyndham Clark's stellar career in Colorado as the Denver native wins the U.S. Open
By Gary Baines – 6/18/2023 (8:30 a.m., updated 10:30 p.m.)
On Sunday, Colorado native Wyndham Clark joined former University of Colorado golfers Hale Irwin (1974, '79 and '90) and Steve Jones (1996) as players who grew up in Colorado and went on to win the U.S. Open. Clark prevailed by one stroke over Rory McIlroy at Los Angeles Country Club.
With Clark on center stage, we wanted to do a refresher on him from a Colorado perspective — touching on his background in the state and what he's accomplished locally, while tossing in a few other tidbits.
We'll do it quick-hit style. And away we go …:
— Clark was born in the Denver area on Dec. 9, 1993. He'll turn 30 later this year.
— Clark played his golf out of Cherry Hills Country Club, which has hosted U.S. Opens in 1938, '60 and '78. The 1960 Open there was one of the most memorable in the tournament's history as Arnold Palmer won the event for the only time in his life by rallying from a seven-stroke deficit starting the final round to take the title.
— For high school, Clark attended Valor Christian, where he won two Class 4A individual state titles — in 2009 and '11. In the latter, as a senior at Pelican Lakes in Windsor, he famously shot rounds of 64-64 for a 16-under-par total to prevail by eight strokes. Overall at state, Clark posted two wins and was runner-up twice. In 2009, Clark led Valor, which opened in 2007, to its first state team title in any sport. Clark also played basketball at Valor, where he was a classmate of now-NFL standout Christian McCaffrey.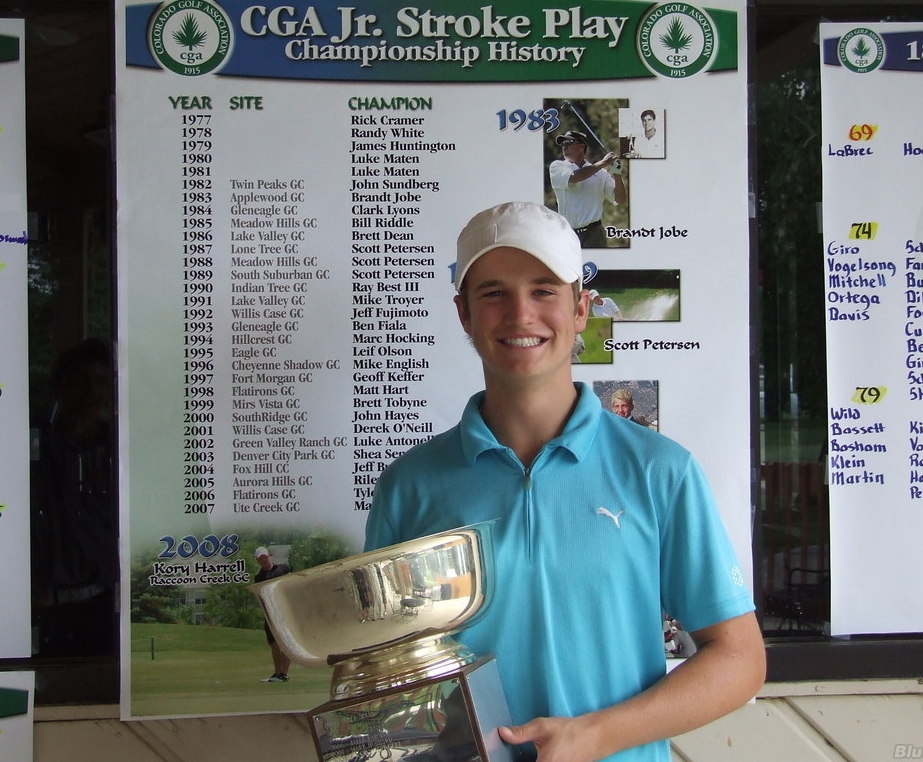 Clark was all smiles after his 11-shot victory in the 2009 CGA Junior Stroke Play.


— Elsewhere in junior golf, at age 15 Clark won the 2009 CGA Junior Stroke Play by 11 strokes at Eaton Country Cub, finishing 8 under par for three rounds. "We were playing for second," co-runner-up Benjamin Krueger said at the time. "I played with (Clark) the first two rounds and that 65 he shot (on day 2) was insane, crazy. I wouldn't be surprised if he turned pro before he got out of high school."
— Also at 15, he made it to the final 16 at the U.S. Junior Amateur and placed third in the oldest boys division at the prestigious Callaway Junior World Championships in San Diego.
— In 2010 at age 16, Clark (along with fellow current PGA Tour player Patrick Cantlay) qualified in Colorado for the U.S. Amateur for the first time. Clark would go on to qualify for the U.S. Am on four more occasions, the last in 2016, when he advanced to the round of 32.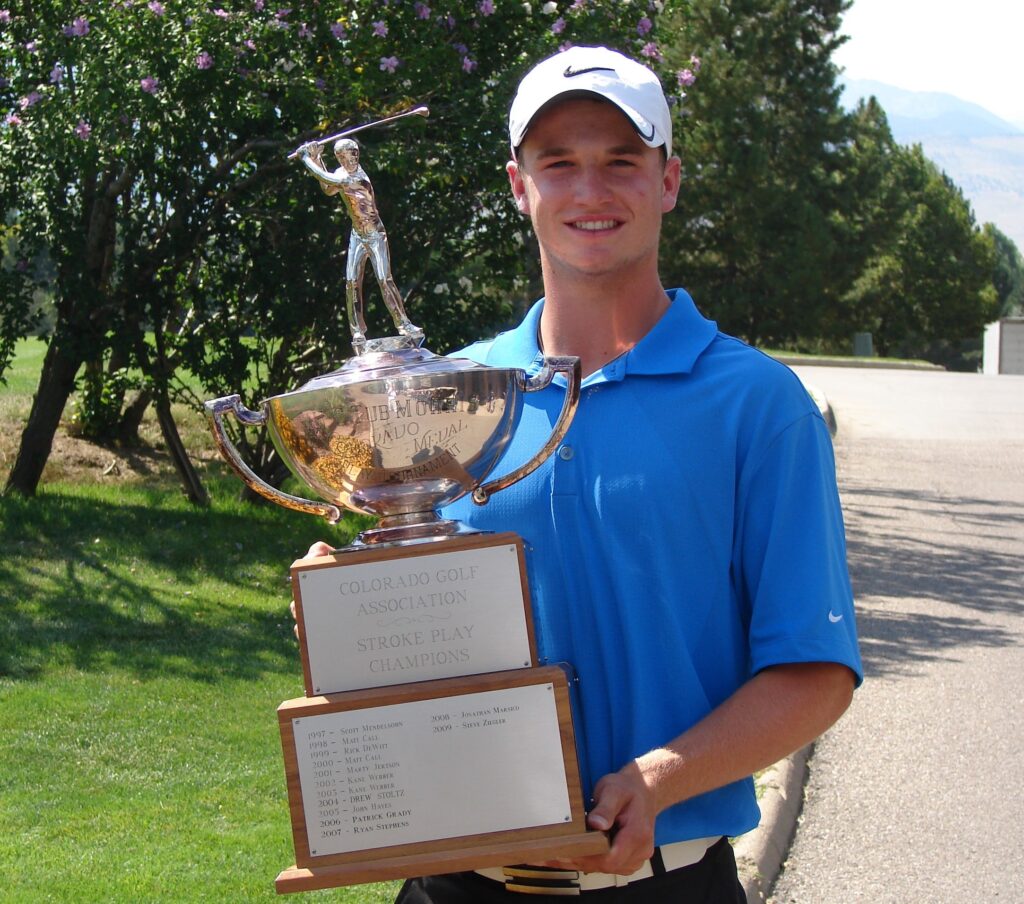 Clark after winning the CGA Stroke Play at Boulder Country Club in 2010 as a 16-year-old.



— Also in 2010, Clark claimed the CGA Stroke Play title at age 16, becoming the youngest since 1971 to earn that victory. Clark had to beat Jim Knous in a playoff after the latter shot a course-record 10-under 60 at Boulder Country Club in the final round.
— After winning the prestigious Byron Nelson International Junior Golf Award in 2012, Clark went to national powerhouse Oklahoma State for his college golf. He ended up being a rare winner of two conference Player of the Year awards — in two different leagues: Big 12 POY at Oklahoma State (2014) and Pac-12 POY in 2017 after transferring to Oregon.
— During his years at Oklahoma State, Clark's mother, Lise, passed away after battling breast cancer — in 2013 at age 55. Lise had been named Miss New Mexico USA in 1981. Clark's dad, Randall, was a regular at his tournaments throughout their time in Colorado.
— In the spring portion of his senior season, Clark scored all three of his individual college victories. Most notably, he won the Pac-12 Conference individual title — and led Oregon to the team championship — in 2017 at Boulder Country Club, where he won the 2010 CGA Stroke Play as a 16-year-old.
— Clark's Oregon team advanced to the match-play final of the 2017 NCAA nationals, but fell to Oklahoma. Clark was one of finalists for men's college golfer of the year as a senior, but Mississippi's Braden Thornberry won the award.
— Clark turned professional in June 2017 and made his pro debut at the PGA Tour's Travelers Championship on a sponsor exemption, missing the cut by 12 strokes after rounds of 78-74.
— After being medalist in the second stage of Web.com Tour qualifying in late 2017, Clark earned his Web card for 2018, making a hole-in-one during the final round of the final stage of Q-school.
— At a Web.com Tour regular in 2018, Clark posted three top-five finishes, including a runner-up — his career best showing on that circuit. In August 2018, he earned his PGA Tour by finishing in the top 25 on the Web.com's 2018 regular-season money list.
— In November 2020, Clark finished second in a playoff to Brian Gay in the PGA Tour's Bermuda Championship.
— In May 2023, Clark scored his first victory as a pro, winning the Wells Fargo Championship, an elevated event on the PGA Tour. He prevailed by four in a tournament that featured a very strong field. The victory landed him spots in the 2023 PGA Championship, U.S. Open and the British Open. Plus, he'll be competing in his first Masters, in the spring of next year. (And, for the record, Clark made his 16th consecutive PGA Tour cut at the Wells Fargo.) It was the first win on the PGA Tour by a Colorado-born golfer since Denver native Jonathan Kaye prevailed at the Buick Classic in June 2003.
— This U.S. Open marked Clark's sixth major championship, and he hadn't finished better than 75th in his previous five.
— With Sunday's win, Clark is exempt for the next 10 U.S. Opens and the next five Masters, PGA Championships and British Opens. He'll have PGA Tour status for at least the next five years.
— Though Clark now lives in Scottsdale, Ariz., he continues to be an avid fisherman in Colorado, as this PGA Tour video shows.

About the Writer: Gary Baines has covered golf in Colorado continuously since 1983. He was a sports writer at the Daily Camera newspaper in Boulder, then the sports editor there, and has written regularly for ColoradoGolf.org since 2009. He was inducted into the Colorado Golf Hall of Fame in 2022. He owns and operates ColoradoGolfJournal.com