Juniors, sophomores figure to be formidable at boys state high school tournaments; find a list of individual and team champs from 2020 regionals
By Gary Baines – 10/2/2020
Each of the past three years, two of the three Colorado state high school individual champions in golf were seniors.
We'll see if that trend continues when the three state tournaments are held on Monday and Tuesday, but don't be surprised if younger players make their presence felt in a significant way.
After all:
— The top two players in the Junior Golf Alliance of Colorado's 2020 Boys Tour points list are juniors — and No. 4 is a sophomore: Northfield junior Hunter Swanson is first, Arapahoe junior Matthew Wilkinson is second and Cherry Creek sophomore Charlie Flaxbeard is fourth. Wilkinson won the Colorado Junior Match Play this year and has captured high school regional titles the last two seasons.
— The only non-senior to win an individual state title last year, Will Kates of Arapahoe, returns as a junior.
— Six of the eight players who shot in the 60s in regional state qualifying tournaments last month are sophomores or juniors: sophomore Thayer Plewe of Montezuma-Cortez (65 at Hollydot), sophomore Flaxbeard (66 at Overland Park), junior Swanson of Northfield (67 at Green Valley Ranch), junior Gage Messingham of Ralston Valley (67 at Raccoon Creek), sophomore Aiden Krusoe of Highlands Ranch (67 at Raccoon Creek) and sophomore Reese Knox of Falcon (69 at Desert Hawk at Pueblo West). Joining them with a regional score in the 60s were seniors Nick Fallin of Rock Canyon (65 at Raccoon Creek) and Thomas Hicks of Cherry Creek (68 at Overland Park).
— Of the 14 players returning to state after finishing in the top 10 in 2019, nine are juniors or sophomores.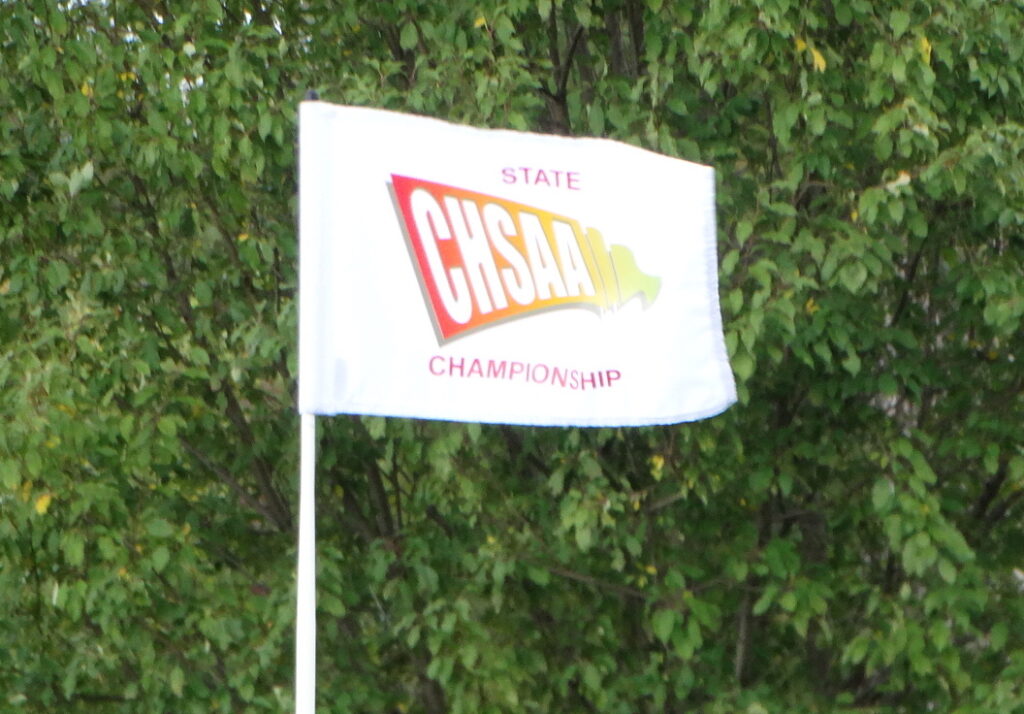 Here's a short preview of each of the boys state tournaments on Monday and Tuesday:
— 5A at The Club at Rolling Hills in Golden: As with last year's 5A state tournament at Pinehurst Country Club, the putting at Rolling Hills will present plenty of challenges. It's almost a sure thing that we'll see quite a few four-putts, and three-putts galore.
Cherry Creek hasn't won a state team title in boys golf since 1981, but figures to be a threat to notch its ninth championship all-time as it posted the lowest regional team score at state — 6-under-par 210 at Overland Park. Rock Canyon and Arapahoe also should be among the contenders. 2019 champion Fairview did not qualify a full team for the 2020 state tournament.
Arapahoe junior Kates will be the only player defending his individual state title this year.
Top-10 finishers at state last year who have qualified again are Kates (won), senior Ryan Liao of Lakewood (third), senior Owen Cornmesser of Fossil Ridge (eighth) and Wilkinson of Arapahoe (10th).
— 4A at Country Club of Colorado in Colorado Springs: Micah Stangebye, winner of the last two 4A individual titles, may be gone (he's now at Arkansas Tech), but Montrose will look to extend its 4A state team championship streak to four. In fact, the last two years, the Indians have swept both the team and individual state titles.
Cheyenne Mountain could be formidable in the team race while playing state in its neck of the woods. In fact, CM won its regional at the Country Club of Colorado.
The two individual runners-up from 2019 return next week. That would be Northfield's Swanson and Discovery Canyon senior Kaden Ford, a former national finalist in the Drive Chip & Putt competition.
Other top-10 finishers from state last year who are back include junior Gregory Lewis of Lewis-Palmer (fourth in 2019), sophomore Noah Wagner of Pueblo West (ninth) and junior Jake Chesler of Frederick (10th).
Senior Jordan Jennings of Montrose also figures to make a run at the top spot.
— 3A at Dos Rios Golf Club in Gunnison: Lutheran will be back to defend its 3A team title, with perennial contender Kent Denver and 2019 champ Aspen also giving it a run in what may be a wide-open team race. Kent Denver owns nine state team championships, tied for most in state history with Regis Jesuit (5A).
Five of the top seven individual finishers in 3A last year are back: junior Nic Pevny of Aspen (fourth last year), senior Jeffrey Zhou of Kent Denver (fourth), junior Tayleb Schaefer of Sterling (fourth), senior Max Noffsinger of Frontier Academy (seventh) and sophomore Peter Stinar of St. Mary's (seventh).

2020 REGIONAL STATE QUALIFYING TOURNAMENT CHAMPIONS

5A Western Regional at Raccoon Creek GC in Littleton on Sept. 21
Team Champ — Rock Canyon 211 (5 under par)
Individual Champ — Nick Fallin, Rock Canyon, 65 (7 under par)

5A Southern Regional at South Suburban GC in Littleton on Sept. 24
Team Champ — Arapahoe 218 (2 over par)
Individual Champ — Matthew Wilkinson, Arapahoe 71 (1 under par)

5A Central Regional at Overland Park GC in Denver on Sept. 23
Team Champ — Cherry Creek 210 (6 under par)
Individual Champ — Charlie Flaxbeard, Cherry Creek 66 (6 under par)

5A Northern Regional at Hyland Hills in Westminster on Sept. 21
Team Champ — Fossil Ridge 225 (9 over par)
Individual Champ — (tie) Ryan Parker, Legend, and Wesley Erling, Pine Creek, 71 (1 under par)

4A Region 1 at Desert Hawk at Pueblo West on Sept. 21
Team Champ — Pueblo West 245 (29 over par)
Individual Champ — Reese Knox, Falcon, 69 (3 under par)

4A Region 2 at CC of Colorado in Colorado Springs on Sept. 21
Team Champ — Cheyenne Mountain 227 (14 over par)
Individual Champ — Kaden Ford, Discovery Canyon, 70 (1 under par)

4A Region 3 at Quail Dunes GC in Fort Morgan on Sept. 22

Team Champ — Mullen 230 (14 over par)
Individual Champ — Mario Dino, Mullen 72 (even par)

4A Region 4 at Green Valley Ranch GC in Denver on Sept. 22
Team Champ — Montrose 236 (20 over par)
Individual Champ — Hunter Swanson, Northfield, 67 (5 under par)

3A Region 1 at Hollydot GC in Colorado City on Sept. 22
Team Champ — Colorado Academy 228 (15 over par)
Individual Champ — Thayer Plewe, Montezuma-Cortez, 65 (6 under par)


3A Region 2 at Murphy Creek GC in Aurora on Sept. 21

Team Champ — St. Mary's 233 (17 over par)
Individual Champ — Jeffrey Zhou, Kent Denver, 73 (1 over par)

3A Region 3 at Boomerang GL in Greeley on Sept. 21
Team Champ — Sterling 233 (17 over par)
Individual Champ — (tie) Jacob Gilbert, Strasburg, and Trey Kuntz, Sterling, 73 (1 over par)

3A Region 4 at River Valley Ranch in Carbondale on Sept. 22
Team Champ — Aspen 236 (20 over par)
Individual Champ — Nic Pevny, Aspen 73 (1 over par)