Lakewood CC's Keffer looks dapper again in winning second Colorado PGA Professional Championship in five years
By Gary Baines – 9/16/2020
The color of Geoff Keffer's final-round knickers was familiar, and so was the tournament result.
Four years ago, when Keffer won his first Colorado PGA Professional Championship, he was sporting pink knickers. And the same was the case on Wednesday when he recorded his second victory in the event.
"The first time I wore the pink on the last day, it was in the Assistants Championship or the West Chapter eight or nine years ago, and I won that, so I had to stick with it," the 42-year-old lifelong Coloradan said. "Other than that, the first few days (of a tournament), it's honestly just which ones are clean."
So is pink your lucky color, Geoff?
"Apparently. It's getting there," Keffer said. "The first time I wore it on that last day, I won, so you kind of have to ride it until she bucks you."
As for wearing knickers in general, Keffer has done that since his dad passed away in 2012, in his honor. Don Keffer was an outstanding player for many years, as a professional and later in the Colorado amateur ranks. Twice he finished runner-up in the CGA Match Play during the 1980s, losing to current Colorado Golf Hall of Famers in the finals each time — Ron Moore and Brandt Jobe. And Don was a big fan of Payne Stewart, who sported knickers for many years on the PGA Tour.
"He really liked them and he wore them in some tournaments he played in," Geoff explained. "During the summer when we're allowed to wear shorts, I'm wearing shorts. But the bigger (tournaments), it's more special for me."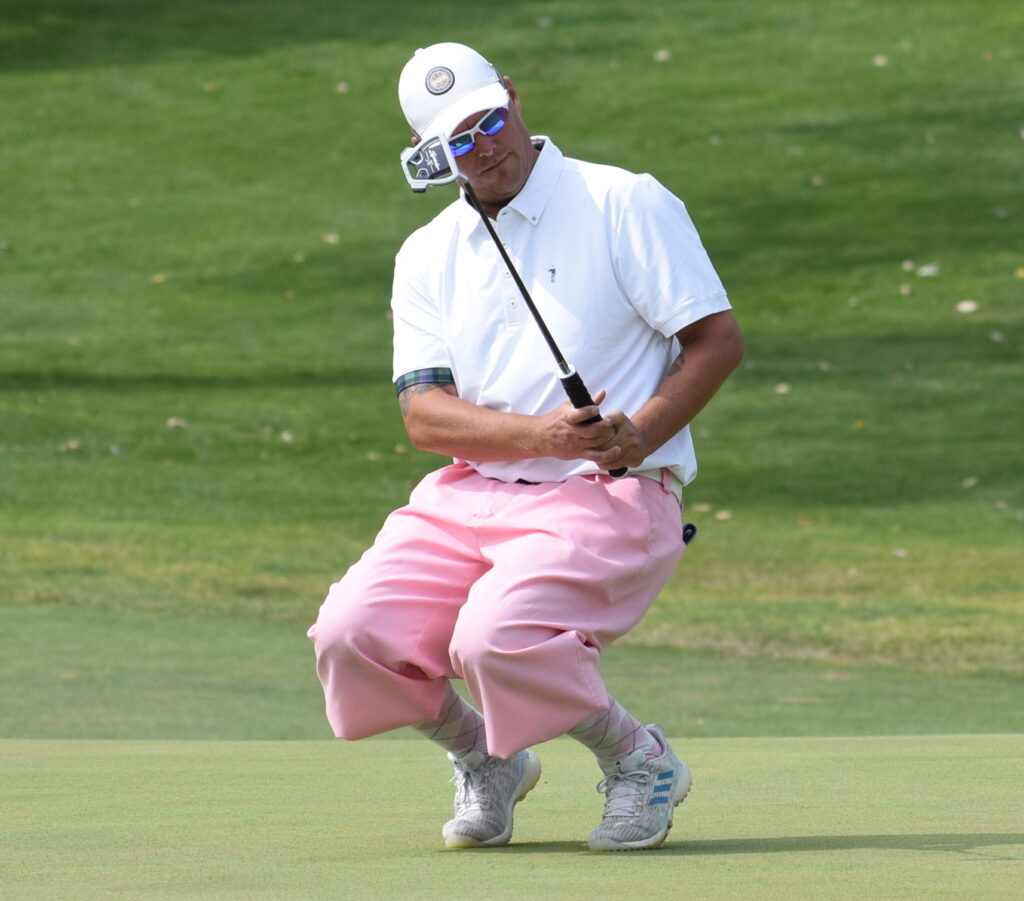 Geoff, who was introduced to the game by his dad and went on to win the Colorado Junior Amateur in 1997, no doubt would have made his dad proud once again this week. The younger Keffer, a PGA assistant professional at Lakewood Country Club for the last two years, held off a spirited charge by Dale Smigelsky of Fort Collins before winning the Colorado PGA Pro Championship by three strokes at Valley Country Club in Centennial. The victory was worth $10,000.
Keffer thus remains the only non-senior player since 2012 to win the Section championship — and now he's done it twice.
"Anytime you win, it's always up there" among your accomplishments, he said. "This one is special because I'm really good friends with Barry (Milstead, Valley's PGA director of golf) and I love this place. I've got a lot of friends who are members here. I could play this course 36 (holes) a day every day. This course is just a lot of fun, and I love being out here."
After prior rounds of 67-67, Keffer fired a 3-under-par 69 on Wednesday to post a winning total of 13-under 203.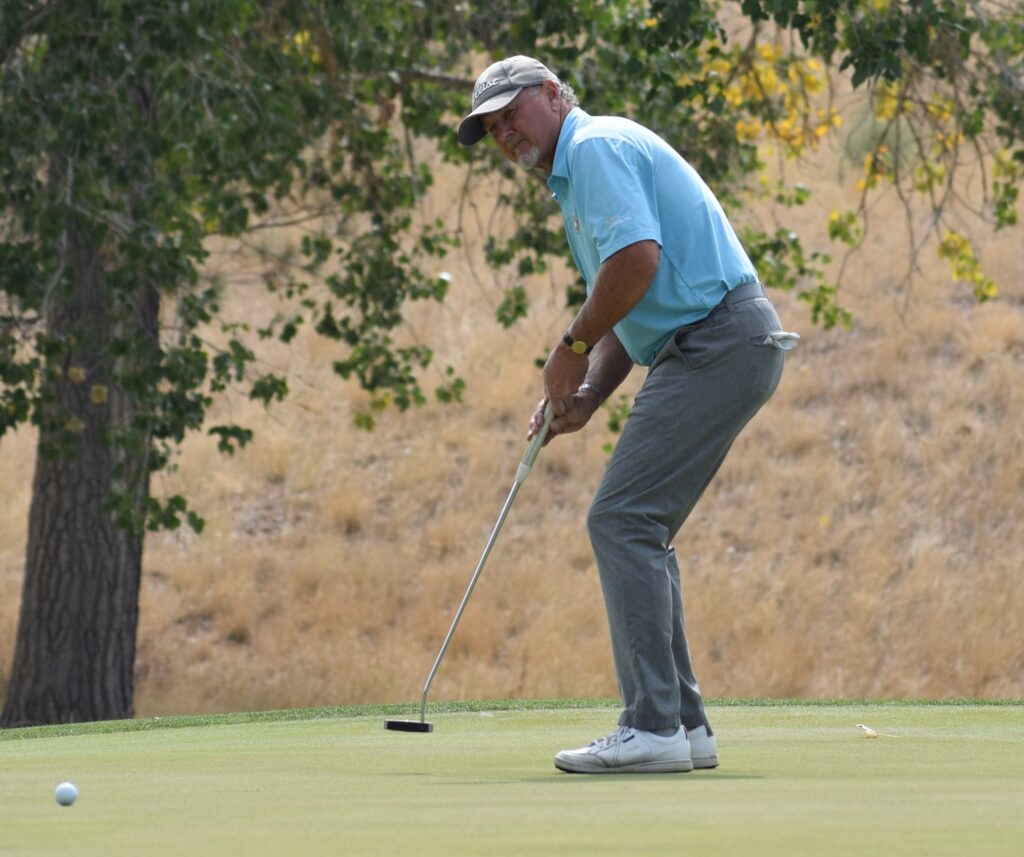 Smigelsky, the 2003 champion and a 2017 U.S. Senior Open qualifier, started the day six back of Keffer, but inched within a stroke of him with a 5-under-par 31 on the front nine. The 60-year-old matched the best score of the week, a 6-under-par 66 and finished solo second, three back of Keffer.
First-round leader Doug Rohrbaugh of Snowmass Club, a three-time winner of this event, birdied the final hole from 8 feet to share third place at 209 with 2001 winner Micah Rudosky of Conquistador. Rudosky, who placed second last year, closed with a 68 while Rohrbaugh carded a 74.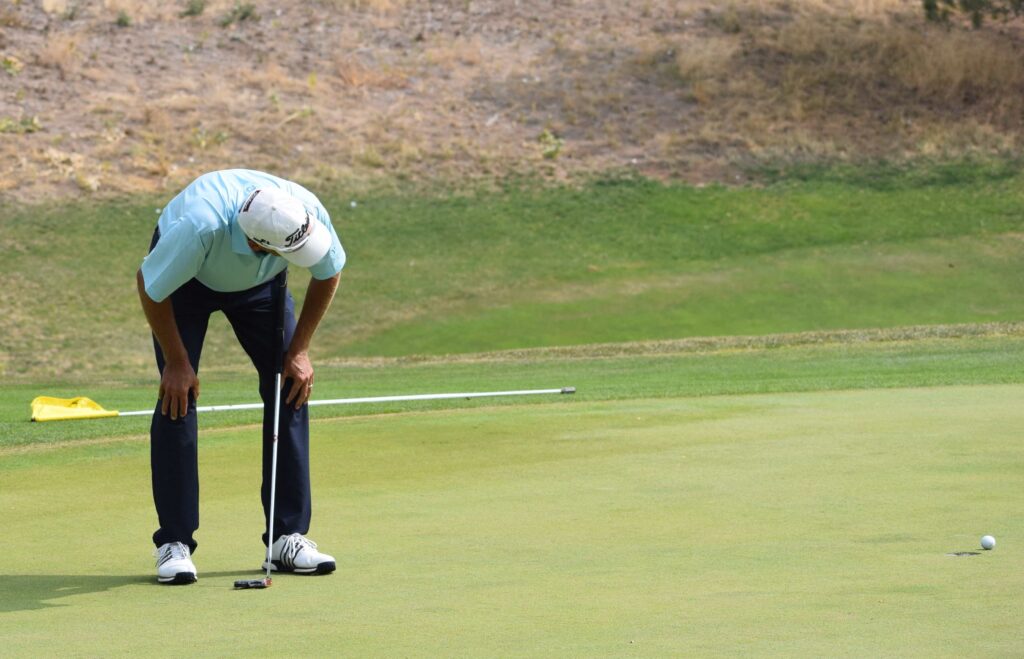 Smigelsky hadn't competed in this event since 2017 due to injuries and an auto accident. But he came back with a purpose, posting his best showing in this tournament since his victory 17 years ago.
The former Collindale Golf Course director of golf birdied five of the first seven holes on Wednesday to get within a stroke of Keffer, who eagled the par-5 fourth hole from 30 feet but bogeyed 6 and 7.
Asked if he thought he had a chance to win after trailing by six going into the day, Smigelsky said, "No. There's too much firepower there. They (Keffer and Rohrbaugh) are probably our two best players in the Section. No chance, then I kind of got hot and got pretty close at the turn.
"I think it kind of made Geoff mad, and he went to the accelerator. He has so much firepower and hits it so much farther than we do. He's just a really good player. He's the best player in the Section."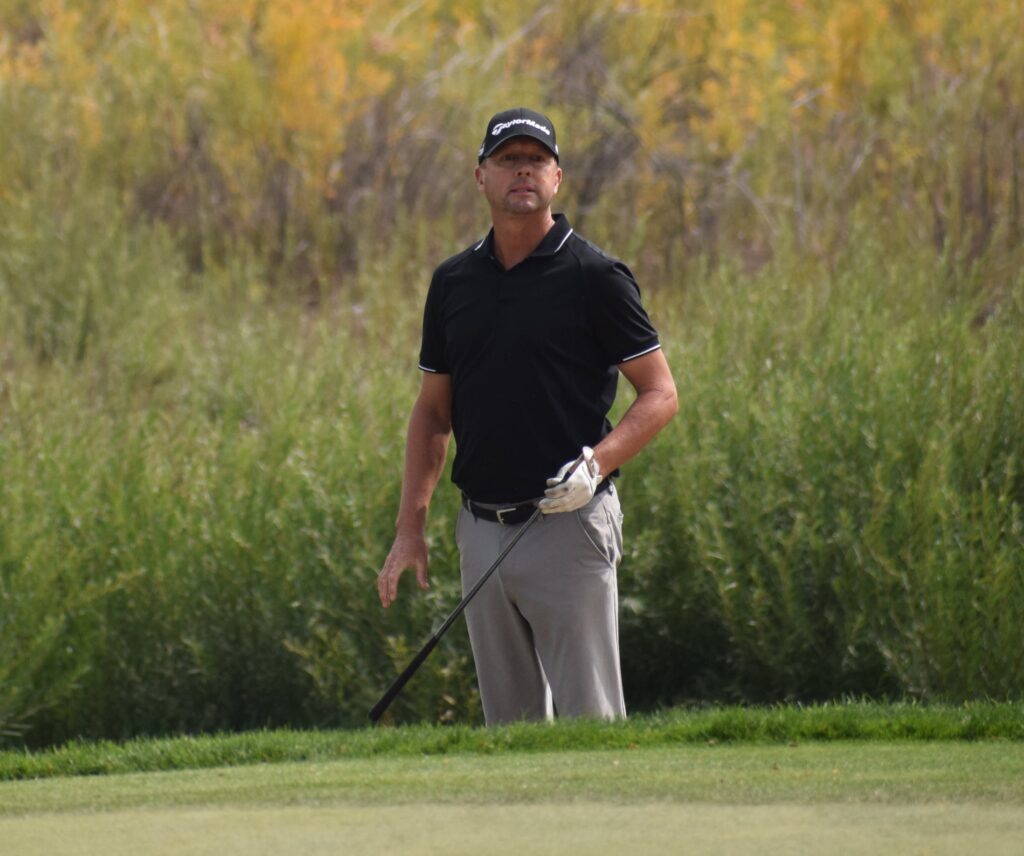 Keffer responded to the challenge by making a tough up and down for birdie on the par-5 10th hole — draining a 12-foot putt in the process — then backing it up with a 9-foot birdie on the par-4 11th.
"I knew (Smigelsky) was firing birdies left and right, but to keep that up for all 18 is tough," Keffer said. "So if I just go do what I'm supposed to, I knew I'd be OK, and I did."
The consecutive birdies to start the back nine — combined with a three-putt par by Smigelsky on the 10th — pushed Keffer's lead up to three over both Rohrbaugh and Smigelsky. "When he made a great up and down for birdie on 10 and I three-putted for par, that took the wind out of my sails," Smigelsky said.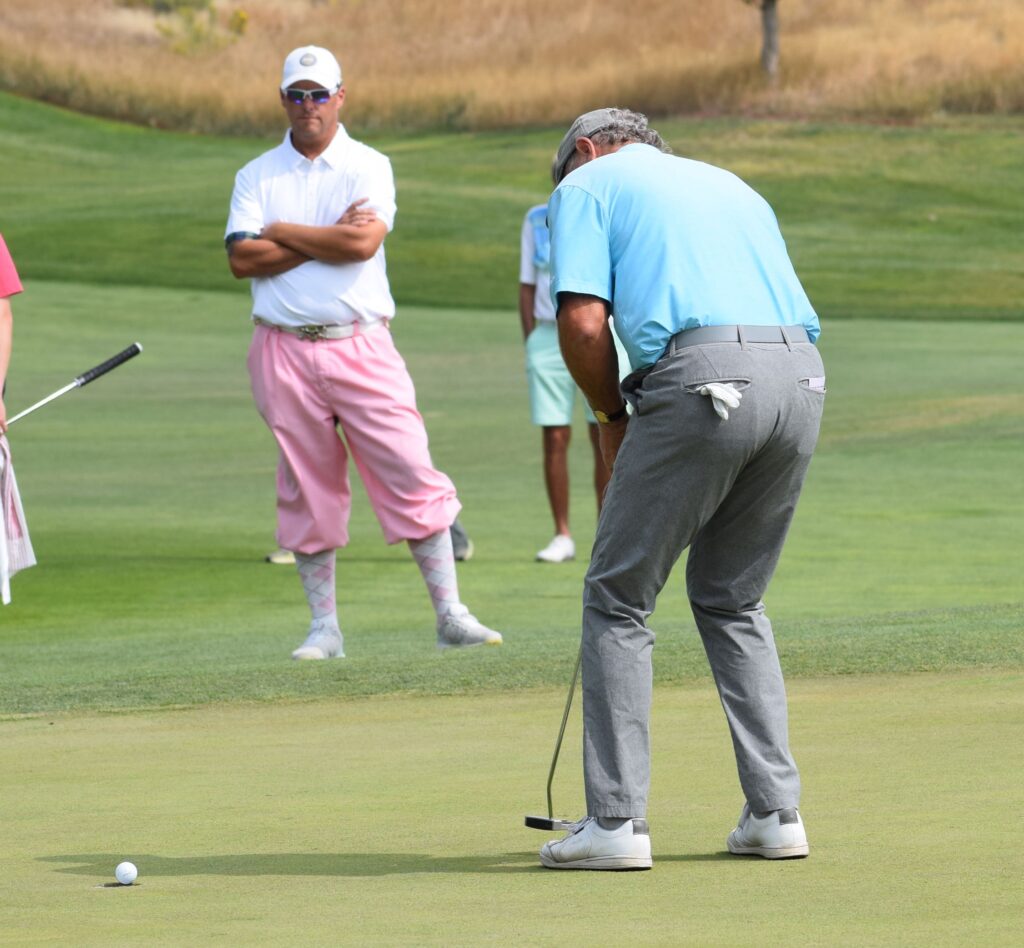 A 3-foot birdie by Smigelsky on No. 12 cut the deficit to two, but he made his lone bogey of the day on No. 14. Rohrbaugh, meanwhile, saw his chances all but disappear with a double bogey on No. 13.
As for Keffer, he was rock solid coming down the stretch, not giving his competition any openings. He played his back nine in 3 under par, not making a bogey.
Not bad for a guy who changed all his iron shafts just prior to the tournament because he wasn't particularly pleased with the way he'd been playing in the last month.
"It means everything" to claim the title, said Keffer, a five-time Colorado PGA Player of the Year who is a virtual lock to become a six-time POY. "This is our biggest tournament. It's unbelievable to not only be in the hunt, but to win it twice. It's phenomenal."
Wednesday's victory comes two years after Keffer missed the 2018 Colorado PGA Professional Championship because he failed to register for the event.
"It was a big letdown because that year was at TPC Colorado and I still haven't played there yet," he said. "That course probably suits me pretty well. Since then I've printed off receipts and double checked every month that I've signed up. That's not happening again."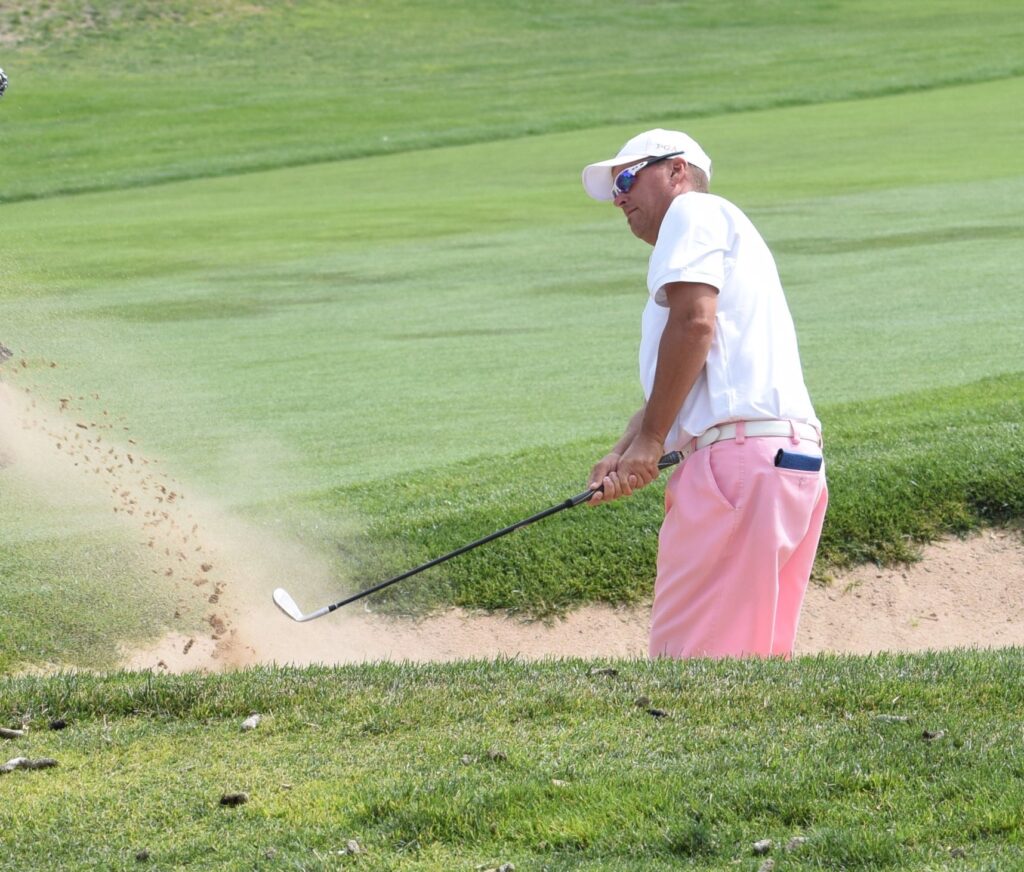 The top nine finishers at Valley CC on Wednesday qualified for the 2021 national PGA Professional Championship, which will be played April 25-28 in Port St. Lucie, Fla. The nine who advanced were Keffer, Smigelsky, Rohrbaugh, Rudosky, Alexandra Braga of Denver Country Club (210 total), Kyle Voska of The Links Golf Course (210), Christopher Hyten of Castle Pines Golf Club (211), Doug Wherry of Jake's Academy (211) and Ryan Bakken of Thorncreek Golf Course (213). Bakken won a three-person playoff for the last national berth. 
For all the scores from the 2020 Colorado PGA Professional Championship, CLICK HERE.