'Special opportunity' awaits Coloradan Kupcho as she leads going into final round of Augusta National Women's Amateur; she'll be paired with Mexico's Fassi, who's no stranger to Colorado either
By Gary Baines – 04/05/2019
Next week, the best men's golfers in the world will be battling it out at Augusta National Golf Club in Georgia as the Masters takes center stage in the sports world.
But on Saturday, it will be the women who grab the spotlight at one of golf's most famous venues.
History will be made as the inaugural Augusta National Women's Amateur draws to a conclusion, and a Coloradan has a good chance to be at the center of it all.
Jennifer Kupcho of Westminster — already an NCAA Division I individual champion, the top-ranked women's amateur in the world and soon to be owner of an LPGA Tour card — could add another huge accomplishment to her already-stellar golf resume.
At 5-under-par 139, the Wake Forest senior will take a one-stroke lead into the final round of the ANWA, the only one contested this week at Augusta National itself. Kupcho will tee off on Saturday at 8:20 a.m. (MT). NBC will televise the final-round action from 10 a.m. to 1:30 p.m. (MT).
"There's definitely a special opportunity," Kupcho said in a phone interview with ColoradoGolf.org on Friday evening. "I wouldn't say I'm focused on all that because I'm going to just try to play my best. If you focus too much on what's at stake and what could really happen, that strays away from where you want your focus to be."
Even if Kupcho were to win on Saturday, she said she'd probably rank last year's NCAA individual title above one in the ANWA.
"It would be just because I did come back from the year before (2017 in the NCAA finals, where she led by two with two holes remaining before finishing second)," she said. "That's a big task in and of itself.
"But it would be awesome just to be able to say I hit the first tee shot as well as won (the inaugural Augusta National Women's Amateur). It would be super cool to be able to say that and open up the tournament that way."
Kupcho certainly seemed comfortable in Friday's practice round at Augusta National, shooting a 4-under-par 68.
"It was just amazing," she said of the course. "They had all the grandstands up for the Masters. It was pretty cool to see that. And the flowers are blooming so it's really pretty out there. The golf course is in great shape so it will be really fun to play it again tomorrow."
During the first two rounds of the tournament that were held at nearby Champions Retreat Golf Club, Kupcho's dad Mike caddied for her. But for the final round, she said she'll use an Augusta National caddie, Brian Murphy.
"He knows the course really well, so he'll be able to help me with the pins as well" as everything else on the course, Kupcho said.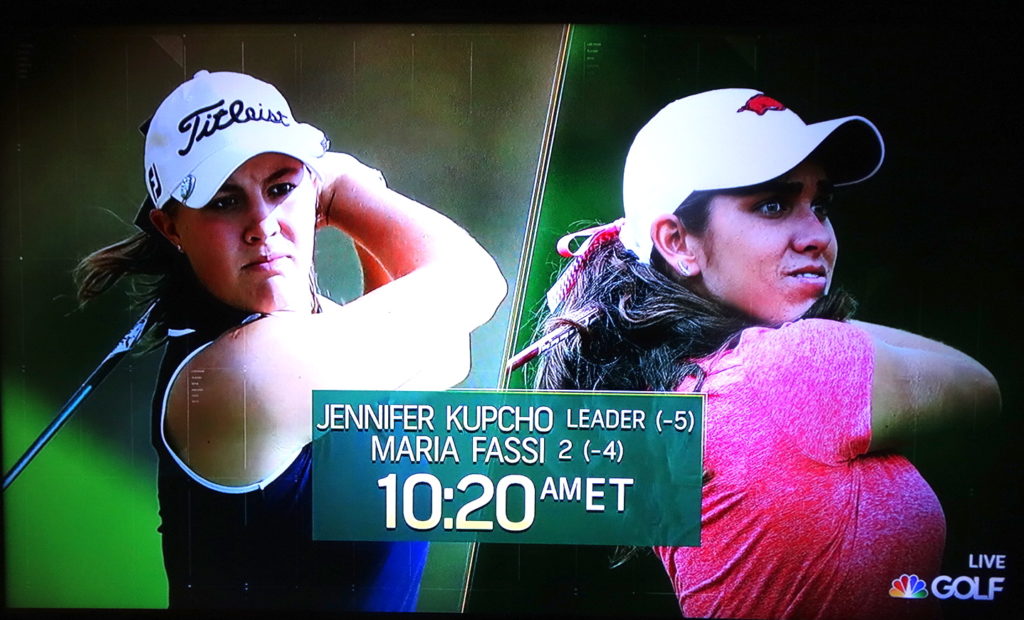 While Kupcho, a lifelong Coloradan, is the only golfer from the Centennial State in the ANWA field, it's interesting to note that the player with whom she's sharing the final pairing is certainly no stranger to Colorado.
Maria Fassi (140 through two rounds in Augusta) hails from Mexico, but she's come to Colorado to compete in at least five USGA qualifying tournaments over the years, in part because the altitude is similar to that of Mexico City, near where she lives. In four of those five events, Kupcho also played. Here's the rundown of Fassi's five USGA qualifiers in Colorado:
— 2013 U.S. Women's Open qualifying at The Broadmoor (Fassi did not qualify; Kupcho did not play).
— 2013 U.S. Girls' Junior qualifying at CommonGround (Kupcho and Fassi both qualified).
— 2014 U.S. Women's Amateur Four-Ball qualifying at Walnut Creek (Kupcho and Gillian Vance shared medalist honors with Fassi and Maria Balcazar, with both teams qualifying for the 2015 USWAFB).
— 2015 U.S. Women's Open qualifying at Riverdale Dunes (Fassi qualified; Kupcho fell short).
— 2016 U.S. Women's Open qualifying at Walnut Creek (Kupcho was medalist; Fassi did not qualify).
And since then, both have become two of the best women's college players in the world. Kupcho, of course, claimed the 2018 NCAA individual title, while Fassi earned the Annika Award as the player of the year in women's college golf in 2017-18. And both seniors — Kupcho at Wake Forest and Fassi at Arkansas — landed their 2019 LPGA Tour cards at the Q-Series in the fall, but deferred turning pro until after the conclusion of their college career this spring.
"We've become good friends this past year," Kupcho said. "We're both really excited to play together. We'll have so much fun no matter what happens. It'll be fun and we'll encourage each other for sure."
Fassi said of when he first encountered Kupcho in tournament golf: "She's like me: She has a strong look in her eyes, so at first I was like, 'Who is this girl?' I didn't know about her, but I could feel her energy. I don't ever get any shock from people, but when I saw her, I was amazed."
Kupcho has certainly noted all the backing she's receiving from Colorado golf fans this week, but she tries to keep it in perspective.
"I've definitely seen all the support I'm getting, but I'm trying to focus on what I have to do tomorrow," she said.
With a national TV audience and significant crowds expected for Saturday's final round, there certainly will be considerable pressure. But Kupcho has had a taste of that before — both at the NCAA championships and in three LPGA Tour starts (two U.S. Women's Opens and the 2018 Marathon Classic), where she's posted two top-25 finishes.
"I think it will be OK just because I have been around that atmosphere of fans and all the TV following us," she said. "I think I'll be comfortable and be able to get through it no problem."
As noted above, Kupcho and the other ANWA competitors participated in a practice round on Friday at Augusta National, but it wasn't her first experience at the course as she played there two years ago as a Wake Forest sophomore.
Hale Irwin, the three-time U.S. Open winner who grew up in Colorado, had some suggestions about Augusta National for Kupcho this week after naming her and Dale Douglass the first recipients of the Hale Irwin Medal. (Kupcho is a three-time CGA Women's Player of the Year.)
"As best as you can, identify the proper angles," said Irwin, who had seven top-eight finishes at the Masters. "You have to play for position. You have to know which hole positions you can attack. Some you just have to take a two-putt and go on because a ball that can be two or three feet from the hole at one point by the time it stops rolling it's 30, 40, 50 feet away. You have to kind of be careful where you miss. … Say, 'I want to put the ball under the hole as best I can every time' because sometimes those downhill putts are really, really hard."
Kupcho is trying to take that advice to heart.
"The greens are crazy, so definitely knowing where to hit the ball is very helpful," she said.
Augusta National can certainly humble the best of players, but few, if any, golfers came into the ANWA this week on more of a roll than Kupcho, who has won her last two college tournaments and placed second in the one before that.
After analyzing and praising Kupcho's swing, the Golf Channel's Brandel Chamblee called the Coloradan a "phenom" on Twitter.
And perhaps after Saturday, he'll be calling her the first Augusta National Women's Amateur champion.
For all the scores from the ANWA, CLICK HERE.