Tom Glissmeyer, onetime 16-year-old U.S. Open phenom, joins 49-year-old Michael Harrington and 41-year-old Joseph Chally in qualifying for U.S. Mid-Amateur
By Gary Baines – 8/19/2021
Tom Glissmeyer experienced some of golf's highest heights as a 16-year-old when he competed in the U.S. Open. But after being slapped around by the game as a touring pro, giving up golf competitively for eight years and now dipping his toes back into the water as a reinstated amateur, he values his new frame of reference.
"I've got a much different perspective on golf now," the 34-year-old Denver resident said. "I've competed and I've chased the tour. Now I'm very satisfied with where I am in life. I'm more relaxed. I'm not as hard on myself. It's a lot more fun."
Certainly on Thursday Glissmeyer was able to leave the course with a smile on his face as he qualified for a USGA championship for the first time in 15 years. In fact, he shared medalist honors at Highland Meadows Golf Course in Windsor with another player with strong Colorado Springs ties, Michael Harrington.
Glissmeyer and Harrington, who both have plenty of USGA championship experience, fired 4-under-par 67s on Thursday and were joined in qualifying for the U.S. Mid-Amateur by a player who will be competing in his first one, Joseph Chally of Castle Rock. The Mid-Am is set for Sept. 25-30 at Sankaty Head Golf Club in Siasconset, Mass., near Nantucket.
Chally, who recently won the club championship at Colorado Golf Club, shot a 68, then defeated a home-course favorite, 2019 CGA Match Play champion Josh McLaughlin of Loveland, in a playoff to earn the third and final berth into the national championship for golfers 25 and older.
After both players made two-putt birdies on the first hole of sudden death, Chally prevailed by getting up and down for par on the par-4 second, where he tapped in a 1-foot putt. McLaughlin, runner-up in the 2020 CGA Mid-Amateur following a playoff, semi-shanked his short approach shot on No. 2 and missed a 7-foot par attempt, leaving him as the first alternate.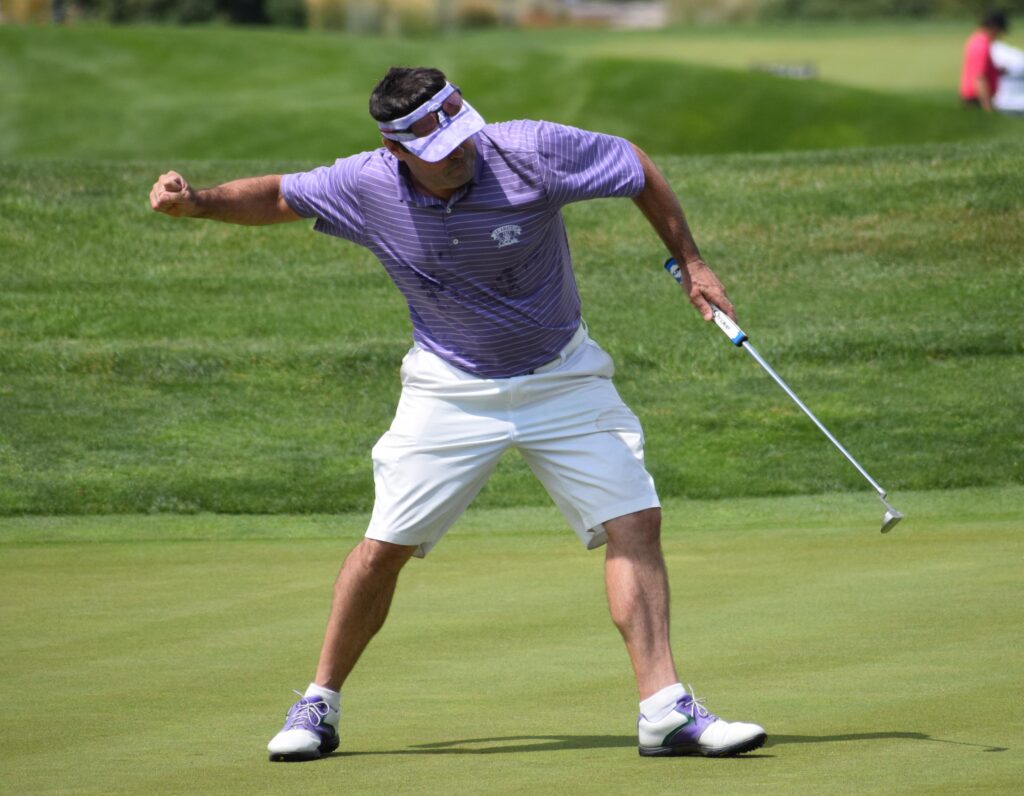 The upshot is that Harrington qualified for his seventh U.S. Mid-Am and 14th USGA championship, Glissmeyer for his first Mid-Am and eighth USGA championship, while Chally will be making his USGA debut.
Glissmeyer said he last competed in a USGA championship — his third U.S. Amateur following three U.S. Junior Amateurs and the 2003 U.S. Open — in 2006.
"It hasn't really sunk in," he said of returning to USGA action for the first time in 15 years. "Honestly I haven't been playing that much. I enjoy my work and golf is becoming more of a hobby. I've kind of found the love in it again. So I've got to let the excitement sink in.
"Any USGA event is special. I've been fortunate to play in a few of them. It's going to be fun to get back."
After the two-time state high school individual champion played his college golf at the University of Southern California, he turned pro and competed on PGA Tour Canada, some on what is now the Korn Ferry Tour and some on European mini tours.
"Each year I got progressively worse and harder on myself," he said. "It became a grind. I made the right choice" in leaving professional golf.
That was in 2013, and though he got his amateur status back a couple of years later, he didn't compete in anything serious for eight years, until this year's CGA Amateur, where he finished 24th on his old home course, the Country Club of Colorado in Colorado Springs.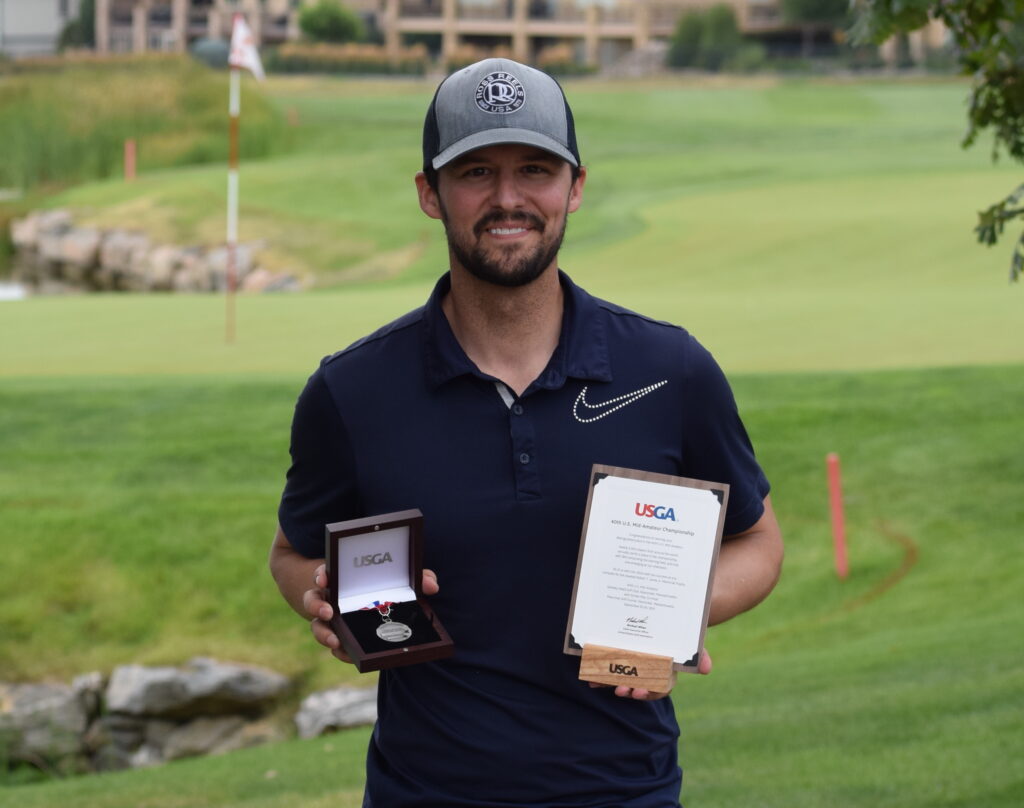 And even though Glissmeyer estimates he's played only 8-10 rounds of golf all year, he didn't show much rust on Thursday, making an eagle, four birdies and two bogeys. After a strong putting performance all day, he concluded his round with a fist pump after sinking a 20-foot par saver.
"I really didn't have any expectations. I wanted to come out and finish 18 holes," said Glissmeyer, who now works in commercial real estate development and who moved back to Colorado last summer for the first time since high school. "I didn't even tell my wife (who is expecting their first child) I was playing a tournament today. I told her I was going up to play with some guys. So she'll be surprised."

As for Harrington, he's definitely a bit superstitious about his golf.
He wears purple when a round seems particularly important to him. His purple-accented golf shoes feature lucky shamrocks. And on Thursday, he was sporting a purple shirt that is 12 years old as it's from a U.S. Amateur in which he competed in 2009.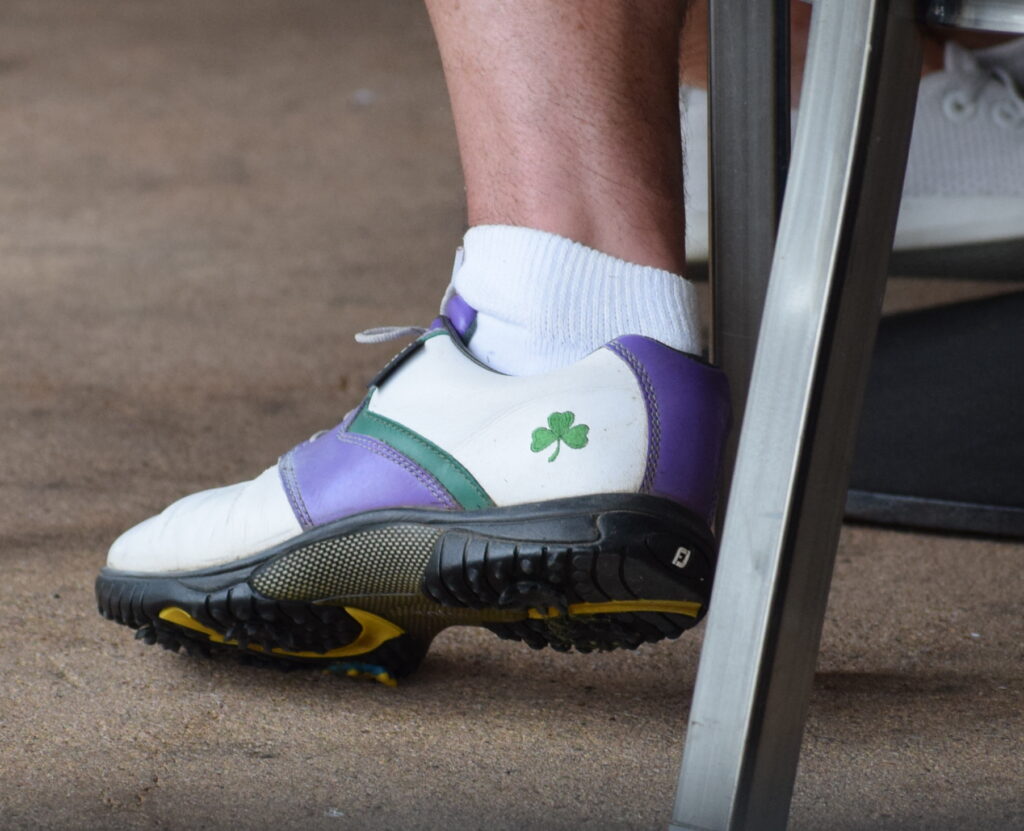 "I wear (purple) when I feel like it's important," he said. "I like purple. It makes me happy. This shirt here, some people would tell me I shouldn't wear it because it's 12 years old. 'You shouldn't date yourself.' But it gives me good memories."
And in this case, he may parlay those good memories into good fortune in the future. After all he qualified for lucky No. 7 — his seventh U.S. Mid-Amateur — and 14th USGA championship overall.
"I was telling my wife, if you play in one USGA championship a year, you've had a great year," Harrington said. "So I gear up for it. Like a touring pro would gear up for a major, I'm gearing up for this."
At the venerable age of 49, Harrington shared medalist honors in Thursday's qualifying, sinking a 12-foot birdie putt on his final hole (No. 9) to shoot a 67.
Harrington had a couple of good reasons beyond the ordinary to want to do well on Thursday. He's not only qualified for six previous U.S. Mid-Ams, but he advanced to the quarterfinals at the event in 2014. And, he grew up in Rhode Island, which is roughly an hour's boat ride from Sankaty Head.
"You probably shouldn't do this, but I talked to my brother and said, 'Maybe I'll stay on the boat'" if he qualified, Harrington said. "I didn't even realize it's being played on an island.
"But I grew up (near) there. My whole family lives there. It's not that far from the island, but there's a little water in the way. I very much look forward to that."
On Thursday, Harrington rode a hot putter to a six-birdie, two-bogey round. He sank a 10-foot par putt on his 17th hole (No. 8) after being in a greenside bunker, then drained a 12-foot birdie to close out the round.
"I rolled it great. Every putt had a chance. Thats all you can do," Harrington said. "I feel like I have to play well (to qualify). I don't have to play great, which is what I have to do in the U.S. Amateur" qualifying.
In the U.S. Mid-Am itself, "I feel like I can get it to match play, then if I get it to match play I have a chance," said Harrington, the CGA Player of the Year in 2014. "I know I'm not the longest driver of the ball anymore, but for mid-ams I'm certainly long enough."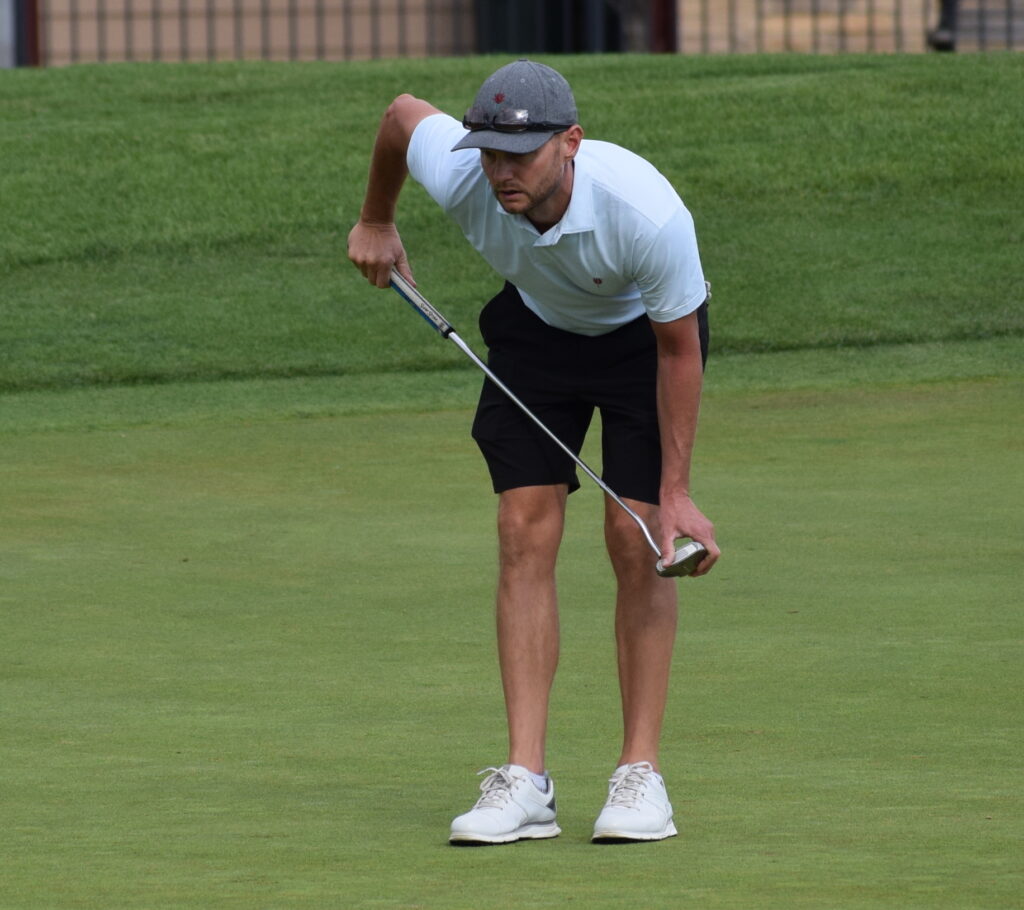 Cally, like Glissmeyer, is headed for the U.S. Mid-Amateur after a prolonged hiatus from the game — at least competitively. Cally, who finished runner-up in the 2003 NAIA national championship while playing for The Master's University north of Los Angeles, largely "took 15 years off from golf" while starting a family and business before returning to the game competitively about three years ago.
Thursday marked his first time even attempting to qualify for a USGA championship, much less making it.
"It's spectacular, unbelievable," the 41-year-old said regarding his success at Highland Meadows. "This kind of snuck up on me, being out of the game so long and coming back. I almost went from not following golf for a long time to geeking out on it. So it's going to be spectacular. I've got buddies who have played in (USGA championships) and said they're great."
On Thursday, Chally eagled the 15th hole (his sixth of the day) from 20 feet and added two birdies and one bogey. One of the birdies came on his final hole of regulation, which landed him in the playoff with McLaughlin.

U.S. Mid-Amateur Qualifying
At Par-71 Highland Meadows GC in Windsor
ADVANCE TO NATIONAL CHAMPIONSHIP
Michael Harrington, Colorado Springs 67
Tom Glissmeyer, Denver 67
Joseph Chally, Castle Rock 68
ALTERNATES (In Order)
Josh McLaughlin, Loveland 68
Bodi Karsono, Superior 69
For all the scores from Highland Meadows, CLICK HERE.