Ever-growing numbers show CGA Women's Clinics are hitting their mark and breaking down barriers to the game 
By Gary Baines – 5/8/2021
Many women looked at it as an ideal way to start Mother's Day weekend — whether they are moms or not.
The weather was nearly perfect for a little Saturday morning golf, and many of the participants were seeing the new-look City Park Golf Course in Denver for the first time. They were receiving some valuable tips about the game from some outstanding instructors — including a winner on the LPGA Tour who's now in the Colorado Golf Hall of Fame.
And, perhaps best of all, there was some fun to be had, along with some good company.
All in all, it's little wonder why Saturday's CGA Women's Clinic, conducted with the help of Denver Golf, was sold out — and had a waiting list almost long enough to do so twice over.
As it was, a total of 48 women attended, all receiving group instruction in four aspects of the game (full swing, chipping, putting and the Rules of Golf) in addition to lunch and some prize giveaways.
Some were new to the game, others had some experience and others were familiar faces, having attended CGA Women's Clinics in years past. And many came away with smiles on their faces or with unsolicited comments about things they had learned.
"It was awesome," said Nicole Lamorie of Northglenn, a newcomer to the game who was attending her first CGA Women's Clinic. "It was a beautiful, perfect day for it. That light little breeze felt good.
"There was just such a range of women — skill-level wise. It's cool to see different swings and (get) different takes on things. Then meeting everyone at the different stations and all the knowledge they had to share, that was really cool. You get so many different points of view. You're like, 'Oh, I never thought of it that way.' There's these little drills that they (have you) do. You learn those little tips and tricks and pointers. Obviously you can't watch yourself when you're mid-swing, so having someone being able to watch you — and able to break it down and correct it was so helpful."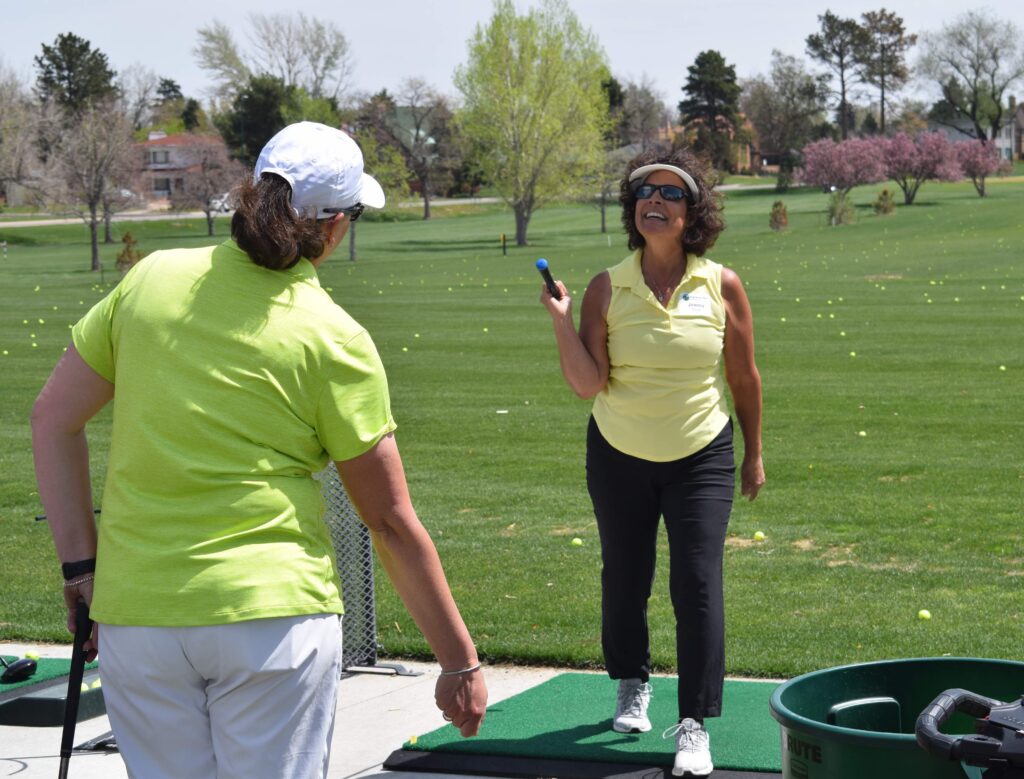 Lamorie came to Saturday's clinic after being giving a heads-up about the event from Laurie Steenrod, a member of the CGA board of directors and a past champion in both the CGA Women's Match Play and Senior Match Play. Steenrod had made connections with Lamorie through a salon where Lamorie used to work and which is co-owned and managed by her boyfriend, A.J. Garcia.
Steenrod would often talk golf with Lamorie and Garcia when she came in for her appointments, and having a knowledgeable acquaintance taking an interest helped pave the way for Lamorie getting into the game — along with the fact that Garcia plays regularly.
"I'm learning so much, but I feel like I have so much to learn," Lamorie said. "Getting my body to do what I want it to do and get the ball where I want it to go … It's been fun."
Not only did Steenrod let Lamorie know about Saturday's event but she was hand to make sure Lamorie had a positive experience at the Women's Clinic.
"I'm just (providing) her a little support," said Steenrod, who has attended about a dozen such Women's Clinics over the years — and even has helped instruct at some.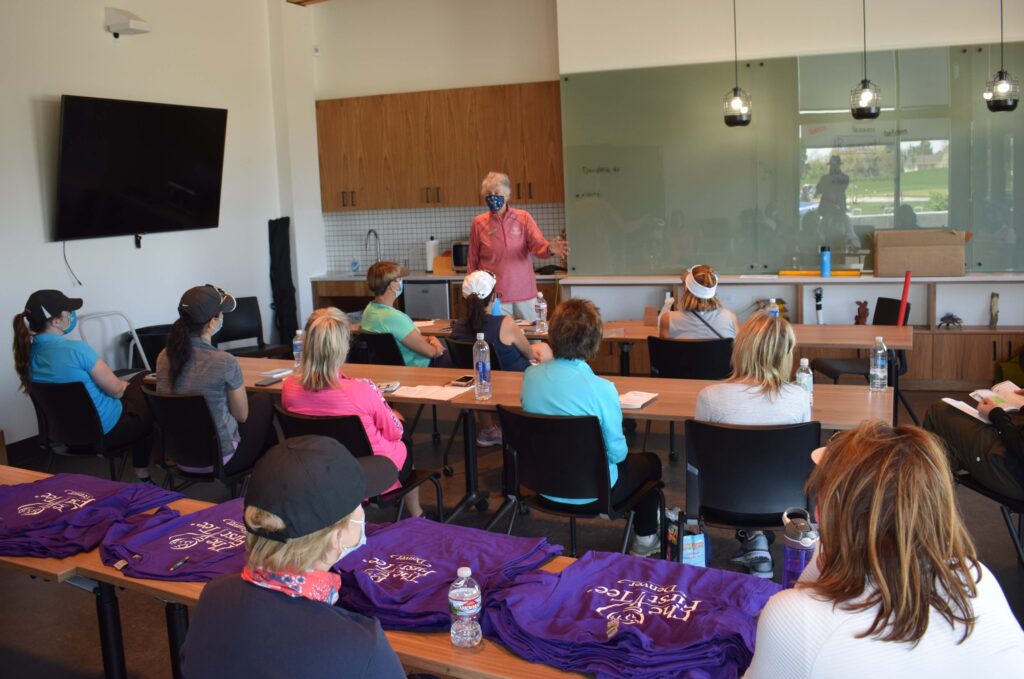 Asked why events such as these are valuable, Steenrod said, "I think it's safe for (participants) because they're with women. Ultimately there will be at least a couple of women instructors. Even with a bad shot they don't really have to feel embarrassed necessarily because no one is really watching them. So safety, comfort and security" are important in this kind of event.
The CGA and CWGA have been hosting such activities — once known as CWGA Experience events — for more than a decade. This year, between Women's Practice Clinics such as Saturday's and Women's Playing Clinics, there are a record 10 such events planned, with Saturday's being the second following last weekend's at Adobe Creek National in Fruita.
The one at City Park this weekend drew more interest than perhaps any before it. Not only did a capacity 48 women take part, roughly another 35 were on a wait list.
"We're very thankful to the City of Denver," said Matthew Walker, the CGA's manager of membership and sponsor engagement. "When we do these events with Denver Golf (usually two or three times a year), they do tend to fill up a little quicker. They have a large email database. Denver Golf is a big reason why these (in the city) are very popular. "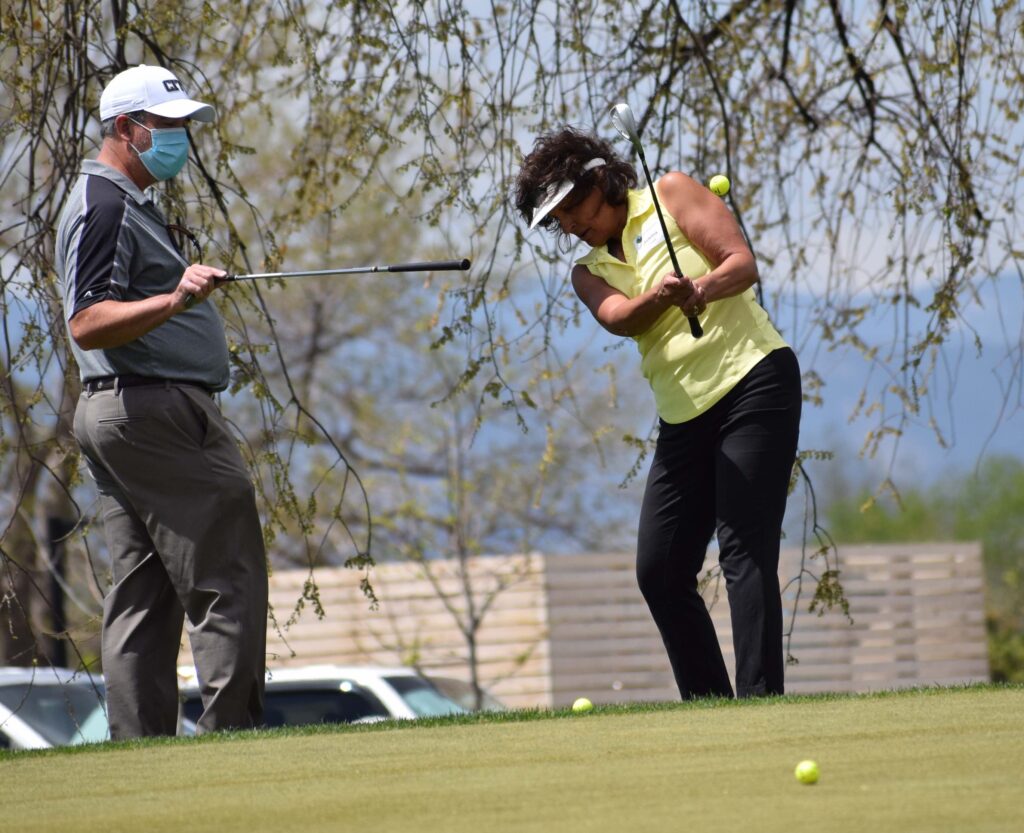 Walker, a former CWGA staffer, has worked the Women's Clinics for all seven years he's been with the associations, and has overseen them for the last six years.
"Getting people in the game is really on the ground level," Walker said. "Every golf course has its own part to play. This is a way for us to introduce people in their areas to their local golf courses."
Walker said it's essential that newcomers be made to feel at ease when coming into the game.
"It's getting them out to a golf course they may not be familiar with and showing them where everything is and breaking down those barriers so it can be comfortable," he said, noting that effectively answering a question such as 'Where do I go to start to play golf?' can be crucial. "That's very common, as much as we wouldn't like to think it is. We try to break down those barriers and hopefully the local golf course takes advantage of that and they keep coming back and (getting) those good experiences."
Roughly 10 PGA/LPGA instructors or CGA representatives took part in Saturday's Women's Clinic, including Colorado Golf Hall of Famer Lauren Howe, who won an event on the LPGA Tour in 1983. Howe has been a longtime instructor who teaches an event called "Champ It Up" which focuses on the importance of what she calls the "inner game" — the "thinking and feeling" aspects of golf. On Saturday, she worked on putting at the Women's Clinic along with Mark Kelbel, the PGA professional who oversees the new Broadmoor Caddie & Leadership Academy.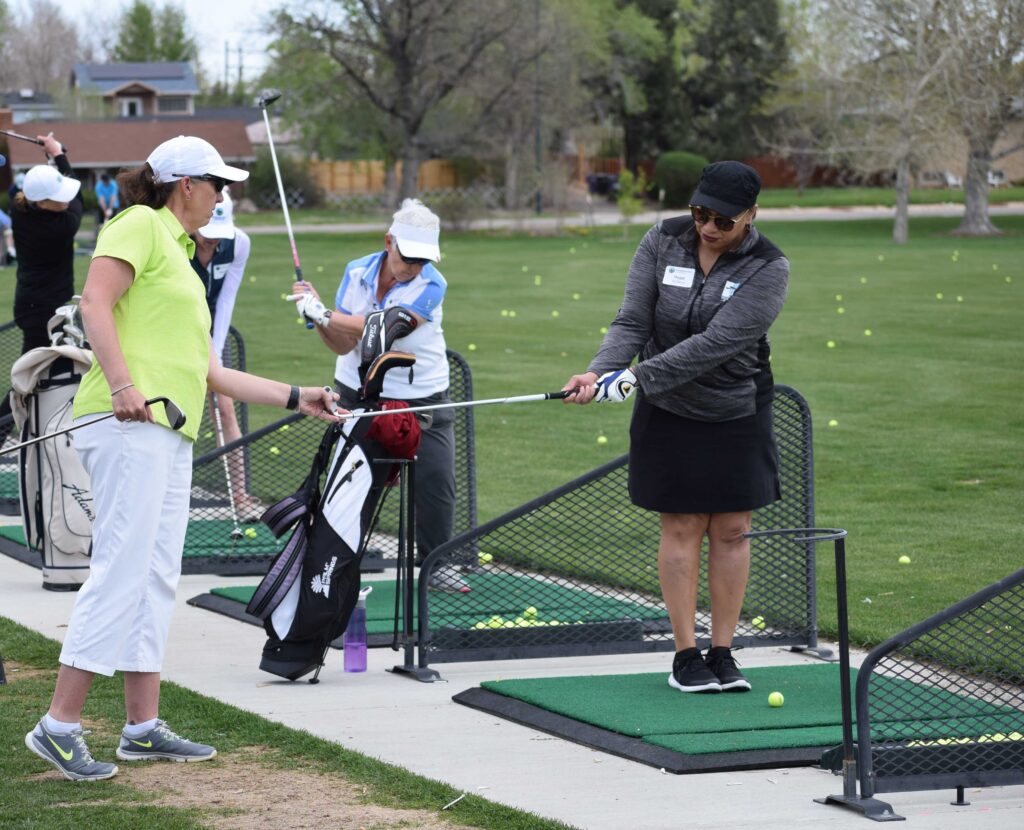 "New players get some great information and they get to mingle with other players" at the Women's Clinic, Howe said. "They get to experience different teachers. That's wonderful.
"I was at the putting station and if you can instill in them that putting is about 43 percent of your score … Most people don't practice their putting very much. If you can have a couple of mind shifts, especially for a beginner, then they're not wasting a lot of time. I did a pre-shot routine thing in putting and got them really to focus on the target. For a new person to be able to do that right off the bat is great. Some people who have been playing a long time don't know things that we're teaching here.
"I also think the great thing about this event is women see each other every once in a while and they enjoy the camaraderie; there's a great camaraderie around the pros and stuff. I just think it's a fantastic event. That's why I do it every year."
For a list of all the 2021 CGA Women's Clinics — both Practice Clinics and Playing Clinics, CLICK HERE.