Tyson Alexander, Taylor Moore share lead with much at stake in final round of TPC Colorado Championship; Taylor Montgomery, who has family roots in Colorado, still in the hunt
***For all the scores from the TPC Colorado Championship, CLICK HERE.***
By Gary Baines – 7/10/2021
A whopping nine players shot 65 or 66 in Saturday's third round of the TPC Colorado Championship at Heron Lakes. Perhaps it was no coincidence than none of them played in the final seven pairings in Berthoud.
Whether it was the freedom to free-wheel it for competitors back in the pack, the pressure of being in one of the final groups, or simply the course hardening up as the day went on — or a combination of all of those things — quite a few players gave themselves at least an outside chance of winning the $108,000 first prize on Sunday.
But … the same players that were 1-2 on the leaderboard after 36 holes are 1-2 after three rounds. The only difference is, now they're tied.
After a topsy-turvy last two holes playing together on Saturday, Tyson Alexander of Gainesville, Fla., and Taylor Moore of Fayetteville, Ark., are knotted at 14-under-par 202, which leaves them two ahead of the third-place golfer, 46-year-old Tag Ridings of Keller, Texas.
"We've got a bunch of fans out here hooting and hollering. I'm looking forward to tomorrow," said Alexander, son of 1986 U.S. Amateur champion — and retired University of Florida men's golf coach — Buddy Alexander.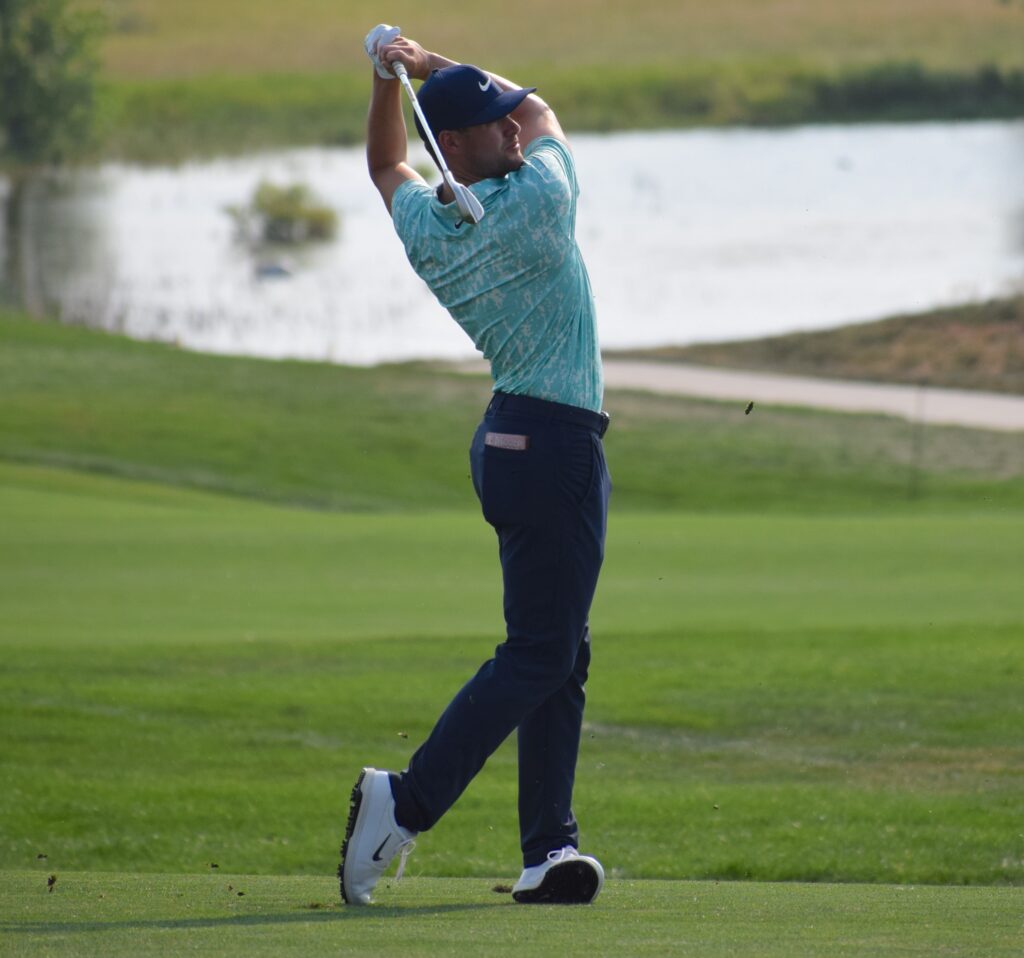 "I think we're just going to go out and compete," said Moore, who matched the course record in round 1 with a 63. "There are a lot of golf holes left, and there's a lot of other people in this tournament as well."
Thursday's finish certainly had its share of drama — at least as much as a Saturday can — as there were two-shot swings between Alexander and Moore on each of the last two holes.
Alexander went up by two when Moore hit his tee shot left into a formidable fairway bunker. He tangled with the lip on his second shot and barely got out, then his third shot finished short of a nasty stacked-sod bunker. Bottom line: he ended up with a double bogey.
Then on 18, after both players hit stellar drives in the fairway, Moore put his approach to 4 feet and made birdie. Alexander pulled his wedge into the rough left of the green, left his pitch in the tall grass, then had to sink a 5-footer for bogey.
"I had a pretty easy shot with a wedge and just hit a bad one. But that's golf," Alexander said.
Two shots — in Moore's direction this time — resulted in the 54-hole tie.
"(On the 17th-hole bunker shot) I had to just get it back in the fairway and take my medicine from there after compounding the mistake," Moore said. "It's unfortunate, but did a great job of regrouping and hit a couple good shots on No. 18."
Alexander, a 32-year-old who won his first Korn Ferry Tour title in late April, got off to quite a start on Saturday after holding the 36-hole lead. He didn't make a par in his first seven holes, going birdie, bogey, birdie, bogey, birdie, birdie, bogey before finally parring the par-3 eighth.
From there, he carded two birdies and two bogeys coming in to shoot a 1-under-par 71.
"It definitely firmed up" as the day progressed, Alexander said. "It seemed like we played the majority of the back nine into the wind. There weren't many easy holes on the back nine."
Moore hasn't yet won not the Korn Ferry Tour, but getting No. 1 on Sunday would basically assure him of earning a PGA Tour card for next season. A victory for Alexander would put him in good shape, but not yet a lock.
"I'm just going to go out and worry about me and control what I can and see what happens in the end," said Moore, a 27-year-old who finished with five birdies and a double bogey Saturday en route to a 3-under 69.
Ridings hasn't won since 2002 on what is now the Korn Ferry Tour, but he spent much of the time since on the PGA Tour, posting four top-three finishes but no wins in 239 starts in golf's big leagues.
On Saturday, Ridings shot a 66, including a 29 on the front nine, where he made an eagle on the par-5 fifth to go along with five birdies.
In all, eight of the chasers will go into the final round within four strokes of the lead.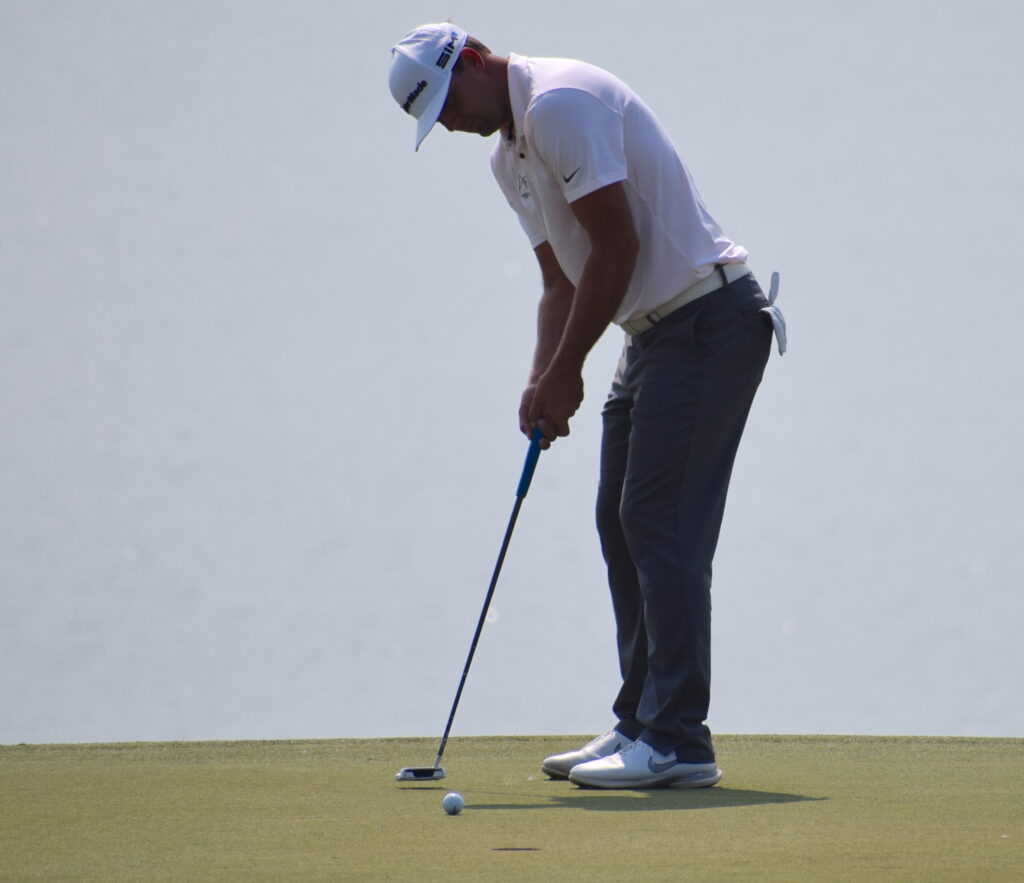 Family Ties Make This Feel Like 'Home Event' for Taylor Montgomery: Taylor Montgomery has hopes of winning the TPC Colorado Championship on Sunday, which would give him the latitude to take next week off from Korn Ferry Tour action and visit his grandma in Grand Junction.
A win is a long shot as he sits in 11th place, five strokes out of the lead. But it's not out of the question.
"I was wanting to win this tournament so that I could go back to Grand Junction and hang out with them," the 26-year-old said. "But I'm going to need a low one tomorrow to do that."
Montgomery has been pretty much a life-long resident of Las Vegas, having been born and raised there and playing golf at UNLV. But he does have family ties to Colorado — specifically, Grand Junction.
Taylor's dad, Monte Montgomery, grew up in Grand Junction and won a state high school individual title there. He's also captured the Grand Junction-based Rocky Mountain Open title three times — in 1992, '97 and 2013.
Monte has long since lived in Vegas himself, and he's now the general manager at the famed Shadow Creek. But while Vegas is home for Taylor and Monte, Colorado remains sort of a home away from home.
"I love Colorado," Taylor said on Saturday after a 2-under-par 70 left him at 9-under 207 through three rounds at TPC Colorado. "You get the best of everything. There's a bunch of fans here that my dad grew up with. Grand Junction isn't very far away. I had a few guys yesterday come up and say hi. It feels like a home event really."
And Montgomery likes the TPC Colorado Championship. Make that REALLY likes the tournament and the course.
"The greens are perfect," he said. "This is the best Korn Ferry event of the year, in my opinion — by far. Golf course-wise, practice facilities, stuff like that. The course is in phenomenal shape. When you miss a putt, you either mis-read it or mis-hit it."
The reason Montgomery likely can't afford to to take a week off — at least not without winning an event beforehand — is that the regular season has just five tournaments left, including this week. The top 25 finishers on the regular-season points list will earn PGA Tour cards for next season, and Montgomery currently sits 28th. He's recorded two second-place finishes and a third on the KFT this season.
"I've told myself if I finish in the top 25, great," he said. "I just try to (also) tell myself it's not that big of a deal. The Korn Ferry Tour is not as good as the PGA Tour, of course, but it's still not bad. (However), I definitely want to get inside the top 25 toward the end of the year."
Last month, Montgomery played in his first major championship — and just his second PGA Tour event — the U.S. Open, where he finished 57th.
"That was awesome," he said of the U.S. Open. "It's a learning experience. I thought it was going to be cool, but when I got there it was really special — the way they treat you and set up the course. I had a great time. I felt some nerves the first day but it was really cool."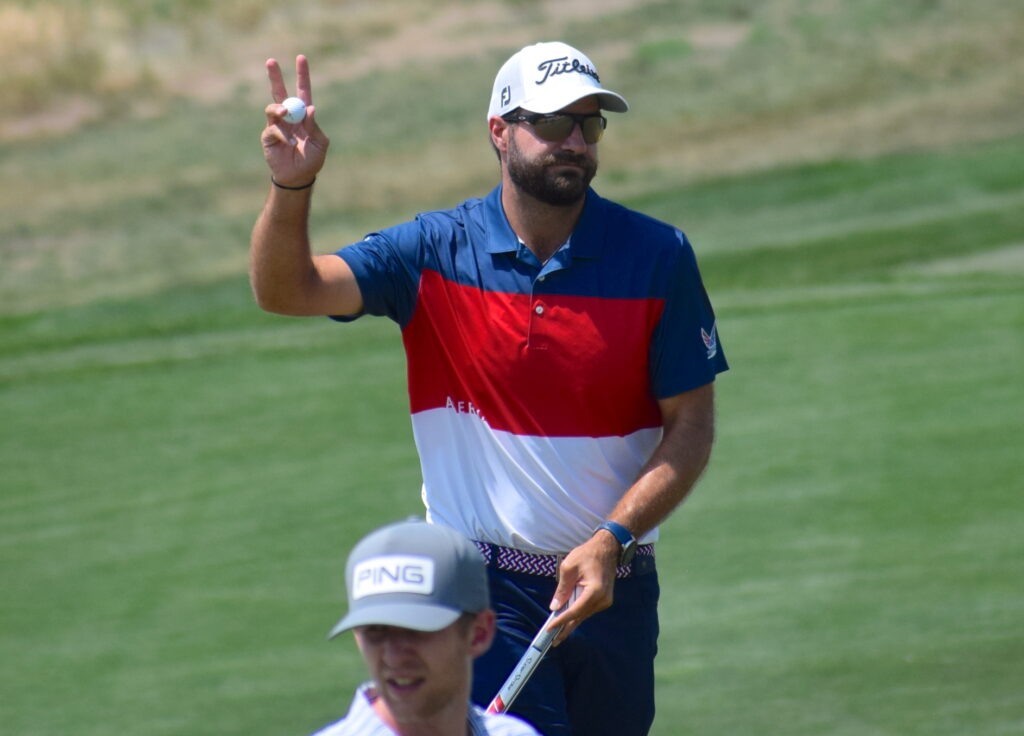 Eagle-Birdie-Birdie on No. 15 for Tom Whitney: Tom Whitney, the Air Force Academy graduate who used to live in Fort Collins, continued his mastery of the par-5 15th hole at TPC Colorado, though he didn't chip/pitch-in for a third consecutive day. After making eagle and birdie with hole-outs the previous two rounds, Whitney two-putted from 60 feet on Saturday, sinking a 7-footer for birdie. So he's 4 under for three days at that hole.
But after two consecutive 70s, Whitney slipped a bit on Saturday, carding a 1-over-par 73, which left him at 3-under 213 and in 54th place. His birdie on 15 was his only one of the day, while he posted two bogeys.
As for the other player with strong local connections who made the 36-hole cut, Cheyenne native Josh Creel recorded his second straight 1-over-par 73, putting him at 1-under 215 overall and in a tie for 64th place. Creel, coming off a runner-up finish in Maine two weeks ago, made two birdies and three bogeys on Saturday.
How all the players with strong local connections are faring at the TPC Colorado Championship:
54. Tom Whitney (former Air Force Academy golfer and former Fort Collins resident) 70-70-73–213
64. Josh Creel (Cheyenne native) 69-73-73–215
Missed 36-Hole Cut
Chris Korte (Littleton resident and former DU golfer) 75-69—144
George Cunningham (Boulder County native) 75-70–145
Andrew Svoboda (former Golden resident) 71-76–147
David Duval (Cherry Hills Village resident) 76-74–150
Jonathan Kaye (Denver native, former CU golfer, part-time Boulder resident) 75-84—159

Sunday Live-Streaming of Tournament: On Sunday, from 10 a.m. to 5 p.m. (MT), fans can access live-streamed coverage from TPC Colorado. The streaming is accessible on PGA Tour Live and GolfChannel.com. The first 2 1/2 hours will be dedicated to featured-hole coverage, and the rest to featured-group coverage. The featured hole on Sunday it will be the drivable par-4 third hole.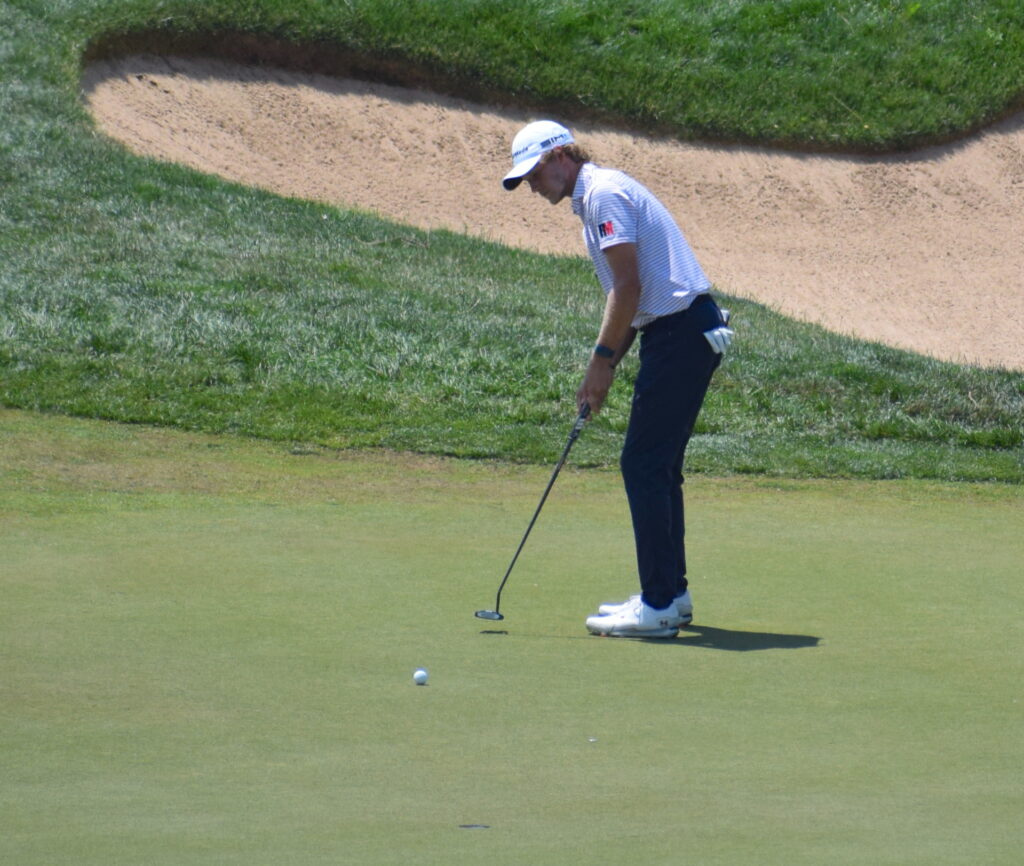 Notable: John Chin, runner-up to Jack Newman in the 2008 U.S. Amateur Public Links played at Murphy Creek Golf Course in Aurora, played his first 13 holes in 8 under par, but went 2 over par for his last five to post a 6-under-par 66 on Saturday. That leaves him at 7-under 209 overall, in a share of 28th place. … Austin Smotherman had one of the highlights of the day on Saturday, making a hole-in-one with an 8-iron at the 188-yard eighth hole en route to a 66 and an 8-under-par 208 total. … Sunday's final-round tee times will run from 6:35 to 11:50 a.m., with the leaders going off at 11:50.
For Sunday's tee times at the TPC Colorado Championship, CLICK HERE.
To view general information about this week's tournament, CLICK HERE.