Chinese golfers finish 1-2 at TPC Colorado as Marty Dou captures third Korn Ferry Tour title and earns PGA Tour card; former CU golfer Jeremy Paul places a KFT-personal-best third at The Ascendant after holding outright lead
******For scores from The Ascendant presented by Blue, CLICK HERE******
By Gary Baines – 7/3/2022
Colorado hosted a PGA Tour event called "The International" for 21 years, but the current Korn Ferry tournament held in the state may be staking its own claim to that title — in spirit if not literally.
On Sunday, The Ascendant presented by Blue that TPC Colorado hosts produced its second international champion in four years as China's Zecheng "Marty" Dou joined 2019 winner Nelson Ledesma of Argentina as champs at the Berthoud site.
Beyond that, four of the top five finishers on Sunday were foreign-born players, with Chinese golfers going 1-2 (Dou and Carl Yuan, who sprayed water on his countryman upon his victory), and German-born Jeremy Paul and Augusto Nunez of Argentina joining American Brandon Matthews in a tie for third place on Sunday.
Paul, the former University of Colorado standout, held the outright lead at one point on Sunday and ended up with the best finish of his Korn Ferry Tour career, tying for third place, two back of Dou.
"I'm super happy with the week overall," the 28-year-old said. "Anytime you have a chance late Sunday, it's a good week, no matter what happens. You get experience in these kind of conditions, and I was really proud of myself how I played, especially under pressure the last couple of holes. That's all you can do. It helps you moving forward. Next time the situation comes around maybe I'll make two more birdies coming down the stretch and that will be enough." (More on Paul's day and week below.)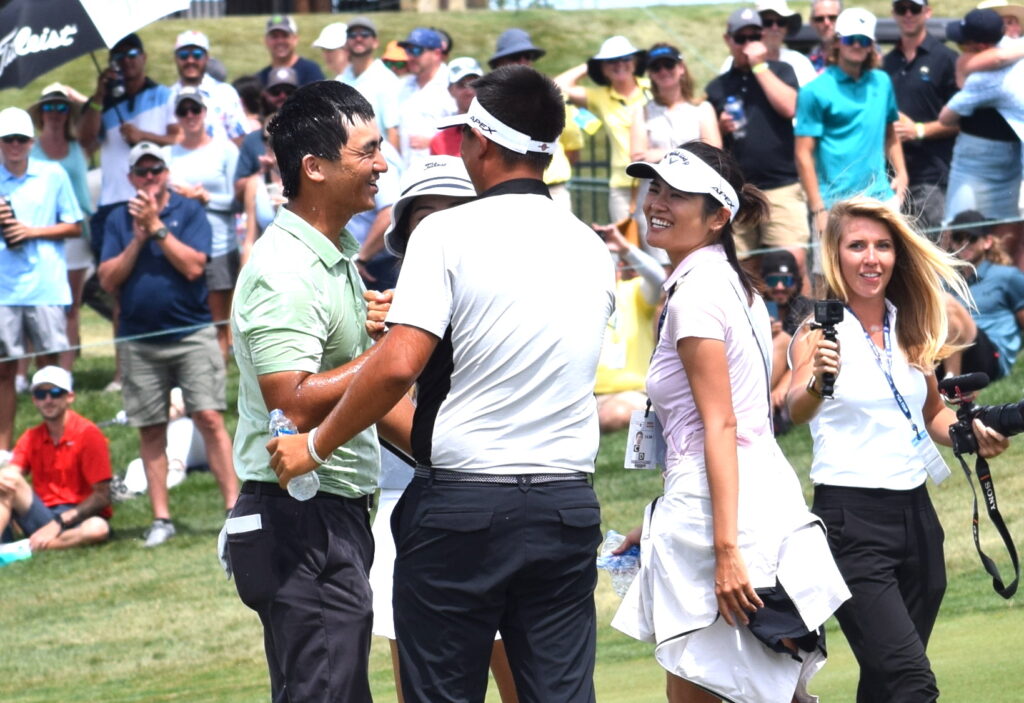 Dou and Yuan, who finished ahead of Paul, are headed where the former Buff aspires to go. Yuan, No. 1 on the Korn Ferry Tour points list this season after one win and three seconds, in early April clinched his PGA Tour card for next season. And on Sunday, with the victory, it was Dou's time, though in his case it will be a return trip to the big leagues as he played on the PGA Tour in the 2017-18 season.
"You know, the first year I got there, I kind of felt that I wasn't ready," said Dou, a 25-year-old who was born in China and now lives in Dallas. "But it's been (four) years now from that time, and I do feel like all parts of my game are set for the big Tour. Looking at Collin (Morikawa), Scottie (Scheffler) out there winning those events, it makes me hungry to want to go out there and compete with them. I feel like I really want to get back there."
Sunday produced a very crowded leaderboard, but Dou was the only one of those in contention who owned two Korn Ferry Tour wins — in his case one each coming in 2017 and '19. So he felt that experience worked to his advantage.
"Thinking about my first time, I was really nervous on the last day," said Dou, who turned pro at age 17. "Today it wasn't that bad. It wasn't like my first time. That's kind of the advantage. You know … how to play it with the nerves. I'm nervous but I'm not nervous like shaking and affecting my golf swing. I guess that's an advantage there."
The result was that Dou was a bogey-free 6 under par through 17 holes on Sunday, which gave him a two-stroke advantage. His two closest pursuers at that point, both playing a group ahead of him, gave back shots at the end of the round, with Yuan missing an 8-foot par putt on 18, and Nunez bogeying 17 and 18.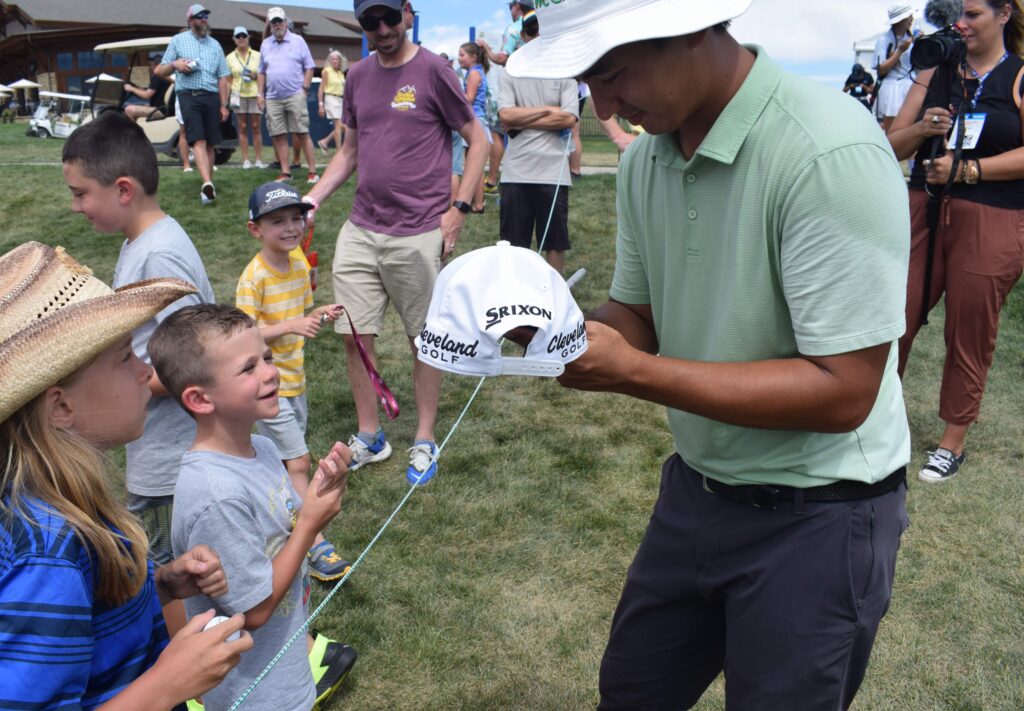 The cushion was very helpful as Dou hit his tee shot into the fairway bunker and took two more to get to the green on the par-4 18th. From 15 feet, a two-putt bogey gave him his third career victory on the Korn Ferry circuit, this one worth $135,000.
With Dou clinching the win, Yuan and his wife came out on the green and sprayed water on his countryman to celebrate the occasion. The two are now 1-2 on the KFT season-long points list (Yuan, then Dou).
"I know him really well, Dou said of Yuan. "We've played since we were 7 or 8 years old (in China)."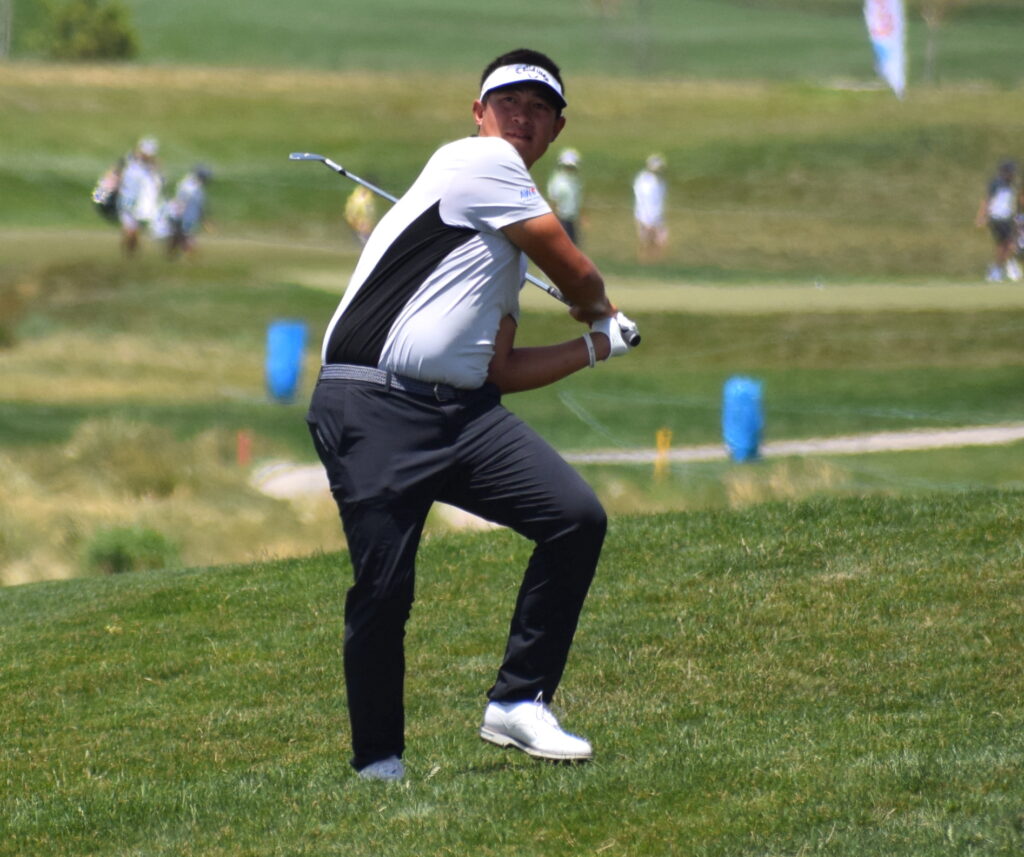 Dou, who had missed cuts in his three events prior to the Colorado stop, ended up shooting four consecutive rounds in the 60s at TPC Colorado (69-67-68-67) to finish at 17-under-par 271, a record total for the event.
"I knew that I should be confident (given his history). I shouldn't be scared of anything," said Dou, who finished seventh at TPC Colorado in 2019. "If there's anybody more nervous, it's not me. I should be the one that's relaxed because I know I have a better chance of playing good."
Yuan went 64-67 on the weekend to finish a stroke back, while Paul (66), Nunez (68) and Matthews (68) were tied for third, two back of Dou.
Davis Thompson, who placed sixth, also surpassed the points total needed to earn a PGA Tour card for next season. Nunez likewise would have clinched his PGA Tour card had he parred No. 18, but he failed to get up and down and made bogey. In all, 10 KFT players this season have locked up PGA Tour cards for the 2022-23 season.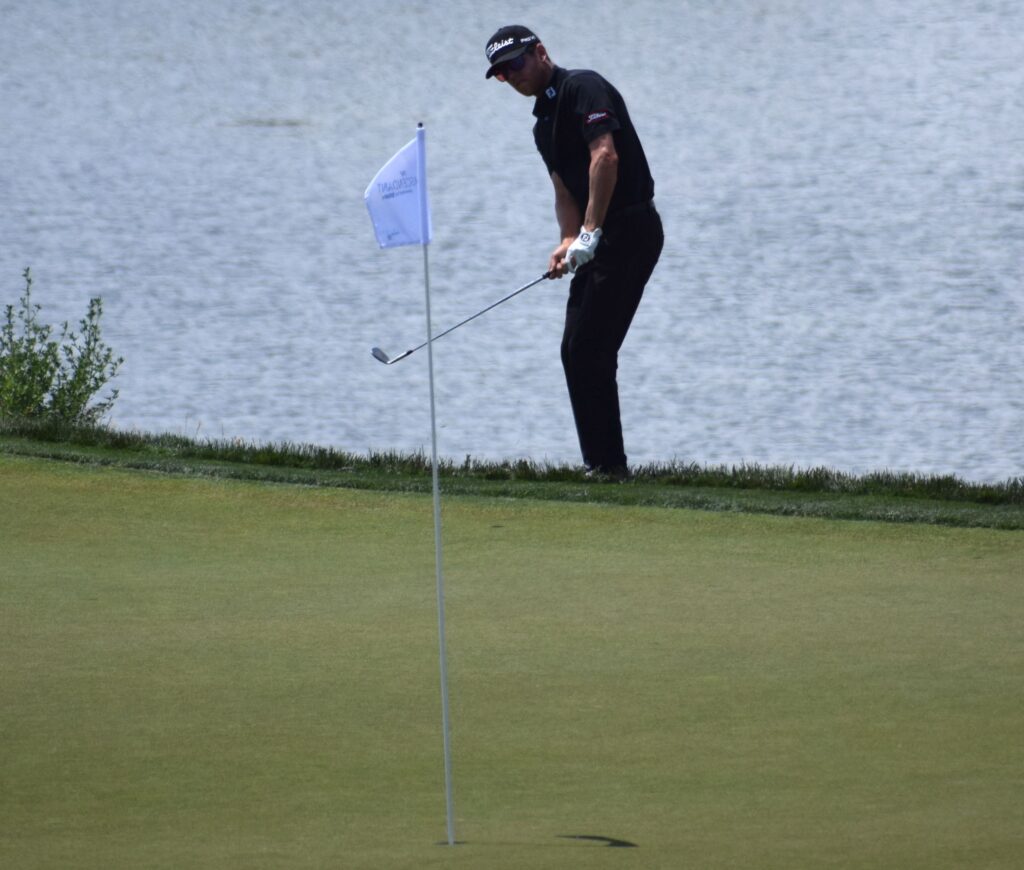 Stellar Week for Former Buff Jeremy Paul at 'Home': On Saturday, when asked about the prospects for Sunday's final round at TPC Colorado, Jeremy Paul set a goal for himself. "I'll be satisfied if I get it to 15 (under par)," he said. "That would be awesome."
Well, guess where Paul ended up finishing on Sunday at The Ascendant?
That's right: 15 under par, after a stellar closing round of 6-under-par 66. Alas, that wasn't quite good enough for a win for Paul, who started the final day three out of the lead at TPC Colorado. Despite gaining the final-round lead outright on the front nine and still being tied for the top spot through 15 holes, the former Buff ended up two strokes behind champion Marty Dou.
Still, Paul posted his best finish in 30 career starts on the Korn Ferry Tour — a tie for third place. That gives him three top-10 showings for the season. And this one coming in the state where he attended college made it extra special, especially with the considerable support he drew at TPC Colorado.
"It was awesome," he said. "That was what I dreamed of coming into this week — having a chance in the last couple of holes on Sunday. It feels like a home event to me. It was very special."
Paul said on Saturday that the key to making a run at the title was a good start, and he certainly accomplished that on Sunday. A birdie on No. 3, eagle on 5 and birdies on 6 and 7 left him 5 under par for the day through seven holes — and in the outright lead.
Paul finished the week with the most eagles at The Ascendant: three, with two coming on No. 5, where on Sunday he hit a 5-wood from 260 yards and drained a 20-foot putt.
"That kind of got the round going," he said.
Paul added birdies on 11 and 15, was still bogey-free for the day and found himself in a three-way tie for the lead. But on the par-3 16th, a shot with a gap wedge sailed a bit and finished just over the green. His chip came up 13 feet short of the hole and he missed his putt left of the hole, making his first bogey of the day.
"I thought I had a perfect club there," he said. "It's a really difficult shot because it's kind of boxed in with the clubhouse (behind the teebox). I knew it was downwind, but when you're standing up there it feels into the wind. It's really tough to trust it. I thought I hit a good golf shot, but the ball really sails from up here. It kind of nestled in against the collar of the rough. I got kind of stuck on the chip a little bit. … It's tough to judge the wind correctly. But I hit really good shots down the stretch, and that's all you can really ask for."
Paul parred the formidable 17th and 18th holes en route to his 66.
"I really didn't hit any bad shots coming down the stretch," Paul said. "It's not that I'm upset about anything. Maybe next time it will be enough."
The third-place showing left Paul 33rd on the season-long KFT points list. If he can make his way into the top 25 when the regular season ends in mid-August — there's four events left — he'll earn his PGA Tour card. Another performance similar to the one at TPC Colorado would just about do the trick.
"I know I need another week the same as this week to have a really good chance of getting that Tour card," he said. "But I'm not trying to look that far ahead because it really depends on what a lot of other people are doing as well. I'm basically just trying to win the tournament. If it ends up being enough in the end, that's awesome. If not, you still have the Korn Ferry Tour Finals where you can get your PGA Tour card (by finishing in the top 25). I feel like my game is trending, and I'll try to ride the wave the next couple of weeks. Next time who knows? Maybe I'll be on top."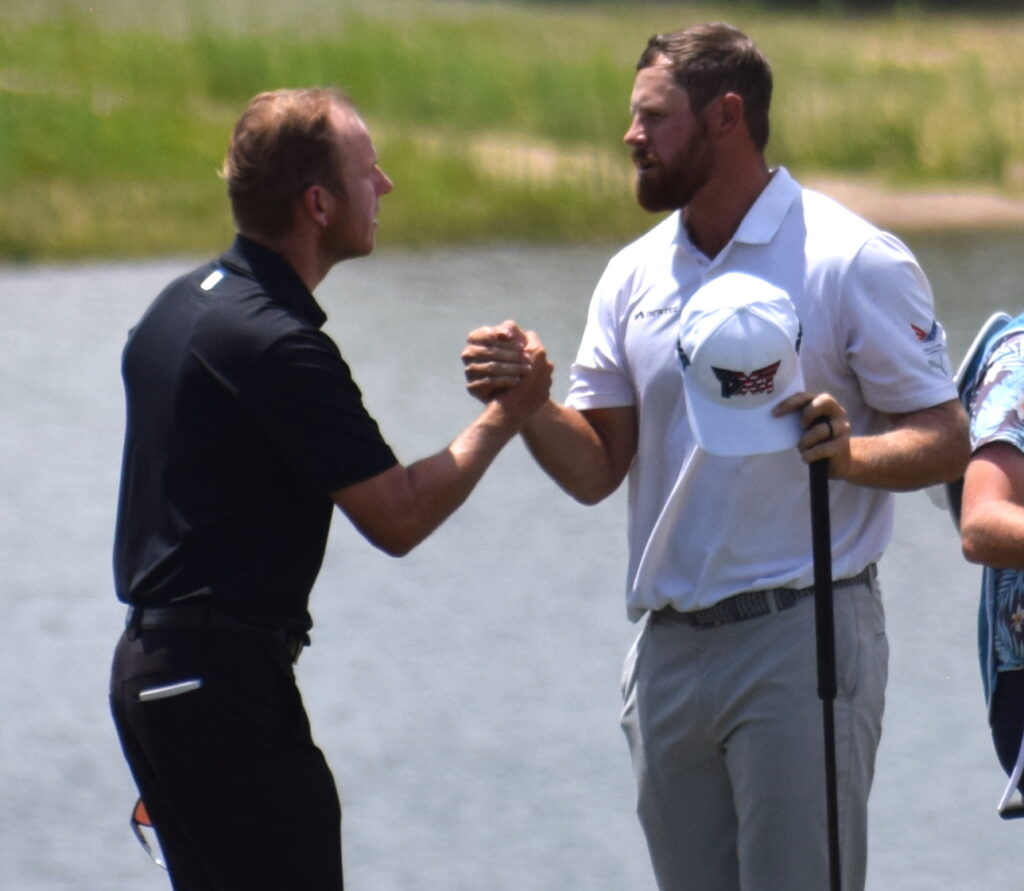 On Sunday, Paul was in a threesome that included former Air Force Academy golfer Kyle Westmoreland. Paul remembers that one of his first events as a CU golfer, he was paired with Westmoreland the week the latter won the Gene Miranda Falcon Invitational in 2013.
Westmoreland on Sunday tailed off a little, shooting a 1-under 71 and finishing at 9 under overall, good for 23rd place. He now stands in 49th place on the 2022 KFT points list.
"You needed to make birdies today and I got off to a little bit of a slow start," said Westmoreland, who after his college days also lived in Colorado from 2017-19. "Birdies weren't come easy today. But honestly this is one of the best tournaments of the year, if not the best. The fans were great. It gets the juices flowing a little bit. I didn't play as well as I would have liked today, but it was a great week and I always love being back in Colorado."
Here are the scores of all the players with major Colorado connections who competed at TPC Colorado:
3. Former CU golfer Jeremy Paul 67-71-69-66—273
23. Former Air Force Academy golfer Kyle Westmoreland 73-68-67-71—279
37. Sam Saunders of Fort Collins 73-69-70-70–282
64. Former Air Force Academy golfer Tom Whitney 69-74-69-74–286
67. Zahkai Brown of Golden 72-69-72-74–287
67. Highlands Ranch native Derek Oland 70-73-69-75–287
70. Jake Staiano of Englewood 74-69-72-73–288
Missed 36-Hole Cut
Geoff Keffer of Lakewood 70-76–146
Dan Erickson of Loveland 75-72–147
Former Colorado School of Mines golfer George Markham 74-75–149
Boulder County native George Cunningham 76-75–151
Tyler McCumber of Lyons 78-WD

Notable: A former NHL player who lives in northern Colorado caddied for winner Marty Dou this week. Drayson Bowman played in the NHL for the Carolina Hurricanes and briefly for the Montreal Canadiens. He also competed for the Colorado Eagles before hanging up his professional skates. … A total of 613 volunteers, coming from 16 different states, worked this year's Ascendant at TPC Colorado. … The TPC Colorado stop marks the end of 10 consecutive weeks of Korn Ferry Tour events. Next week is an off week.