Birdie on formidable final hole gives Argentina's Ledesma title in inaugural TPC Colorado Championship at Heron Lakes; for the week, estimated 20,000 people attend tournament in Berthoud
By Gary Baines – 07/14/2019
It started raining during the middle of the awards ceremony following the inaugural TPC Colorado Championship at Heron Lakes on Sunday evening.
But that certainly couldn't put a damper on the festivities — for champion Nelson Ledesma from Argentina, or for club officials and tournament organizers, who had witnessed a memberable debut for the Korn Ferry Tour event.
Club executives estimated that 20,000 people attended the event for the week, a number which was many, many times bigger than the previous time the KF Tour held an event in Colorado, in 1996 and '97 at Riverdale Dunes in Brighton.
And Ledesma also left the tournament with a fantastic finish that seemed appropriate for a first-time event.
Ledesma, who was no worse than tied for the lead after every round this week, came into the final hole at TPC Colorado in Berthoud sharing the top spot with playing partner Brett Coletta of Australia. After Coletta missed a birdie attempt from 35 feet — with his ball up against the first cut of rough — Ledesma drained a slightly downhill, 20-foot birdie, punctuating the moment with a clenched fist and a huge smile.
"Right when the ball was 6 feet (short of) the hole, I was like, 'This is mine,'" the 28-year-old said through an interpreter.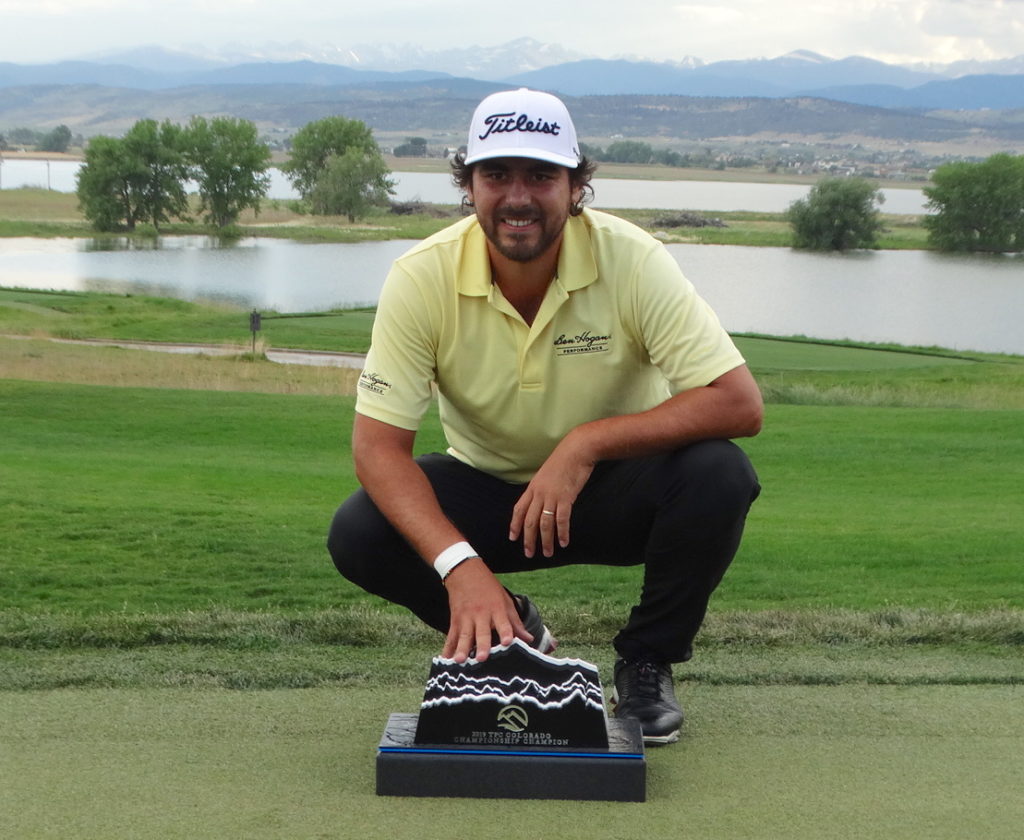 The par-4 18th hole yielded the fewest birdies for the week at TPC Colorado — 19 — but Ledesma landed the biggest of them.
"This week was different," he said. "I was with my entire team and friends, staying together in a house. We played cards every night, I won all the time so that gave me the confidence. It was a great week to have."
It was Ledesma's second victory on the Korn Ferry Tour and it was worth $108,000, But, far more importantly, it assured him his PGA Tour card for the 2019-20 season as one of the KF Tour's top 25 points leaders during the regular season.
"It was my dream right when I started to play," said Ledesma, who turned pro at age 16 in 2007. "My dad encouraged me because he saw something in me. I'm from the same town (in Argentina, Tucuman) as Andres Romero, and seeing that Andres Romero got to the PGA Tour, that made me want to take it to the next level."
The victory moved Ledesma up to fourth on the 2019 Korn Ferry Tour points list.
Ledesma shot a 2-under-par 70 on Sunday as his birdie on 18 snapped an 10-hole par streak. He overcame a double bogey on No. 4 and finished the day with five birdies, one bogey and one double bogey to leave him at 15-under 273 overall.
Ledesma became the first player to hold or share the lead after every round at a Korn Ferry Tour event since Xinjun Zhang did so at the Dormie Network Classic at Briggs Ranch in late April.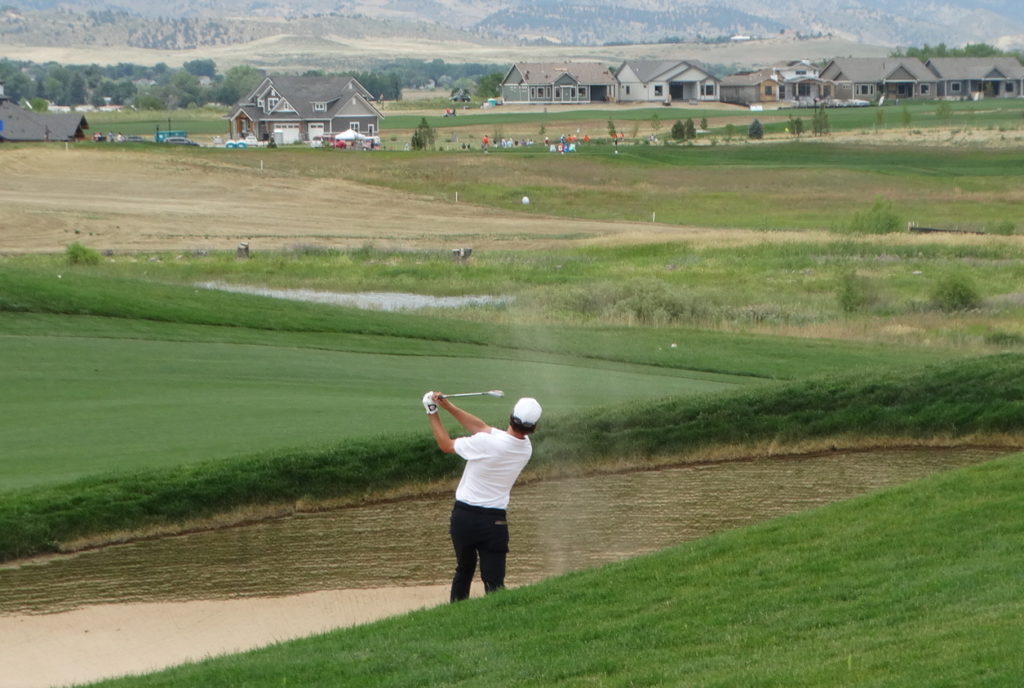 Colletta placed second at 274 on Sunday after a closing 71 in which he clawed back into contention after a brutal start. On the par-5 opening hole, where playing partner Ledesma made a two-putt birdie, Coletta hit his tee shot into a sod-faced fairway bunker, had to explode out almost sideways, eventually got onto the green in four and three-putted for a double-bogey 7.
"I got off to a terrible start, so I was struggling to get moving," the Aussie said. "But I'm just proud of myself the way I handled it. It could have gone haywire real quick."
But after being 3 over for the day through 5 — he made a 6 on the second par-5, No. 5 — Coletta played a bogey-free 4 under the rest of the way. His 6-foot birdie on No. 17 tied Ledesma, only to see the Argentine reverse the tables on 18.
"We tightened the screws the last two holes," Coletta said. "I made a birdie on 17 to put pressure on him and he just came back and holed a 20-footer on me on 18. That's just golf.
"It's hard to swallow. I've been in this position before. It's not nice, but I'm just happy with the way I played. This great golf course is such a good test."
As a consolation prize, Coletta moved into 25th place on the Korn Ferry points list for the season.
Americans Michael Gellerman, Scott Harrington and Harry Higgs joined South African Dawie van der Walt in a tie for third place at 275.
Play didn't conclude on Sunday until about 7 p.m. as there was a lightning delay of about 1 hour and 45 minutes during the final round.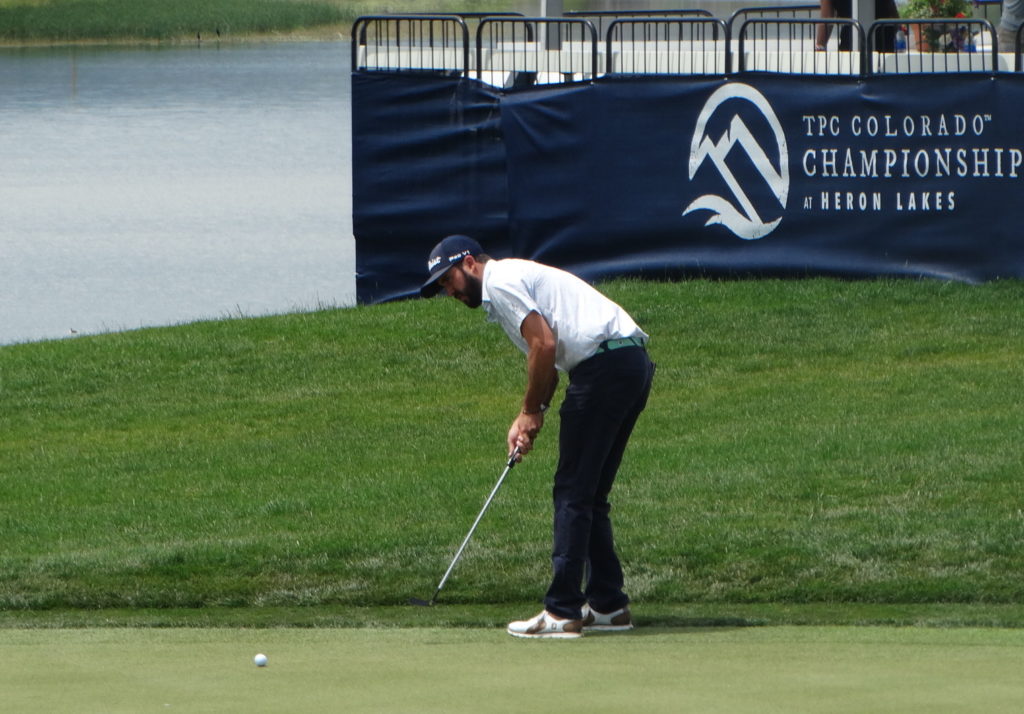 Hubbard Wouldn't Be Surprised to See PGA Tour Come to TPC Colorado: Denver native Mark Hubbard enjoyed competing in the inaugural TPC Colorado Championship at Heron Lakes, but with all due respect, he hopes he doesn't return — at least not with the event in its current iteration.
You see, Hubbard has won once this year on the Korn Ferry circuit and will be back on the PGA Tour next season as he'll easily finish in the top 25 on the Korn Ferry Tour's regular-season points list, which earns him that promotion. And with this being the first year of a five-year contract the Korn Ferry Tour has to hold a tournament at TPC Colorado in Berthoud, it would probably take losing his PGA Tour card for Hubbard to return during that period.
But still, even if he does retain his PGA Tour card for the next several years, Hubbard wouldn't be surprised if he competes at TPC Colorado again.
"I really like the course," he said after completing play on Sunday. "It's only going to get better as it ages. Right now I think it's still a little young, but it's really good. I wouldn't be suprised if in five or six years the PGA (Tour) takes this tournament over.
"Hopefully the PGA will get it and I'll come play again on that tour."
Hubbard, the CJGA Boys Player of the Year in 2007 and a graduate of Colorado Academy, was the top finisher this week among the players with strong Colorado connections. He placed 37th overall, going 74-67-73-70 for a 4-under-par 284 total.
"It was an awesome experience," said Hubbard, who now lives in the Houston area. "It's always great to be back home. Obviously, us golfers, we're never satisfied. You always want to play better. But realistically, I shot 40 on my opening nine, so the fact that I was even playing today was kind of a gift."
Two Coloradans who Monday qualified for the TPC Colorado Championship made the cut, with Denver resident James Love placing 49th at 286 and Golden's Zahkai Brown coming in 59th at 288.
"Last Sunday at this time I was playing a practice round for a Monday qualifier, so it's not too bad," said Love, who plans to play in the CoBank Colorado Open July 25-28.
Here are the final results at the TPC Colorado Championship for all the players with strong connections to the Centennial State:
37. Denver native Mark Hubbard 74-67-73-70–284
49. Denver resident and former DU golfer James Love 68-75-71-72–286
55. Former Fort Collins resident and Air Force golfer Tom Whitney 70-73-69-75–287
59. Golden resident and former CSU golfer Zahkai Brown 73-70-70-75–288
Missed 36-Hole Cut
Boulder native George Cunningham 72-74–146
Former Golden resident Andrew Svoboda 73-73–146
Cherry Hills Village resident David Duval 77-72–149
Cheyenne resident and former CU golfer Josh Creel 70-79–149
Denver resident Michael Schoolcraft 73-80–153
Lone Tree resident and former CU golfer Tom Gempel 73-80–153
Part-time Boulder resident and former CU golfer Jonathan Kaye 79-76–155

For all the scores from the TPC Colorado Championship, CLICK HERE.