Colorado Golf Hall of Famer Kent Moore 'three-peats' — and wins 4th title overall —in CGA Super-Senior Match Play
By Gary Baines – 7/14/2022
There's certainly no such thing as an unbeatable golfer, but Kent Moore of Cherry Hills Country Club has gotten pretty close when it comes to competing in the CGA Super-Senior Match Play.
On Thursday at The Broadlands Golf Course in Broomfield, the Colorado Golf Hall of Famer won the event for the third consecutive year — and for the fourth time in six tries since 2017. With victories in two more matches on Thursday, he's now won an amazing 17 straight matches in this championship, with one of those 17 being a bye.
Five consecutive match victories en route to the title in 2020, and six each in 2021 and '22.
That's quite a run without any significant hiccups.
"For that to happen, you have to get a couple of really good breaks," Moore said. "You have to have good players (elsewhere in the draw) beat each other, and you have to get some breaks. Most of the guys can beat each other on a particular day. So a good break or two really helps."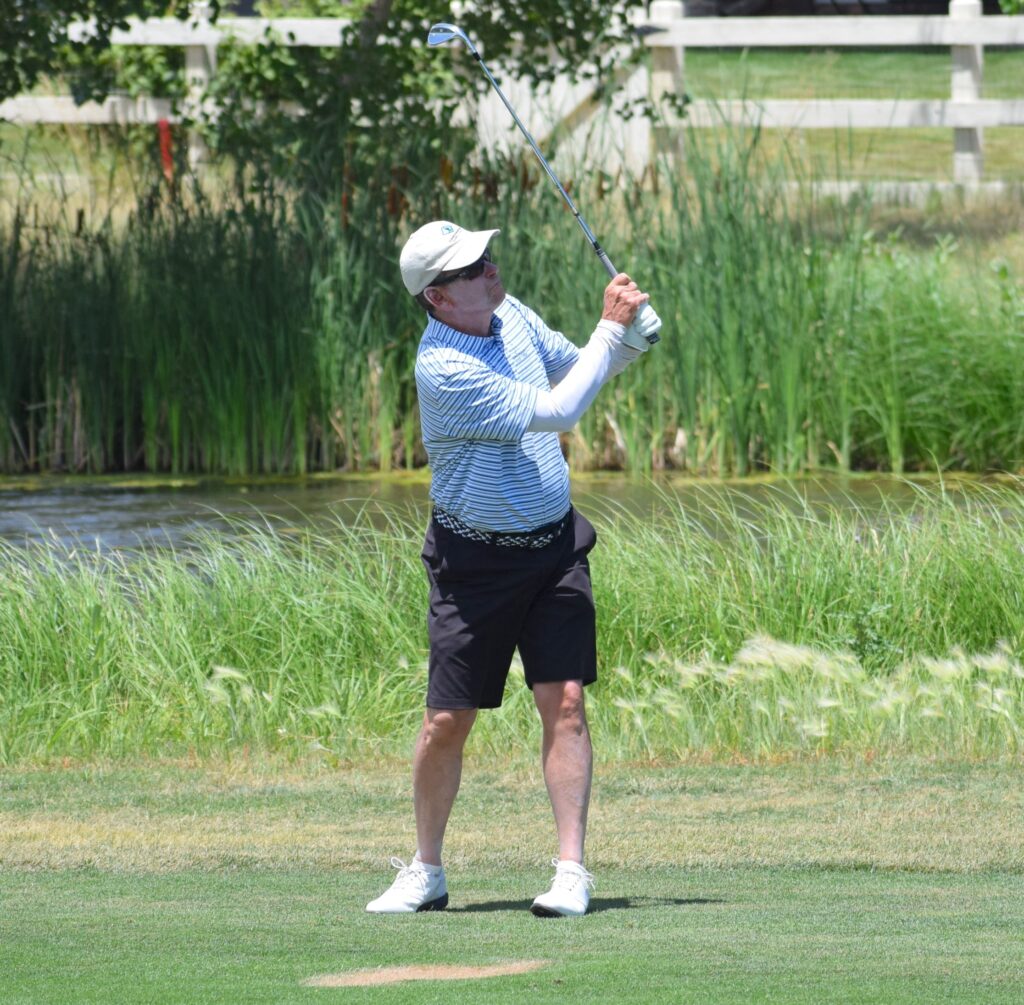 The current president of the CGA capped off the latest title on Thursday afternoon with a 5-and-3 championship-match victory over David Nelson of Columbine Country Club, winner of the 2020 CGA Super-Senior Amateur. Earlier in the day, Moore defeated Ben Hargis of the Metro Denver eClub 2 and 1 and Nelson beat Greg Mokler of Harmony Club 4 and 3 in the semis of the event that's limited to competitors 65 and older.
Against Nelson in the final, Moore hit every green in regulation and sank putts of 35, 12, 10 and 7 feet, and was conceded a 5-foot eagle that clinched the victory on the 15th hole. He finished 4 under par for 15 holes, with his only bogey being of the three-putt variety. And he remembers making just four bogeys total in the five matches in which he actually competed this week. Suffice it to say the 66-year-old didn't make many mistakes for which Nelson could take advantage.
And with that, Moore had his Super-Senior Match Play "three-peat."
"It feels great. My wife (fellow Colorado Golf Hall of Famer Janet Moore) won (a CGA championship) four times in a row back in the '90s," he said, referring to the CGA Women's Stroke Play from 1994 through '97. "So I'm still one behind here. If I can win four in a row I can say we've both won four in a row. It's my incentive for staying in shape for next year," he said with a smile.
Overall, Moore has 11 individual CGA championship titles to his credit, plus six more victories in team events (three with wife Janet, two with son Steven and one with Steve Bell). All in all, it's quite a resumé, with the first victory coming at the 1973 CGA Junior Match Play.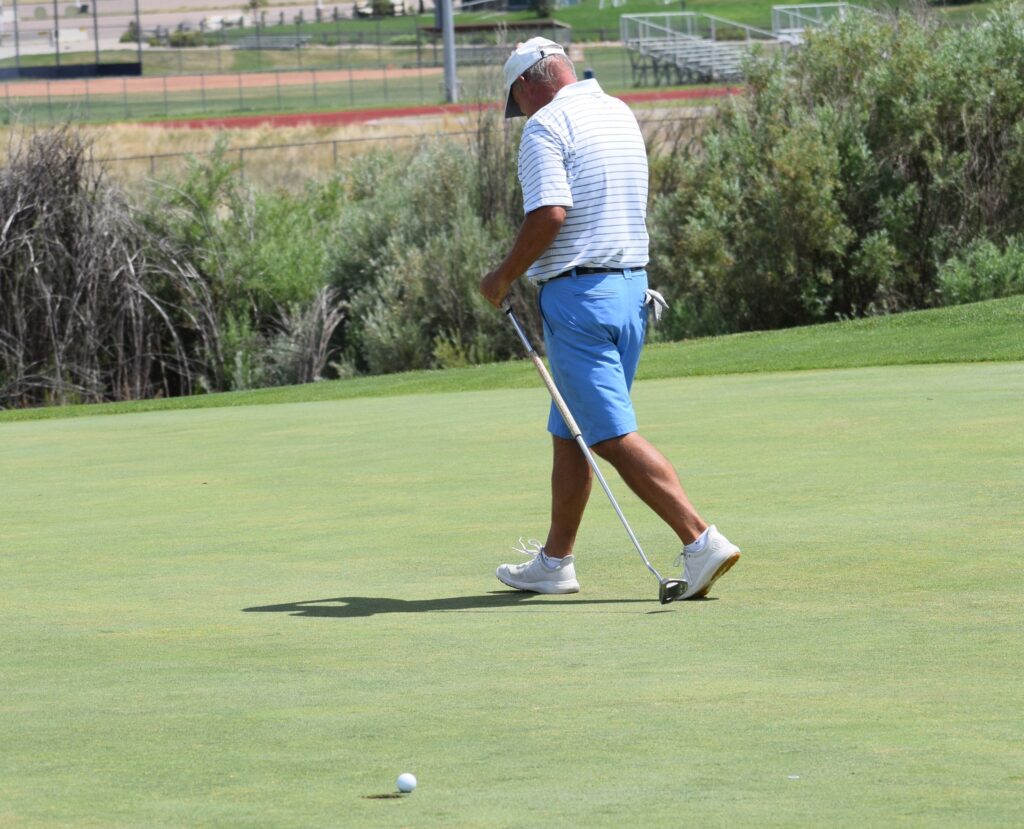 All told, out of his 11 individual CGA titles, seven have coming in match-play events.
"I've always loved match play," Moore said. "It can be very frustrating but it also can be very fun. And it takes away a certain stress of 'let's just try to make it' because you're not always worried about the grinding (over a putt) coming back. It can be a lot more fun to play."
In Thursday's final, Nelson sank a 30-foot birdie putt to tie hole No. 5 after Moore had just drained a 35-footer. Then Nelson made it back-to-back birdies with a 10-footer on No. 6 that tied the match.
But that's where things started going awry for Nelson, a 66-year-old who has won seven state amateur titles in Nevada in addition to his one in Colorado. Moore won four straight holes — 7 through 10 — as Nelson struggled with tee shots on the last three holes of the front nine, including sending one into the water on No. 8.
Moore went ahead for good with a 12-foot birdie on No. 7, then won 8 and 9 with pars, and holed a 10-foot birdie on No. 10. So within about an hour, the match went from tied to Moore being 4 up.
"Against Kent, obviously you have to play well, and I did not drive the ball well today," said Nelson, who had seen only one of his first five matches reach the 17th or 18th holes. "My earlier matches I drove the ball much better. I made a couple of nice putts on 5 and 6 (against Moore) to get back to even. Then just terrible tee shots on 7, 8 and 9 and I lose all three holes. Then Kent hit just a brilliant second shot on 10. Here I think maybe I'm going to get one back there (being in the fairway while Moore was shorter and in the left rough), but he makes a great shot and makes it for birdie and I go 4 down at that point.
"Unfortunately my timing with my driver and 3-wood was just off with the tee shots today. You can't do that against a great player like Kent."
Both players three-putted for bogeys on No. 11, then parred the next three holes. On No. 15, Moore split the fairway with his drive and hit his second on the par-5 to 5 feet short of the flag. Nelson, thinking his second shot lost, conceded the match at that point, though his ball was later found.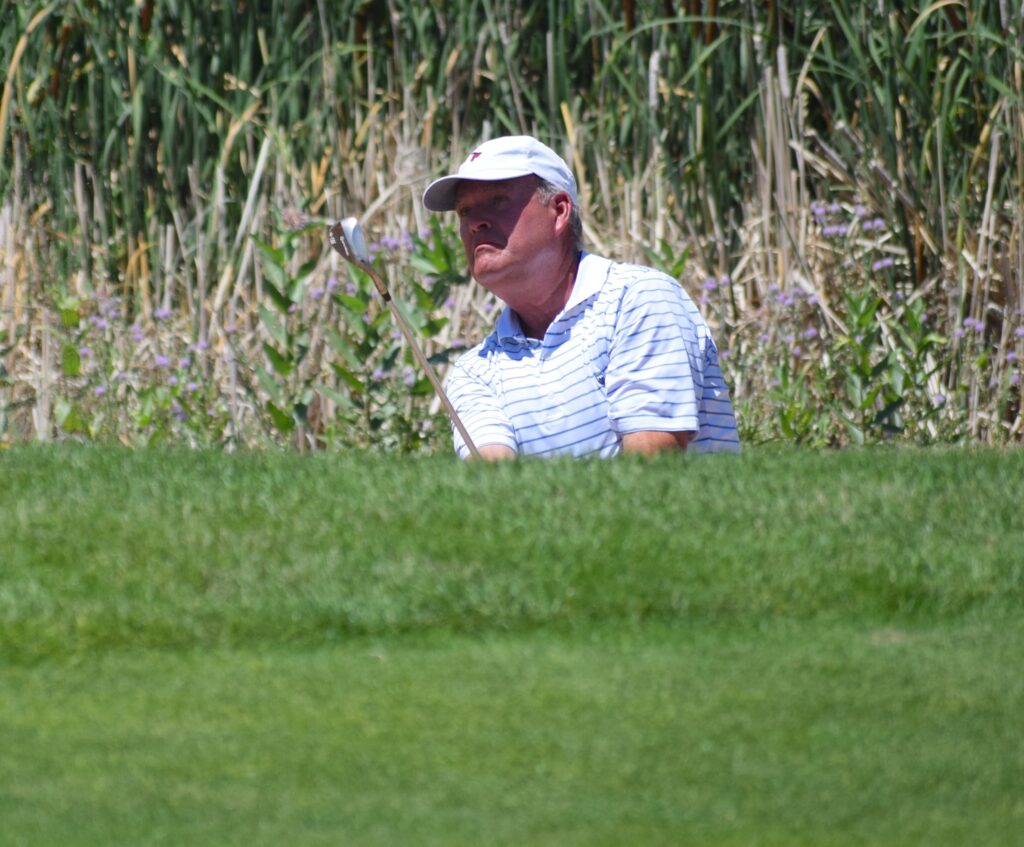 Nelson arrived back home in Colorado on Sunday night after competing — and finishing 46th — in the British Senior Amateur. He then awoke at 5 a.m. on Monday in anticipation for his first match at The Broadlands. While, like Moore, Nelson played in four matches in two days Wednesday and Thursday, he didn't want to use fatigue as a reason his game wasn't quite as sharp in the final.
"I'm not going to use that as an excuse," Nelson said. "It might have factored in after two long weeks. The timing with the driver and the 3-wood for whatever reason was a little off in the afternoon match. I was disappointed with the tee shots on 7, 8 and 9, and that pretty much sealed my fate. But I won't use (fatigue) as an excuse."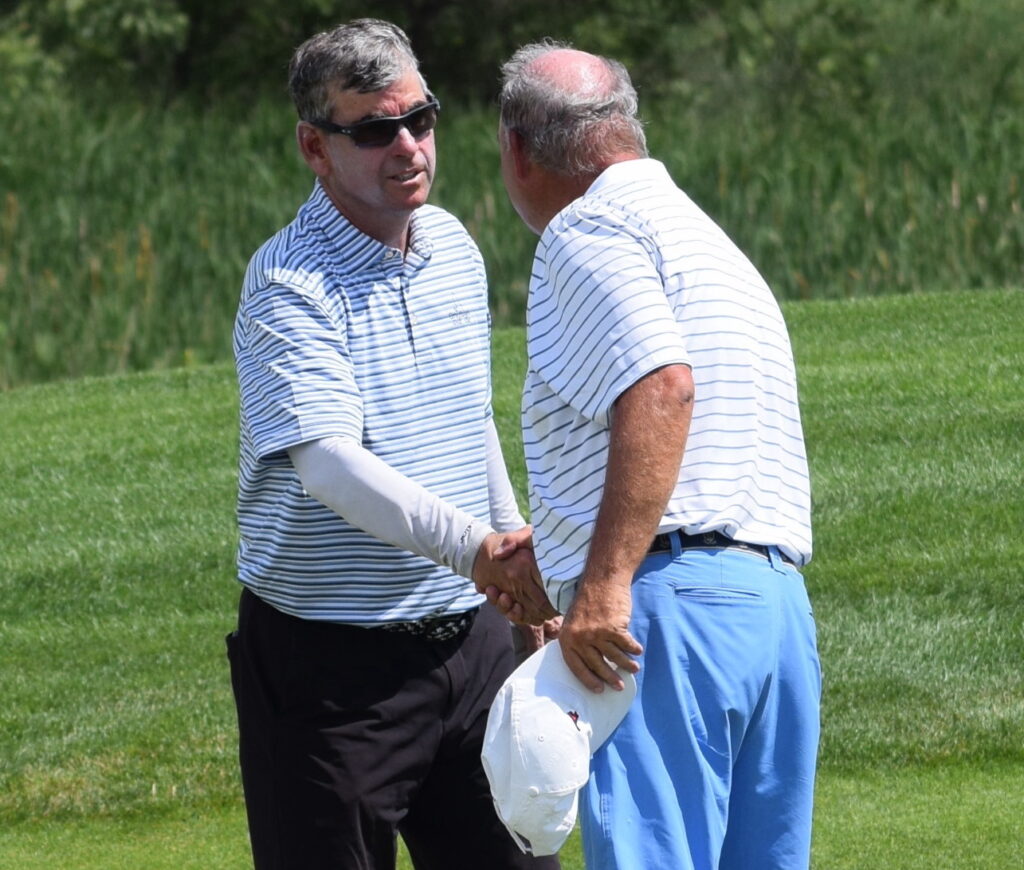 As for Moore, a putting tip earlier this week from wife Janet helped his cause.
"She fixed my putting a little bit," he said. "I'd just gotten really closed (with his stance). And she said, 'Wow, you're just so closed.' And that (subsequent adjustment) helped me see the line a lot better. I hit a lot of putts that I thought might go in — and some did. I putted really well all week. I was reasonably good at lagging it, which was a big help."

CGA Super-Senior Match Play At The Broadlands GC in Broomfield
WEDNESDAY'S QUARTERFINALS
Kent Moore, Cherry Hills CC, def. Jim Reynolds, Bear Creek GC, 19 holes
Ben Hargis, Metro Denver eClub, def. Sean Forey, The Club at Rolling Hills, 20 holes
David Nelson, Columbine CC, def. Robin Bradbury, TPC Colorado, 3 and 2
Greg Mokler, Harmony Club, def. Rick George, Castle Pines GC, 1 up
THURSDAY'S SEMIFINALS
Kent Moore, Cherry Hills CC, def. Ben Hargis, Metro Denver eClub, 2 and 1
David Nelson, Columbine CC, def. Greg Mokler, Harmony Club, 4 and 3
THURSDAY'S FINAL
Kent Moore, Cherry Hills CC, def. David Nelson, Columbine CC, 5 and 3
For all the results from the CGA Super-Senior Match Play, CLICK HERE.