Round that starts with double bogey and features 6 straight birdies brings Coloradan Jake Staiano within 1 of Dru Love's lead at Colorado Open; amateur Parker Edens 3 out of top spot
For scores from the CoBank Colorado Open, CLICK HERE.
By Gary Baines – 7/30/2021
The surge has come a little earlier in the tournament this time around, but it would be understandable if Jake Staiano had a certain sense of deja vu this weekend at the CoBank Colorado Open.
Four years ago, as an amateur, the golfer from Englewood shot a stellar round at Green Valley Ranch Golf Club (a 64 in that case) to get within two strokes of the lead heading into the final round. The next day, he birdied the first two holes to tie for the top spot before Jonathan Kaye pulled away for the title and Staiano finished eighth.
Fast forward to this week, and Staiano (now a pro) carded a another stellar round at GVR (a 6-under-par 65 in this case) to inch within a stroke of the lead at the halfway point of the Colorado Open.
How things will play out this weekend remains to be seen, but Staiano believes he's a more complete player now than he was four years ago.
"I didn't have the mindset (in 2017) that there are so many birdies out here," the 24-year-old said. "Now if I make a par on a par-5 or one of the short par-4s, I know there are more birdies that are going to come. I've just got to kind of let it happen.
"Understanding that one hole isn't really going to dictate anything is what I took from (contending in 2017). And now, I have a really good game plan and I have a lot more control of my ball and my wedge game is better than it was a couple of years ago. Overall, I'm just better than I was in 2017. Believing that and keeping that confidence is key."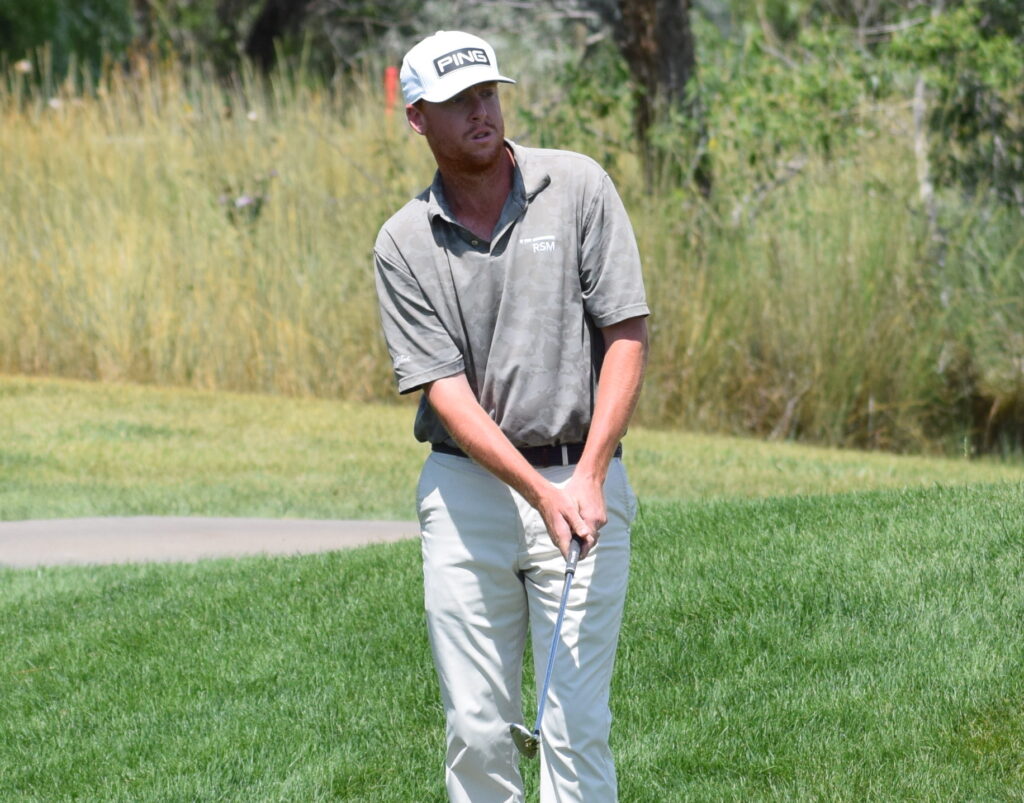 Dru Love, the 2018 champion and the first-round co-leader this week, retained the top spot on Friday with a 66 and he remains bogey-free for two days. And, like Staiano, he's confident going into the weekend.
"I won at the high school level, I won at the college level and I've won at the pro level, so I know how to get it done," said Love, son of World Golf Hall of Famer Davis Love III. "It's about putting yourself in the right positions and trusting your game.
"Honestly, the biggest thing for me this week is making sure my math is right. If I can do the correct math on every shot (in adjusting for altitude), I'm hitting it so good right now … You get to where you're hitting it so good that you feel like you can't miss the green. That's the way I feel right now. I haven't been this locked in and dialed in in a while, and it feels really good. Every pin — pin's on the left, pin's on the right, front pins — I'm getting to all of them."
Love will take a 12-under-par 130 total into the final two days, with Staiano one stroke behind. And there are 14 more players at 135 or better, so undoubtedly there will be plenty of movement on the scoreboard over the final 36 holes.
Just like there was on Friday for Staiano, a former CGA Player of the Year who played his college golf at Colorado State University.
He started out his round with a double bogey on No. 1. To avoid a drop in deep grass, he hit his second shot off a cart path, caught a flyer, and ended up in the bushes over the green.
"After walking off 1 green, I was probably in 50th place," Staiano said.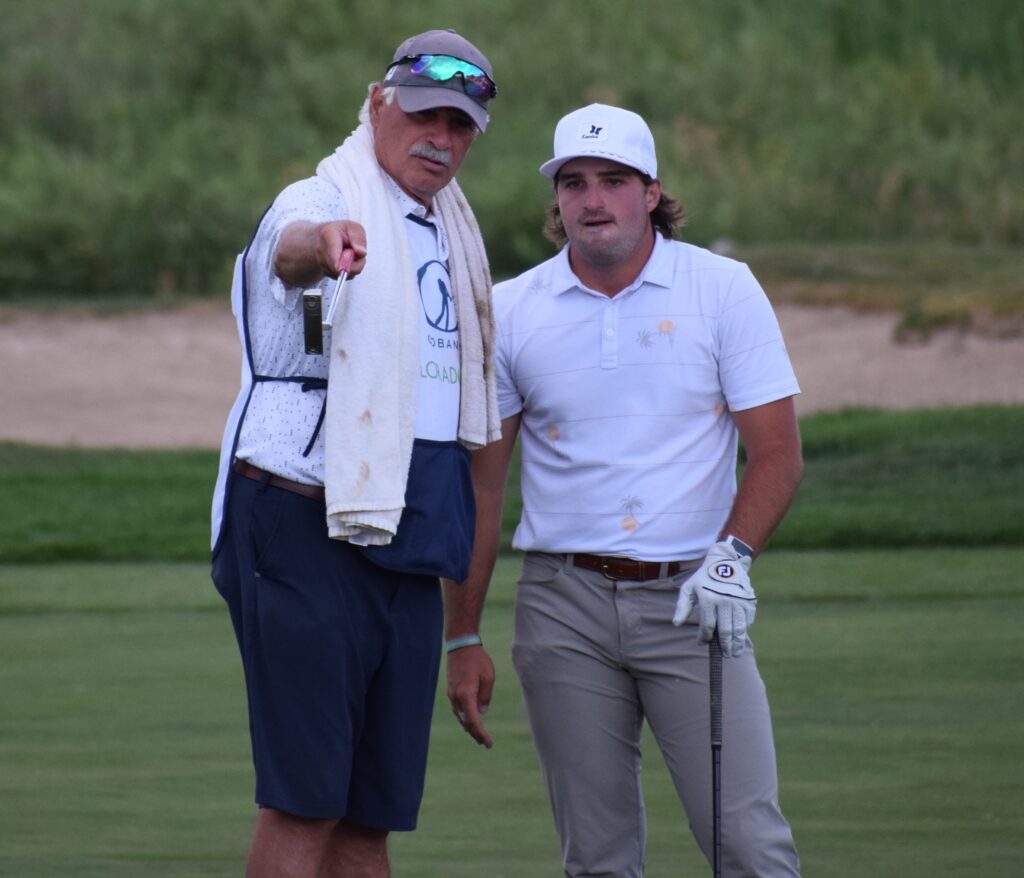 But after parring his next five holes, he ran off six consecutive birdies — his personal best for a tournament. Overall, he played his final 12 holes in 8 under par.
"It was a weird round," Staiano said. "I definitely put a little too much pressure on myself to start. … But I didn't really change my strategy or game plan. I stuck to it. I kind of loosened up after being a little tight early on. And I started hitting it close and made some putts. After that it was riding the momentum.
"It definitely feels good to bounce back."
For the record, none of Staiano's six consecutive birdies came from more than 8 feet.
Staiano has one victory under his belt as a professional, but wouldn't complain if No. 2 brings with it a $100,000 first prize — as the Colorado Open's title does.
"This would be a nice second one under the belt," he said.
Meanwhile, though Love won the Colorado Open title in 2018, the player that's in the lead this year may look much different to the casual spectator. And there's good reason for that.
Love said that since that victory at GVR three years ago, he's lost 65-70 pounds, going from 260 then to 190-195 now.
"I've worked really hard. And I didn't start doing that until a year and a half ago," he said. A company he works with arranged for "a great meal plan for me and an easy workout — nothing that makes me too sore and dreading going into the gym. They made it fun for me. I've lost 65-70 pounds. The energy levels, the overall confidence, feeling better, looking better, swinging better … And out here, when it's almost 100 degrees every day, being in better shape, I feel like I can play eight days in a row. A lot has changed."
But one thing Love hopes stays the same is his winning ways at GVR. On Friday, he made five more birdies and shot 66 despite not making a birdie on a par-5 or either of the drivable par-4s.
However things play out, Love is taking a simple approach to each round.
"In situations like this where I'm toward the lead, I try to win every day," said the 27-year-old from Sea Island, Ga. "If you're tied for the lead and you're the lowest round the next day, you're going to keep the lead. That's my game plan for the rest of the week: Take it one day at a time, not really focus on the leaderboard and try to beat everybody out here every day and try to win each round. I know if I do that I'll be good to go."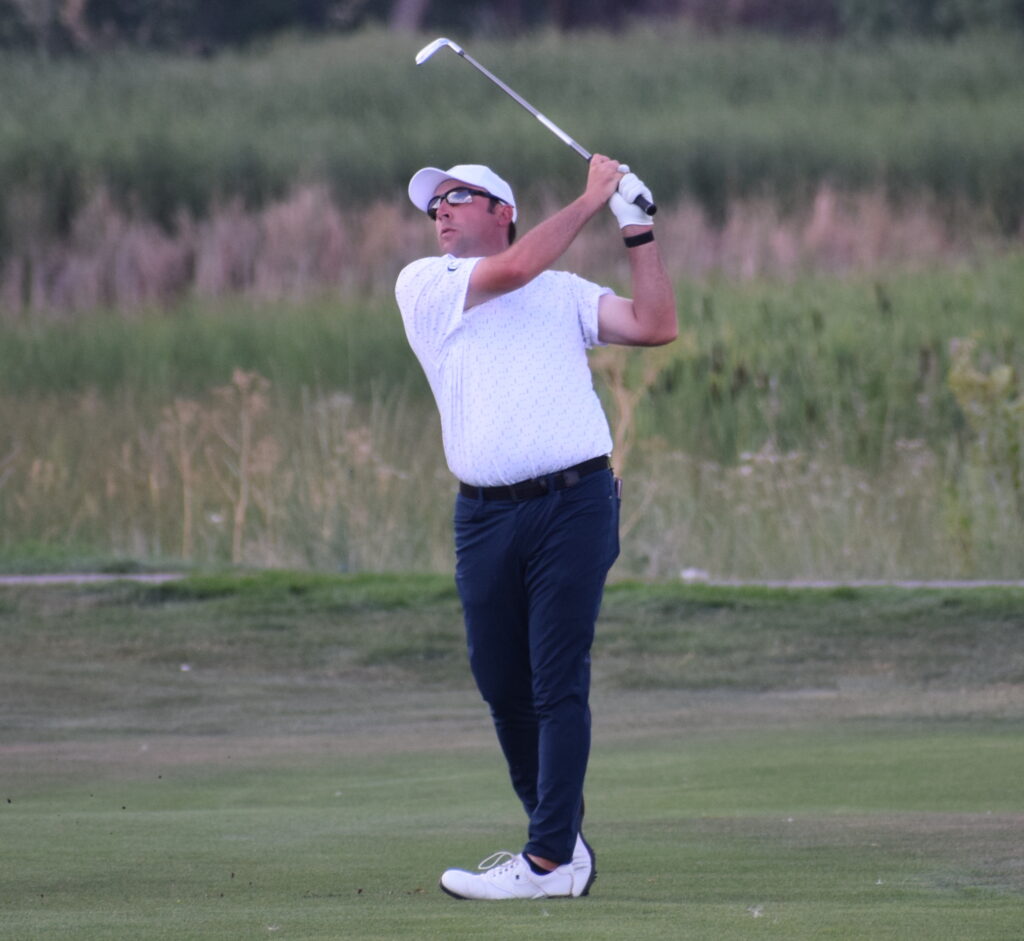 Amateur Parker Edens In Contention: While only two amateurshave won the overall title at the Colorado Open — Gary Longfellow in 1974 and Brian Guetz in 1994 — one is high up on the leaderboard at the halfway point this year.
That would be Parker Edens, a former pro and currently the assistant coach for the CSU men's golf team. Edens, runner-up in the CGA Amateur earlier this month, sits at 9-under 133, three back of Love and in a tie for third place. Edens backed up his first-round 67 with a 66 on Friday. Through two days, he's made 11 birdies and two bogeys.
"The putter got really hot" on Friday, the 31-year-old from Fort Collins said. "I was kind of waiting for that. I felt like I'd been reading putts well and hitting it good but not getting it started where I wanted to. That kind of changed a little bit today. I made a bunch of putts."
So with him three out of the overall lead, do expectations change for Edens?
"When I play my best golf, I'm playing just as good as I was when I was playing my best golf as a professional," he said. "You know how you try to win a good tournament? You win a golf tournament, low-am takes care of itself as well. Over the weekend, I'll just continue to give myself as many birdie chances as I can — just like I have the last few weeks — and see if I can get the putter hot again. It's kind of a putting contest out here at times, especially with how pure the greens are."
Sharing third place with Edens at 133 are 2006 champion Dustin White, a former resident of Pueblo West; Brendon Jelley of Tulsa and Alex Weiss of Pickerington, Ohio.

No Rust for Dustin White: White has a 10-month-old child and is the men's golf head coach at Washington State. Where he once made a living playing tournament golf, that's certainly no longer the case.
In fact, before this week, he last competed in a tournament in late 2019.
But you'd never know it by the way the 40-year-old has played so far at GVR. The former champ has posted scores of 66-67, leaving him at 9-under-par 133 and tied for third place going into the weekend.
"I've got a lot going on and my responsibilities are elsewhere, but it's been nice to kind of compartmentalize and just try to have fun," he said after making just one bogey in two days.
Asked if he was surprised that he's on the leaderboard after not competing in so long, White said, "A bit. I don't want to say I was surprised. I knew I could do it. But I didn't want to set expectations simply because I hadn't played. But I'm pleased with how I'm playing. If you had told me I could be 9 under through 36 holes, I would have gladly said, 'Alright, I'll take it.'"
White, who played his college golf at Washington State, left a career as a full-time player to become an assistant coach at WSU in 2014. Two years later, he landed the head coaching job at his alma mater.
His parents recently moved from Colorado to Pullman, so White doesn't have much family left in the state. But he still has friends here, and Colorado remains close to his heart.
"It's always nice to come back and see a familiar golf course and familiar faces," he said. "And Colorado is home, so I'm just enjoying the week as much as I can."
Besides winning the Colorado Open at GVR in 2006, White finished third in 2004 and 10th in 2007.

59-Year-Old Doug Rohrbaugh Posts Nifty 64: A couple of weeks ago, Doug Rohrbaugh of Carbondale was hemming and hawing that this might be his final Colorado Open. After all, at 59 he's no spring chicken — and he's in a barnyard full of big roosters.
But lo and behold, the oldest guy in the field this week at GVR — by five years — not only made the cut on Friday, but he's he's in the top 10. And, after a 7-under-par 64 in round 2 — which matches the low score of the tournament so far — he had reason to strut around with the roosters.
After being on the verge of a putter switch for the second round, the PGA professional who won the 2013 Colorado Senior Open and finished third in that year's Colorado Open went back to his original. And he subsequently made 138 feet worth of birdie putts — plus a 20-foot par — on day 2. He carded eight birdies (and one bogey) en route to vaulting up to ninth place at the midway point of the tournament.
"What's funny is I couldn't make anything yesterday (on the greens) and I went to grab a different putter out of the car," said the three-time winner of the Colorado PGA Professional Championship. "I putted out here for 45 minutes and I was going to switch. I took the putter out from yesterday, left it in the car when I came to warm up. And then I went back and got it out of the car. How prophetic was that move?"
And it didn't hurt that the former PGA Tour Champions card holder was keeping his hopes in check this week.
"Part of the thing here is I'm not expecting anything against these kids," he said. "Guys are hitting it 60 (yards)-plus past me. But my irons, I was just hitting everything so good.
"I just wanted to make the cut. The greens were soft, and that helped me, because if they're firm with me hitting what I'm hitting, I'd be having a hard time (stopping) the ball near the hole. So the soft greens were a pleasant surprise. Whoever watered last night, thank you."
One of the reasons Rohrbaugh decided to play in the Colorado Open this year — after skipping it in 2020 — was a desire to take another run at being both the Colorado PGA Player of the Year and Senior POY in the same year. He previously captured that "double" in a single year in 2018.
But whatever the reason, Rohrbaugh couldn't wipe the smile from his face after Friday's round.
"That was fun, I've got to tell you," he said. "To come out and shoot a round like that with the course set up even longer, what can I say? That was a fun, fun day obviously."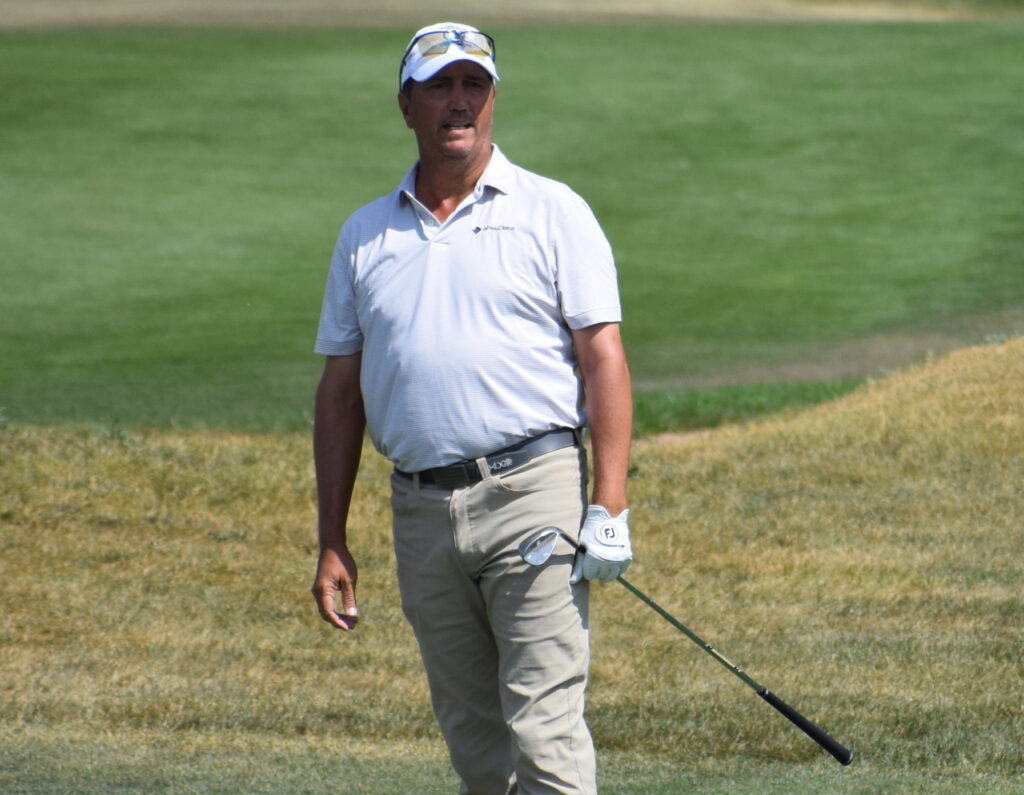 Shane Bertsch Enjoying Week Competing Back Home: Shane Bertsch of Parker is playing the Colorado Open for the first time since making his PGA Tour Champions debut last summer. With the Champions circuit not having a tournament this week, Bertsch wanted to tee it up in the tournament that's close to his heart. After all, he won it in 1998.
"I would probably have had to play a Champions event if there was one going on," he said. "But I'm home and get to sleep in my own bed. This was the tournament that kind of inspired me as a kid, so I wanted to play."
And he's doing more than just playing. Through two rounds, Bertsch shares ninth place at GVR (68-67–135).
After a Champions victory last August, Bertsch sits 29th on the season-long Charles Schwab Cup points list.

Notable: Tournament organizers had hoped earlier in the year to have a new Colorado Open Championships title sponsor in place by now, but they're still working on various options, according to Kevin Laura, the CEO of the championships. Currently, the tournaments are in their sixth year with CoBank as the title sponsor, but the company notified officials in 2019 that it wasn't going to be continuing in that role beyond the current agreements. … The 66 players who shot 1 under par or better for 36 holes made the 36-hole cut. Among those who failed to advance to the weekend was Zahkai Brown, who won the 2013 Colorado Open at GVR (68-79–147). … In the low-amateur competition, five players are 6 under or better through 36 holes. Last year's low-am, Colin Prater of Colorado Springs, and University of Denver golfer Cal McCoy sit two strokes behind Edens going into the weekend. Prater carded a 66 on Friday and McCoy a 69. … The 36-hole leaders — Love, Staiano and Weiss — will tee off for Saturday's third round at 9:15 a.m.