Tyson Alexander, with his stellar golf pedigree, grabs lead in TPC Colorado Championship; AFA grad Tom Whitney 'chips' away to make cut; Chris Korte's rally falls just short
***For all the scores from the TPC Colorado Championship, CLICK HERE.***
By Gary Baines – 7/9/2021
It's a statistic Tyson Alexander hopes holds true to form.
The previous two years of the TPC Colorado Championship at Heron Lakes, the 36-hole leader has gone on to win the tournament in Berthoud.
Alexander would be more than happy to follow in the footsteps of Will Zalatoris (2020) and Nelson Ledesma (2019) in that regard.
Alexander, son of retired longtime University of Florida men's golf coach Buddy Alexander, vaulted into the lead on Friday thanks to a 6-under-par 66 that came on the heels of a Thursday 65. At 13-under 131, he's within two strokes of the 72-hole winning totals posted by Zalatoris and Ledesma.
"I feel comfortable out here," said Alexander, who placed ninth at TPC Colorado last year and 19th in 2019. "This is my third time playing. It's kind of long, and I'm on the longer side. That doesn't scare me. There are some holes I can pick on."
Indeed, through two rounds, Alexander has posted 15 birdies and two bogeys. It's little wonder why he feels comfortable.
Alexander, a 32-year-old from Gainesville, Fla., started out the 2020-21 KFT wraparound season with seven consecutive missed cuts, but in late April of this year he picked up his first Korn Ferry victory at the Veritex Bank Championship in Arlington, Texas. He also owns a runner-up finish from last August.
"I always thought I could win out here," he said. "It's a big accomplishment. Winning is a big deal, but for me, it was back to business. I still need to play pretty well to get my (PGA Tour card for 2021-22). That's just the mindset I'm taking: keep your head down and keep plugging."
Alexander has quite a golf pedigree. His dad, Buddy, won the 1986 U.S. Amateur and coached the University of Florida men's golf team for 27 years, winning two national titles. Tyson's grandfather, Skip, won three times on the PGA Tour and played on the 1949 and '51 U.S. Ryder Cup teams.
Asked some of the key things he's learned from his family members, Alexander said, "I'm 32 years old. There's 32 years of knowledge there. My grandfather wasn't around long enough for me to pick his brain a lot. (But) coming from a golf family, there's a lot of knowledge there."
Going into the weekend, Alexander holes a two-stroke advantage over first-round leader Taylor Moore and Jonathan Randolph, who shot 70 and 67, respectively, on Friday.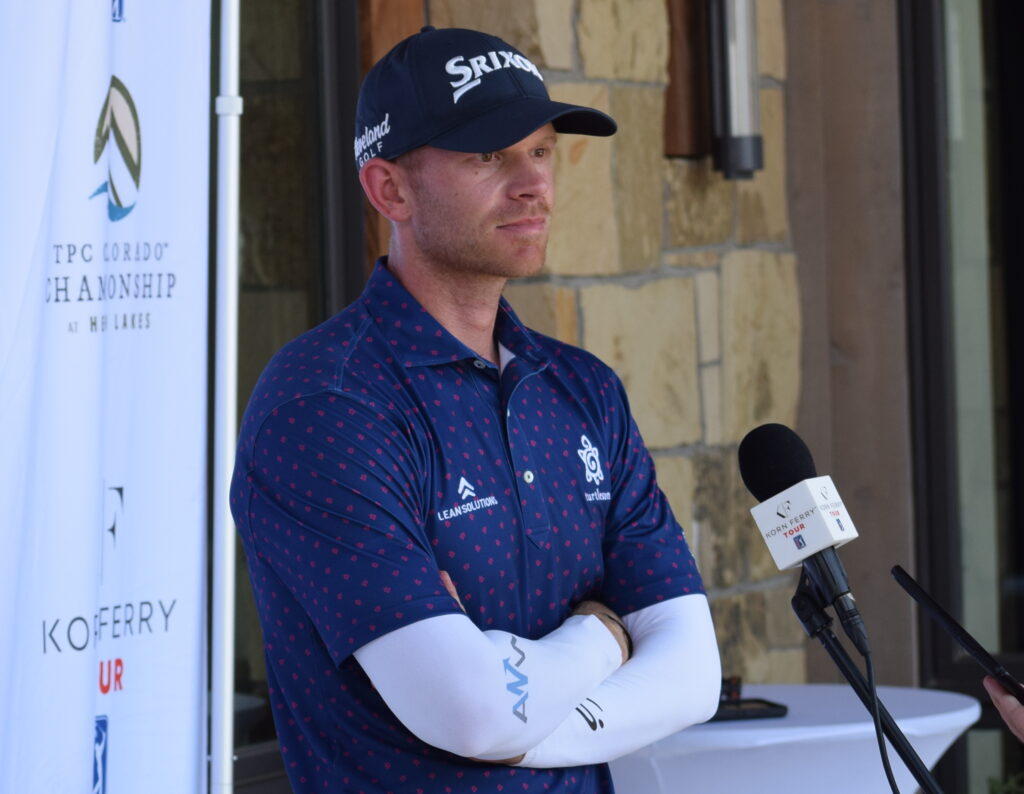 Jared Wolfe, a two-time KFT winner this season who placed 10th at TPC Colorado last year, is in position to earn an immediate promotion to the PGA Tour, which would come with a victory on Sunday. After rounds of 67-68, he shares fourth place with Kevin Yu.
"I love being out here," Wolfe said of TPC Colorado. "I played well last year here. Just coming out and seeing the mountains and everything like that makes golf a little easier. The golf course is great. I love it. The tee shots all set up the way I like it. I just love everything about it: the way you have to play position with the greens being firm and fast, the rough being 8 inches tall; it's just a good test. It's a lot of fun to play."
Former AFA Golfer Tom Whitney Going Chip-In Crazy at 15th Hole: All in all, Tom Whitney owes a debt of gratitude to the 15th hole at TPC Colorado — and to his wedge. If it weren't for them, he'd be much further down the scoreboard at the TPC Colorado Championship at Heron Lakes.
The Air Force Academy graduate and former Fort Collins resident had no problem making the 36-hole cut on Friday, but it wouldn't have been nearly so easy if not for chip-ins at the par-5 15th on both day 1 and 2.
That's right: Through two rounds, Whitney has not needed to use his putter at all on the hole as he pitched in for eagle from below the green on Thursday, then chipped in for birdie from left of the green on Friday.
"I'd like to say I know how the green is rolling, but I haven't hit a putt on it," he said with a smile on Friday.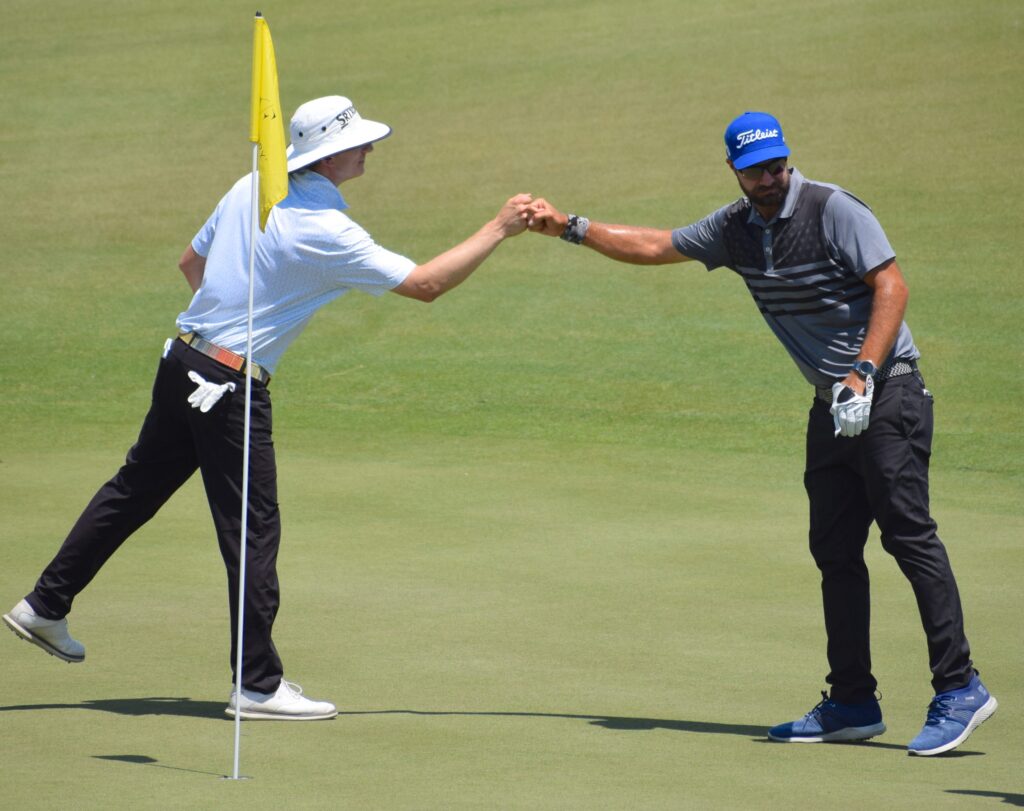 Asked if he can remember ever chipping/pitching in on the same green in back-to-back rounds, he said, "I'd have to go into the vault for that stat. That's a weird thing to have happen, especially one for an eagle, one for a birdie."
Actually on Friday, the one for his birdie was his second pitch/chip on the hole as his first — from right and below the green — ran through the putting surface.
The bottom line is that Whitney posted his second consecutive round of 2-under-par 70, leaving him in 32ndplace going into the weekend, nine strokes behind leader Tyson Alexander but just four out of the top 10.
In the last 3 1/2 months, the 32-year-old has posted three top-10s in Korn Ferry events, and he certainly has hopes of adding another one this week, about a half-hour from where he lived until moving from Fort Collins to Little Elm, Texas in 2017.
"I think my game is just as solid as when I banked those back-to-back top 10s" in late May and early June, Whitney said. "I'm at the point now where once I make a cut, I'm kind of eyeing top 10 or better. I'm not really satisfied with middle of the back. It's a very tightly packed leaderboard at this point. It just takes two more good rounds to put a good week together.
"This is some of the best full swing (play) I've had all year, honestly. Unfortunately, a lot of tap-ins for pars. Not to be picky, but I could easily be 6-7 shots better if I just had a few more putts each round drop. I haven't really been out of position. I've only made four bogeys in the two rounds — two or them three-putts. On a course like this, with the rough this tall, I think that speaks volumes how my ball-striking is. Once my putter catches up — which I plan on it doing tomorrow — I'll be right behind (the leaders)."
In two previous appearances at the TPC Colorado Championship, Whitney has finished 55th (70-73-69-75 in 2019) and missed the cut badly (76-81 in 2020).
Overall, it's been a good last few months for former Air Force Academy golfers on the pro tours. Besides Whitney recording third-, eighth- and ninth-place finishes on the KFT, fellow former Falcon Kyle Westmoreland became the first AFA alum to play in a major championship, and he went on to make the cut in the U.S. Open, drawing much publicity in the process.
Whitney, who is older, just missed overlapping with Westmoreland at the Academy, but they've played practice rounds together at several events, including the CoBank Colorado Open.
"We're definitely rooting for each other to get to the top as fast as possible," Whitney said. "He's the first Falcon to ever play in a major and the first Falcon to make the cut. That's awesome. It'll open the door to some better players to think, 'Hey, maybe I do have a chance to go to the Air Force Academy, serve my country and entertain (hopes) for a professional golf career afterwards."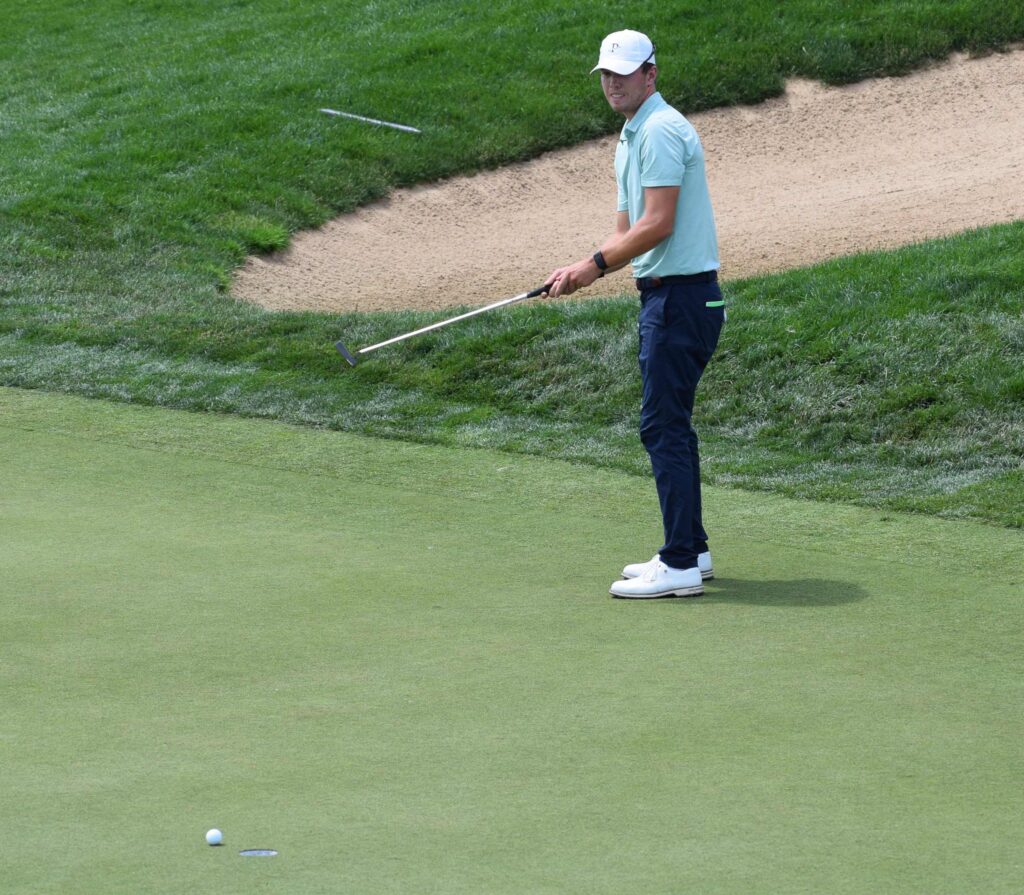 Near-Miss Rally for Coloradan Chris Korte: It wasn't quite a storybook comeback for Chris Korte in his hometown event, but it wasn't for lack of trying.
Korte who shot a 62 to Monday qualify for the event — making it his first start ever on the Korn Ferry Tour — almost beat the odds by digging out of the hole that he left himself in with a first-round 75.
Alas, the former University of Denver golfer came up short, but only by one stroke — and he missed a 12-foot birdie attempt on No. 18 that would have punched his ticket to the weekend. As it was, a 3-under-par 69 on Friday despite a double bogey left him just on the wrong side of the cut line.
"The game obviously has been feeling great lately," said Korte, a former CGA Amateur and Match Play champion who now plays regularly on PGA Tour Latinoamerica. "It was definitely disappointing yesterday, especially being 2 under after a few holes (then bogeying four in a row), but the course was playing really tough yesterday. So I knew I had to come out and pretty much try to birdie every hole (today).
"But the biggest takeaway is this (the Korn Ferry Tour) is where I want to be next. I had a blast playing in front of a home crowd — and honestly just a crowd in general. It's just super cool to hit a great shot and hear some applause. It definitely got the juices flowing. I couldn't have had much more fun except if I was a couple shots lower, I guess."
On Friday, the former longtime Coloradan played his first seven holes in 4 under par, but tugged his tee shot at the par-3 eighth a little and his ball bounced into the water, leading to a double bogey. "That was a tough hole to swallow," he said.
But Korte rebounded again, lipping out an 8-foot eagle putt on No. 15 — making birdie — and then sinking a 15-foot birdie on 16. However, his tee shot on the par-4 17th went wide right. He was on the clock at that point (for slow play) after receiving a bad time a couple of holes earlier.
"I was a little nervous about getting another bad time and I didn't have that much time to get a great number (for his second shot)," said Korte, who subsequently missed the green short and left and ended up with a costly bogey. On the 18th, he gave himself a good look at birdie from 12 feet, but ran it a few feet by and he made par.
"I gave it a run. All in all, it was a fun week," said Korte, who grew up in Littleton but recently moved to Las Vegas.
Korte plans to wrap up the Latinoamerica season, likely compete in the CoBank Colorado Open, then head to Korn Ferry Tour Q-school, where his aim is to gain full-time status on the KFT next season.
Also narrowly missing the cut on Friday was Boulder County native George Cunningham, who bogeyed three of his final five holes to finish at 1-over 145, two too many.
The upshot is that just two players with strong local connections made the 36-hole on Friday at TPC Colorado. Cheyenne native Josh Creel advanced to the weekend at the event for the first time, shooting a 1-over-par 73 on Friday to check in at 2-under 142 overall. Creel made two birdies and three bogeys, including one on his final hole of the day.
Taylor Montgomery, son of former Grand Junction resident and three-time Rocky Mountain Open champion Monte Montgomery, shares 13th place at the midway point at TPC Colorado after going 68-69. He double bogeyed his 17th hole on Friday.

How all the players with strong local connections are faring at the TPC Colorado Championship:
32. Tom Whitney (former Air Force Academy golfer and former Fort Collins resident) 70-70–140
52. Josh Creel (Cheyenne native) 69-73–142
Missed 36-Hole Cut
Chris Korte (Littleton resident and former DU golfer) 75-69—144
George Cunningham (Boulder County native) 75-70–145
Andrew Svoboda (former Golden resident) 71-76–147
David Duval (Cherry Hills Village resident) 76-74–150
Jonathan Kaye (Denver native, former CU golfer, part-time Boulder resident) 75-84—159

Weekend Live-Streaming of Tournament: On Saturday and Sunday, from 10 a.m. to 5 p.m. each day (MT), fans can access live-streamed coverage from TPC Colorado. The streaming is accessible on PGA Tour Live and GolfChannel.com. The first 2 1/2 hours each day will be dedicated to featured-hole coverage, and the rest to featured-group coverage. The featured hole on Saturday will be the 773-yard 13th, the longest hole in PGA Tour-sanctioned golf, while on Sunday it will be the drivable par-4 third hole.

Notable: All three of the multiple-time PGA Tour winners in the field badly missed the cut on Friday. David Duval (13 PGA Tour victories) went 76-74, Robert Allenby (4 PGA Tour wins) 80-77 and Jonathan Kaye (2 PGA Tour victories) 75-84. The 36-hole cut to the low 65 players and ties included the 83 golfers at 143 and better.Among those who made the 36-hole cut on Friday was an amateur, Christian Castillo of Allen, Texas, a golfer from High Point University in North Carolina, who Monday qualified at Colorado National Golf Club. So far this week, Castillo has gone 72-71 and he eagled the par-4 12th hole on Friday. … Saturday's tee times will run from 6:45 a.m. to noon, with threesomes all going off the first tee and the leaders starting at noon.
For Saturday's tee times at the TPC Colorado Championship, CLICK HERE.
To view general information about this week's tournament, CLICK HERE.