High-achieving junior standouts Boonta, Chin help Colorado golf leaders tout the many benefits of the game to lawmakers
By Gary Baines – 04/17/2019
Who can resist cute kids?
Especially ones who like to smile, are fun-loving — and very accomplished?
Apparently, a lot of state lawmakers are among those who are drawn in by such kids. That was certainly the case on Wednesday when the Colorado Golf Coalition held its annual Golf Day at the State Capitol, and brought along two Colorado junior golfers who have gained plenty of attention this month.
Chunya "Bead" Boonta of Centennial and Caitlyn Chin of Greenwood Village — both of whom finished in the top five of their age/gender division on April 7 in the nationally-televised Drive, Chip & Putt Finals at Augusta National Golf Club just before Masters week — lent valuable assistance on Wednesday.
On a day when the Colorado golf industry made the case with state senators and representatives regarding the many benefits of golf, Boonta and Chin provided real-life examples. And they were certainly a big hit among many of the 26 lawmakers who visited the West Foyer of the Capitol building on Wednesday morning.
Boonta and Chin, both members of the Hale Irwin Player Program at CommonGround Golf Course, chatted with the powers that be, posed for photos with legislators and even played some games with them on the artificial putting green that was set up for the occasion. (The two are pictured above with Sen. Owen Hill and his daughter.)
"Golf is a wonderful sport, and I think more people should be playing it," Boonta said afterward. "It's really fun and it builds up your confidence and your mental game."
Added Chin: "It was really fun today. It's good because kids should be playing more golf instead of other sports."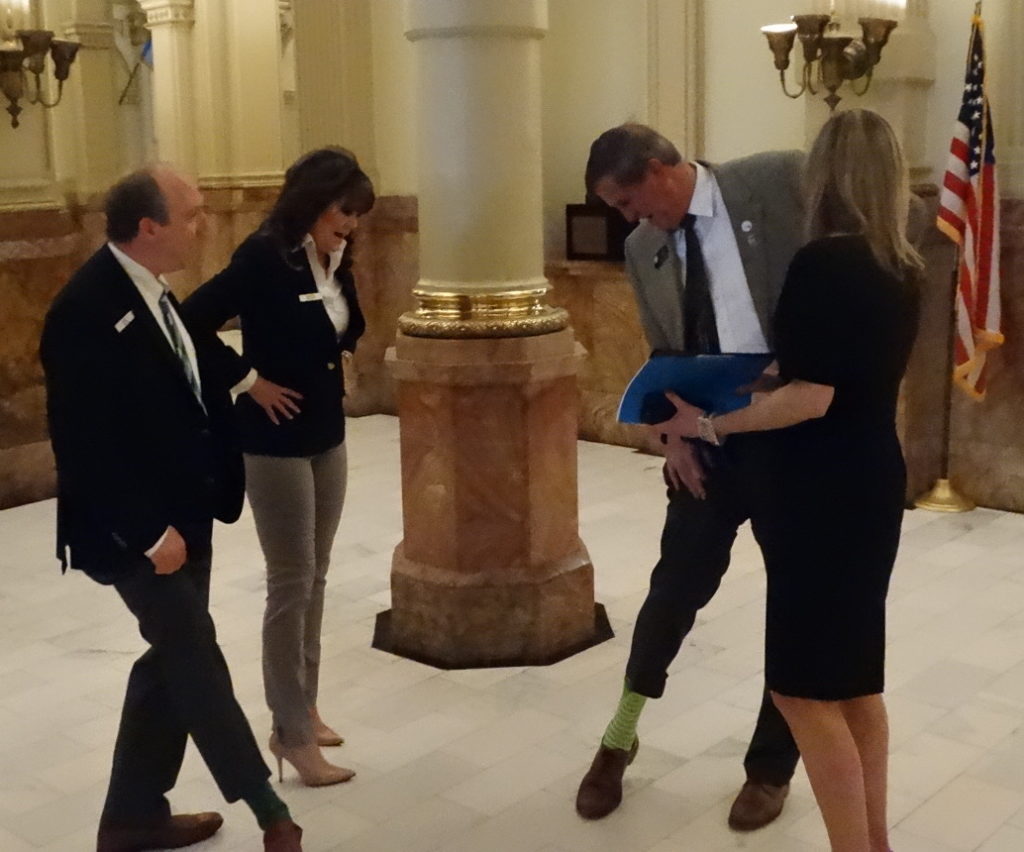 Later in the day, Boonta and Chin were recognized on the Senate floor for their accomplishments at Augusta National. And so was Westminster resident Jennifer Kupcho, who was commended after winning the inaugural Augusta National Women's Amateur — also on national TV — on April 6. Overall, the Senate recognized Wednesday as Colorado Golf Day at the State Capitol.
Suffice it to say what Coloradans such as Kupcho, Boonta and Chin did recently on a national stage — along with Grady Ortiz of Colorado Springs, who also posted a top-five finish in his division of the Drive, Chip & Putt National Finals — and with Tiger Woods winning the Masters on Sunday, it was a good time for Colorado golf leaders to be making their case to state lawmakers.
"The highlight obviouly was Caitlyn and Bead," said CGA executive director Ed Mate. "It was just phenomenal to have them there.
"Golf is not a rich white man's game. What better evidence of that than today with Caitlyn and Bead, and obviously following up on the Masters and Jennifer Kupcho's win? That's all the proof positive we need that this game of golf is for everyone. I thought we really nailed that message today. With all due respect to us older folks, when they introduce people on the Senate floor, it's a lot more powerful if it's these beaming faces of the next generation."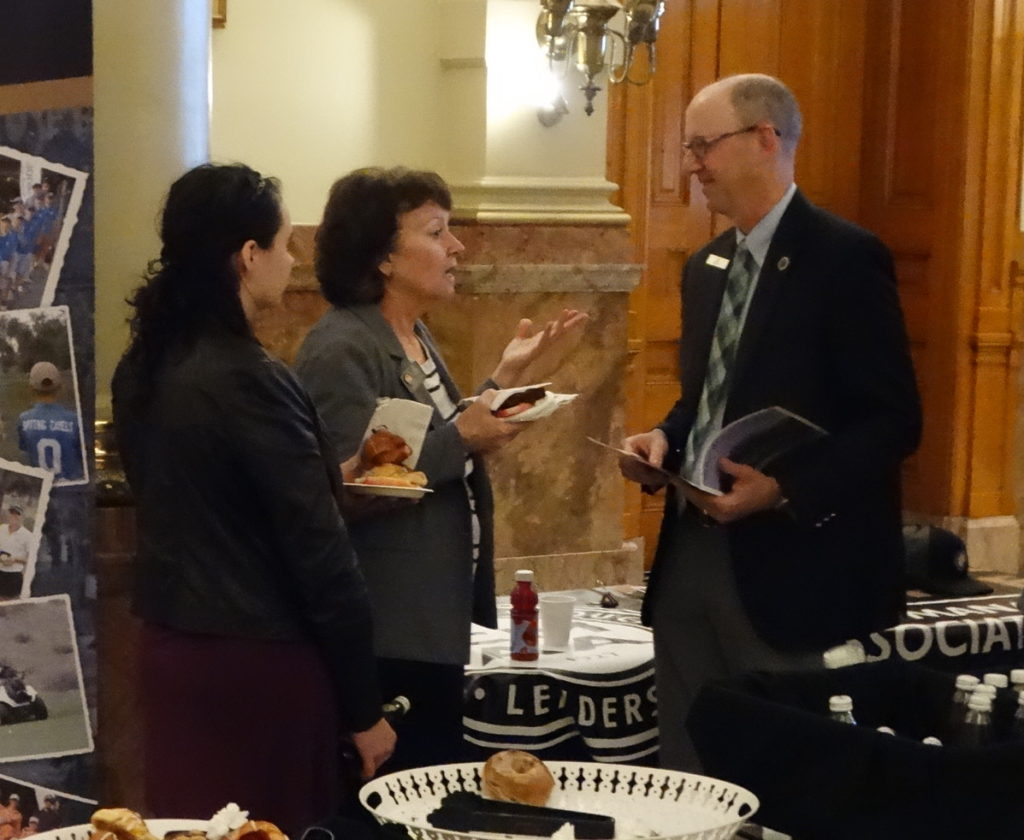 For the last several years, Colorado's golf industry leaders have made it a tradition to go to the Capitol each spring to interact personally with lawmakers, helping make them aware of the many benefits the game brings to the community. Those industry leaders make up the Colorado Golf Coalition, which was formed by the CGA, Colorado PGA, the Rocky Mountain Chapter of the Golf Course Superintendents Association of America and the Mile High Chapter of the Club Management Association of America.
Jennifer Cassell, a lobbyist for the Colorado Golf Coalition at the State Capitol since late 2014 — facilitates the event. She also keeps an eye on any bills that may affect the golf industry — including those dealing with water use, pesticide application, general environmental stewartship, independent conractors vs. employees, etc.
With 10 senators and 16 representatives stopping by on Wednesday, it was nearly double the total of last year's Golf Day at the State Capitol.
"Today was a great day for Colorado golf at the Capitol," said new CGA president Janene Guzowski.
"We were incredibly happy with the turnout today and the engagement we got from the legislators that were there," added Patrick Salva, assistant executive director for the Colorado PGA. "Kudos to Jennifer for what she did in setting this up and making it a successful day. I think there were more people there that were engaged and interested with what's going on in the golf industry. I thought it went incredibly well."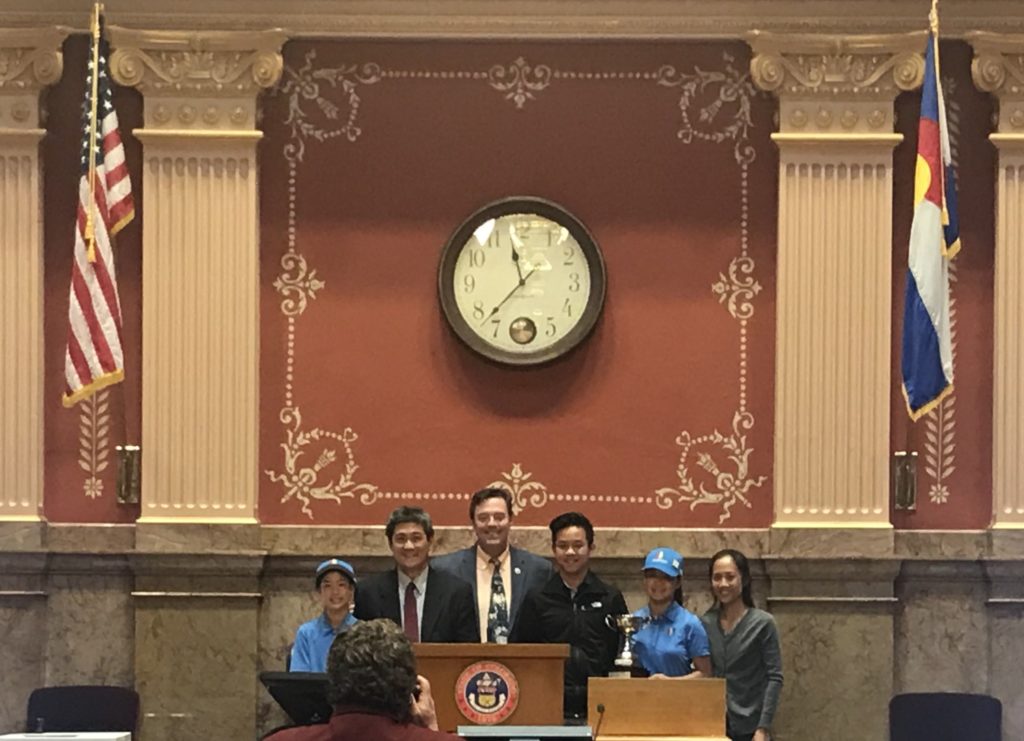 Part of the idea behind this event is not having the golf industry being caught flat-footed when issues that affect golf in the state come in front of state legislators. That includes such things as the Pesticide Applicators' Act — which is an important issue for golf course superintendents and the golf industry in general — and which will sunset in 2022 and likely be debated in 2021.
"We have to get (lawmakers) support," said Gary Leeper, longtime executive director of the Rocky Mountain GCSAA. "(Legislators) are at least being able to put a face to the name (with golf industry leaders). And Jennifer the lobbyist is doing such a great job pushing people to us and introducing us. It's been really successful.
"It's the perfect time. When we're here next year, we'll have our best management practices that we can hand out to legislators — in terms of water usage, the environment, all that. It's important that they understand that we do have best management practices and (we do use water wisely and prudently)."
On Wednesday, the Colorado Golf Coalition distributed information that hit on three main themes:
— Economic Impact: The industry accounts for an $1.7 billion pumped into Colorado's economy.
— Environmental Stewardship: The Coalition notes that the golf industry accounts for less than one-third of 1 percent of the state's water usage, and that 90 percent of the water used on courses is non-potable. And courses are a valuable provider of green space, and that space often serves as an important wildlife habitat.
"If you're worried about the environment, I actually see that as an opportunity because I think golf as a industry is part of the solution," Mate said. "If you're an (environmentalist), we have a great story to tell. Golf provides open space (and) uses very little water" in relative terms.
— Community Resourse: Seventy-five percent of golf played in the state is on public courses. The CGA/Colorado PGA-founded Junior Golf Alliance of Colorado puts a high priority on making golf available to kids of all socioeconomic backgrounds, and the Golf in Schools Program exposed more than 10,000 K-12 school children to the game in 2018 through P.E. classes.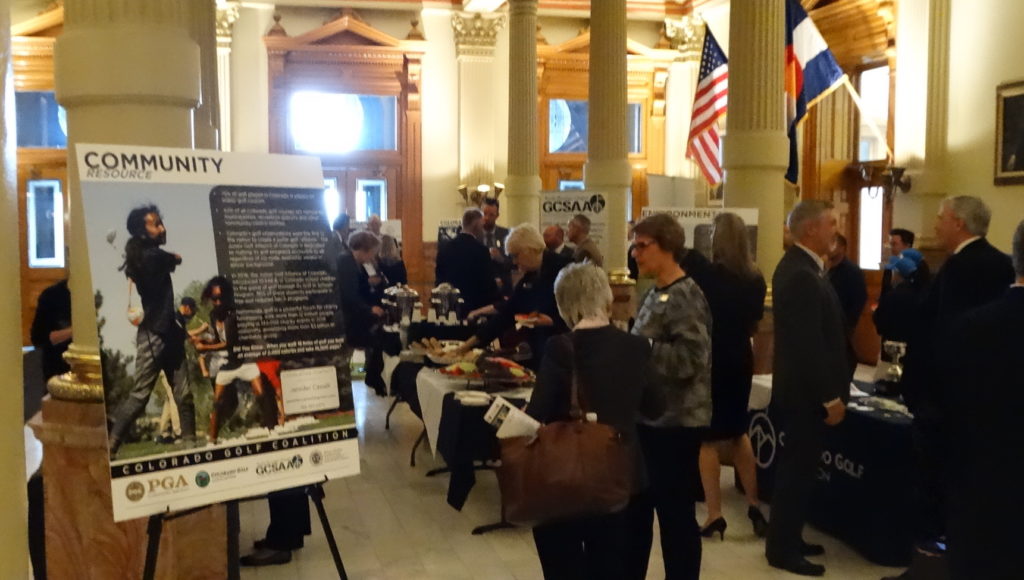 Perhaps one of the things golf leaders should took heart in from Wednesday's Golf Day at the State Capitol is the mixture of Democrat and Republican legislators that elected to visit the golf leaders in the West Foyer: There were 13 Republicans and 13 Democrats.
All in all, there was reason to be upbeat.
"This was the best one yet," Mate said of the these Capitol events in recent years. "I base that on the overall energy level and that I talked to more legislators than I ever talked to before.
"I shook hands with a lot of folks. I always feel like it's more about being seen — the old adage about 'out of sight, out of mind.'"