After missing out when 2020 championship was canceled, Schalk teams with Lau to qualify for her third U.S. Women's Amateur Four-Ball
By Gary Baines – 9/21/2020
Qualifying for USGA national and international championships is a thrill. Just about anyone who's done so will tell you as much.
On the flip side, having a USGA championship canceled after you've qualified it is an unmitigated bummer. Hailey Schalk of Erie can certainly attest to that.
Schalk and partner Charlotte Hillary competed in the U.S. Women's Amateur Four-Ball together in 2018 and had a ball in advancing to match play. They qualified together again last year and were all set for more of the same in anticipation of the national championship rolling around in late April. But the USGA announced in mid-March that the tournament was canceled due to Covid-19-related health and safety concerns.
"It was horrible," Schalk recalled on Monday. "Everything was getting canceled and I was like, 'OK, this one is so far away from now, we'll definitely play by then. Then (it was canceled too) and we couldn't go. And I knew that would probably be my last year with Charlotte too, so that was even more sad.
"But at least we qualified this year."
Indeed, on Monday Schalk helped give herself another opportunity to compete in the U.S. Women's Amateur Four-Ball. Assuming, of course, that the pandemic doesn't affect the 2021 championship, it will be played April 24-28 in Carrollton, Texas.
In the first Colorado-based USGA qualifying tournament of 2020, Schalk and University of Colorado teammate Alisha Lau of Richmond, B.C., Canada shot a better-ball 4-under-par 68 on Monday at CommonGround Golf Course in Aurora to land medalist honors out of a field of nine teams.
Schalk, 18, and Lau, 20, birdied three of the last four holes to earn the lone qualifying spot by one stroke. The "team" they overtook to grab the top spot was their CU teammate Issy Simpson of England, who ended up competing alone after her partner, CU senior Kirsty Hodgkins, the 2020 CGA Women's Match Play champion, was forced to pull out of the competition on the eve of the event.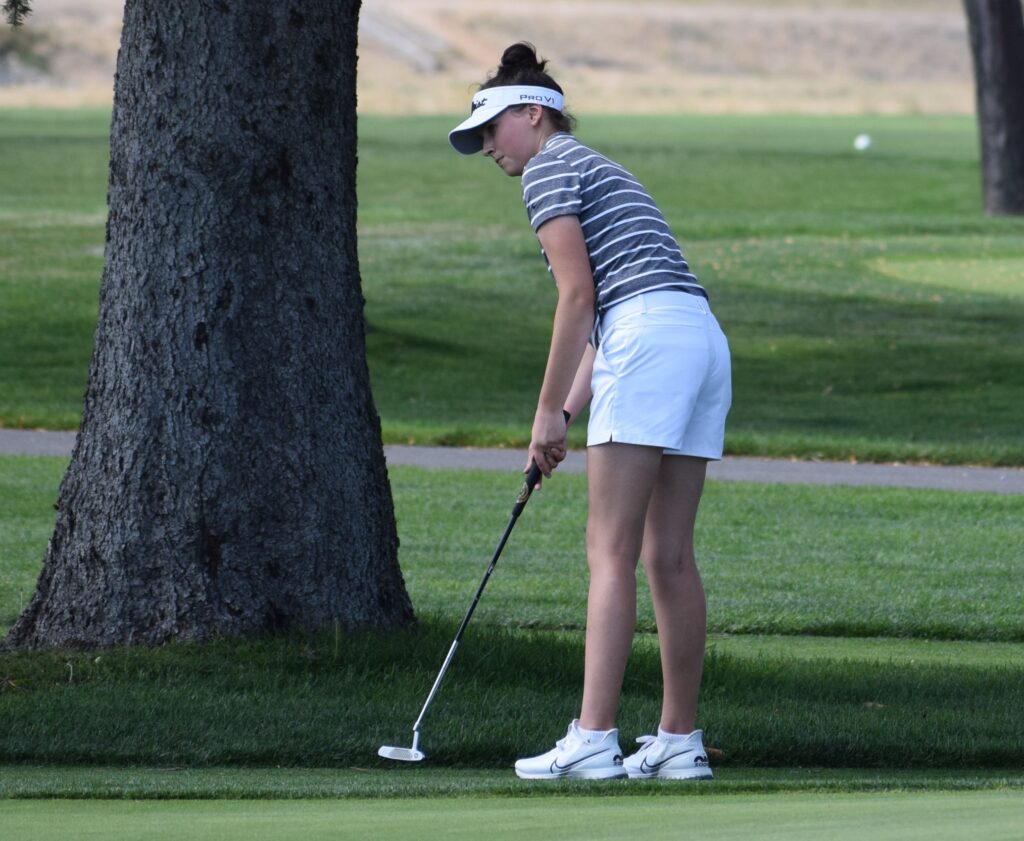 Simpson shot a 3-under 69 on her own, making six birdies and three bogeys on the day. She needed to drain a 25-foot birdie putt from the fringe on the last hole to force a playoff but her ball ran 4 feet past the hole and she carded a par.
"Issy killed it," Schalk said of her teammate's performance.
Schalk, a three-time state high school individual champion from Holy Family who's now a freshman at CU, two-putted for birdie on 18 from 30 feet in the previous group to account for the one-stroke difference.
Other birdies down the stretch for the winning team came from Schalk at No. 15 (2 feet) and from Lau at No. 17 (12 feet).
Lau had started off the day with consecutive 8-foot birdies on Nos. 1 and 2 before she and Schalk played the ensuing dozen holes in 1 over par.
"It's awesome" that we qualified, Schalk said. "I was really sad that we didn't get to go (to nationals) this year. This is my favorite tournament that I've played in. It's good to qualify with a teammate now. A different partner (is) kind of fun. I'm excited. I love this tournament."
It was Schalk's fourth time qualifying for a USGA championship, while it was No. 2 for Lau. Each punched their tickets once for the U.S. Girls' Junior.
"I'm super excited," said Lau, a former national junior team representative of Canada. "It's really nice to play with a teammate. Outside of college, golf isn't really team-oriented too much, so it's nice to be able to have a partner. The USGA always puts on really good events. Fingers-crossed, we get to play (in the national championship next spring).
"They treat us so well (at USGA championships). They always have the greatest things. We were talking about the ice cream and the candy they have that we probably shouldn't be eating during a tournament."
Simpson will be the first alternate from CommonGround. Former Colorado Women's Open champion Erin Houtsma of Denver, a former pro who won this year's CGA Women's Mid-Amateur Stroke Play title, and Shelly Edwards of Boulder, wife of CU men's golf head coach Roy Edwards, posted a 71 after making birdies on 17 and 18 to be second alternates.
Coincidentally, Schalk and Houtsma teamed up to win the CGA Women's Brassie Championship last month.
For Schalk and Lau, qualifying on Monday was a highlight of a fall season in which CU isn't competing intercollegiately due to Covid-19 concerns.
"Definitely being able to play and practice for something and having something to focus on helped," said Lau, the first CU women's freshman to play in the NCAA Championships (2018). "Sometimes that gets a little difficult when you have things so far in the future. So it was real nice to practice for this."
Monday marked Lau's first formal golf competition since a college tournament March 9-10. This was her first time trying to qualify for the U.S. Women's Amateur Four-Ball.

U.S. Women's Amateur Four-Ball Qualifying
At Par-72 CommonGround GC in Aurora
ADVANCES TO NATIONAL CHAMPIONSHIP
Hailey Schalk, Erie and Alisha Lau, Canada 35-33—68
ALTERNATES (In Order)
Isabelle Simpson, England (competed alone) 34-35—69
Erin Houtsma, Denver and Shelly Edwards, Boulder 36-35—71
For all the scores from Monday's qualifier, CLICK HERE.