Loveland's Katelyn Lehigh follows in sister's footsteps in claiming 5A title; Holy Family's Jessica Mason wins by 10 in 4A; In 3A, Jefferson Academy's Aubri Braecklein prevails in final high school tournament. Team champs were Loveland (5A), Discovery Canyon (4A) and St. Mary's Academy (3A)
By Gary Baines – 6/22/2021
There was a little bit of everything to cap off the first Colorado girls state high school golf tournaments in 25 months:
— There was a winner in 5A (Loveland junior Katelyn Lehigh) who made a member of the Lehigh family individual state champions three of the last four years the girls state tournaments have been held. In addition, she and her older sister Lauren have each led Loveland to a state team championship as well. This time, Katelyn closed out the season with a cool 66 — the same numerical score she posted in regional state qualifying.
— There was a 4A champion (Jessica Mason) who gave her school (Holy Family) an individual title in each of the last four seasons that ended with state tournaments. In addition, Mason put together a Jennifer Kupcho-esque performance as far as margin of victory goes.
— And in Class 3A, there was a player who rallied in her final round of high school golf to claim a title — Aubri Braecklein of Jefferson Academy, who in less than three months will be starting her college golf career at Georgia State.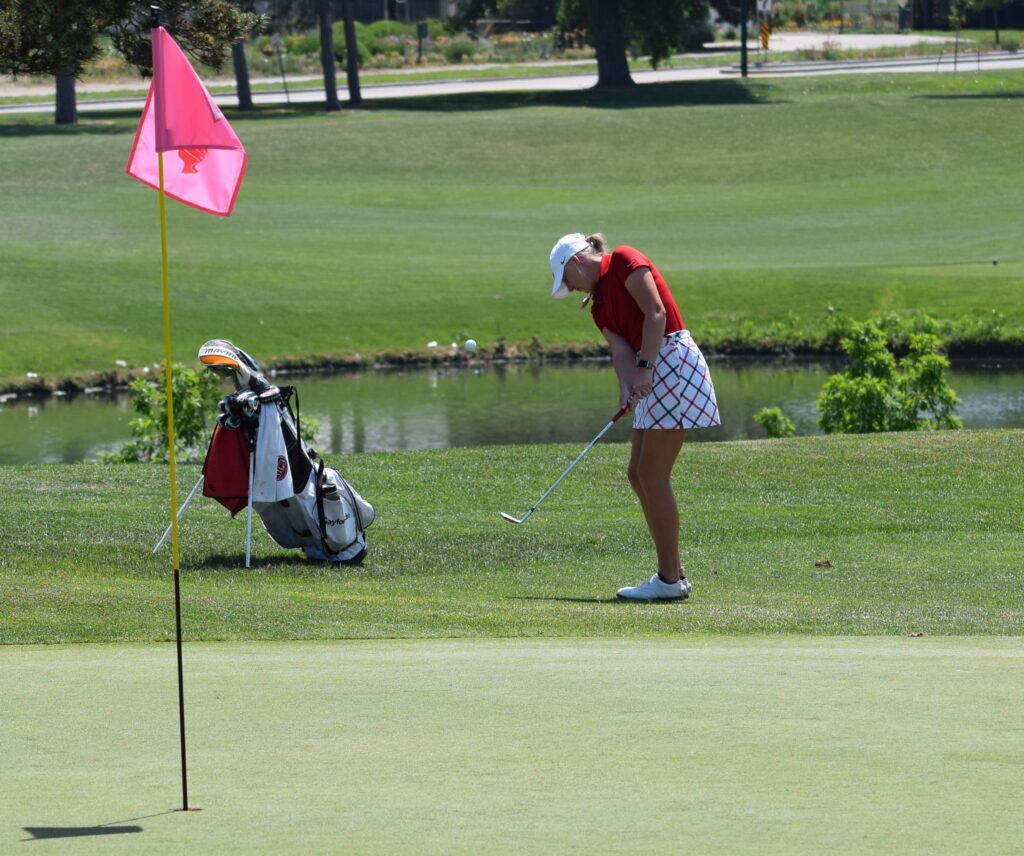 As for 5A, Katelyn Lehigh kept up the pattern of state titles every odd year for members of the family. Lauren, who now plays golf at the University of New Mexico, prevailed in 2017 and '19, leading Loveland to its only previous team championship in girls golf in 2017.
"I'm still in disbelief," Katelyn said after her and Loveland's sweep at City Park Golf Course in Denver. "I've been working toward this for two years. This is the ultimate goal, and I still have another year. I hope I can repeat it. It's just amazing."
As for sweeping individual and team titles, as Lauren did in 2017, Katelyn added, "It means the world to me. I'm super happy we got to win it as a team. I helped that by winning individually, following in Lauren's footsteps. She's done so many great things."
Lauren Lehigh, coming off a spring in which she finished second in a playoff at the Mountain West Conference tournament and also placing runner-up in the CGA Women's Match Play, followed her younger sister both days at City Park.
"I am so proud of her," Lauren said of Katelyn, who's part of the Hale Irwin Player Program at CommonGround Golf Course. "She played just about a flawless round of golf today. She putted well, she hit the ball well. It was so much fun to watch."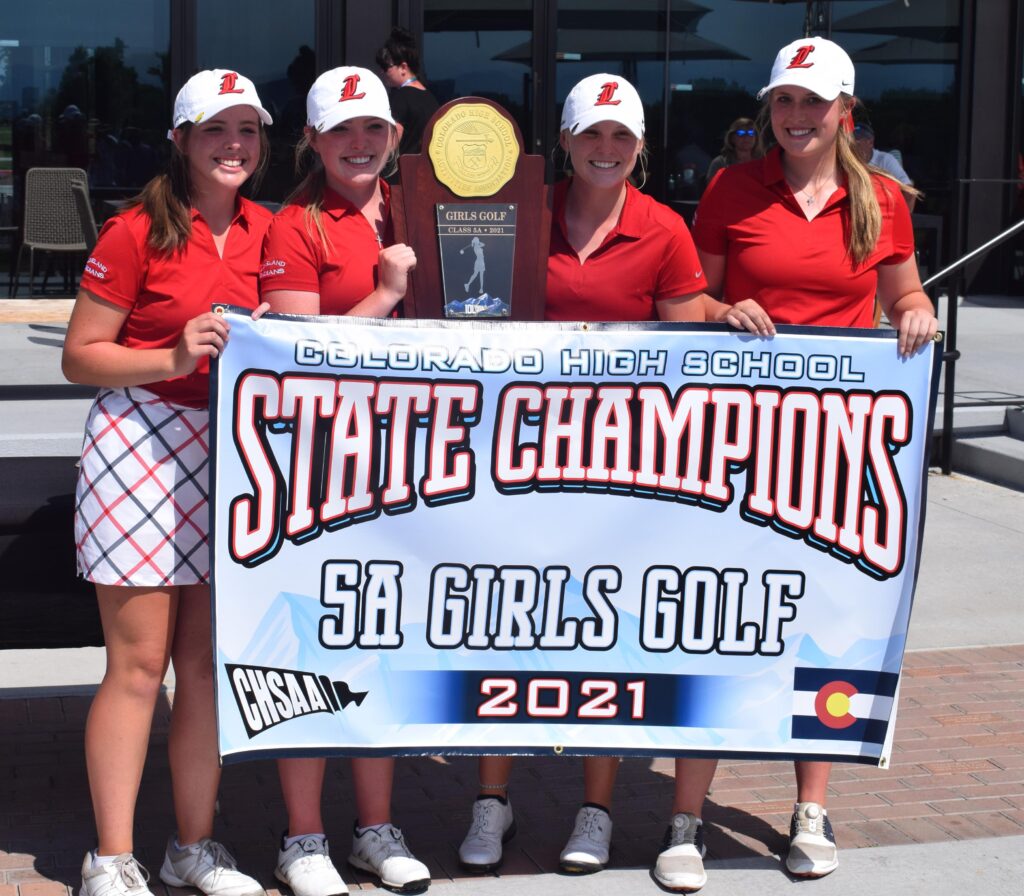 The Lehighs accomplished a variation on what siblings Davis and Emma Bryant did several years ago. Davis won the 5A individual boys state title for Eaglecrest in the fall of 2017, then Emma claimed the girls title in the same school year, in the spring of 2018.
"It's awesome," Lauren Lehigh said of the family's sister act. "I don't know how many pairs of siblings have done it before or anything like that. But to have both of us be individual state champions and both win the team title is pretty awesome for the school and our family."
Katelyn Lehigh came into Tuesday's final round tied for the individual lead, with Loveland holding a commanding advantage in the team race. Things were close individually through 10 holes on Tuesday as Lehigh was one up on Prairie View junior Lily Nelson.
But three holes later, that lead had ballooned to seven strokes as Lehigh had drained three straight birdie putts — from 6, 12 and 6 feet — on 11, 12 and 13. "I was putting so well it was almost automatic (there)," she said. Meanwhile, Nelson bogeyed 11 and double bogeyed No. 13.
"Katelyn has been doing that all year (shooting under par and winning), so I fully expected her to do it," veteran Loveland coach Bill Stephens said. "She's come a long way with her mental approach — not only holding back and playing smart on the golf course, but she handles herself mentally a lot better. She used to have smoke coming out of her ears every once in a while when she hit a bad shot because she's such a good player. She's very competitive.
"But I expected it today. I believe in eight tournaments, she was under par four times coming into (state). But this course is tough; I was surprised she was that far under par playing this as a par-70 with the distance it played. But it was an advantage for Loveland. I've got big girls with big drivers. Katelyn is going to go on and do big things next year too."
Lehigh finished her round of 66 with six birdies and two bogeys. She said that, unlike Monday, she was calm as could be on Tuesday.
"I was playing with Olivia (Steen), who I have played with the entire high school season," Lehigh said. "Like (teammate Taylor Bandemer) was saying yesterday, it was just another high school event today."
And Lehigh's win kept her record perfect: Every high school tournament in which she competed as a junior, she either won outright or shared the title.
Nelson, who played her final five holes in 2 under par, closed with a 1-under-par 69 and finished second at 2-over 142, four back of Lehigh. Steen, a junior from Fossil Ridge, took third at 146 after placing fourth two years ago. Meanwhile, 2018 champ Emma Bryant finished fourth on Tuesday at 147 in her high school finale. Both Steen and Bryant carded 72s on Tuesday.
Loveland ended up capturing the team title by 25 strokes over runner-up Rock Canyon. It was an emphatic victory two years after the Indians placed second by a shot when the second day of the 5A meet was snowed out. All of last year's girls state high school tournaments were canceled due to Covid-19 safety concerns.
"It means a lot to the school to have a couple of state titles," Stephens said. "We're blessed. We're going to try to keep it going. We've got a good golf program, and Fort Collins and Loveland are blessed to have a lot of (talented) sisters."
The 2021 Loveland state champs included Lehigh, senior Taylor Bandemer, and sophomores Reece Bandemer and Maryn Harlow.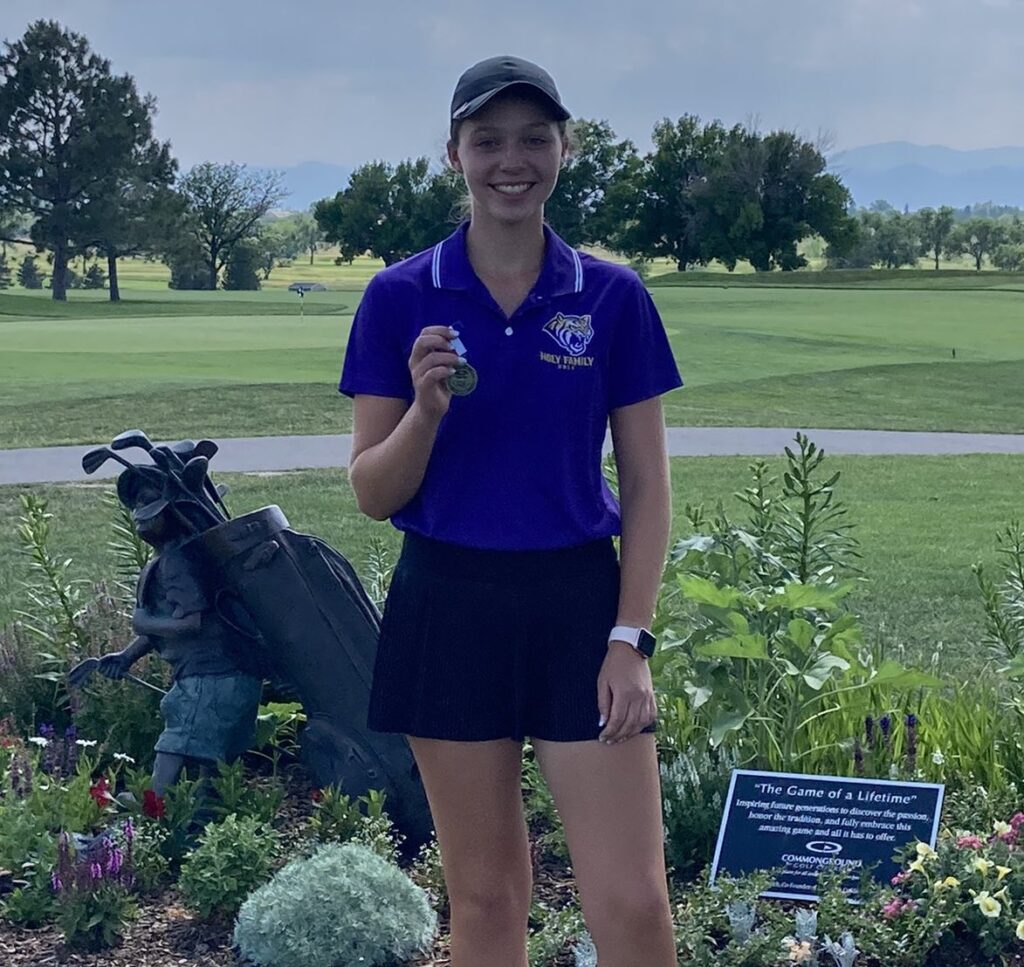 — In the 4A state tournament at CommonGround Golf Course in Aurora, Mason became the fourth consecutive player from Holy Family to capture an individual girls state golf title following Hailey Schalk's run from 2017 through '19 before last year's state meets were canceled.
Not only that, but by winning the individual championship by a whopping 10 strokes on Tuesday, Mason surpassed the substantial victory margins of Schalk — seven strokes once and six twice.
But Mason couldn't quite eclipse the number of shots current LPGA standout Jennifer Kupcho won by in 2014 while at Jefferson Academy. Kupcho prevailed by 14 that year in Class 4A — and by 10 the next year. Perhaps not coincidentally, both Kupcho and Mason are instructed by impending Colorado Golf Hall of Famer Ed Oldham.
Mason, who placed third (the highest showing by a Colorado girl) in last week's AJGA Hale Irwin Colorado Junior, went 69-71 at CommonGround, ending up with a winning total of 4-under-par 140. And that was despite playing her final six holes in 2 over par.
On Tuesday, for the second straight day, Mason made an eagle (this time on the par-5 11th hole). She finished round 2 with an eagle, two birdies and three bogeys. This comes two years after Mason ended up fifth in the state tournament as a freshman.
Junior Sofia Choi of Mullen finished a distant runner-up for the second consecutive time at state, this time after matching Mason's second-round 71 and checking in at 150. Choi eagled the final hole on Tuesday. Sophomore Emily Cheng of Discovery Canyon ended up third individually at 152 after closing with a 74.
Discovery Canyon took home its first girls golf state team title, prevailing by 34 strokes over two-time defending champion Windsor. DCHS' winning team consisted of Cheng, senior Christina Cheng, junior Mena Song-Lew and sophomore Lauren Jaworowski.

— In the 3A state tournament at Elmwood Golf Course in Pueblo, Braecklein rallied from a three-stroke deficit entering Tuesday to overtake St. Mary's Academy freshman Maddy Bante and claim the individual title.
The championship follows Braecklein winning the 2020 CGA Women's Stroke Play title and being named the Junior Golf Alliance of Colorado's Girls Player of the Year last year. Braecklein is set to play her college golf at Georgia State starting in the fall.
Braecklein shot a 2-under-par 69 on Tuesday to finish at 1-over 143, two ahead of Bante, who closed with a 74. On the final day, Braecklein carded five birdies and three bogeys. A double bogey on No. 13 by Bante gave Braecklein a three-stroke lead and it would get no closer than two the rest of the way.
No other player was in the running for the title down the stretch on Tuesday and junior Natalie Tatar, a St. Mary's Academy teammate of Bante, placed third at 154.
Braecklein had finished second in the 2019 3A state tournament.
Not surprisingly, with two players in the top three individually, St. Mary's Academy earned the 3A team championship, cruising to a 45-stroke victory over Vail Mountain. It was SMA's first state team title in girls golf.
Joining Bante and Tatar on the title team were junior Mallory Hopper and freshman Reese Brown.
Here are the top individual and team scores from all three state tournaments:

CLASS 5A
At Par-70 City Park GC in Denver
Individual
1. Katelyn Lehigh, Loveland 72-66–138
2. Lily Nelson, Prairie View 73-69–142
3. Olivia Steen, Fossil Ridge 74-72–146
4. Emma Bryant, Eaglecrest 75-72–147
5. Grace Young, Valor Christian 76-73–149
6. Chunya Boonta, Cherokee Trail 82-68—150
7. Sloane Post, Arapahoe 76-77–153
T8. Taylor Bandemer, Loveland 72-82–154
T8. Abby Aeschleman, Mountain Vista 75-79–154
10. Grace Dunkleberger, Rock Canyon 75-81–156
Team
1. Loveland 225-225–450
2. Rock Canyon 235-240—475
3. Cherry Creek 250-242—492
4. Valor Christian 258-238–496
5. Legend 252-251–503

CLASS 4A
At Par-72 CommonGround GC in Aurora
Individual
1. Jessica Mason, Holy Family 69-71–140
3. Sofia Choi, Mullen 79-71–150
3. Emily Cheng, Discovery Canyon 78-74–152
T4. Timbre Shehee, Mead 77-77–154
T4. Morgan Polermo, Ponderosa 79-75–154
6. Ava Schroeder, Cheyenne Mountain 79-76–155
7. Kaitlin Zingler, Mullen 80-78–158
8. Bretton Ronlund, Denver North 80-80–160
T9. Zoey Rodriguez, Pueblo South 81-80–161
T9. Aubree Heinsma, Windsor 86-75–161
Team
1. Discovery Canyon 255-230–485
2. Windsor 272-247–519
3. Mullen 272-254—526
4. Cheyenne Mountain 266-262–528
5. Holy Family 263-271—534

CLASS 3A
At Par-71 Elmwood GC in Pueblo
Individual
1. Aubri Braecklein, Jefferson Academy 74-69–143
2. Maddy Bante, St. Mary's Academy 71-74–145
3. Natalie Tatar, St. Mary's Academy 77-77–154
4. Sage Phelps-Fast, Colorado Academy 81-74–155
5. Greer Porter, Faith Christian 81-78–159
6. Logan Hale, Vail Mountain 76-84—160
7. Leanne Telle, Colorado Springs Christian 80-81–161
T8. Lora Ortega, Alamosa 80-85–165
T8. Ava Cavataio, Vail Mountain 83-82–165
10. Brooke Sullivan, Aspen 87-80–167
Team
1. St. Mary's Academy 231-237–468
2. Vail Mountain 256-257–513
3. Jefferson Academy 259-256–515
4. Colorado Academy 266-265–531
5. Kent Denver 295-267–562