David Duval gives Korn Ferry Tour ringing endorsement on day Taylor Moore matches course record at TPC Colorado Championship; Cheyenne native Josh Creel has best start among local players
***For all the scores from the TPC Colorado Championship, CLICK HERE.***
By Gary Baines – 7/8/2021
David Duval can still readily remember regularly competing in golf's version of Triple-A baseball. It was the early 1990s, before Duval hit the big time in the game by winning 13 times on the PGA Tour in his 20s, including the 2001 British Open, and ascending to the No. 1 spot in the world rankings.
This week, just several months shy of turning 50, Duval got his second relatively recent up-close look at Korn Ferry Tour players by competing in the TPC Colorado Championship at Heron Lakes in Berthoud after doing likewise in 2019.
The Cherry Hills Village resident shot a 4-over-par 76 in a morning wave in which Taylor Moore matched the course record with a 9-under-par 63.
"These guys are flat-out good," Duval said. "I just saw 9 under par on this golf course. For me, especially with the last couple of injuries, this is a lot of golf course. It's a big golf course. I just think it's impressive to watch the scores these guys put up. You want to see some great golf, come out to these events."
If that isn't a ringing endorsement, what is? After all, not only did Duval come up through the ranks — he won twice in 1993 on what was then known as the Nike Tour — and ascend to the pinnacle of the World Golf Rankings, but nowadays he's a TV analyst at PGA Tour events, including at some major championships.
"The guys (on the Korn Ferry Tour) are ridiculously good," he said. "I don't know what you'd liken it to in other professional sports. The closest thing might be Triple-A baseball. But I feel like the separation between the players out here — at least a lot of them — and the players on the PGA Tour is far less than what it might be from the major leagues to Triple-A."
Moore is but the latest example. On Thursday, the 27-year-old from Fayetteville, Ark., tied the course-record 63s shot by Chase Johnson and Greyson Sigg in the final round last year at TPC Colorado. Moore, who was in the first group off the 10th tee Thursday morning, blitzed his back nine — the front at TPC Colorado — with a 7-under-par 29, making an eagle at No. 1 (via a 30-yard chip-in) and adding five birdies. For the day, he finished with an eagle and seven birdies in a bogey-free performance.
"That (eagle) really jump-started me," said Moore, whose best showing in 92 Korn Ferry Tour starts is a runner-up. "I just hit a bunch of quality shots and was in a rhythm early, and made a few putts as well. … I was happy to get hot on the back nine."
Moore has been on a bit of a roll lately on the KFT. Since late March, he's posted seven top-10 finishes, including two third places. He ranks 21st on the 2020-21 Korn Ferry points list, and if he finishes in the top 25 after the final five events of the regular season, he'll earn a 2021-22 PGA Tour card.
"I'm playing really good golf," he said. "I'd like to win a golf tournament. That would take care of a lot. I haven't won in a few years."
Wade Binfield of Fayetteville, Ga., and Tyson Alexander of Gainesville, Fla. matched 7-under 65s to share second place, two back of Moore. Alexander, son of former University of Florida golf coach Buddy Alexander, won the KFT's Veritex Bank Championship in late April. In all 34 players finished the day at 3 under par or better.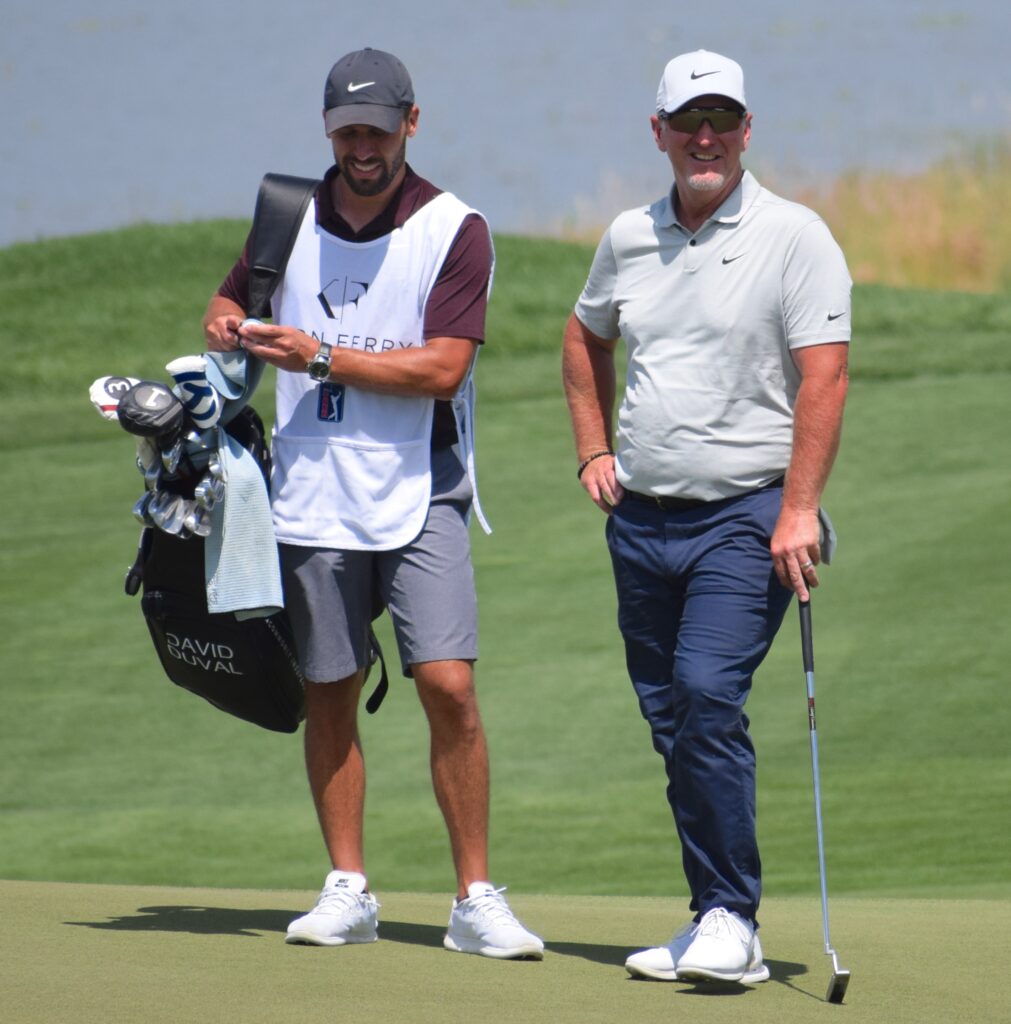 Duval Eyeing PGA Tour Champions in 2022: Duval has only competed in two PGA Tour events since Aug. 1, 2019 — and none since February — but look for the Coloradan to have a presence on PGA Tour Champions starting next year after turning 50 on Nov. 9.
"I'm sure I'd like to play some, health-willing," he said on Thursday at TPC Colorado. "That's part of why I had (disc replacement surgery in his neck) done last year and rested again for four months this year (after tearing the TFL muscle in his left thigh). I did it just to try to be healthy and give myself an opportunity to make a decision as to what I want to do moving forward.
"Next year I'm certainly going to play in some (Champions events). I'm looking forward to next year playing in the (British) Open at St. Andrews again because that would be my sixth one at St. Andrews. Then I can play the next week at the Senior (British) Open. That would be a cool couple of weeks. I'll certainly go to (the Mitsubishi Electric Championship at Hualalai in Hawaii) at the beginning of the year. A lot of it depends where life takes us in the next 6-7 months."
Duval said he could compete some on the senior circuit while still working as a TV analyst.
"I can do one, the other, both," he said. "I'm not worried about that."
Duval, who plans to play in next week's British Open unless some ailment prevents it, was certainly battling some rust on Thursday in shooting a 4-over-par 76 at TPC Colorado. He carded three birdies, five bogeys and one double bogey.
"I've only played 10 rounds of golf since February" due largely to his thigh injury, he said. "I had to take 3-4 months off and rehab. There's nothing you can do about it. There wasn't a surgical option; I just had to rest. And that was coming off last year's disc replacement surgery in my neck.
"I just started hitting golf balls again three weeks ago probably. I've played like three rounds of golf, I've hit balls a couple of times and I've played three nine holes. I'm just ecstatic that there's a PGA Tour-(affiliated) event in Colorado. There's a category in which I can compete — I don't have to get an exemption — and so I thought it was important for a Colorado person to support it. That's why I'm here — just to support John Turner (the developer of the Heron Lakes community) and TPC Colorado and Korn Ferry. This is where I started too.
"And it's fun to see these young players. I played with Taylor (Pendrith) and goodness gracious, he hits it forever. It was a lot of fun."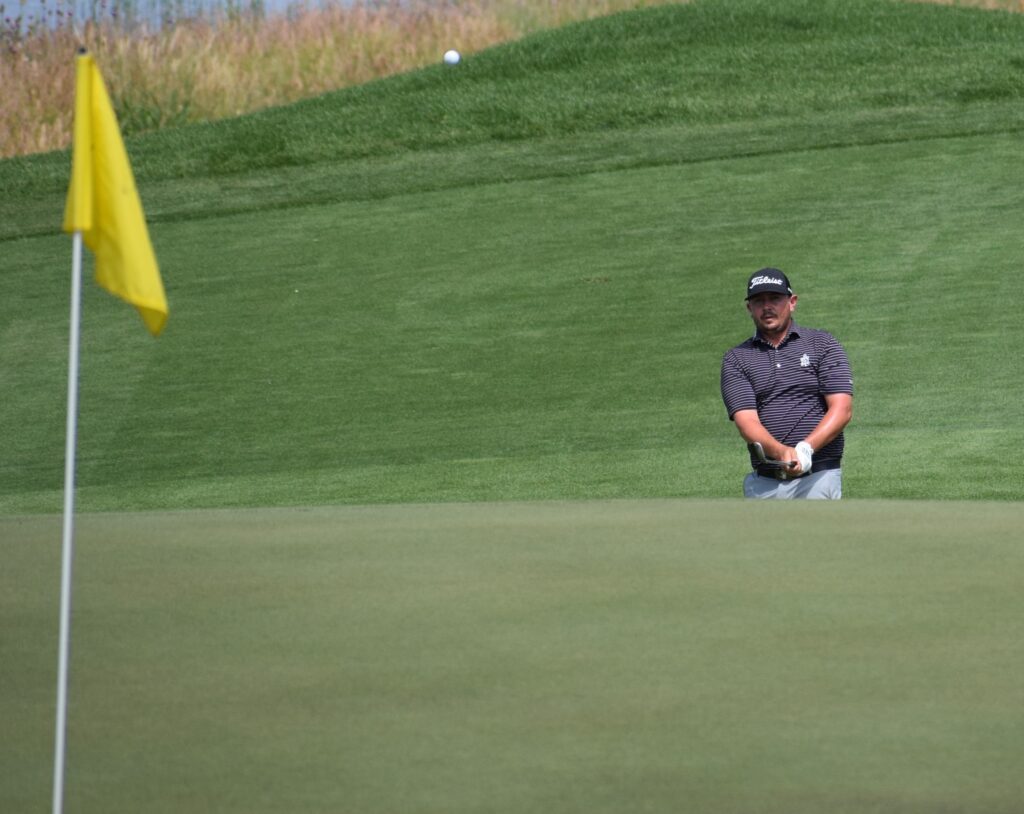 Cheyenne Native Creel Has Solid Start at TPC Colorado: Josh Creel grew up just an hour's drive away from TPC Colorado — in Cheyenne — but the course didn't treat him very neighborly in his first two starts in the tournament. He missed the cut twice, never shooting in the 60s.
But on Thursday, the 31-year-old who started his college golf career at the University of Colorado before transferring to Central Oklahoma and winning the 2012 NCAA Division II individual title made some headway at the Berthoud course.
Creel, who now lives in Edmond, Okla., shot a personal-best 3-under-par 69 and shares 20th place after the opening day of the TPC Colorado Championship. He bogeyed his final hole, capping a five-birdie, two-bogey day.
"This is one of the golf courses on the tour that doesn't fit me," he said. "It's meant for guys who fly it 330-340 (yards). So to get it in at 3 under is good for me. That's the lowest score I've shot in my three trips here so we're off to a good start for the week."
Creel is coming off a stellar last start on the Korn Ferry Tour as he matched his career best with a runner-up finish in Maine, which vaulted him up to 69th in the KFT regular-season standings. If remains in the top 75 when the regular season ends Aug. 15 in Omaha, he'll earn a spot in the three-event KFT Finals, where 25 PGA Tour cards will be at stake.
The second-place finish "was huge for me," he said. "Probably a month and a half ago the things I was working on started to click. It came together in Maine. I hit a couple of squirrelly shots throughout the event that kept me from winning, but it's fun to see the game trending in the right direction for sure, with the playoffs coming up."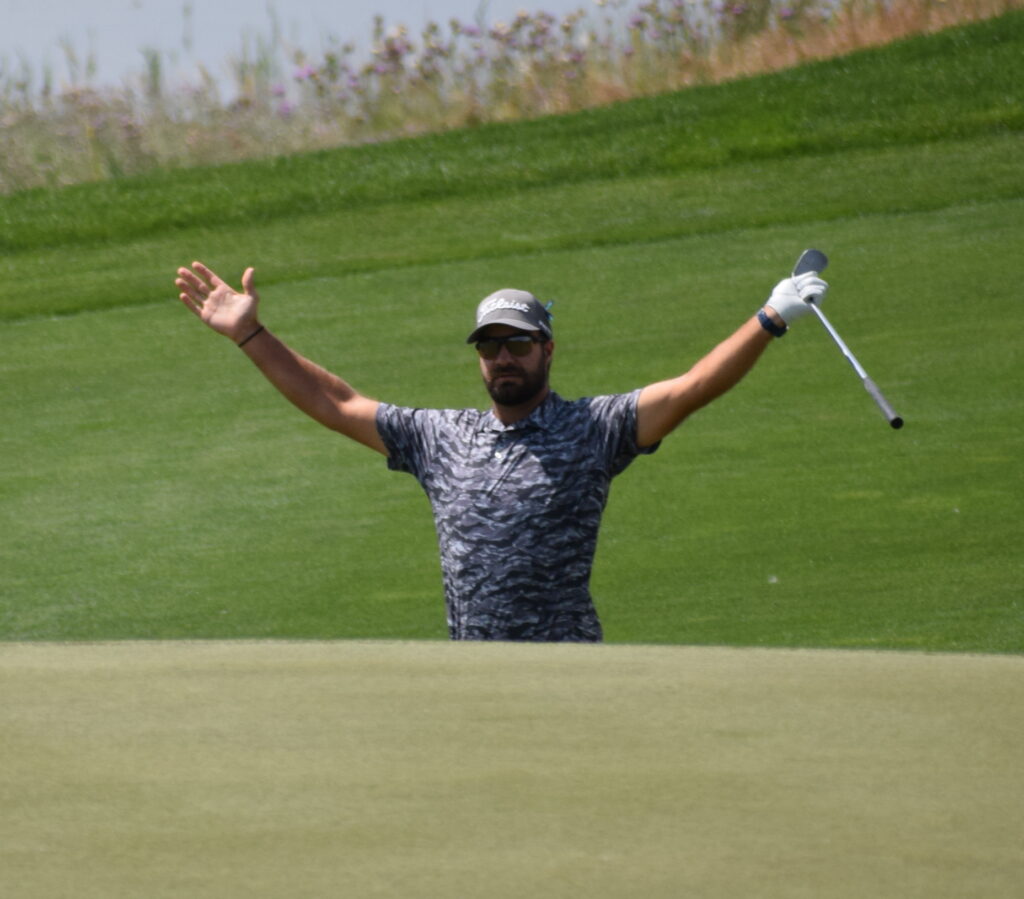 Meanwhile, another player with strong Colorado connections, Air Force Academy graduate and former Fort Collins resident Tom Whitney, also had a solid first day at TPC Colorado.
After being 1 over par through five holes, Whitney holed a tough 37-yard pitch from well below green level, to made eagle on the par-5 15th (his sixth hole). He went on to shoot 70 with a day that included the eagle, two birdies and two bogeys.
Also breaking par on Thursday was former Golden resident Andrew Svoboda, who carded a 1-under 71.
Chris Korte of Highlands Ranch, the former CGA Amateur and Match Play champion who Monday qualified to get into his first Korn Ferry Tour event, was 2 over par through 17 holes when played was called due to darkness on Thursday night. He was 2 under par for his first four holes but played his final holes on Thursday in strong winds.
How all the players with strong local connections are faring at the TPC Colorado Championship:
Josh Creel (Cheyenne native) 69
Tom Whitney (former Air Force Academy golfer and former Fort Collins resident) 70
Andrew Svoboda (former Golden resident) 71
Chris Korte (Highlands Ranch resident and former DU golfer) 2 over par through 17 holes
Jonathan Kaye (Denver native, former CU golfer, part-time Boulder resident) 75
George Cunningham (Boulder County native) 75
David Duval (Cherry Hills Village resident) 76

Notable: Many competitors who failed to Monday qualify for the TPC Colorado Championship competed in the Westminster Open this week at Walnut Creek Golf Preserve in Westminster. Arizona resident Kolton Lapa won the open division with a 6-under-par 66, earning $6,500. Several Coloradans were among those who tied for second at 67, including Zahkai Brown, Derek Fribbs, Jake Staiano and Daniel Sutton. Former CoBank Colorado Senior Open champion Doug Rohrbaugh of Carbondale won the Westminster Senior Open with a 3-under-par 69, earning $2,500. Coloradan Scott Petersen tied for second place with Barry Conser at 70 … Two-time major champion Angel Cabrera, who played in the inaugural TPC Colorado Championship in 2019, finishing 55th (70-73-73-71), this week was sentenced to two years in prison for assaulting his former partner, Cecilia Torres Mana. He was convicted in an Argentina court. Cabrera won the 2007 U.S. Open and the 2009 Masters. … Thursday's round was delayed for almost 50 minutes in the evening due to lightning. … Derek Ernst, a one-time winner on the PGA Tour, withdrew after a first-round 76 on Thursday. … Martin Piller played the four par-5s at TPC Colorado in 6 over par in round 1.
For Friday's tee times at the TPC Colorado Championship, CLICK HERE.
To view general information about this week's tournament, CLICK HERE.