Coloradans Axlund and Nosewicz, and former UCCS golfer Olson win their first USGA championship matches ever
By Gary Baines – 09/16/2019
It's one of those oft-uttered cliches in golf: Anything can happen in match play.
But in the case of what transpired regarding the players with strong local ties on Monday at the U.S. Mid-Amateur at Colorado Golf Club, that cliche proved very apt.
You had Nick Nosewicz of Aurora, who never trailed in his match, led by as much as 4 up, and finished with a 4-and-3 victory in the match play round of 64.
You had Ryan Axlund (pictured above) of Englewood, who prevailed 2 and 1 in a match in which neither player led more than 1 up until the Coloradan made eagle from 2 feet on the par-5 16th after hitting a 7-iron from 204 yards. Five holes earlier, "Ax" almost chalked up a hole-in-one from 214 yards, hitting the pin dead on with that same 7-iron and finishing a foot away for a winning birdie.
You had former University of Colorado-Colorado Springs golfer Jon Olson winning 2 and 1 after being 4 down after five holes.
And you had Stephen Powers of Denver surviving an 18-for-6 playoff Monday morning to make match play — he birdied the first playoff hole — then leading his match 1 up going into 18, only to miss a 4-foot birdie attempt there and lose the last two holes to fall in 19 holes.
Anything can indeed happen in match play — and just did.
But the bottom line is, two Colorado residents and one player who played college golf in Colorado have made it to the round of 32, which is no small feat considering the field started at 264. Axlund, Nosewicz and Olson are all former pros who have gotten their amateur status back.
"That's awesome," Axlund said of the local success in a Colorado-based national championship. "It's fun to hear Nick made it through to the next round. We just want to keep representing the state well."
Oh, and by the way, all three of the locals who advanced won their first match ever in a USGA championship on Monday.
"I'm rooting for (Axlund). There's Colorado ties, right?" said Nosewicz, who asked during his match how both Axlund and Olson were faring on Monday. "We want somebody to do good. Obviously if (Axlund and I) get into a match together, I want to play a little better than he does. But I want him to make it as long as he can and play good golf because I know he can."
Overall, the round of 64 was pretty tough on the top seeds as four of the top six were ousted by players who survived an early Monday playoff just to make match play. Stroke-play medalist Ben Warnquist of Gaithersburg, Md., beat Canadian Joey Savoie, who needed nine playoff holes to earn the 64th seed, 2 up.
The playoff survivors who won on Monday included Nick Geyer of San Diego (who beat second-seeded Robbie Ziegler, who was born in Denver and spent the first two years of his life here); Kent Monas of Akron, Ohio; David Noll Jr. of Dalton, Ga.; and Daniel DeBra of Lutz, Fla.
And Denver's Powers almost became the fifth playoff survivor to advance. But as noted, he missed a 4-foot birdie putt on 18 that would have won him the match, then also lost the 19th hole and was ousted by Paul McNamara of Dallas.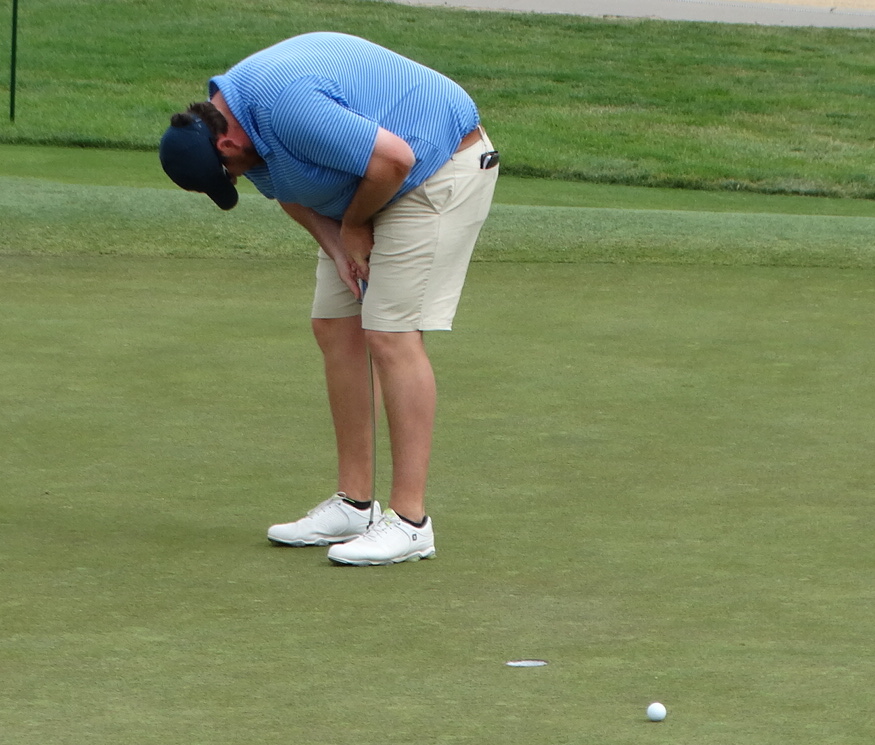 "Obviously I'm disappointed," said Powers, another reinstated amateur. "I feel like I should have closed it out even earlier than (18). I played way better than him today. But that's just how it goes sometimes. Match play is match play. He made the putts when he needed to."
Powers' match was one of six that went to extra holes on Monday.
Axlund, 38, scored his 2-and-1 victory over Herbie Aikens of Kingston, Mass., coming on strong down the stretch to prevail. Axlund and Aikens were tied after 13, then both players birdied the 14th. Axlund went 1 up with a par on 15, then 2 up with his conceded eagle on 16, and closed out the match by draining a 10-foot par putt for a halve on 17.
"It felt great" to win a match in a USGA championship, Axlund said. "It was a tough match. We both hit some great shots and we both hit a couple we'd have liked to have back. At the end of the day, I was able to edge him out."
Nosewicz, the 2015 CGA Match Play champion who needed a 115-yard hole-out for eagle on his final hole of stroke play to advance to match play without messing with a playoff, didn't need any heroics on Monday. He blew open a tight match against 14th-seeded Troy Johnson of Maple Grove, Minn., by winning No. 7 with a birdie and Nos. 8 and 9 with pars to build a 4-up lead. He closed things out on No. 15 with his fourth birdie of the day.
"Everybody in the top 64 is a phenomenal player," said Nosewicz, who turned 36 on Sunday. "So I just tried to play the golf course. And I played pretty good. I hit the ball where I wanted. But I know it's a marathon.
"I enjoy match play a lot because you give up on the score and you play the golf course and hopefully have the other guy play you. If you do that, you're doing well."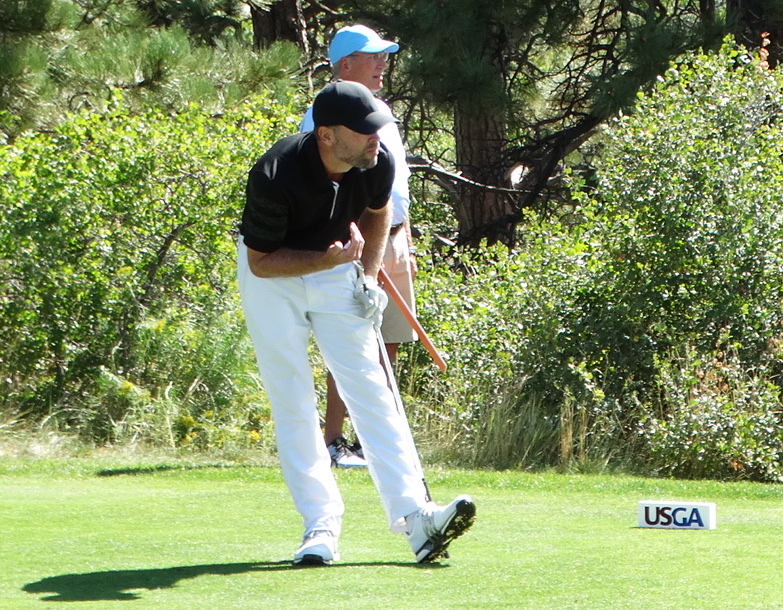 As for Olson, he certainly had one of the most impressive comebacks of the day in beating Canadian Dave Bunker 2 and 1. Bunker just missed a 7-foot birdie attempt on No. 1, then ran off four straight starting on hole 2, to take a 4-up lead after five holes.
"I don't know if I've ever been down that much," Olson said. "I mean, you can't be."
And what was Olson thinking at that point?
"Just keep playing," said the 39-year-old, who has twice won the Iowa Golf Association Match Play, including this year. "There's opportunities all over the place. The back nine gives you opportunities, opportunities and opportunities. I made a couple of putts and just stayed with it. You can't give up — even if you're playing like crap — and I wasn't. I was playing good, and that's what helped me."
After Bunker birdied the eighth hole from a couple of inches — marking his fifth birdie in the course of seven holes — he was 3 up. That's when Olson made his move.
He won No. 9 with a par, No. 10 with a 12-foot birdie, No. 11 with a conceded 5-foot birdie, and 12 with a par. All of a sudden, Olson was 1 up after crawling out of a 4-down hole.
Then Olson put things away with three straight birdies starting on No. 14, draining putts of 12 feet, 6 feet, then two-putting from 10 feet. A halve with bogeys at 17 ended the match.
"I'm just happy to move on," Olson said. "You win 7 and 6, you win 2 and 1, it doesn't matter. A win's a win. I was never going to give up regardless. 
"I'm comfortable. I like these events a lot. They're fun and they're challenging. It's always nice to come back. I've done that in the past in some tournaments. You just keep going. That's what my former (high school) coach and instructor always said: Never say die. That's kind of what I preached too when I was coaching in high school and college: Grind your ass off and see what happens. You never know."
The Olson-Bunker match included an 11-hole stretch (2 through 12) in which not a single hole was halved. Olson finished 3 under par for 17 holes.
In Powers' match, after he missed his 4-foot birdie attempt on 18, McNamara made his 3-foot birdie to force overtime. Then on the 19th hole, after McNamara chipped from over the green, leaving him 3 feet for birdie, Powers faced a side-hill flop shot for his third on the par-5, which he left short of the putting surface. His fourth shot ran 10 feet by, and when he missed that he conceded McNamara's birdie.
"I didn't have a lot of expectations coming in here," Powers said. "It's my first really competitive tournament in the last five years. I'm happy with how I played. I'm happy birdieing the first playoff hole this morning and getting through everything. But it definitely stings losing the last two holes to lose that way. It is what it is and we'll move on and hopefully play many more of these."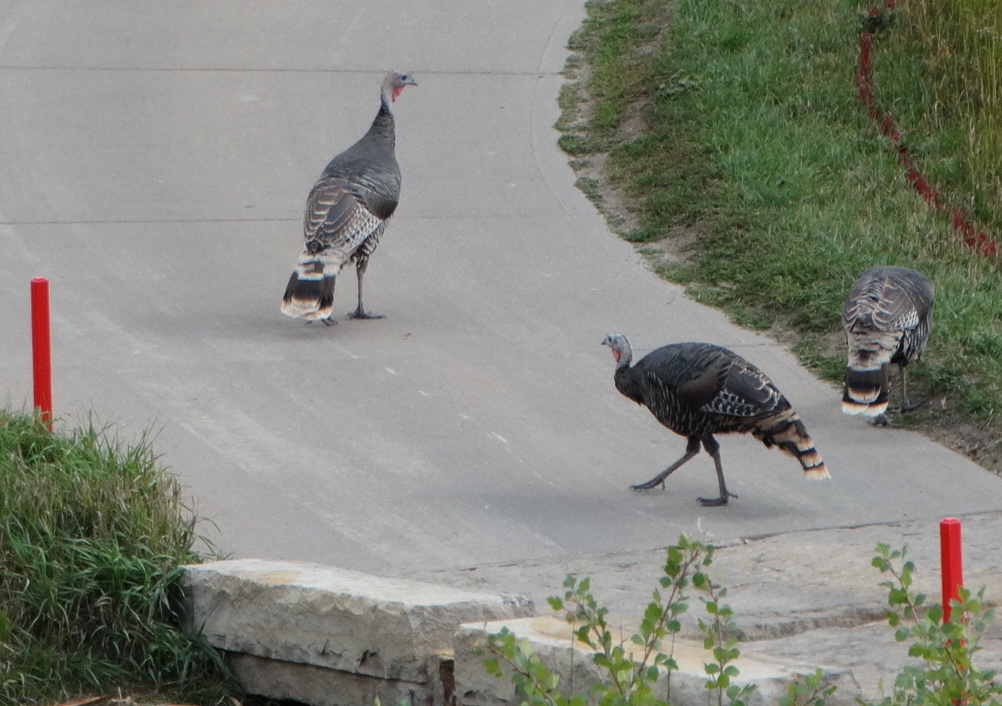 On Tuesday, two rounds of matches are scheduled, with the round of 32 in the morning and the round of 16 in the afternoon.
Here are how the former USGA champions who made match play fared on Monday:
— Stewart Hagestad (winner of 2016 U.S. Mid-Amateur): Won 4 and 3
— Scott Harvey (2014 U.S. Mid-Amateur, 2019 U.S. Amateur Four-Ball): Lost in 23 holes
— Kevin O'Connell (2018 U.S. Mid-Amateur): Won 4 and 3
— Matt Parziale (2017 U.S. Mid-Amateur): Lost 4 and 3
— Nathan Smith (2003, 2009, 2010, 2012 U.S. Mid-Amateur; 2015 U.S. Amateur Four-Ball): Lost 5 and 4
— Todd White (2015 U.S. Amateur Four-Ball): Won 4 and 3
Notable: For the two stroke-play rounds over the weekend, the field stroke average at par-72 Colorado Golf Club was 78.073, while the norm at par-70 CommonGround Golf Course was 73.989. … Canadian Garrett Rank, the NHL referee who won the Western Amateur this summer, won't have to worry about a potential Mid-Am match conflicting with his on-ice duties this week. Rank is scheduled to work the Colorado Avalanche's first two preseason games — on Tuesday and Thursday in Denver — and had he advanced to the round of 16, he would have had some scheduling problems. But he fell 3 and 1 on Monday to Daniel DeBra of Lutz, Fla. … Among those on hand Monday at Colorado Golf Club was five-time NBA All-Star Chauncey Billups, a former University of Colorado and Denver Nuggets player who is a member at CGC. Billups was the speaker for Thursday night's players' reception.
Here's how players with strong Colorado ties have fared at the U.S. Mid-Amateur:
MONDAY'S MATCH PLAY ROUND OF 64
Ryan Axlund of Englewood def. Herbie Aikens of Kingston, Mass., 2 and 1
Nick Nosewicz of Aurora def. Troy Johnson of Maple Grove, Minn., 4 and 3
Paul McNamara of Dallas, def. Stephen Powers of Denver, 19 holes
Former UCCS golfer Jon Olson def. Dave Bunker of Canada, 2 and 1
WEEKEND STROKE PLAY
Advanced to Match Play
7. Former UCCS golfer Jon Olson 71-68–139
33. Ryan Axlund of Englewood 69-76–145
47. Nick Nosewicz of Aurora 74-72–146
59. Stephen Powers of Denver 76-71–147
Failed to Make Match Play
Michael Harrington of Colorado Springs 78-70–148
Charles Santaularia of Lakewood 76-76–152
Matt Call of Castle Rock 78-75–153
Charles Sahlman of Denver 82-73–155
Jay Livsey of Wheat Ridge 78-79–157
Steve Irwin of Golden 79-78–157
Kent Moore of Centennial 82-76—158
David Lysaught of Denver 83-79–162
Mitch Donald of Vail 86-85–171

For scores and pairings from the U.S. Mid-Amateur, CLICK HERE.
*********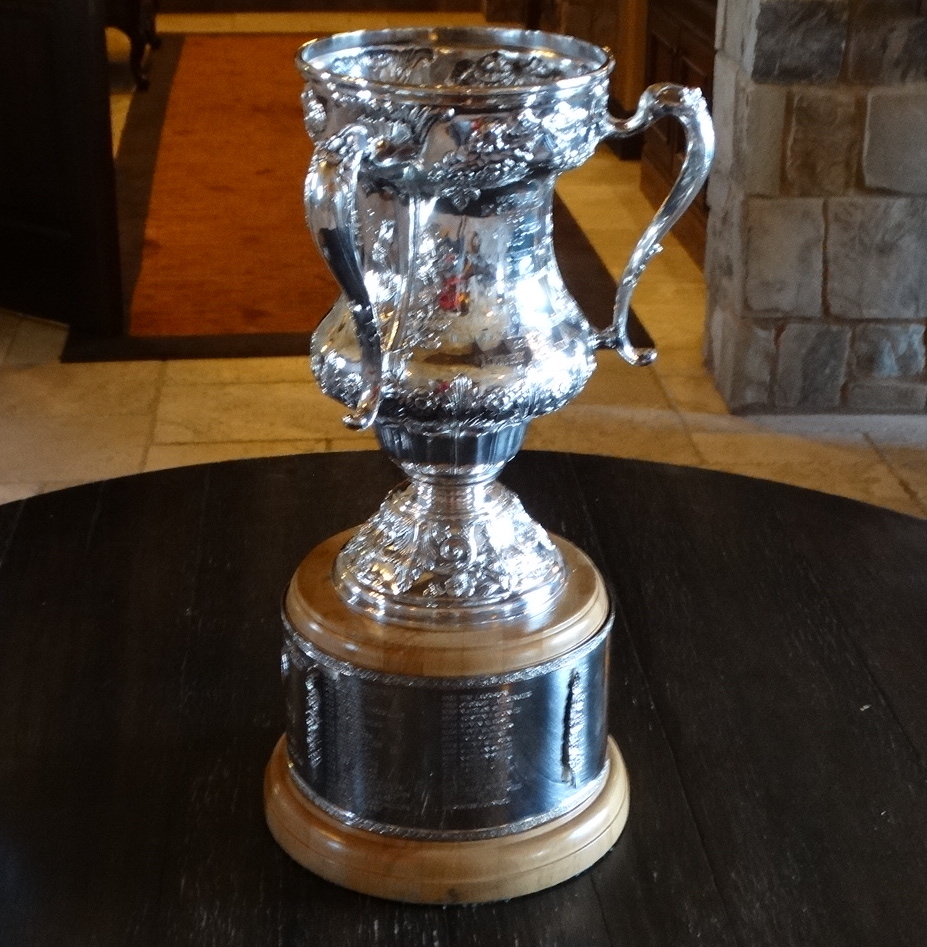 U.S. Mid-Amateur Championship: The Essentials
What: 39th U.S. Mid-Amateur Championship.
When: Sept. 14-19.
Where: Colorado Golf Club in Parker Sept. 14-19, and CGA-owned CommonGround Golf Course in Aurora Sept. 14-15.
Field: 264 of the world's top amateur players 25 years of age and older. The USGA accepted 4,751 entries this year, the second-most ever for this championship.
Spectators: Fans can watch the event free of charge.
Day By Day Schedule:
Saturday, Sept. 14: First round of stroke play at both courses.
Sunday, Sept. 15: Second round of stroke play, with competitors switching courses from Saturday.
Monday, Sept. 16: After playoff to cut the field to exactly 64 players, the first round of match play at Colorado GC.
Tuesday, Sept. 17: Round of 32 and round of 16 matches, both at Colorado GC.
Wednesday, Sept. 18: Quarterfinal and semifinal matches, both at Colorado GC.
Thursday, Sept. 19: 36-hole title match, at Colorado GC.
At Stake: In addition to the U.S. Mid-Amateur title, a spot in the 2020 U.S. Open and likely a berth in the 2020 Masters.
Yardage/Par for Each Course — Colorado Golf Club: 7,561 yards and par-72. CommonGround Golf Course: 7,470 yards and par-70.
Previous U.S. Mid-Amateur Held in Colorado: 1983 at Cherry Hills Country Club, where Jay Sigel won. Overall, this is the 33rd USGA championship held in Colorado.
Earlier Major Events Held at Colorado Golf Club: 2010 Senior PGA Championship, 2013 Solheim Cup.