On verge of becoming a father, Colin Prater rallies from 6 back on the final day to win CGA Mid-Amateur at Lakewood CC; Jay Livsey runner-up for 2nd straight year
By Gary Baines – 10/9/2022
It's not the least bit unusual for competitors in CGA championships to keep their smart phones handy during tournaments nowadays. In fact, it's the norm, both for the purposes of posting scores and keeping abreast of the results of fellow players.
But Colin Prater from Cherokee Ridge Golf Course in Colorado Springs had a far more important reason for having his phone close by at all times during this week's 36th CGA Mid-Amateur at Lakewood Country Club. His wife of just over a year, Madi, is due with their first child in the next few days, and because infants don't always follow schedules, he was ready at a moment's notice to walk off the course, mid-tournament, if she went into labor.
It was kind of like Phil Mickelson at the 1999 U.S. Open: being on hand for the birth of one's child no question was going to take precedence over some championship, even if meant possibly sacrificing a title.
"Absolutely that was a huge concern," the 27-year-old Prater said. "My phone is on — it's on me. If she gives me a ring, I'm making my hour drive down to the Springs.
"My priorities are entirely shifting after this week."
As it turned out, not only did Prater not get called off the course, but he rallied in a big way in Sunday's final round to capture a Mid-Am title to go with his two CGA Amateurs and one CGA Match Play championship.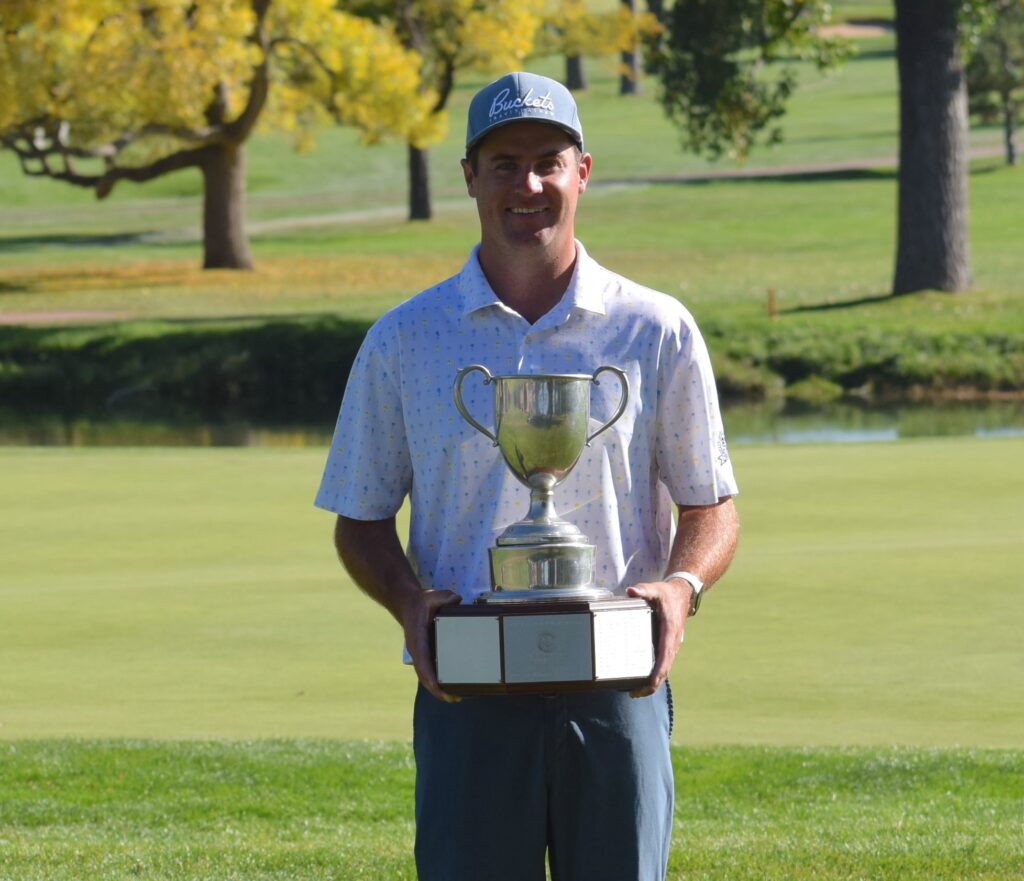 The science teacher at Cheyenne Mountain Junior High School shot the low round of the tournament — a 5-under-par 66 — to overcome a six-stroke deficit and prevail by one shot.
That's what you might call delivering on the eve of The Delivery.
After checking the leaderboard while on the 16th green and finding himself tied for the top spot, Prater gathered himself and made putts of 12 feet on No. 16 for par, 6 feet on No. 17 for birdie and 10 feet on No. 18 for par. That was enough to edge out Lakewood CC's own Jay Livsey, who finished runner-up in the Mid-Am for the second straight year.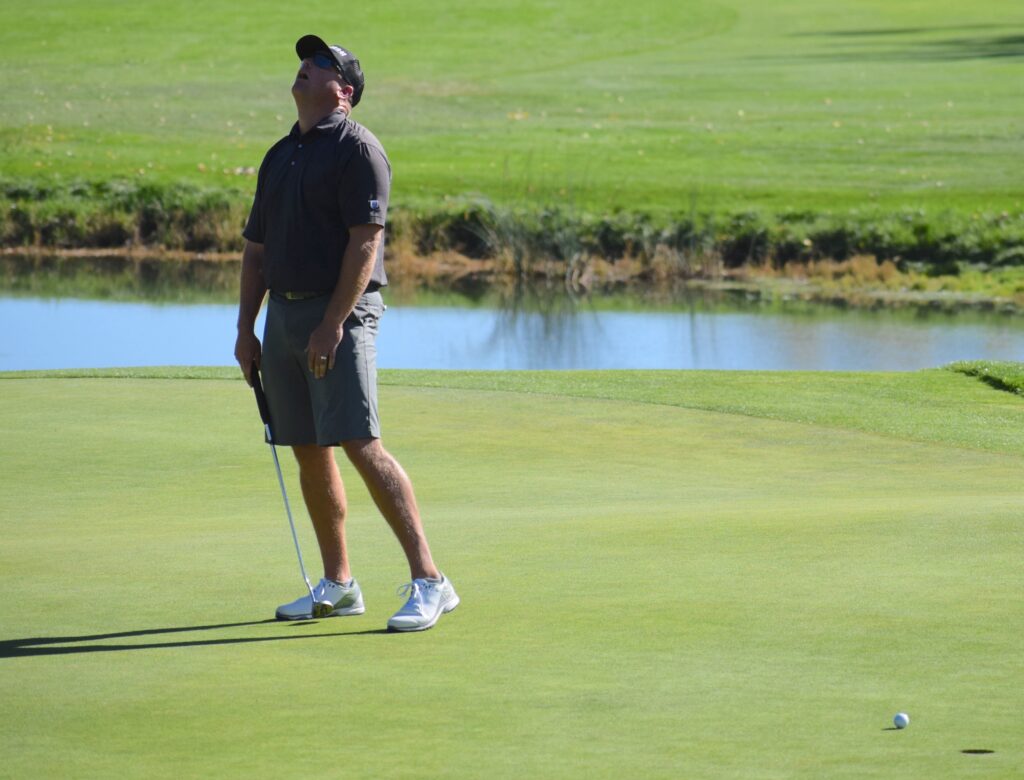 It's certainly no surprise that Prater might win the Mid-Am. After all, it was just two years ago that he captured titles in both the CGA Match Play and the CGA Amateur (winning the latter for the second time) and was low amateur in the Colorado Open. And in late July of this year, he finished third at the CGA Am, a month before winning the Colorado Springs City Championship for the eighth time in nine years — this time by nine strokes.
But rallying from a six-shot deficit on the final day is no simple task, even for the best of players. But Prater went bogey-free in carding his 66 on Sunday, and needed just 23 putts in the final round.
"My putter definitely saved me a little bit today," the former University of Colorado-Colorado Springs golfer said.
The first two days of the tournament, "I was struggling with my alignment and struggling committing to shots and I was struggling hitting it the right distance," he noted. "But today was just pretty much trying to make birdie on every hole. I knew I needed to make as many birdies as I possibly could. Fortunately, I didn't really have to think too much. It was like, 'This is the pin, this is where it's at, hit it and just deal with the consequences.'"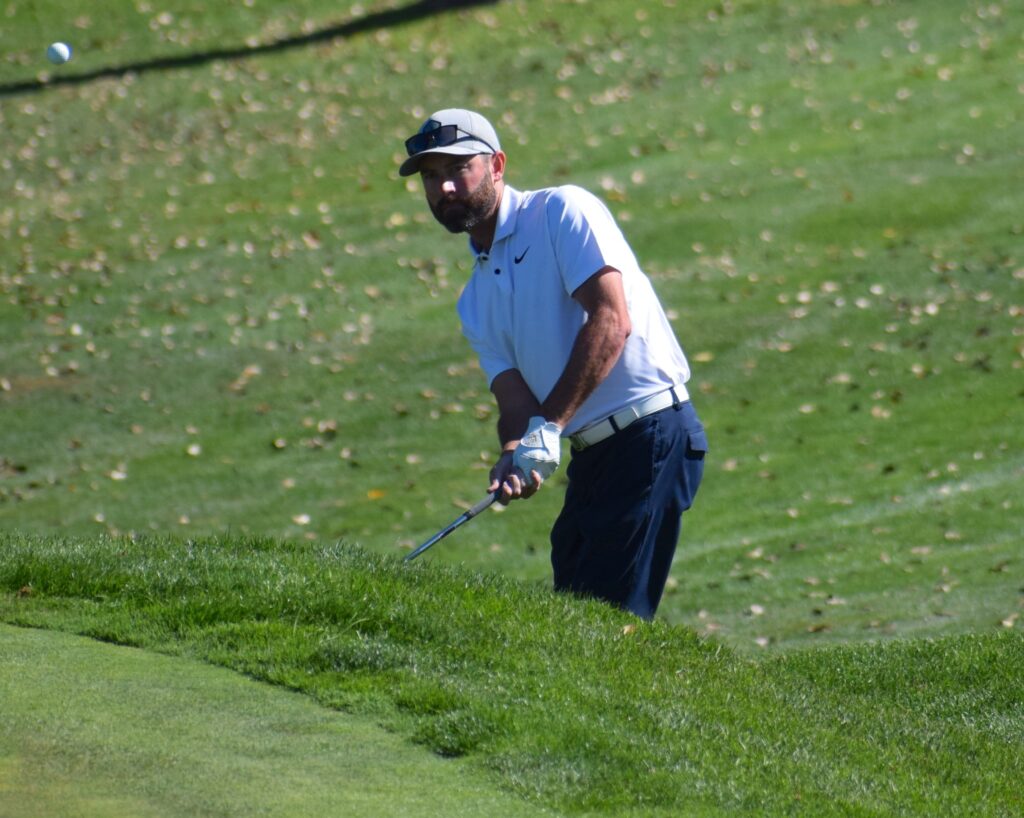 After 36-hole leader Darrin Hall from Lakewood CC triple bogeyed the first hole after hitting his second shot out of bounds over the green from the sand, Livsey led for most of the day on Sunday. But he three-putted the 11th and 12th holes — for a bogey and a par, respectively — and backed up a birdie on No. 13 with a double bogey on 14 to fall into a tie for the top spot. And when Prater birdied the par-3 17th, he went ahead for good.
Livsey had chances to pull back even, but missed birdie tries of 12, 10 and 14 feet the last three holes, with the attempt on No. 18 coming up a couple of feet short of the cup.
"It's frustrating," said Livsey, who lost to Matt Zions in a playoff at the 2021 CGA Mid-Am. "I just lost my putter honestly. Two three-putts on the back (nine). I had a goofy shot on 14, then I couldn't make any of the putts coming in."
Prater finished at 3-under-par 210 for three rounds for the victory. Livsey closed with a 71 to check in at 211. Hall, another player trying to win the title at his home course, rallied after going 5 over par for his first six holes on Sunday. He pulled himself back into contention with three birdies on the back nine before bogeying No. 18 to shoot 74 and tie for third at 1-under 212.
"After the triple start, I just knew I had to forget about it and play like it never happened," said Hall, a former University of San Diego golfer who three times finished second in the CGA Amateur. "I think I did a pretty good job of that. Obviously I made another mistake on 6, making the double. But at the end of it, I was right there in it. I missed two short putts for birdies on the two par-5s (12 and 13). But even with the first hole, I gave myself an opportunity (to win)."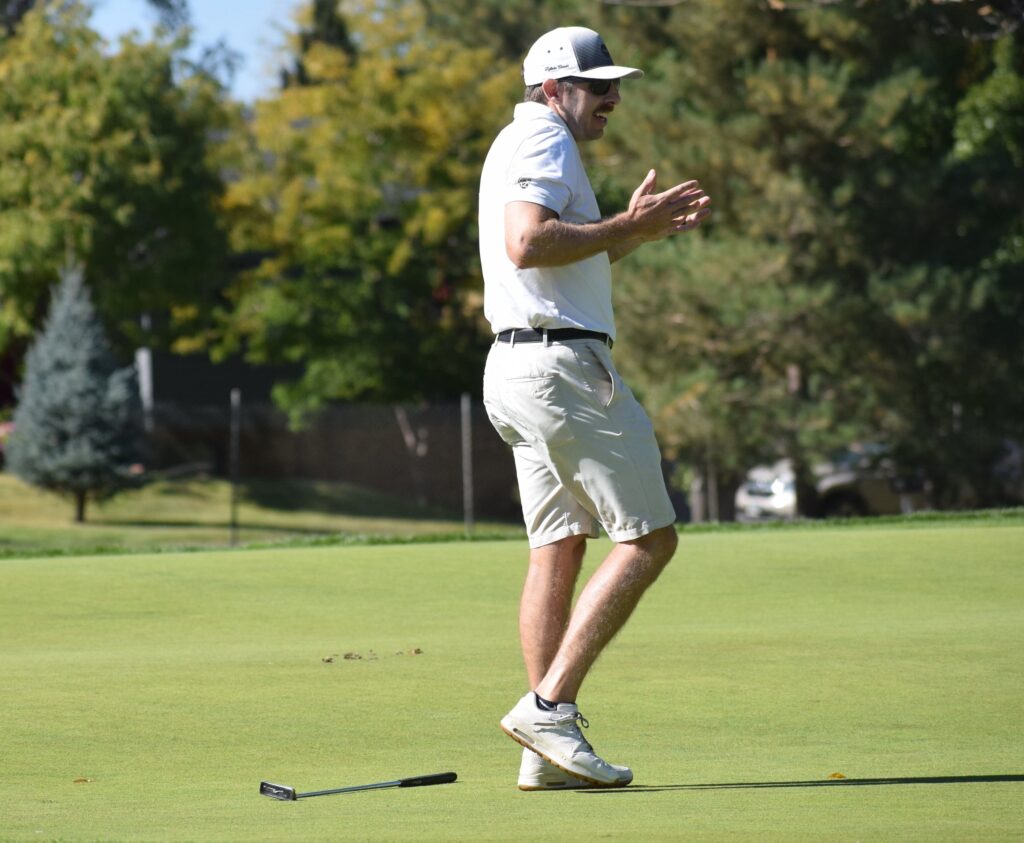 Also sharing third was former CU golfer — and two-time CGA Player of the Year — Pat Grady, who chipped on for birdie on No. 18 for a 71. A former pro, Grady was reinstated as an amateur early this year.
Tyler Bishop of Saddleback Golf Club tied for fifth after having the highlight of the day, making a hole-in-one from 212 yards with a 6-iron on No. 10. It was the fourth career ace for Bishop — all coming in competition.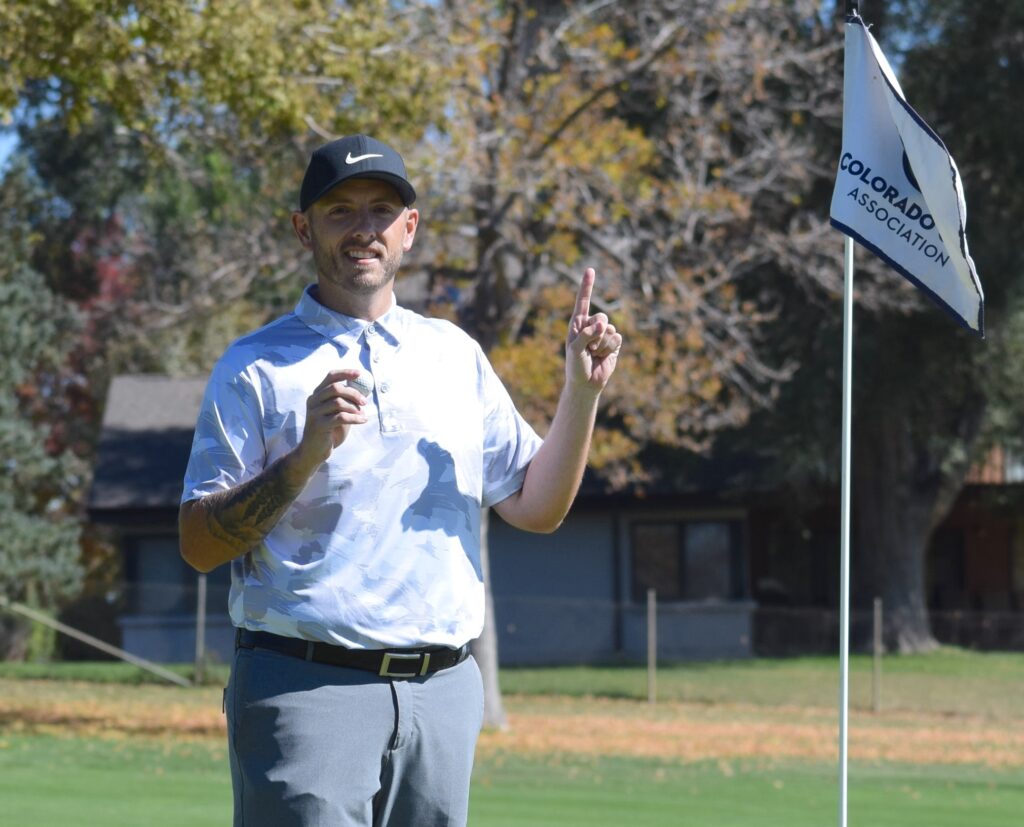 As for Livsey, a little more oomph on his putts on the final three holes might have changed the outcome on a day he struck the ball very well from tee to green for the most part.
"I'd been over-putting them," the 42-year-old said. "Yesterday, I put four of them go by the hole, so it was overcompensation, I think. The greens dried out the last two days and I just didn't adapt."
Meanwhile, it was quite the successful week overall for Prater, who teaches seventh-grade science at Cheyenne Mountain Junior High in Colorado Springs. He also serves as an assistant coach for the Cheyenne Mountain High School boys golf team, which claimed the 4A state team title on Tuesday at Pelican Lakes in Windsor.
"We won a state title, which was super awesome," he said. "That was super neat and fun to be able coach them and watch them play good golf."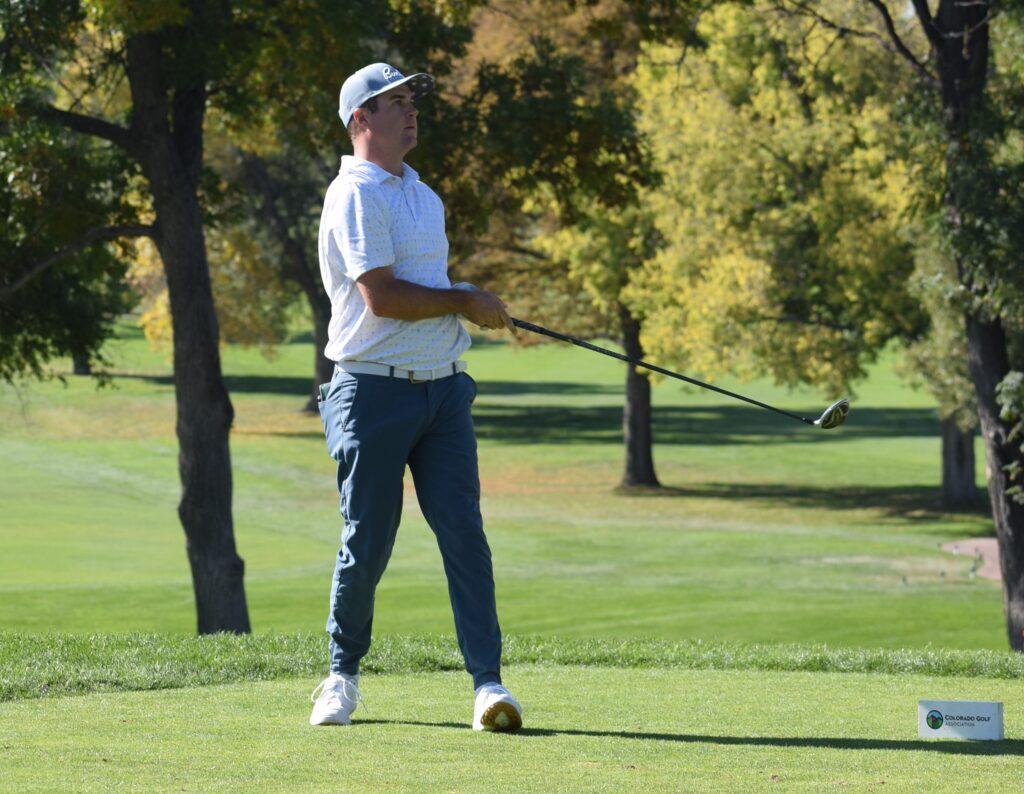 But between teaching, coaching and family life — Prater missed last year's Mid-Am due to his wedding — he doesn't get much time to play golf during the school year. In fact, Friday's first round of the Mid-Am marked his first time picking up a club since teeing it up for nine holes a week earlier.
"I didn't get to practice nearly as much as I wanted to," he said. "I have a ton of respect for the guys who are the weekend golfer — who play and don't practice a ton, and can still play really good golf. I'm in that boat."
Also, given that until the first round on Friday Prater hadn't seen the Lakewood CC course since the 2014 CGA Amateur, it took him a while to get in a groove this weekend.
"The more days I can play in a row, the better" for his golf game, he said. "I'm super excited" with the outcome.
The CGA Mid-Amateur, which marks the final CGA championship of 2022, is limited to players 25 and older.
For all pictures from the championship, CLICK HERE.
For all the scores from the championship at Lakewood Country Club, CLICK HERE.