These days, you might be able to wear whatever you want – depending on where in Colorado you want to play
By: Susan Fornoff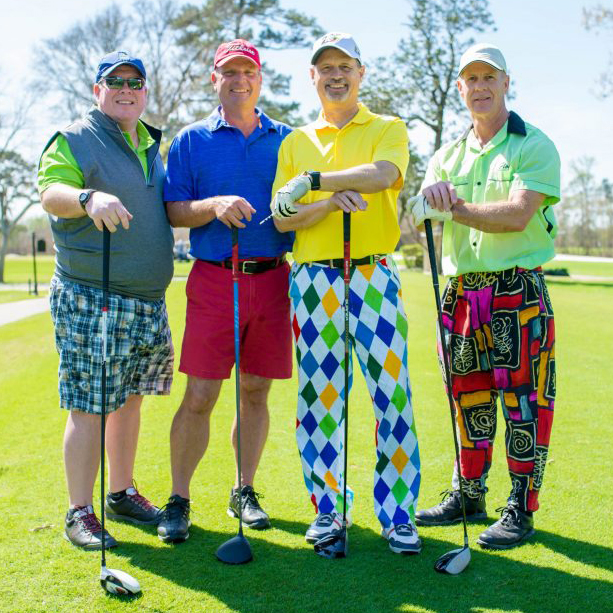 In an era when PGA players wear hoodies on the course and LPGA hemlines hit high tide, the average golfer might assume that the game's dress codes have finally relaxed. But what you see on TV has no bearing on what to wear on Colorado golf courses, where there are two distinct categories of codes: strict and nonexistent—and with plenty of variations in between.

"It's totally dependent on where you play," says Kristen Benson, who has stocked golf shops from Castle Pines Golf Club to Raccoon Creek. "What Cherry Hills, Denver Country Club and Castle Pines allow is much different than at public courses."

But even public courses range widely. In the South Suburban district where Benson is now the merchandiser, Lone Tree requires collared shirts for men and prohibits denim, athletic shorts, tank tops and halter tops – but South Suburban, Littleton Golf & Tennis and Family Sports have no dress codes. The CGA's CommonGround requires "golf appropriate attire," and for women "what is deemed golf attire by the golf fashion industry." Play Englewood's Broken Tee and: "Shirts and shoes are required." Which does raise the question about bottoms. Presumably no one has tried to play without them yet.

"Most public courses don't have written dress codes anymore," says Tom Buzbee, Director of Golf at Boulder's Flatirons Golf Course. "Sure, we want people to not wear clothing that has offensive language or images, and they must wear a shirt and shoes, but that's it. As long as your clothes are clean and not offensive to others, it's all good now."

At higher end and private courses, men must wear a shirt with a collar. It's not that the collar facilitates a golf swing. Unlike in sports where participants dress for their movements, golf holds fast to its traditions, which include a certain standard of dress. Many dress codes require men to wear "Bermuda length shorts," which traditionally land 1 inch above the knee. Other common private club restrictions include length requirements for women's shorts and skirts, and prohibitions on denim, untucked shirts and backward caps.

In one widely circulated story, a pro quarterback not in the Hall of Fame who joined a Denver-area country club and insisted on playing in cargo shorts with shirt untucked and cap turned backward was handed a check in the amount of his entrance fee at the end of his round. See ya!

Private clubs have that option. Violations elsewhere result in varying consequences. Check in to play Lone Tree in a T-shirt and you'll be offered a loaner golf shirt for your round. And if you show up to play the Raven Golf Club at Three Peaks but aren't wearing "proper golf attire," you're going to have to go shopping before you'll reach the first tee.

"No collared shirt? We show you the sale rack, or you can run down to Target," says assistant professional Michael Benedict. "Put your rain pants on over your denims. We don't budge on the attire. You can't say, 'I forgot, I'll wear it next time.' It's on the website, it's on the email confirmation, we tell you. So you're still going to get charged for the tee time."

There's also the peculiar enforcement tool of peer shaming. At Todd Creek, a golf course in a 55-and-up Thornton community, the requirement that women's shorts or skorts be no higher than 3 inches above the knee goes largely ignored, until…

"If someone comes out with a very short length, or in athletic shorts or tennis skirts, even with shorts underneath, our ladies will say something about that," says Todd Creek first assistant Grant Payton.

If you're playing someplace new, you might want to call first. Here's a sampling of the nuances of the 2022 dress codes around the state.

Bella Rosa, a nine-hole course in Frederick: No sleeveless shirts unless you're a woman, and no cowboy boots. And, yes, they've had to turn someone away for the latter.

Buffalo Run, municipal course in Commerce City: Wear what you want, as long as it's not offensive. "We'd like golf attire, but we realize things are changing," says first assistant Jordan LeBlanc. "We did have a guy come out to play in a T-shirt that had a middle finger on it and we had him turn it inside out."

Castle Pines Golf Club, private: The list of inappropriate garb includes bare feet. Otherwise, both men and women are supposed to let no more than 3 inches of flesh show above the knee.

Cherry Hills Country Club, private, Denver: Ladies, unlike gentlemen at this historic club, have some leeway here. They don't have to wear a collar.

Colorado Golf Club, private, Parker: This relative newcomer to the local scene has one of the strictest dress codes, requiring pants or Bermuda length bottoms for men, boys, women and girls.

Colorado National Golf Club, public course in Erie: The requirement of "proper golf attire" is relaxed from November through February, when denim is allowed.

Denver Country Club, private: "We aim to have a casual but conservative dress code at our Country Club where tasteful and appropriate attire is expected," says the online guest policy. It goes on to make suggestions, including photos of appropriately dressed golfers.

Flatirons: The requirement is "Keep your clothes on." Seriously. "When the college crowd hits in the afternoon," says Buzbee, "we have to remind some of them to keep their shirts on."

Kissing Camels Golf Club, private, Colorado Springs: Men must wear a collared shirt tucked in. Women must have either a collar or sleeves on their "blouse."

The Club at Ravenna, private, Littleton: No denim, hats always worn with bills forward. But recent modifications—"Golf slacks or appropriate shorts… Shirts recommended to be tucked… (for ladies' skirts and shorts) appropriate length"—acknowledge the game's evolution. Says Director of Golf Operations George Kahrhoff, "The fashion trends I am seeing are more of the untucked look in men's golf shirts, men's shorts offered in different lengths, and the same with ladies' skirts/skorts."

The Club at Rolling Hills, private, Golden: The board here looked at recent trends and felt compelled to add to its requirement of appropriate golf attire, "Leggings only are not dress code appropriate…Fitness attire is not permitted on the course." Leggings are OK only under a skirt, skort or shorts.

So here's the bottom line: If you're playing someplace new to you and are about to put on cowboy boots, yoga pants, short shorts, cargo shorts or T-shirt, call the course first. Golf course dress codes may disappear someday, but in Colorado they're still evolving.