Colorado Women's Open purse ($250,000) and first prize ($100k) will match totals of men's Open under championships' new title sponsorship deal with Denver-based Inspirato
By Gary Baines – 3/22/2022
The week of May 30-June 5 will mark a monumental milestone for golf, both worldwide and in Colorado.
That week, the U.S. Women's Open in North Carolina will see almost a doubling of its 2021 purse as it reaches $10 million. And the Inspirato Colorado Women's Open, with a freshly inked contract with a new title sponsor, will double its first prize — to $100,000 — and have its purse hit $250,000, with both figures matching the totals for the Inspirato Colorado Open.
Simply put, that marks a huge step for those seeking just such strides in gender equity in sports. On a day in which Inspirato was introduced as the new title sponsor for the Colorado Open Championships after signing a five-year, $2 million agreement, the huge increase in the Women's Open purse was called "groundbreaking" by Inspirato executive vice president of care Michele Delman.
"This announcement is not just a game-changer, it's a life-changer," noted Molly Greenblatt, the board chairperson of the Colorado Open Golf Foundation, who has long championed this cause. "… We're going to be changing lives, and I'm so proud of that.
"As a friend and fellow board member told me, with Inspirato as our partner, we have widened the lead. We are the greatest state opens in this country. And with the news today, that lead is even larger. … Today is a wonderful day for Colorado and a wonderful day for the game of golf."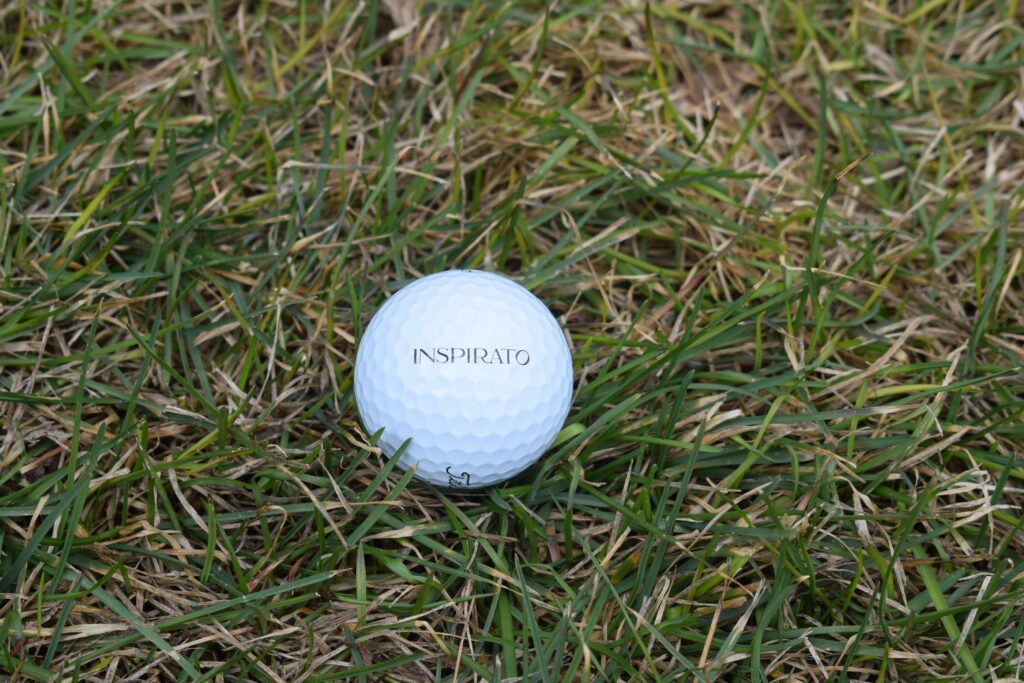 Inspirato bought into the idea so enthusiastically that it paid an extra $100,000 to make it happen. Brent Handler, CEO and co-founder of the Denver-based luxury travel subscription business, said the original title sponsorship proposal for the Colorado Open, Colorado Women's Open and Colorado Senior Open was for $300,000 annually.
"They brought to our attention that if we increased that by $100,000, you'd be able to make the purses (for the men's and women's Opens) equal," Handler recounted. "Immediately we were really drawn to that and thought that made a lot of sense. This is a business where we have a lot of female employees, a lot of female executives, a lot of female leaders. So we thought it was a good brand fit for us. It made a lot of sense. It felt like the right thing to do and a good affiliation for us. We decided to jump in with both feet."
Inspirato succeeds CoBank as title sponsor as the latter had been in that role since 2016. During that time, the tournament leadership increased the Colorado Open first prize to $100,000 and purse to $250,000 in 2016, and the Colorado Women's Open totals to $50,000 and $150,000, respectively, the next year.
So the CWO winner has gone from earning $11,000 in 2016 to $100,000 this year, with the purse reaching $250,000 this year after being at $75,000 in 2016.
"It's a huge step forward for women's golf in Colorado — and nationwide, I think," said Erin Houtsma, who earned $10,000 when she won the CWO in 2005 but regained her amateur status in recent years. "I can't wait to see what comes of it.
"I got a check for $10,000 (for winning) and it changed my life. I bought a car and I lived in it while playing on the Futures Tour across the country. That check changed my life. To have the women going forward making 10 times that, I'm going to get emotional. It's really a special, special thing that you guys are doing. I feel honored to be part of (the tournament committee) and part of this state."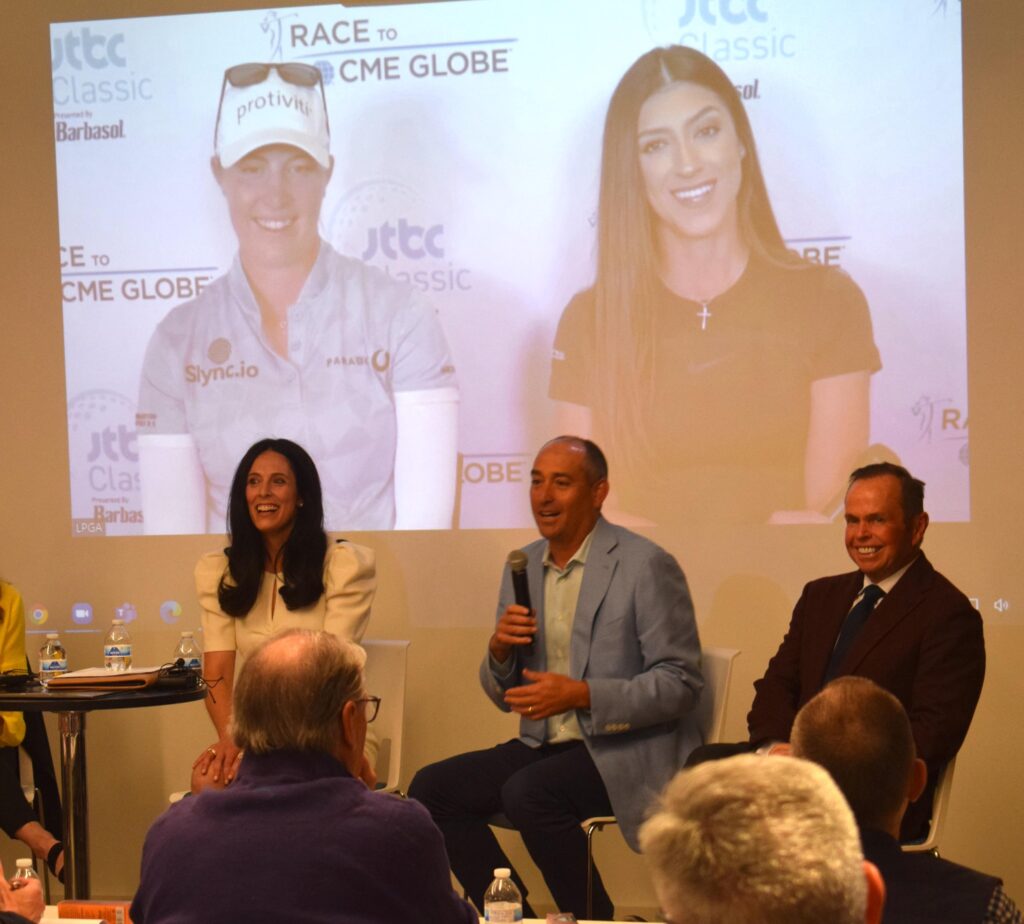 Indeed, Tuesday's announcement may be termed history-making.
"With our sponsorship the Colorado Open becomes the first state opens to offer equal purses for both men's and women's events," Delman said. "And in fact, to our knowledge we believe the Colorado Open may actually be the first professional golf tournament in the world to offer equal purses for men's and women's events."
Added Greenblatt: "All of us realize the long traditions of our Colorado Opens, and we're so proud of this moment. … I have personally seen this event grow, expand and become what it is today. And I can tell you that this commitment to the state opens — and to equity in athletics — is really unparalleled, and I'm so happy to be a part of it.
The Colorado Women's Open — and Colorado Open — had already set the standard for state open payouts. For instance, two of the other highest-paying women's state opens are the Marilynn Smith Arizona Women's Open and the Texas Women's Open, which have purses of a minimum of $87,000 and of $78,000, respectively. In fact, the CWO will have a purse larger than all but one Epsom Tour event and its first prize is much bigger.
Though Colorado native Jennifer Kupcho, the No. 49-ranked women's golfer in the world, will be competing in the U.S. Women's Open when the CWO is held this year, she certainly has a soft spot in her heart for the Colorado Women's Open as it's her only professional victory to date (2020) and she was low amateur/overall runner-up twice.
"It's absolutely awesome to hear about" matching the purses, Kupcho said virtually during Tuesday's press conference at Inspirato's offices in Denver. "I was ecstatic. One of the biggest things is, it's exciting for me, being (winner of the inaugural) Augusta National Women's Amateur, which was a big first in women's golf as well. And now for Colorado, my home state, to follow right along with that and create the same purse for both the men's and Women's Opens is absolutely amazing. And I'm so proud to be a part of it."

Californian Savannah Vilaubi, who landed a $50,000 check for winning last year's Colorado Women's Open, also couldn't wipe the smile from her face when speaking of the announcement.
"Thanks to Inspirato and Colorado golf for just acknowledging our work ethic as female athletes as parallel to that of the men," she said virtually. "Our passion for golf is the same, and to now be compensated on the same level is absolutely tremendous.
"When the check is that big, you feel like a titan. Coming up through the mini tours and all that life, it's not very glamorous. When you get that cushion (with a big payout), it allows you to play more freely and you're inspired to go after the next big check. … I could get twice as much ramen now."
While Tuesday's announcement focused to a large extent on the purse changes with the Colorado Women's Open, the Inspirato Colorado Senior Open also will get a significant boost — though not nearly as big. After learning the Texas Senior Open purse was more than $80,000, the CSO total will jump to $90,000, with $18,000 going to the winner. Its totals for 2021 had been $65,000 and $12,500, respectively.
This year's championship lineup — all at Green Valley Ranch Golf Club in northeast Denver — will be the Women's Open June 1-3, the Open July 21-24 and the Senior Open Aug. 24-26. Registration for all three events opened on Tuesday, three weeks later than usual due to this week's announcements.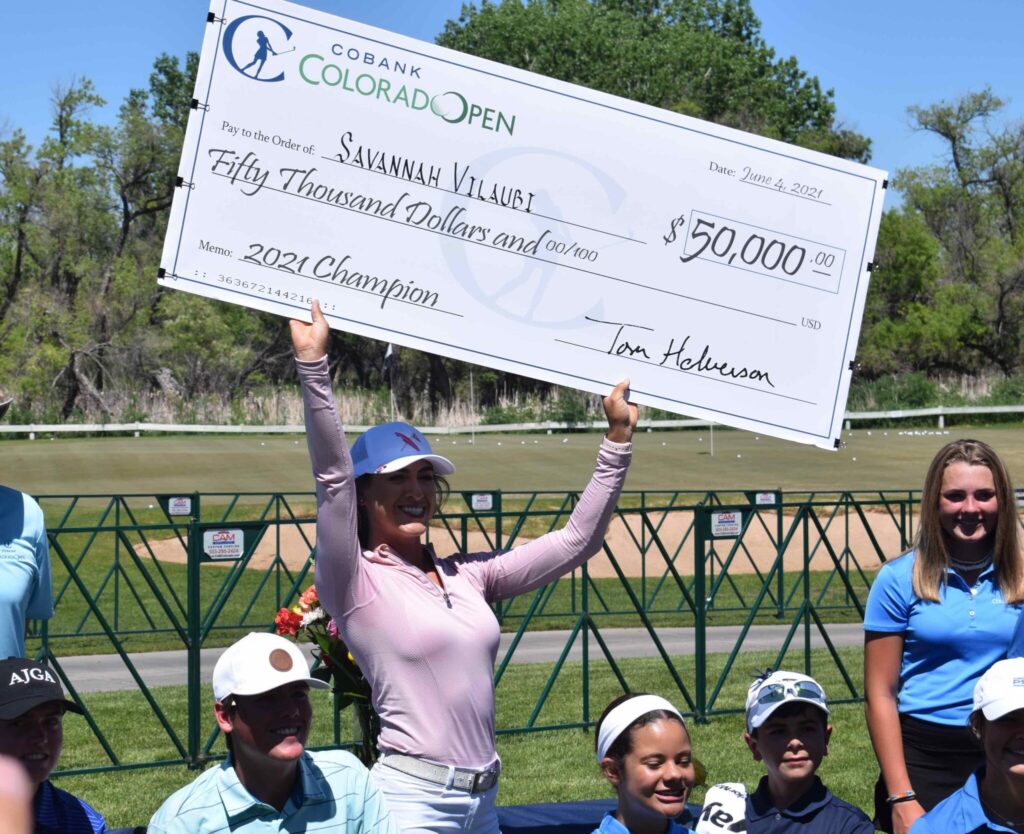 Following a 32-plus-month search for a title sponsor for all three events, Inspirato came on board after recently going public as a business. Handler is a native of Colorado, attended Thomas Jefferson High School and the University of Colorado, and is a member at Colorado Golf Club in Parker.
"Being a larger employer in Denver and really trying to think about ways we can make a difference, this just kind of checked all the boxes," he said of becoming title sponsor. "We're excited to be supporters of First Tee Green Valley Ranch. From a mission perspective, we're very very focused on underprivileged kids. That really checks a box there. And we're very excited for how this tournament is going to play out and how Colorado can be on the map for having absolutely, positively, without question the best state opens (and) the largest purses for men, women and seniors. There are a lot of unique things about this we're super excited about."
With the increases for the Colorado Women's Open, the competitors there will be required to pay entry fees that match those of the Colorado Open — $600 for most women pros, $500 for female Colorado PGA members, and $400 for amateurs. The format for the CWO will remain the same — a multi-day pro-am, like the AT&T Pebble Beach Pro-Am utilizes.