DU completes Pioneer sweep of men's and women's team and individual titles in Summit League; UNC repeats as men's Big Sky champion; CSU men the Mountain West runner-up for third straight year
By Gary Baines – 04/30/2019
A week after the DU women won a Summit League title coach Erik Billinger's DU men did their part on Monday by climbing to the Summit themselves.
In fact, like their female counterparts, the Pioneer men (pictured above) swept the team and individual titles in the Summit League in Newton, Kan. (Mary Weinstein of Highlands Ranch had taken home the individual honors on the women's side.)
DU freshman Cal McCoy, also from Highlands Ranch, earned the top spot individually for the men by prevailing in a four-man playoff, defeating teammate Esteban Missura — a redshirt freshman — and Oral Roberts' Cody Burrow and North Dakota State's Andrew Israelson with a birdie on the first playoff hole.
The Pioneers rallied on a 36-hole day on Monday to capture the team title by 15 strokes over South Dakota and South Dakota State. DU finished at 10-over-par 874 for three days at Sand Creek Station Golf Course, earning an NCAA Regional berth in the process.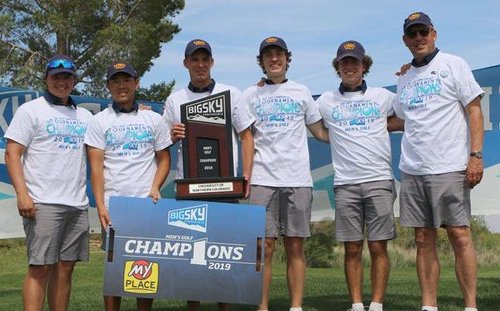 On the day before the DI men claimed victory, the University of Northern Colorado (pictured)repeated as men's Big Sky Conference champions on Sunday, capturing a conference team title for the third time in six years.
The victory in Boulder City, Nev., earned UNC an automatic berth in next month's NCAA Regionals.
The Bears fended off hard-charging Weber State in Sunday's final round, prevailing by two strokes. Weber State shot a tournament-best 15-under-par 273 on Sunday, but UNC's final-day 284 — and 18-under 846 total — was good enough for another championship.
UNC put three players in the top 10 out of the 35-player field. Junior Coby Welch placed fifth at 7-under-par 209, which left him two strokes behind individual champion Jake Vincent of Southern Utah. UNC senior Joshua Matz tied for eighth (211), while freshman Jack Castiglia was 10th (213).
It was the Bears' second team victory of the spring schedule as they won the Pizza Hut Pat Hicks Thunderbird Invitational in February in Utah.
Meanwhile, Colorado State University proved it's nothing if not consistent in the men's Mountain West Conference tournament.
For the third consecutive year, the Rams finished runner-up in the MWC championship. The only difference was, a different team was ahead ahead of them in the team standings this time.
After two straight years of UNLV beating CSU, this time New Mexico edged the Rams, who led going into Sunday's final round in Tucson, Ariz.
CSU, which is in line to land an NCAA Regional at-large berth, finished with a 30-under-par 834 total, ending up three behind the Lobos.
Junior AJ Ott led the Rams individually, tying for fifth place after three consecutive rounds of 69. All five CSU players finished under par for the tournament as Oscar Teiffel was 12th, Jake Staiano 14th, Parathakorn Suyasri 22nd and Davis Bryant 23rd.
The top two individual scores came from New Mexico players as Galven Green and Sean Carlon checked in at 13-under-par 203. Green went on to win the individual title in a sudden-death playoff that lasted three holes.
The Air Force Academy placed 10th in the 11-team field, with freshman Luke Trujillo pacing the Falcon individually, in 35th place.
MEN'S SUMMIT LEAGUE
April 28-30, 2019 (final) in Newton, Kan.
1. (out of 9 teams) Denver 292-294-288–874
1. Cal McCoy 74-72-73–219
T1. Esteban Missura 74-73-72–219
6. Carson Griggs 73-76-72–221
8. John Sand 77-73-72–222
25. Eric Hagen 71-84-72–227
MEN'S BIG SKY
April 26-28, 2019 (final) in Boulder City, Nev.
1. (out of 7 teams; won by 2) Northern Colorado 285-277-284–846
5. Coby Welch 70-68-71–209
8. Joshua Matz 69-71-71–211
10. Jack Castiglia 71-69-73–213
14. Li Chen 75-69-72–216
24. Nick Sharp 76-75-70–221

MEN'S MOUNTAIN WEST
April 26-28, 2019 (final) in Tucson, Ariz.
2. Colorado State 279-275-280–834
5. AJ Ott 69-69-69–207
12. Oscar Teiffel 70-69-70–209
14. Jake Staiano 71-68-71–210
22. Parathakorn Suyasri 69-72-72–213
23. Davis Bryant 75-69-70–214
10. Air Force Academy 294-292-287–873
35. Luke Trujillo 73-74-70–217
37. Andy Germann 74-72-72–218
40. Jonathan Farmer 73-74-73–220
40. Joshua Wu 76-72-72–220
50. Anson Kuznik 74-77-75–226
52. Coloradan Tyler Severin, Wyoming 77-76-74–227