Former UNC men's golf coach Roger Prenzlow makes birdie in 3-man playoff to win Super-Senior Amateur for his first CGA title; 2 aces recorded on same hole in final round
By Gary Baines – 8/10/2021
They were fighting like dogs to win the CGA Super-Senior Amateur on Tuesday at Ute Creek Golf Course in Longmont. So it was only appropriate that a couple of pooches were at each other's throats in a backyard near the 18th tee box when the leaders were just about to hit their drives.
On a day that featured two aces at the same hole (including one by the leader at the time), a four-way tie for the top spot with the last group on No. 18, and a three-way playoff for the title, recently retired University of Northern Colorado men's golf coach Roger Prenzlow emerged with the title a year after getting his amateur status back.
Prenzlow, a member at TPC Colorado, two-putted for birdie from 18 feet on the first hole of sudden death to defeat two-time champion Robert Polk of Colorado Golf Club and 2020 winner David Nelson of Columbine Country Club.
Competing in CGA championships for just a few times since becoming an amateur again, Prenzlow rallied from four strokes back entering Tuesday's final round to prevail for the title in the 65-and-older event.
"I hadn't played tournament golf for 30-35 years. I had jobs in the golf business that didn't allow me to compete that much," Prenzlow said. "But I started playing in these a year ago and had a great time playing with great players and great guys.
"I'm kind of a novice at tournament golf again. I'm finding out it's fun."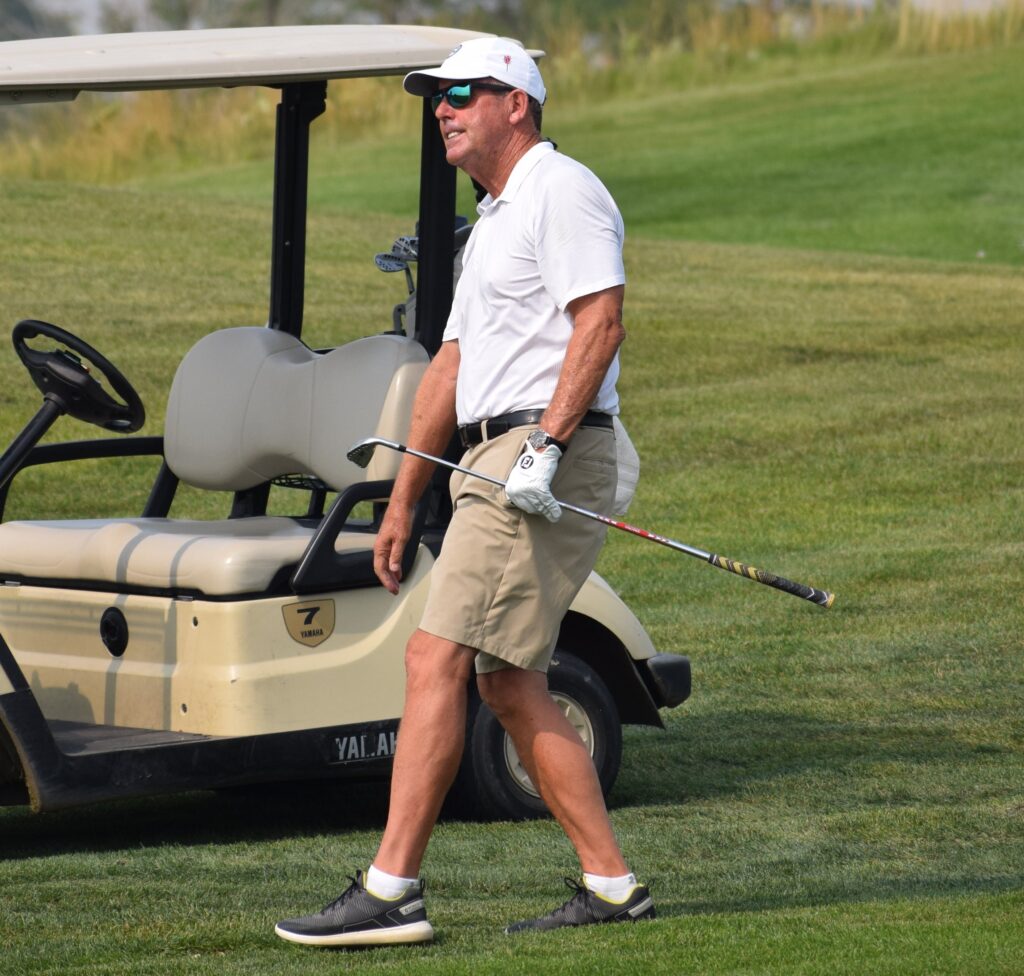 After Nelson lipped out a 7-foot birdie attempt on No. 18 that would have earned him a second straight title in this event, Prenzlow ended things quickly in sudden death. On the par-5 first hole, he hit the green in two, giving himself an eagle attempt from 18 feet.
And when neither Polk nor Nelson hit the green in regulation — and both ended up with bogeys — Prenzlow's relatively simple two-putt for birdie gave him the victory.
"Those were the two best shots I hit all day," Prenzlow said regarding his first two of the playoff. "It feels great (to win). It's just a pleasure to play in these things."
Prenzlow, a past member of the Colorado PGA for 35 years, closed with a 5-under-par 67 on Tuesday — the low score of the tournament by two strokes. He came within a stroke of shooting his age — 66 — for the first time in his life.
Prenzlow, Nelson and Polk all finished at 4-under 140, with Colorado Golf Hall of Famer Kent Moore, the 2021 CGA Super-Senior Match Play champ, a stroke back after he bogeyed the final hole of regulation.
Polk, who won the CGA Senior Match Play this summer, had the inside track to the title after he made a hole-in-one on No. 14, where he sank a 136-yard shot with a pitching wedge, spinning it back and to the left into the hole. It was Polk's seventh career ace, but first in competition.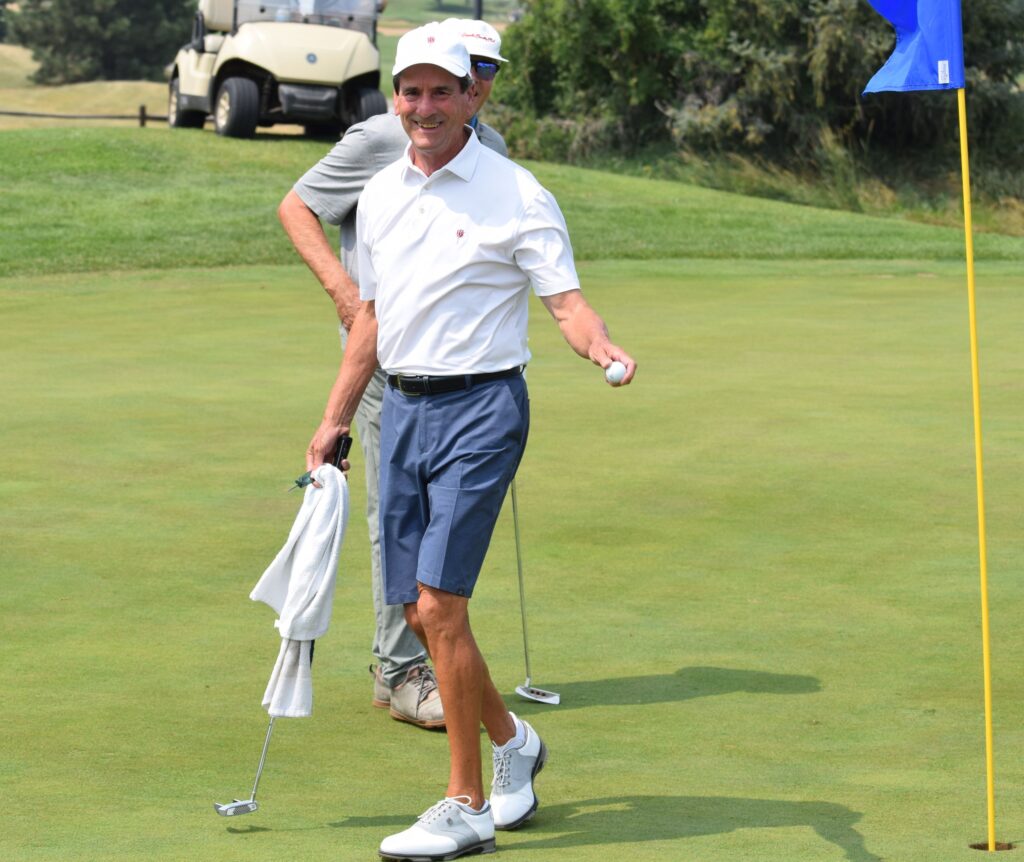 However, Polk's hole-in-one wouldn't even have earned him a skin on Tuesday as Bob Walker of Boulder Country Club, competing in the masters division (70 and older), also aced No. 14, a couple hours before Polk.
For Polk, the hole-in-one gave him a one-stroke lead, even after playing partner Moore made a 2-foot birdie on No. 14.
"I'm 6 under and I'm thinking, 'Boy, oh boy,'" Polk said of his prospects for victory.
But the former three-time CGA Senior Player of the Year followed up his ace with two consecutive three-putt bogeys. He missed a 2-foot putt on No. 15 and had a 2 1/2-footer on No. 16 horseshoe on him.
After fully admitting he hit a couple of poor putts on No. 15, Polk said, "I have no idea how the second putt (on 16) didn't go in."
The bottom line is that, with Prenzlow in the clubhouse at 4 under par overall, Polk, Moore and Nelson came to the 18th tee tied for the lead with him.
Both Polk and Moore hit tee shots left into a fairway bunker. Polk sank an 8-foot par putt while Moore couldn't convert a long par attempt. Then Nelson, with a chance to win it outright in regulation, lipped out his 7-foot birdie attempt at No. 18.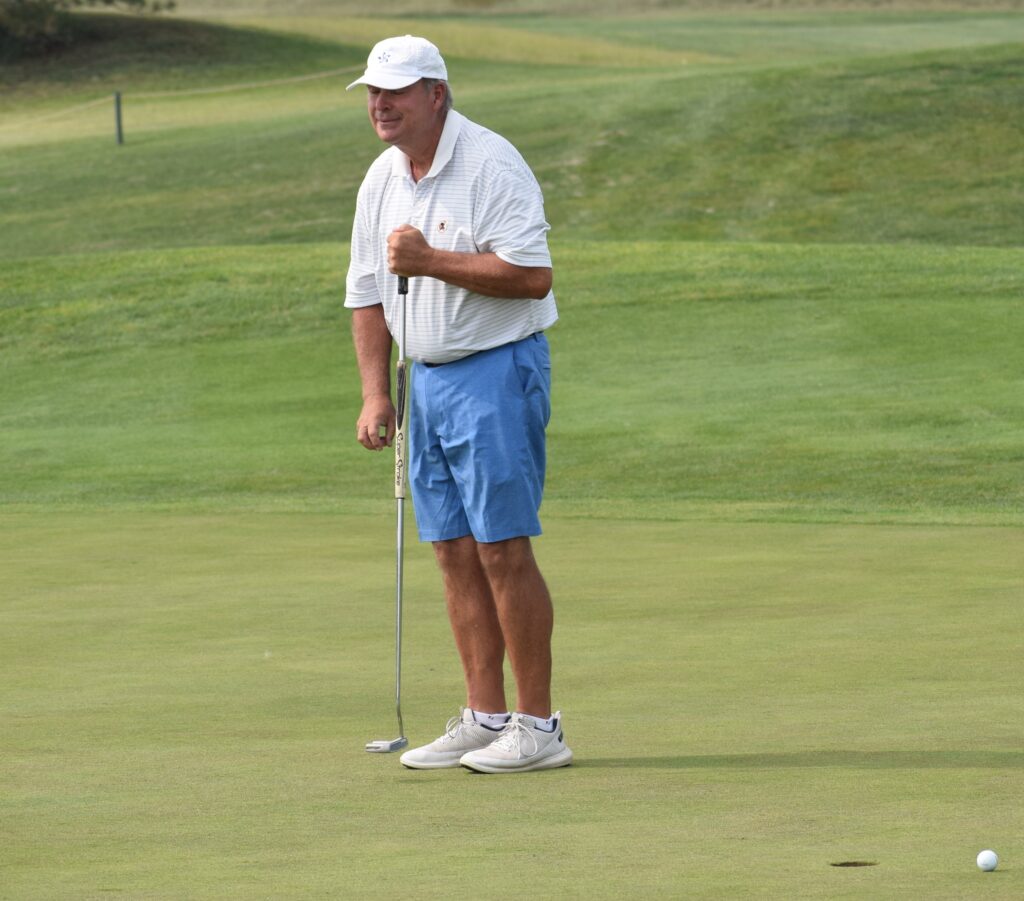 "I hit a quality shot in on 18 and a really good putt," said Nelson, winner of seven state amateur championships in Nevada to go along with his Super-Senior Amateur in Colorado. "It caught the right lip and didn't fall down. But I played rock solid today. I hit every green (in regulation) and I had a lot of good looks.
"All in all, it was fun playing with those guys and battling the whole day."
But in the playoff, it was all Prenzlow, leaving Polk and Nelson to share second place.
"It seems like when I lose, they're mine to lose and I manage to do that," Polk said with a bit of a smile. "I'm thinking par in (after the hole-in-one) and this is it. I could have shot nothing on the back nine. I miss three times from inside 3 feet. If I make those I shoot 31.
"It's always painful to lose, but I'd much get in the hunt and not get it done than not get in the hunt."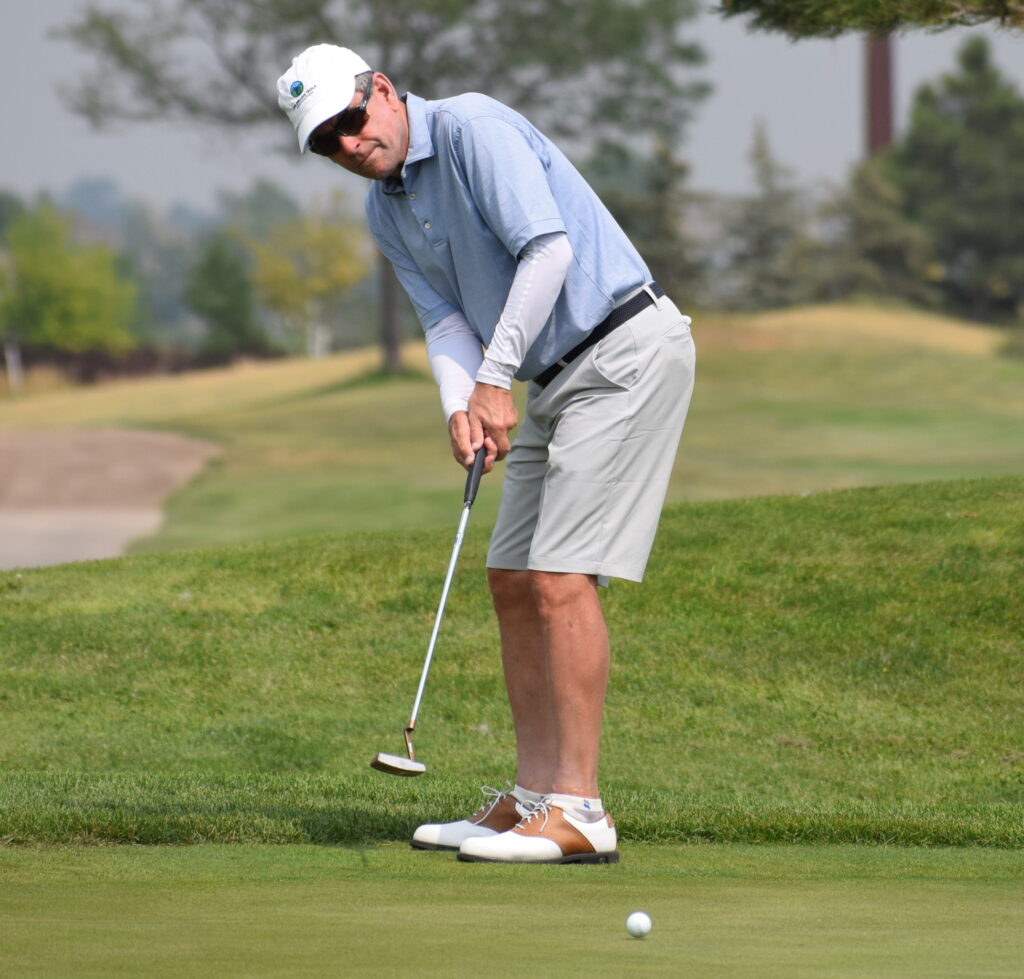 Meanwhile, Prenzlow made his six-birdie, one-bogey round on Tuesday — combined with the birdie in the playoff — stand up for the title.
"Today, I was as calm as I've been in years," said the former UNC and University of Wyoming golf coach. "I don't know why. It was one of those days where I said, 'Just relax and play the shots you like.' It was like I used to tell my (college) guys every time they went out there to compete.
"It worked."
All in all, this not working full time anymore seems to be to Prenzlow's liking.
"I retired six weeks ago and have been playing a lot," he said. "And it shows."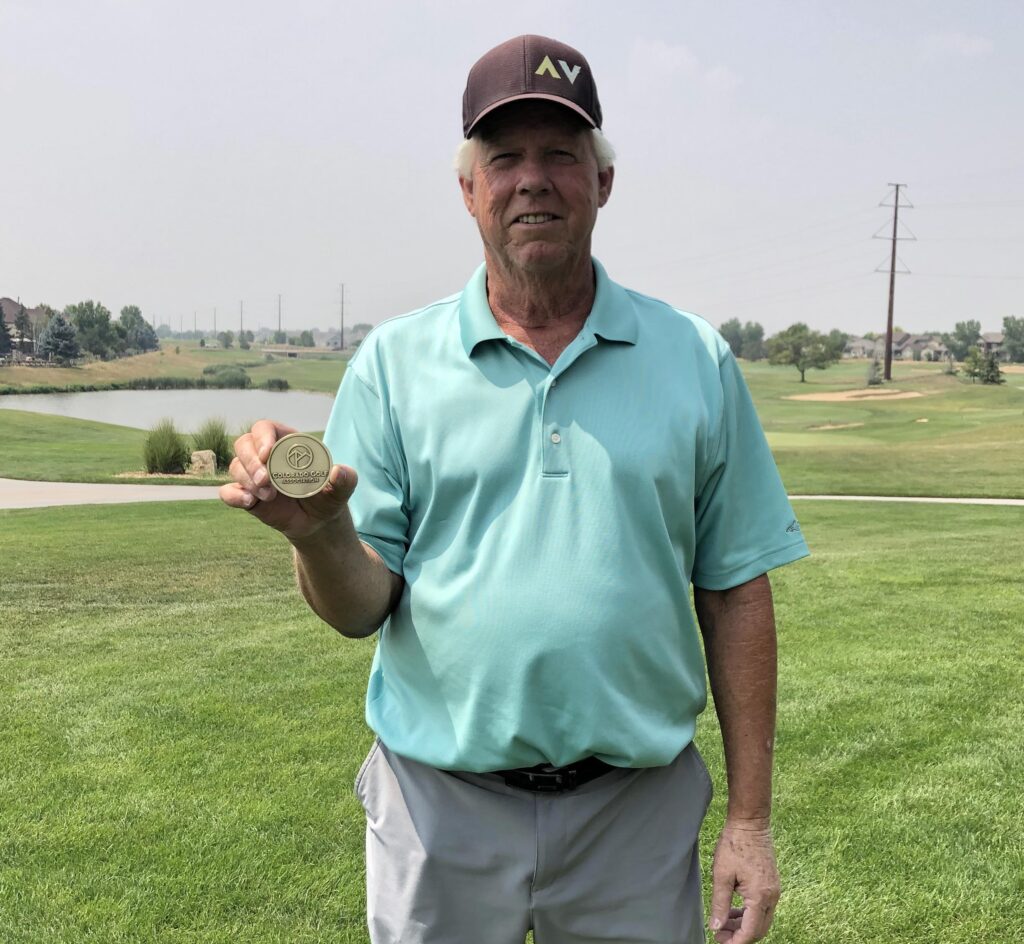 In the masters division of the Super-Senior Amateur — for players over 70 — Scott Crone of Pinehurst Country Club claimed a five-stroke victory on Tuesday.
Crone shot a 7-over-par 79 on day 2 to check in at 5-over 149 overall. On Tuesday, he made an eagle, two birdies, seven bogeys and two double bogeys.
Walker, who, as mentioned earlier, made a hole-in-one at No. 14 on Tuesday, tied for second place in the masters division at 154. Walker closed with a 77 and James Henderson of Indian Peaks Golf Course with a 79.

As has been the case throughout the 2021 CGA men's championship season, on hand Tuesday at Ute Creek was a family member of 2011 CGA Match Play champion Michael Lee, who passed away on Dec. 22 after battling Covid-19. In this case, Lee's father, John, watched some of the action and attended the awards ceremony.
The 2021 CGA men's championship season has been dedicated to the memory of Michael Lee. In addition, the winner of the CGA Match Play for the next 10 years (2021 through '30) will receive a medal in honor of Lee, and a plaque with the names of those champions will hang in the CGA offices.
For all the scores from Ute Creek, click on the following: 65 AND OLDER, 70 AND OLDER.