Former champs Lehigh (5A), Schalk (4A) lead in quest for state high school wins in 2 classifications; Jordaan atop 3A leaderboard
By Gary Baines – 05/20/2019
It was unseasonably cold and miserable weather on Monday, which means it must be girls high school golf season in Colorado.
The 2019 campaign is wrapping up in fitting fashion as Monday's first day of the state tournaments saw temperatures in the upper 30s and low 40s, showers, and occasional cold winds.
And Tuesday's season finale may be even worse — assuming the weather doesn't reduce the tournament to 18 holes.
Such conditions are certainly not unusual for Colorado girls golf in the spring, though the state tournaments themselves normally aren't quite this inhospitable.
The conditions aside, a couple of players on Monday set themselves up to make some history on Tuesday by becoming the first girls golfers in Colorado to win state high school titles in more than one classification.
Lauren Lehigh (pictured above) of Loveland, the 4A state champion in 2017, leads by one at the 5A state tournament at Harmony Club in Timnath. And Hailey Schalk of Holy Family, a two-time winner in 3A (2017 and '18), holds a six-stroke lead in the 4A meet at Pelican Lakes in Windsor.
And, of course, Schalk is trying to become just the third girls golfer in Colorado history to win three state high school titles, joining Cherry Creek's Lynn Ann Moretto (1995, '96 and '97) and Mullen's Ashley Tait (2002, '04 and '05).
Meanwhile, senior Caroline Jordaan of Colorado Academy, who has never finished worse than third at state, leads by four at the 3A tournament at Eagle Ranch Golf Course in Eagle, west of Vail.
(See more on the 4A and 3A tourneys below.)
Lehigh, the Junior Golf Alliance of Colorado's Girls Player of the Year in 2018, withstood the weather conditions on Monday the best of anybody, regardless of classification. Playing her home course, the University of New Mexico-bound golfer shot a 2-under-par 70 at Harmony Club, making three birdies, one bogey and 14 pars.
"Obviously, the weather is going to bother everybody a little bit, but you've got to take the mindset that everybody has to play in the same thing," Lehigh said. "It's all crappy, just deal with it and play the best you can in it.
"I feel pretty good (with the score). The way I was hitting the ball I still feel like it should have been a little lower. I had a lot of putts that just missed the hole and you're standing there going, 'Oh if I only had one or two of those go in.' But overall I'm pretty happy with it."
One of Lehigh's individual victories this season came at Harmony Club — the Lobo Invitational — so she has some good mojo going at the course. And after finishing first and second at the 4A state meet the last two seasons, an opportunity to capture a 5A title to culminate her high school career is not lost on her.
"It would mean a lot," she said. "It's a big goal of mine, and the team obviously too, having a pretty good chance at getting the team title out here. Winning one as a senior, no matter what classification, would be nice."
Lehigh made a concerted effort to lead after Monday, in case the weather cancels Tuesday's scheduled final round.
"It's always got to be in your mind when you've got weather forecast like this," she said. "This could be your only day. Make the best of it. Hopefully we come back tomorrow, but if not I'm definitely going to be happy with the finish."
For the record, Fossil Ridge leads the 5A team competition at 9-over-par 225 and Loveland is one stroke behind. Defending champion Cherry Creek is in third at 230.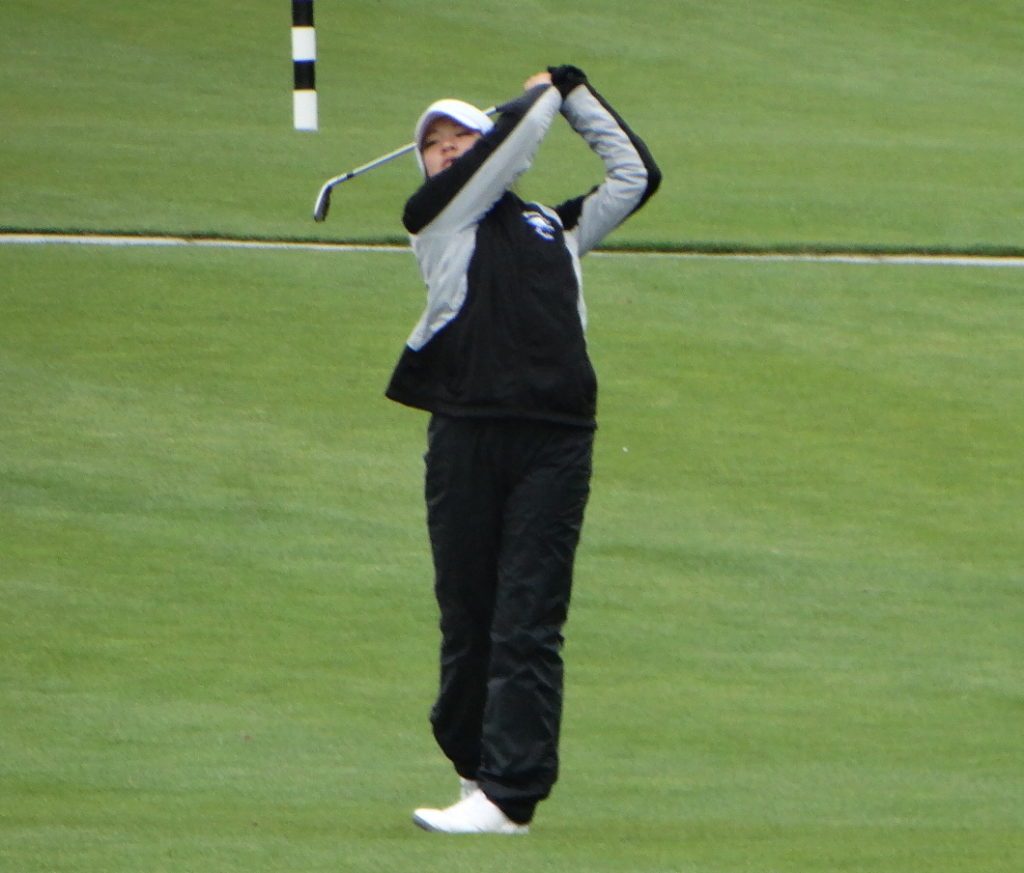 The only other player to match or better par on Monday came out of the same threesome as Lehigh. Junior Meghan Vogt of Broomfield, who qualified for the U.S. Girls' Junior last year, fired a 1-under 71 and trails by one.
Vogt made two birdies and one bogey on Monday, with one highlight saving par with a 30-foot putt on No. 14, where she missed the green in regulation then bladed her chip.
"I'm pretty impressed with myself, honestly" to score so well given the weather. "At the beginning of the round it was more windy, then at the end of the round it got windy again. And with the combined snow/slush/rain we had, I'm really proud of myself. I wasn't really hitting the ball ideally before this. I was a lot more nervous, especially with this being junior year, college (recruiting) and all that, but I'm really proud of myself with the conditions we had today."
Katie Berrian of Regis Jesuit, the Colorado Junior Amateur champion last year, opened with a 1-over-par 73 to hold third place in 5A.
As for the two other former state champions in the field, defending champ Emma Bryant of Eaglecrest and 2017 winner Amy Chitkoksoong of Grandview both shot 78. Bryant was 1 over through 10, but triple bogeyed No. 11 and doubled No. 15.
In the other state tournaments:
— 4A at Pelican Lakes: Schalk, a University of Colorado-bound junior from Holy Family, very much kept her hopes alive to become the first Colorado player — female or male — to win four state high school individual titles.
Schalk, who won in the 3A ranks by seven strokes in 2017 and by six last year, opened up another big lead in the 4A meet at Pelican Lakes. The 2017 JGAC Girls Player of the Year fired an even-par 72 on Monday to take a five-stroke advantage.
Schalk was rock-steady despite the adverse weather, making one birdie, one bogey and 16 pars. She parred her final 10 holes of the day.
Sofia Choi of Mullen, who played in the same group as Schalk on Monday, stands in second place at 78 with Kylie Severin of Vista Peak. Choi started Monday's round with a triple bogey.
Defending team champion Windsor, competing in its hometown, grabbed a 21-stroke lead in its quest to go back-to-back. Niwot is in second place.
— 3A at Eagle Ranch: Jordaan, a senior who has signed with the University of Denver, hopes to claim her first state high school title after posting two seconds and a third previously.
On Monday, Jordaan made two birdies, one bogey and 15 pars for her 1-under 71, which is good for a four-stroke advantage at Eagle Ranch.
Kent Denver junior Charlotte Hillary, a two-time JGAC Tour Championship winner who has verbally committed to Northwestern, shares second place at 75 with Aubri Braecklein of Jefferson Academy, who was even through 16 holes but double bogeyed No. 17 and bogeyed 18.
Hillary carded four birdies, five bogeys and a double bogey on Monday.
Colorado Academy, aiming for its sixth state title since 2007, is 14 over par and holds a 13-stroke lead over Alamosa.
If some forecast overnight snow doesn't become an issue, all three classifications are scheduled to play their second and final round on Tuesday. Shotgun starts at 9 a.m. are planned in the 5A and 4A sites.

Girls State High School Leaders
CLASS 5A AT PAR-72 HARMONY CLUB IN TIMNATH
Individuals
Lauren Lehigh, Loveland 70
Meghan Vogt, Broomfield 71
Katie Berrian, Regis Jesuit 73
Olivia Steen, Fossil Ridge 74
Morgan Ryan, Grandview 75
Leigha Devine, Fossil Ridge 75
Sydney Eye, Ralston Valley 75
Grace Dunkleberger, Rock Canyon 76
Kaylynn Xia, Cherry Creek 76
Gabi Werst, Fossil Ridge 76
Katelyn Lehigh Loveland 76
Merielle Gojo, Cherry Creek 76
Courtney Packer, Arapahoe 76
Team
Fossil Ridge 225
Loveland 226
Cherry Creek 230
Arapahoe 236
Rock Canyon 237

CLASS 4A AT PAR-72 PELICAN LAKES IN WINDSOR
Individual
Hailey Schalk, Holy Family 72
Sofia Choi, Mullen 78
Kylie Severin, Vista Peak 78
Jessica Zapf, Windsor 79
Jessica Mason, Holy Family 82
Kate Griffin, Coronado 83
Christina Cheng, Discovery Canyon 85
Kinsey Smith, Windsor 85
Timbre Shehee, Mead 86
Lisa Kelley, Glenwood Springs 86
Team
Windsor 253
Niwot 274
Durango 289
Littleton 290
Evergreen 292
Coronado 292

CLASS 3A AT PAR-72 EAGLE RANCH IN EAGLE
Individual
Caroline Jordaan, Colorado Academy 71
Charlotte Hillary, Kent Denver 75
Aubri Braecklein, Jefferson Academy 75
Masi Smith, Rifle 77
Eva Pett, Colorado Academy 79
Marie Jordaan, Colorado Academy 80
Mackenzie Fontana, The Classical Academy 82
Dimery Plewe, Dolores 84
Natalie Tatar St. Mary's Academy 84
Megan Miller, Estes Park 86
Team
Colorado Academy 230
Alamosa 243
Kent Denver 252
Jefferson Academy 269
The Classical Academy 277