CGA kicks off 10th year of its ever-growing Women's Clinics; a record 8 are scheduled in 2019
By Gary Baines – 05/11/2019
It's getting to be a nice spring tradition in Colorado golf.
For 10 straight years, the CWGA and now the CGA have hosted fun, socially-oriented half days of high-quality group golf instruction for women, hoping that such events will pave the way for them taking up the game or playing it more regularly — and for it to be ever more enjoyable.
And it's no coincidence that in recent years the first of these events — now known as CGA Women's Clinics and previously referred to as CWGA Golf Experiences — have been scheduled on the day before Mother's Day.
Certainly there are many women who participate in the clinics who aren't mothers, but it seems appropriate to start the schedule off on a weekend in which many celebrate the females in their lives.
And so season 10 of CGA Women's Clinics geared up on Saturday as 62 women experienced the event at Overland Park Golf Course in Denver.
"It is always the Saturday before Mother's Day for a specific reason," said CGA manager of programs Matthew Walker, who has organized and overseen the CGA Women's Clinics in recent years. "We like to celebrate those ladies. It's amazing that we get this many ladies out on Mother's Day (weekend). But then I think about it, it's their weekend; they can do whatever they want."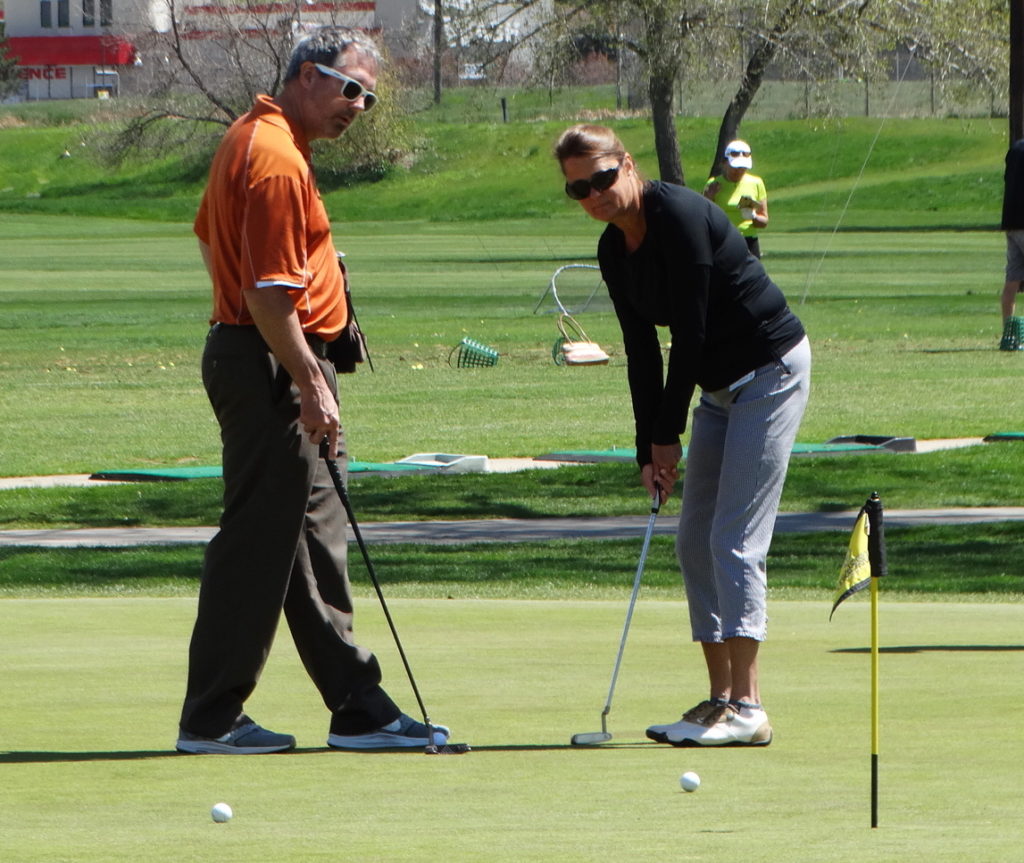 Though the women who participated at Overland varied considerably in terms of age, ability and otherwise, some did make it a family affair on Mother's Day weekend.
That was certainly the case with Patricia Klocker of Littleton, who not only came with her daughter, Rachel Johnson, but with Klocker's sister-in-law, Joanne Arnston.
Once Klocker was notified of the event by the City of Denver, she "thought this would be cool. It will be a great time."
And so it was.
"It was fun today," Arnston said. "I learned a lot — reinforcement of things I've always known but had forgotten. You forget stuff in the 30 years I've played golf." 
Added Johnson: "I knew some things that were being taught and I learned some things I knew I needed to work on. It was nice to hear (instruction) from multiple people too. It was a nice perspective."
It's a testament to these events — which feature three hours of group golf instruction broken up into four stations (full swing, chipping, putting and rules) plus lunch and prizes — how their number has expanded over the years.
The first one — and the only one held in 2010 — was at CGA-owned CommonGround Golf Course in Aurora on April 24 of that year. Since then, the number conducted each year has gradually increased, and they've expanded across the state and added variations that include nine holes of on-course golf.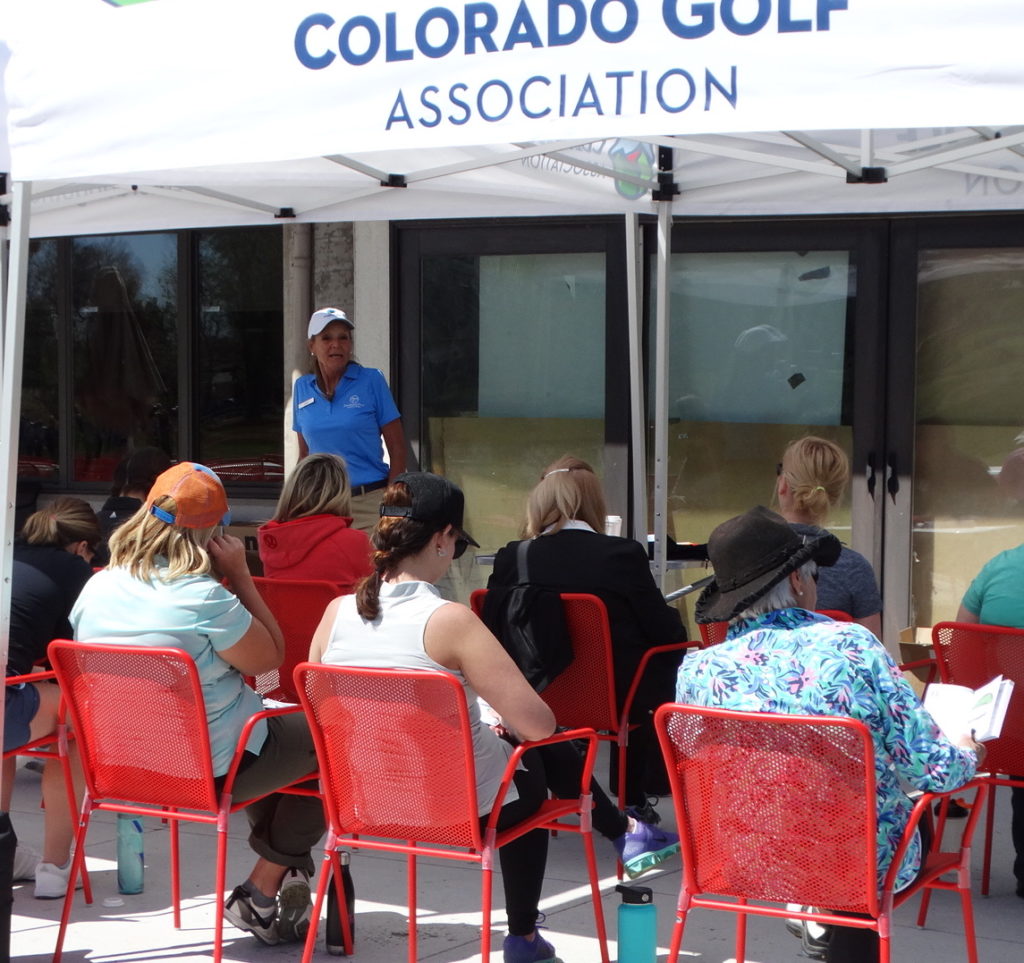 The one at Overland Park on Saturday will be the first of eight CGA Women's Clinics scheduled in 2019, which is the most ever. (See the remaining schedule below.) Assuming all go off as planned, 42 such events will have been held since that first one in 2010.
The friendly and welcoming environment for these clinics seem to hit the mark.
Though Walker has been on hand for a lot of them,  one a few years ago cemented in his mind how successful they'd become.
"The one that sticks was when we had 72 ladies out here, it was probably 40 degrees and blowing sideways and rainy," he said. "We got to the fourth rotation (of instructional stations) and I said to everybody, 'We can cut this early. I have lunch ready. If you want to come in, we can shut this down.' Pretty much every one of them said we haven't gotten to that (fourth) station yet. We want to complete that station.' For me that really resonated that if they're willing to go through that, this is valuable. What these instructors are saying is important."
Saturday was one of the two times this year the CGA will partner with City of Denver Golf to conduct a CGA Women's Clinic (the other is Aug. 3 at Harvard Gulch). That being the case, the 10 PGA/LPGA instructors on Saturday were from City of Denver facilities: Denver's director of golf Scott Rethlake, Joe Pinson, Mike Paavalainen, Nick Johnson, Devon Puleo, Chris Hamilton, Susie Helmerich, Steve Kurtz, Geoffrey Strasser and Ben Tremayne.
CGA board member Dana Murray, the association's Women's Volunteer of the Year for 2018, handled the rules portion of the clinic, emphasizing some of the key changes that have taken effect this year.
Rethlake has served as an instructor for many of these events over the years, and finds them gratifying in many respects.
"Anything that can help people enjoy the game more is definitely of value," said Rethlake, who has been Denver's director of golf for a dozen years. "I'm not one of those golf pros who says, 'If I do a clinic at my course, then I need those people to play my course.' I feel like all boats will rise if we raise the level of the water (by adding people to the game). We get people a little more knowledgeable about how to play the game so they can hit it a little better and enjoy the game more, then they're going to play more rounds of golf. Everybody benefits.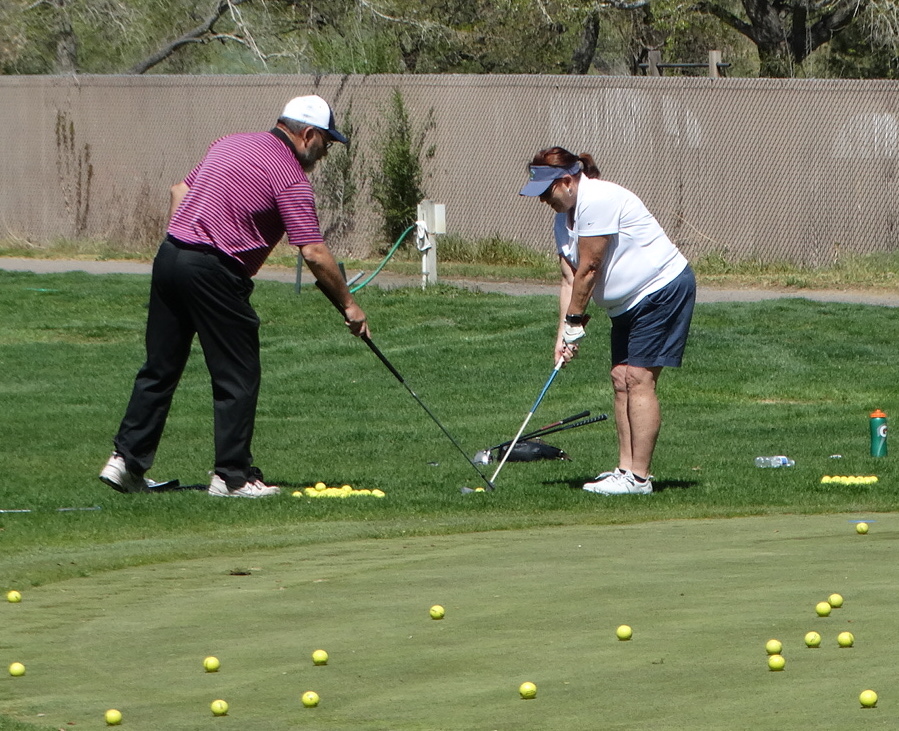 "It's really rewarding to see the reaction and the look on people's face when they do it right — and they understand what right is. They're like, 'Oh, I didn't know that.' I was telling a lady I was working with that there's a trough, not a line, that you can make a putt on, based on speed and line. She'd never really thought about that. We started hitting a really breaking putt, and my opinion is to play the highest point in the break, hit it as soft as possible to still get it to the hole. It will break the maximum amount and be somewhere around the hole. And if it catches any edge, it's going to go in. If you hit it harder than that and you try to play less break, you make it more specific where you have to hit the hole to make the putt. And if you don't make it, you have a longer putt coming back. She hit a couple of putts like that and she was just amazed and she lit up. She said, 'I never thought of it that way.' It's very rewarding."
While a fair number of women who came for the clinic at Overland on Saturday had some golf experience — and some had considerable — there were newcomers to the game as well.
For instance, Emily Brox of Arvada had gone to the range a few times and played nine holes on a par-3 course, but she came to the clinic relatively new to golf.
"My husband actually found out about it and pointed me in this direction," she said. "I've been looking for golf clinics and things to kind of get me started. I thought this was a great opportunity at a really good price.
"Everything was pretty basic so it was real easy for a beginner to come in and kind of learn a lot of tips and tricks and things. But there were a lot of well-seasoned golfers out there too that were learning a lot. So it's good for all levels of play. Anybody can take something from it.
"I think it's given me a lot of things to put in my tool belt and use in the future. It's encouraged me to practice some more, for sure." 
All of which was the original idea behind these events a decade ago. The CWGA — and now the CGA — have long conducted women's championships, both for individuals and teams, but they know many of their members are into golf largely for the social aspects of the game. They certainly want to play as well as they can, but they aren't looking to compete in championship golf on a regular basis.
That was something Walker said he emphasized with then-CWGA president Juliet Miner a few years ago.
 "I expressed where I thought the need was with the CWGA," Walker said. "I said, 'Look, there's only so many championship players — and at that time the CWGA had 16,000 members — and we're missing the scope here.' I'm very thankful (leadership at the CGA and the CWGA before that) kind of let me expand these into the on-course events. And now we're trying to find a way to cater to that advanced player as well. We're working on that and it's something they're letting us run with. Just the results themselves have kind of let me kind of go for it."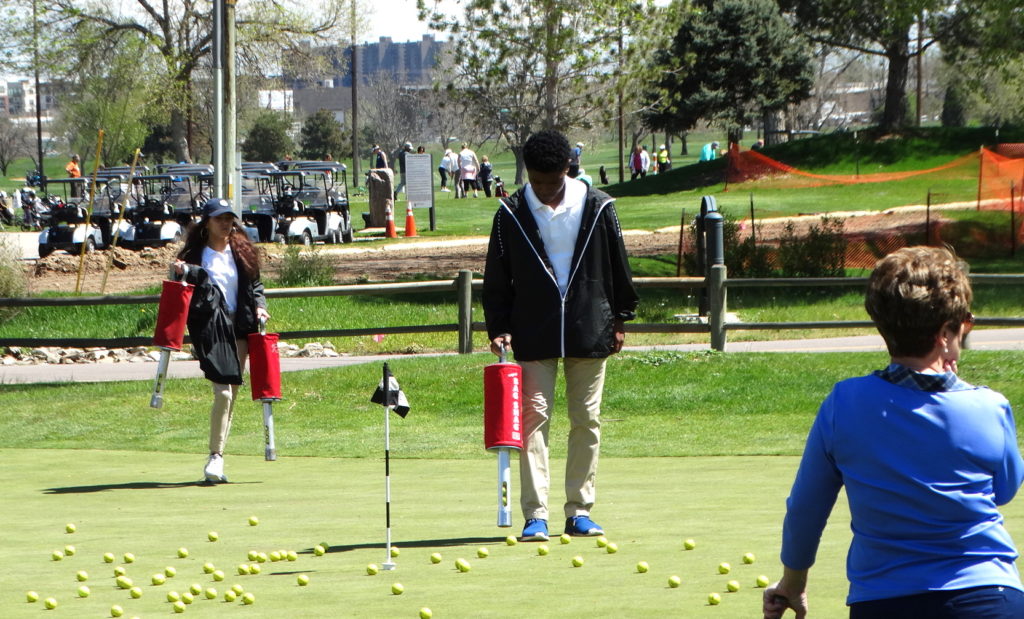 On Saturday, CGA executive director Ed Mate was among those in attendance. And helping make the day run smoothly — specifically at the chipping station — were a couple of the caddies (above) from the Solich Caddie & Leadership Academy that the CGA oversees.
 The other CGA Women's Clinics scheduled in 2019 are:
— May 18 at Mariana Butte in Loveland.
— June 1 at Cherokee Ridge in Colorado Springs.
— June 8 at Gypsum Creek in Gypsum.
— June 22 at CommonGround in Aurora.
— July 13 (on course) at Stoney Creek in Arvada.
— July 21 (on course) at Chipeta in Grand Junction.
— Aug. 3 (on course) at Harvard Gulch in Denver.
For more information on CGA Women's Clinics, CLICK HERE or call 303-366-4653.