Coloradan Franklin joins Utahn Nyhus in qualifying at Glenmoor CC for U.S. Senior Women's Open
By Gary Baines – 04/29/2019
Perhaps practice is overrated in golf.
Maybe good weather is too.
After playing a grand total of just 27 holes of golf previously in 2019, Broomfield resident Kristine Franklin showed little rustiness on Monday, withstanding temperatures that hovered in the 30s to earn one of the two available berths for the second annual U.S. Senior Women's Open.
"I hadn't unpacked my bag from the U.S. Senior Am in October," Franklin noted Monday afternoon. "My husband (Brent) unpacked it maybe in January or February."
Franklin was joined in qualifying at Glenmoor Country Club for the U.S. Senior Women's Open by professional Sue Nyhus, the Utah Valley University women's golf head coach, who earned medalist honors with an 8-over-par 80 on a challenging day in Colorado.
Franklin, a former professional who was named the 2018 CGA Women's Senior Player of the Year, had not planned to try to qualify for the Senior Women's Open, but she was talked into it by a friend, only finally submitting her entry on the deadline day.
"I'm remodeling a home for us to move into. I'm in the thick of it," Franklin explained.
"I had no time to practice for this. But I thought, 'It's just going to help me get better at playing under pressure.' That was the only reason I came to play. I never thought, ever, that I would have made it.
'"It's extremely special — and it will be a treat — but now I've got to find a game. The first 18 (of the year) I played was the practice round. I know it's going to be difficult, and I don't like to not play well. I hope I'll enjoy the experience. I'm in shock, absolute shock (that she qualified). I just hope to do well for Colorado."
On Monday, Franklin shot an 81 that tied her former University of Arizona college teammate, Colorado Golf Hall of Famer Janet Moore, for second place out of the qualifying field of 11. Then Franklin prevailed on the second hole of a sudden-death playoff for the second and final national spot by two-putting for par from 30 feet. Moore, who qualified for the inaugural U.S. Senior Women's Open in 2018, missed a 12-foot par attempt on the second extra hole that would have extended the playoff.
Both players had bogeyed the first playoff hole, where Moore had a chance to end things with a 7-foot par attempt after narrowly missing the green in regulation.
"To play Janet, I really would have liked her to go instead of me," Franklin said.
Despite the cold conditions, Franklin (pictured above with Brent Franklin, who caddied for her on Monday) made two birdies in regulation.
The reward for Franklin and Nyhus will be trips to the Senior Women's Open, set for May 16-19 at Pine Needles Golf Club in Southern Pines, N.C.
It will be the first U.S. Senior Women's Open for both the 53-year-old Franklin, who has played in the last two U.S. Senior Women's Amateurs, and the 56-year-old Nyhus.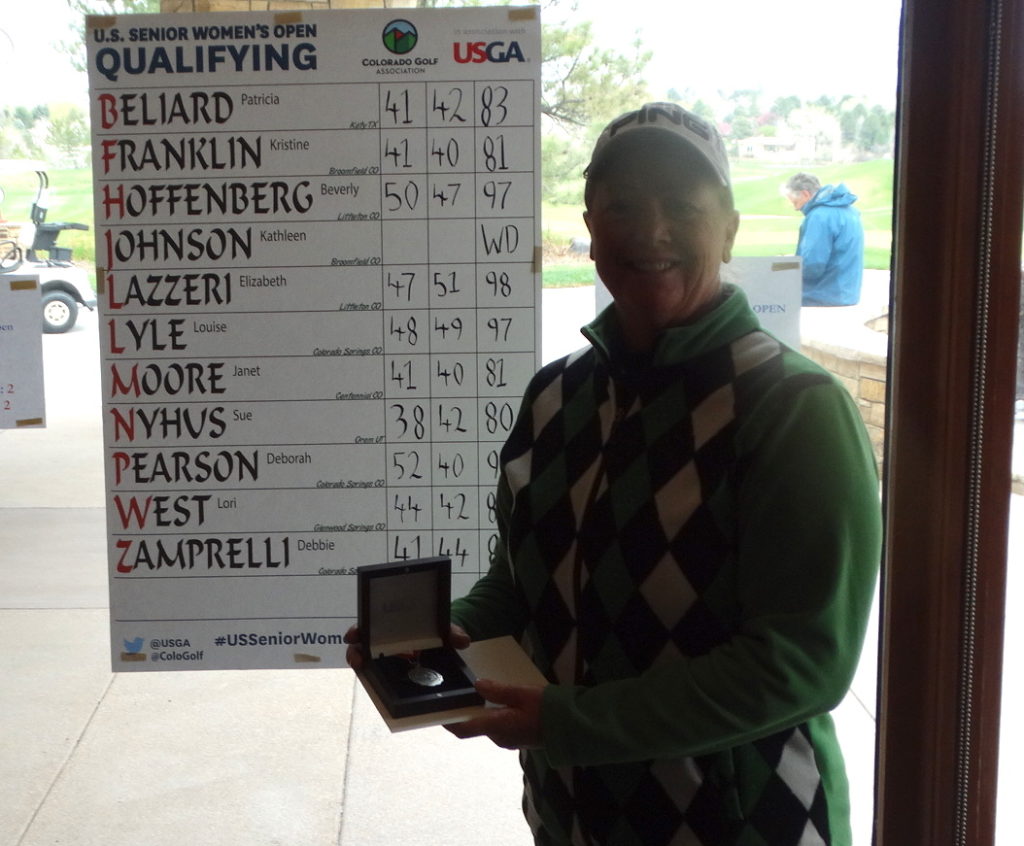 Nyhus said making the U.S. Senior Women's Open completes quite a feat for her — qualifying for every USGA championship designated for females. When the USGA added the U.S. Women's Amateur Four-Ball and the U.S. Senior Women's Open in the last decade, she had to overcome those hurdles to keep her distinction.
"I'm very excited to get this done. This is historic," said Nyhus, who coached the BYU women's golf team before taking over at Utah Valley nearly a decade ago. "To qualify (for this), it means the world to me. It's a pretty interesting feat, so I've got goosebumps."
Nyhus said she has qualified in all four USGA qualifying tournaments she's played in Colorado over the years. And on Monday she was medalist despite making a double bogey on the par-3 17th hole.
While many competitors struggled with the cold at Glenmoor, it might have served Nyhus well.
"I tend to think the harder the conditions, the better I fare," she said.
Nyhus once played on the Ladies European Tour, but got her amateur status back in the 1990s. But just recently, she turned pro again.
Meanwhile, Franklin isn't the first Coloradan to qualify this year for the U.S. Senior Women's Open. Colorado PGA professional Sherry Andonian-Smith advanced from a qualifier in Rancho Mirage, Calif., part-time Colorado resident Marilyn Hardy made the grade in San Antonio, and Colorado Golf Hall of Famer Kim Eaton did so in Sun City West, Ariz.
Andonian-Smith and Hardy will be competing in their second U.S. Senior Women's Open.

U.S. Senior Women's Open Qualifying
At Par-72 Glenmoor CC in Cherry Hills Village
a-indicates amateur
QUALIFIED FOR U.S. SENIOR WOMEN'S OPEN
Sue Nyhus, Orem, Utah 38-42–80
a-Kristine Franklin, Broomfield 41-40–81
ALTERNATES (In Order)
a-Janet Moore, Centennial 41-40–81
Patricia Beliard, Katy, Texas 41-42–83
FAILED TO QUALIFY
a-Debbie Zamprelli, Colorado Springs 41-44–85
Lori West, Glenwood Springs 44-42–86
a-Deborah Pearson, Colorado Springs 52-40–92
a-Beverly Hoffenberg, Littleton 50-47–97
a-Louise Lyle, Colorado Springs 48-49–97
a-Elizabeth Lazzeri, Littleton 47-51–98
a-Kathleeen Johnson, Broomfield WD