Stewart, Prater share qualifying-medalist honors at 120th CGA Match Play
By Gary Baines – 6/15/2020
A year ago — almost to the day — Dillon Stewart was cruising to an eight-stroke victory in the Colorado Junior PGA Championship en route to eventually being named the Junior Golf Alliance of Colorado's Boys Player of the Year for the second straight season.
On Monday, Stewart took some of his first steps into elite-level, open-age amateur golf in the state — and it looks like the golfer from Ptarmigan Country Club will be a player to be reckoned with at that level as well.
Stewart, who completed his first season of college golf at perennial powerhouse Oklahoma State, shot a 4-under-par 68 on Monday and shared medalist honors in stroke-play qualifying that set the bracket for the 120th CGA Match Play Championship at Blackstone Country Club in southeast Aurora.
Colin Prater of The Broadmoor Golf Club, the 2016 CGA Amateur champion who competed in his second U.S. Amateur last year, matched Stewart's 68. Prater will be seeded second and Stewart third — behind Josh McLaughlin of the Olde Course at Loveland, who earned the top seed as the defending champion — when the match-play portion of the event begins on Tuesday.
Stewart eagled the par-5 17th hole — his eighth of the day — to go along with five birdies and three bogeys. Interestingly, he'll face University of Colorado golfer Jack Hughes in a first-round match that will feature the last two boys winners of the AJGA Hale Irwin Colorado Junior.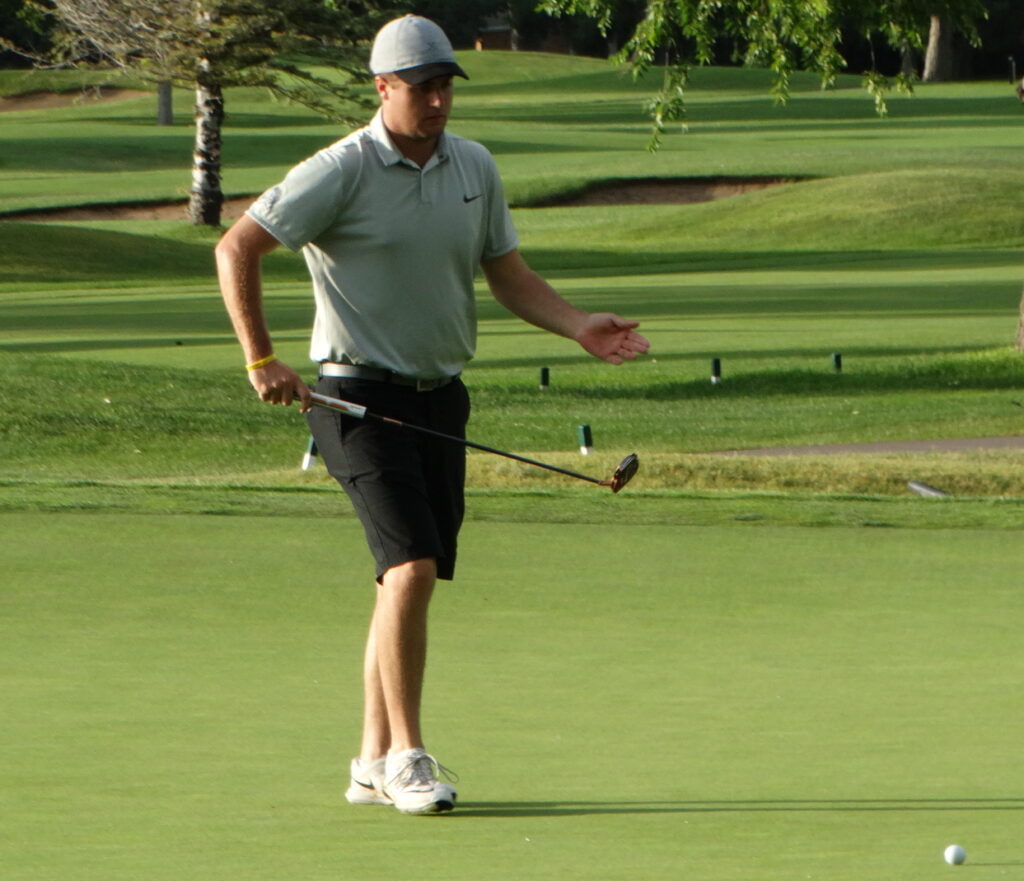 Prater also carded an eagle on Monday — on the par-5 eighth — and made six birdies and four bogeys.
All told, 14 players broke par in Monday's qualifying round. That included 2015 champion Nick Nosewicz of CommonGround Golf Course and University of Denver golfer Cal McCoy of Bear Creek Golf Club, the 2019 Match Play runner-up. Those two, along with another DU golfer, Jun Ho Won, fired 69s on Monday.
McLaughlin, the defending champion, posted a 74.
Joining McLaughlin and Nosewicz as former champions in the 64-player match-play bracket were AJ Ott of Ptarmigan (2018 winner, 73 on Monday) and Kent Moore of Cherry Hills Country Club (1989 winner, 77 on Monday).
Also advancing to match play on Monday was 2019 CGA Amateur champion Davis Bryant of Green Valley Ranch Golf Club, a teammate of Ott at CSU. Bryant fired an even-par 72 with six birdies on Monday, rebounding after being 4 over par through seven holes.
Two former Match Play champions fell short of making match play on Monday as Steve Irwin of Lakewood Country Club and Brian Dorftman of Cherry Creek Country Club matched 79s, which left them one stroke out of a playoff for the final match-play spots. Out of the six players who shot 78s, advancing were Hughes, John Luoma of Colorado Golf Club, Ewan Albright of Coal Creek Golf Course and Dylan Rottner of Metro Denver eClub.
The match-play round of 64 will take place on Tuesday, with two rounds of matches each scheduled for Wednesday and Thursday. The 36-hole final is set for Friday.
The CGA Match Play is the oldest continuously-held statewide golf championship held in Colorado. Its past champions include two World Golf Hall of Famers (Hale Irwin and Lawson Little), other winners of PGA Tour events (1996 U.S. Open champion Steve Jones and Kevin Stadler), a onetime USGA president (Frank Woodward, who won the first title, in 1901) and a two-time winner on PGA Tour Champions (Brandt Jobe).
For all the stroke-play qualifying scores from Monday, CLICK HERE.
For the match-play bracket, CLICK HERE.