Denver resident James Love fires 62, moves into second place at CoBank Colorado Open; after another eagle on 12, Saunders retains lead
By Gary Baines – 07/26/2019
Can the CoBank Colorado Open have two consecutive champions with the surname "Love"?
Excuse the play on words, but a certain Denver resident would love to see that.
Dru Love, son of World Golf Hall of Famer Davis, won last year at the Colorado Open, but withdrew from the 2019 field last weekend with a medical issue.
That left former University of Denver golfer James Love (pictured above) as the only Love in the field. And, sure enough, James is very much in contention at the halfway point at Green Valley Ranch Golf Club as he shares second place, two strokes behind leader Sam Saunders of Albuquerque.
Love, who shot a 12-under-par 59 in tour Q-school in St. George, Utah three years ago, had an almost-as-impressive round on Friday at GVR, making 10 birdies and no bogeys for a 10-under 62. That vaulted him to 14-under 130 heading into the weekend.
Despite the 59 in 2016, Love said he's had only a handful of competive rounds of 62 and lower.
"Sixty-two is way better than 63 because if you can get to double digits (under par), it's just that weird bridge," the 36-year-old said. "Sixty-two, you don't get that very often. Anything with double-digit birdies is great, and I made 10 birdies and eight pars."
While Love's score is the best of the 2019 Colorado Open so far, there have been plenty of stellar numbers posted at GVR the first two days. On Thursday, there was a 63 and two 64s and a 65. And on Friday, besides Love's 62, there were two more 64s and a 65.
"Guys are so good now," the Denver resident said. "Everyone's good. When I turned pro, guys were good but not everyone was good. Now everyone's good. All the tournaments I play in Canada that used to be 13 or 14 under (for the winning scores), now 18 or 20 wins. Here I'm at 14 under this week and I'm going to have to shoot at least another 10. Golf is hard now."
But apparently not on Friday for Love. After a 30 on the front nine, he made a 35-foot birdie on 11, an 18-footer on 18 and a quite a few putts in the 8- to 20-foot range.
"It's a course that I always seem like I strike the ball well on, but I never really makes any putts," said Love, a native of Canada who won an event on PGA Tour Canada a decade ago. "But today, everything went in. I missed a 5-footer for birdie on 12, but other than that I made my fair share.
"I hit every green (in regulation) so I had a lot of looks. Even on 18, I had 25 feet and it broke 2 feet and it goes right in the center. You don't get days like that very often."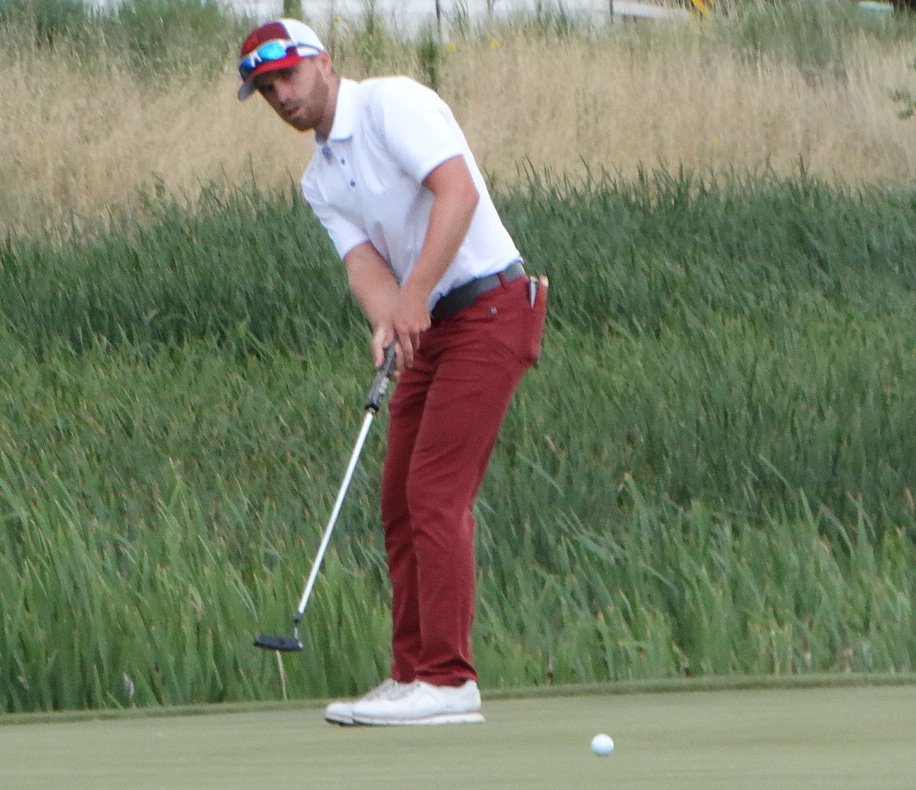 Saunders Keeps Lead, Backs Up 63 With 65: Saunders has reason to like the Colorado Open. The Albuquerque pro — who's often confused with another Sam Saunders, but is not the grandson of Arnold Palmer — finished second in his Open debut last year, losing in a playoff to Dru Love after shooting a course-record 60 in the final round.
And after two rounds this year, Saunders is back in contention at GVR. In fact, he's the outright leader by two with two rounds left.
Saunders also has a reason to like the par-5 12 hole at Green Valley Ranch. Last year, he birdied the 12th all three days of the tournament.
And so far this week?
He's gone eagle-eagle on the hole. On Friday, he holed out from a greenside bunker for his 3.
"That was sort the highlight of the day," the 27-year-old said. "If I could make two more 3s there, that would be nice. It's just sort of luck honestly, but I like that hole I guess."
Bottom line is, despite the adage about it being difficult to follow up a very low round with another one, Saunders has done just that, going 63-65 for a 16-under-par 128 total. And that was despite three-putting the 18th hole for par on Friday, albeit from over 100 feet.
In round 2, Saunders finished with an eagle, six birdies and one bogey.
"It was definitely tougher today, I thought," playing in the afternoon, Saunders said. "But obviously I played really well and I made a lot of putts. I putted great on the back nine in particular. I didn't drive it quite as well, but it was a good day."
Given how low scores have been, Saunders knows that if conditions remain similar, he'll have to keep the pedal to the metal on the weekend.
"I think my strategy is really good on this course," said the 2019 Navajo Trail Open champion. "Obviously it's produced some good numbers, so I'll just keep doing the same thing.
"This course is good and the greens are so good that you can make a lot of putts. All the par-5s are pretty easy and there are two driveable par-4s. There's definitely lots of opportunities for birdies, so you've got to keep making birdies. Hopefully I can continue to do that."
Love and Patrick Fishburn from Ogden, Utah share second place after 36 holes, at 130. Fishburn, a former BYU golfer who won the 2017 Utah Open by nine as an amateur, shot a bogey-free 66 on Friday.
Fishburn has yet to win as a pro, but has put himself in position to change that.
"I'm still searching. Hopefully it comes this week," he said.
The players tied for fourth place are five strokes out of the lead with two days left.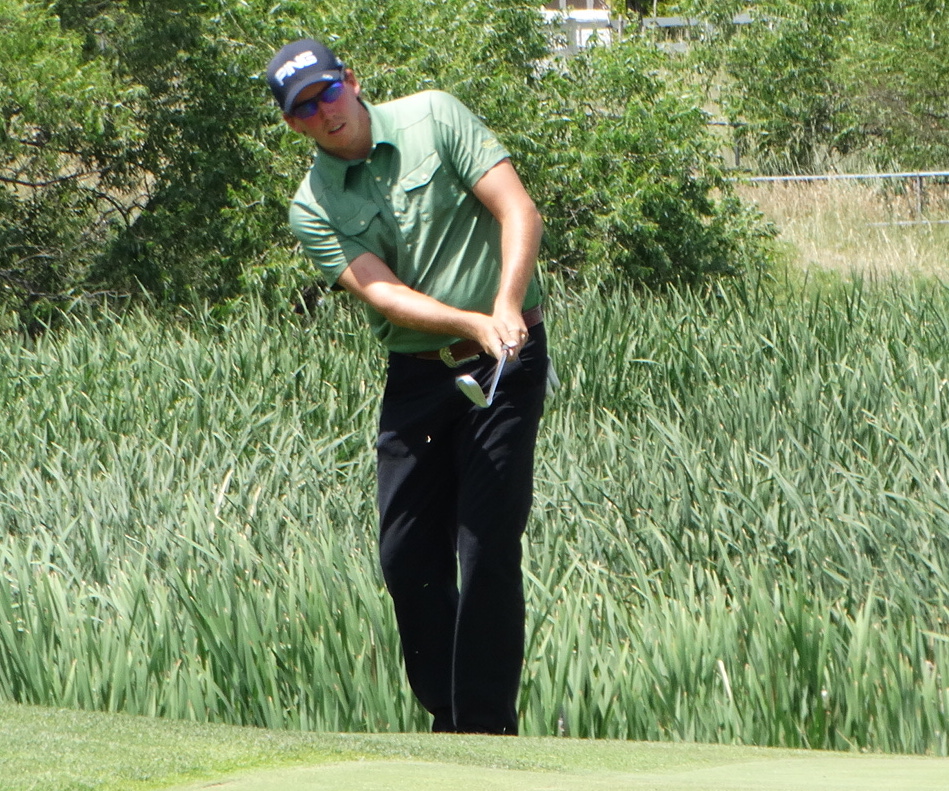 Zahkai Brown Back for More: Few people in the field have had a more impressive run at the Colorado Open over the last seven years than Golden resident Zahkai Brown.
Since 2012, the former Colorado State University golfer owns four top-four finishes, including a victory in 2013. He was second in 2012, first in '13, second in '15 and fourth in '16.
And this week, he's in contention again at GVR. He shot a 7-under-par 65 on Friday — his sixth score of 65 or better in the tournament in the years mentioned above, plus 2019. At 11-under-par 133 overall, Brown shares fourth place.
"I've played (GVR) a bunch and I know where to miss it on most of the holes to give yourself an easy chip or a good look at a putt. That definitely helps," said Brown, a former CGA Player of the Year.
"None of the tee shots scare me. They all fit my eye. And I remember most of the putts and how they break. That helps a lot to be confident in my read and just make a good stroke. I'm definitely relaxed. I have my wife on the bag (as caddie). I'm just hanging out and having fun."
On Friday, Brown went bogey-free, making seven birdies.
"The greens are absolutely pure," he said. "They roll smooth. If you hit it on line from 20 or 30 feet, you can make it. That helps. You don't have to stuff it close to the pin). You can make good putts."
One other Colorado resident joined Love and Brown in the top 10 after 36 holes. Former University of Colorado golfer Spencer Painton has posted back-to-back 67s and holds seventh plae at 10-under 134.
Looping for A Different Kupcho: Westminster resident Mike Kupcho has been spending most of the last two months caddying for daughter Jennifer on the LPGA Tour since she turned pro. But with the Augusta National Women's Amateur champion in France this week for the Evian Championship — and staying in Europe for the following two weeks — Mike and wife Janet are back in Colorado this week. And Mike is caddying for son Steven, who last week notched his first professional victory, in the Dakotas Tour Western Corporate Image Pro-Am at Moccasin Creek.
At Green Valley Ranch, Steven Kupcho shares 35th place after rounds of 69-72.
Meanwhile, Jennifer Kupcho is tied for sixth place with two rounds left in the Evian Championship, an LPGA major. She trails leader Mi Hyang Lee by four.
Notable: Three-time PGA Tour winner Gary Hallberg, a longtime Colorado resident, barely missed the cut as the field was trimmed to the low 60 and ties after Friday. The 61-year-old was in 62nd place after posting rounds of 71-72 for a 1-under 143 total. Among others to miss the cut were former champions Derek Tolan (147), Ben Portie (145), Scott Petersen (149) and Ian Davis (146). … Colorado State University golfer Davis Bryant made a 50-foot par putt on his 18th hole Friday (No. 9) after taking an unplayable lie penalty, securing the 36-hole lead in the amateur competition. Bryant sits at 5-under-par 139 after going 68-71. Griffin Barela of Lakewood, a University of Wisconsin golfer, trails Bryant by one, while Bryant's CSU teammate AJ Ott, is another stroke back along with University of Denver player Cal McCoy, who like Ott recently qualified for the U.S. Amateur. … Colin Prater of Colorado Springs, who qualified for his second U.S. Am, is caddying for Jimmy Makloski of Pueblo this week. Makloski is tied for 18th place after two days (68-71–139). … Tee times for Saturday's third round will run 7:30 to 9:20 a.m., with the leaders teeing off on No. 1 at 9:20. CLICK HERE for Saturday's tee times.

For all the scores from the CoBank Colorado Open, CLICK HERE.