245-yard hole-in-one helps Axlund win CGA Mid-Amateur by 4 over Lindstrom; it's Ax's first CGA title
By Gary Baines – 10/06/2019
There are holes-in-one, and then there are HOLES-IN-ONE.
Ryan Axlund's ace on Sunday at Legacy Ridge Golf Course in Westminster definitely falls into the latter category.
First of all, it came from 245 yards, with a 3-iron on No. 16 at Legacy Ridge. Oh, and by the way, the ball flew straight into the cup — and without damaging it in the process.
But beyond all that, the ace came during the final round of the CGA Mid-Amateur. On the third-to-last hole. By the eventual champion.
How's that for punctuating a victory?
"I was so excited to see it go in, I just lost it," the 38-year-old from Valley Country Club said of dunking it for the hole-in-one. "It was disbelief that it actually disappeared. But I absolutely flushed it and it was right on the flagstick the entire way. To see it disappear, it was a second of shock, then 'Holy Crap!'
"That was an unbelievable break."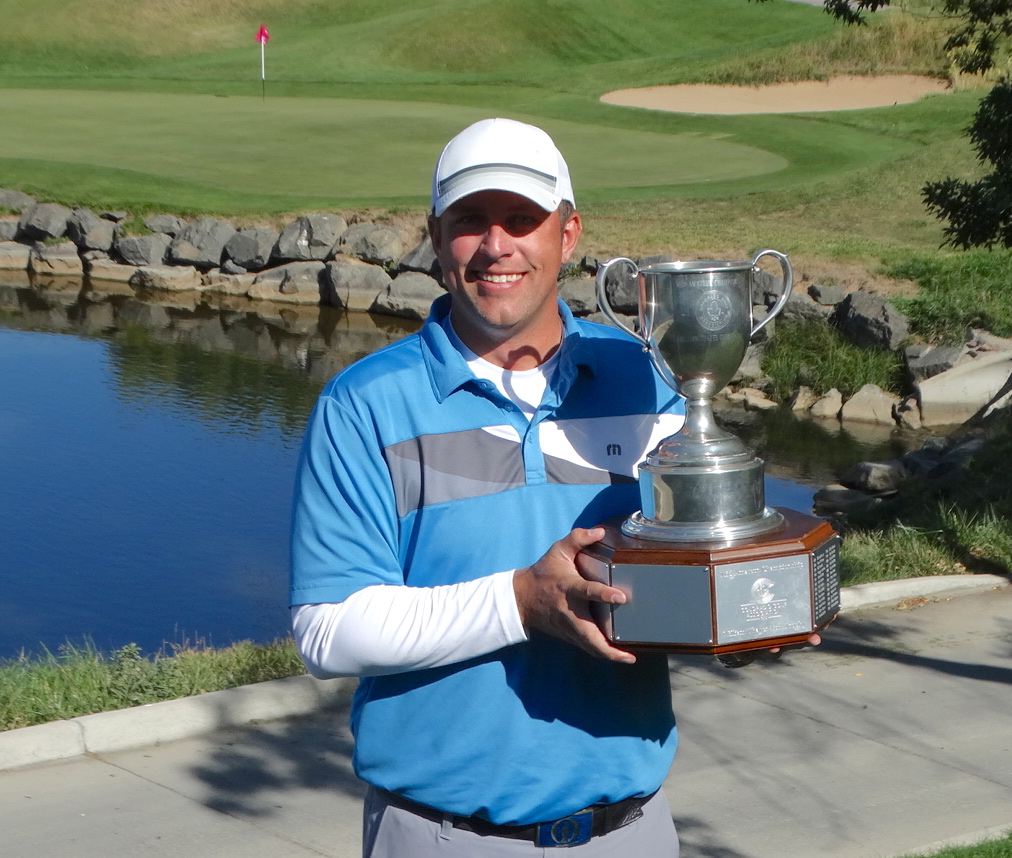 After holding a three-stroke lead going into No. 16 on Sunday, Axlund effectively removed the suspense with his ace, which expanded the lead to six for the Englewood resident when three-time champion Jon Lindstrom of Lakewood Country Club made a bogey from the bunker.
And after going bogey-par the final two holes, Axlund had his first CGA championship title, winning by four strokes.
And what a way to do it.
"That's one of the hardest holes on the course, especially from 245," said two-time champion Chris Thayer of Walnut Creek Golf Preserve, who was paired with Axlund all three days of the tournament. "He was hitting it pure like that (the entire event). That 3-iron just never left (the flag). It was cool. He almost broke my hand on the high-five. How often do you see that with three holes to go (from the champion)?"
The ace was the second of Axlund's career, but first since he was  14 year old — 24 years ago. This was also by far his longest hole-in-one and his first one in a tournament.
After all the celebrating had died down following the ace and the group was walking off the green, it was Lindstrom who deadpanned to Axlund, "Ryan, what (score) did you have there?"
Both Lindstrom and Thayer said they'd never personally witnessed a longer hole-out.
"That was pretty cool. It was fun to watch," Lindstrom said. "It looked good the whole way, but you never expect it to fly straight in like that. I haven't seen anything like that (from that distance)."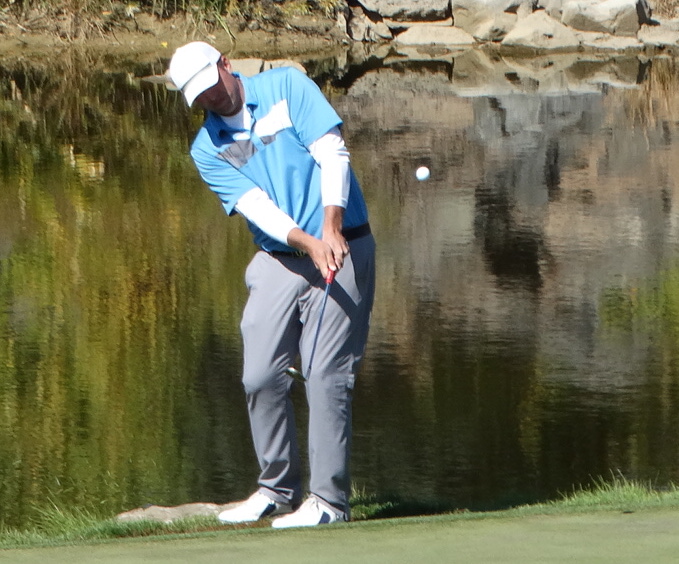 Axlund, who last month advanced to the round of 32 out of a 264-man field at the U.S. Mid-Amateur that Colorado Golf Club hosted, ended up shooting a 2-under-par 70 on Sunday. That gave him a three-round total of 7-under 209 as he led or shared the lead after every day of the championship.
Lindstrom — winner of this event in 2008, '15 and '16 — closed with a 74 to place second at 213. In the last five years at the CGA Mid-Am — which is limited to players 25 and older — he owns two wins, one second and two thirds.
Thayer, who was a bit rusty from a competitive standpoint after welcoming a baby in July, played his final seven holes in 3 over par to shoot a final-round 75. He placed third at 215, extending his streak of top-three finishes in this event to six. In fact, prior to Sunday, he had carded eight consecutive sub-par rounds in this event, dating back to 2017.
Paul Erdman of Colorado National Golf Club, low amateur in the CoBank Colorado Senior Open this year, along with Adam Neville of Kennedy Golf Course and Pete Mangold of Columbine Country Club, shared fourth place at 216. Neville fired a final-round 70, while Mangold had a 72 and Neville a 74.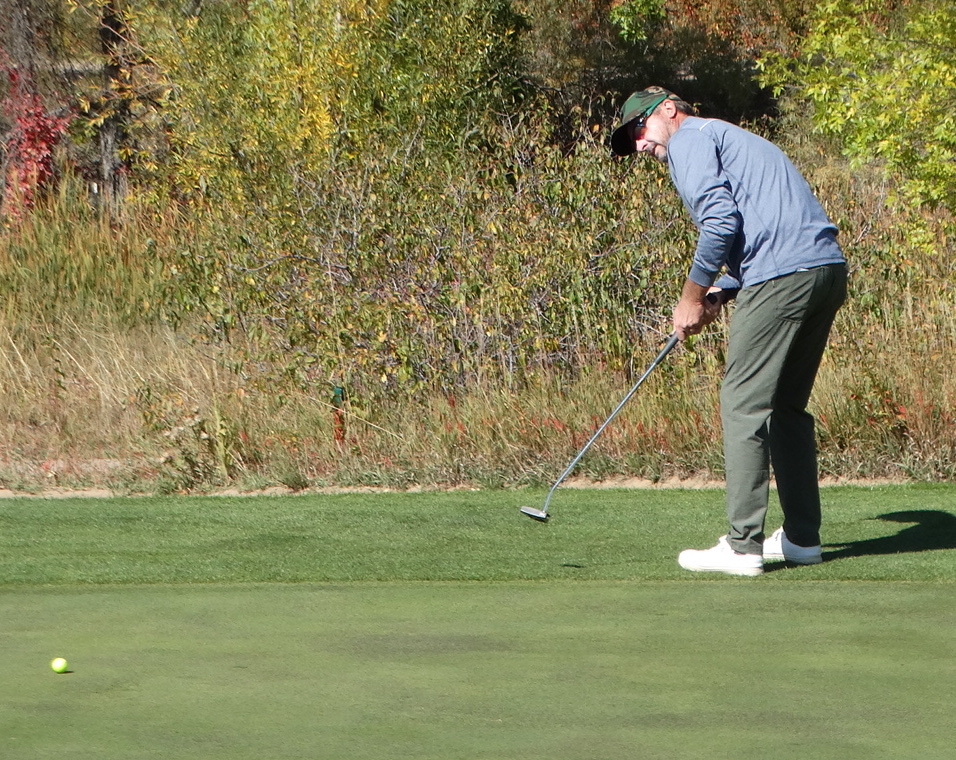 Both Thayer and Lindstrom held the lead — or at least a share of it — during the course of the final round. Thayer birdied his first two holes to go one ahead, but a double bogey on No. 3 dropped him back. As for Lindstrom, he eagled No. 11 from 40 feet to tie for the lead with Axlund. But he hit shots into penalty areas each of the next two holes, resulting in a bogey and a double bogey. On the same two holes, Thayer also went bogey-double bogey.
"The tough part is you know that they're never out of it," Axlund said of Lindstrom and Thayer. "Even if they fall back a couple of strokes, I know that they're good enough players that they can go on a run and make three or four birdies in a row. I had to play steady and force them to make birdies. That's where I think I did really well today."
Indeed, though Axlund made a double bogey on No. 9, where he missed the green left, that was his only over-par hole until after his ace.
"He was hitting it good," Lindstrom said of Axlund. "He wasn't making any mistakes, so I knew even after the eagle I would have to make some birdies to be in it. But (the hole-in-one) shut the door for sure."
Noting that Axlund got a very bad break on the fourth hole of the second round — where his ball apparently hit a grate and couldn't be found, and he ended up with a quadruple bogey — Thayer said it was somewhat fitting that the golf gods paid him back on Sunday.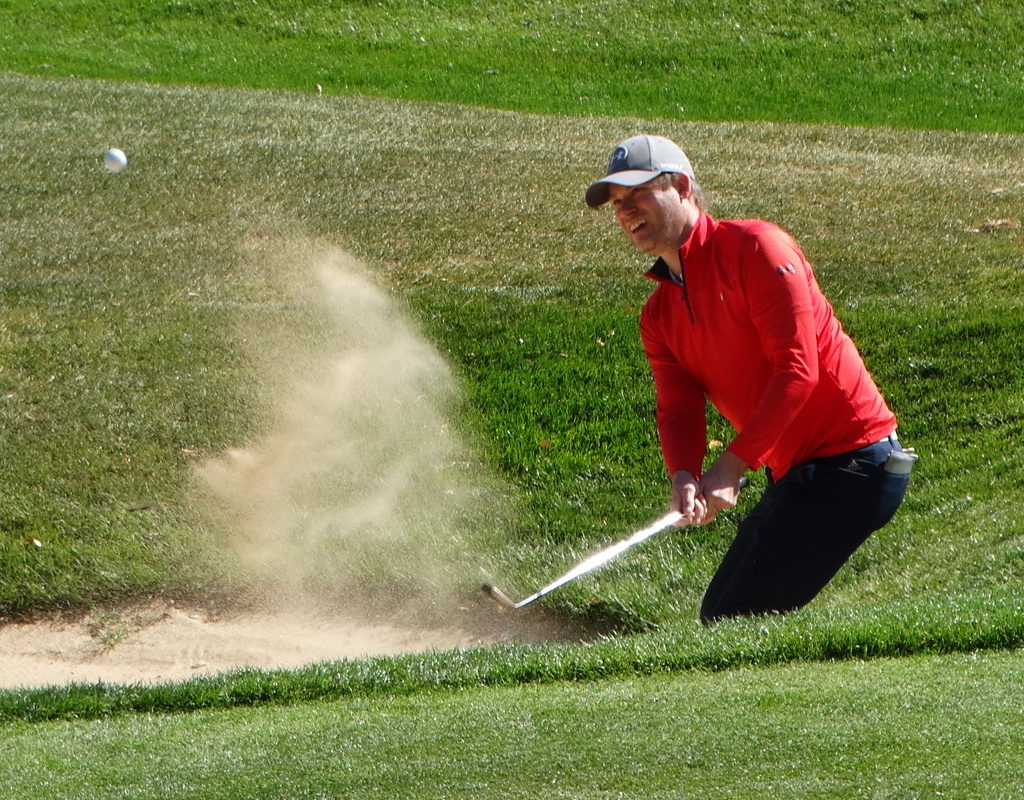 "I'm super happy for Ryan," Thayer said. "He's a super nice guy. It was awesome to see him win. It's very deserving he got that ace and the win."
Axlund won't argue, but whatever the case, he's very happy to join the impressive list of CGA Mid-Amateur champions.
"It's unbelievable to get one," he said of a CGA championship. "You see the guys that have won this thing year over year, and it's such a great class of player to be in. Definitely one of my goals every year is to try to get to this point.  
"To do what I did just caps off a great year for golf for me. It's been an unbelievable stretch of golf. Outside of making it to the USGA (national) events, this would definitely be my biggest accomplishment" in golf.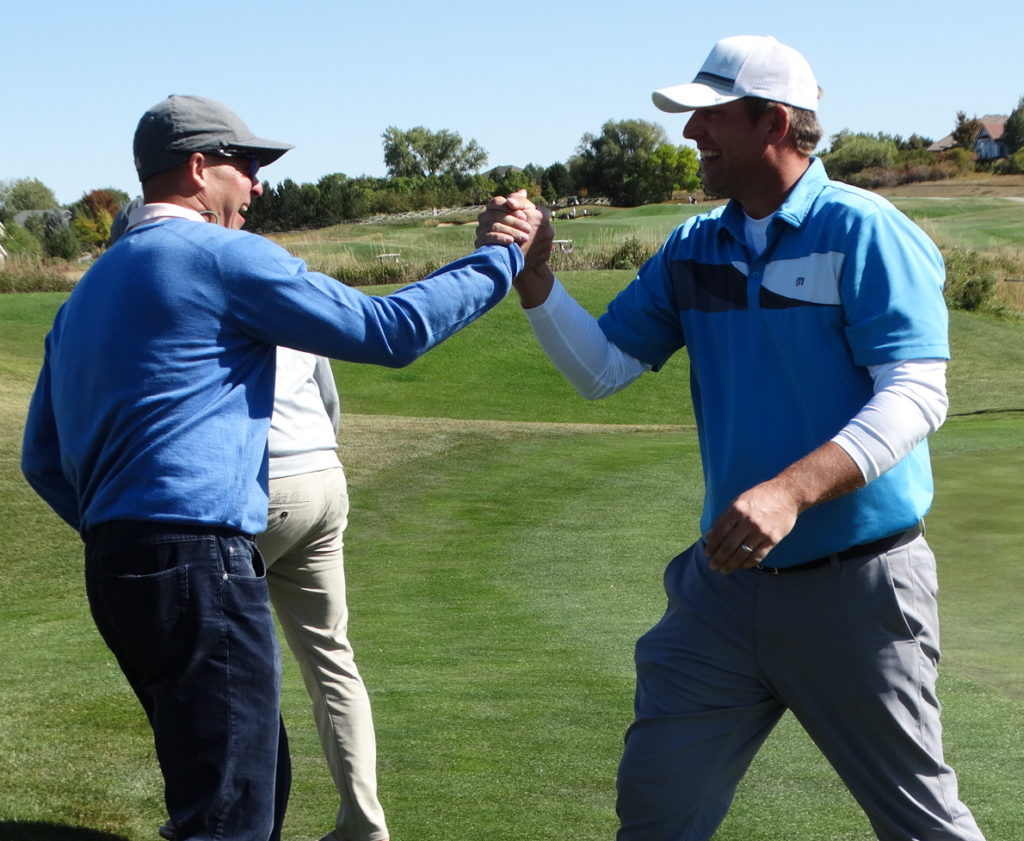 For the second straight year, Lindstrom earned the top spot in the Super-Mid-Amateur division for players 40 and older. He prevailed by three in that division over Erdman.
The Mid-Am marks the final multi-day CGA championship of 2019.
For all the scores from the Mid-Amater, CLICK HERE.